Sul BKK
This Thonglor speakeasy was a bit of a trend-setter when it opened in 2018 with its upscale Korean gastrobar theme, serving Korean fusion food alongside well-thought-out cocktails using Korean spirits. Their cocktails run the gamut of classics and some more experimental stuff, like the Bulgogi Old Fashioned that uses palm sugar and unexpected Korean bulgogi sauce. It's still a very solid place to get a gin & tonic thanks to a well-stocked bar that includes both Korean spirits and well-known international brands.
The gin: Whitley Neill Rhubarb & Ginger Gin, Whitley Neill Dry Gin,
The tonic: Lamb & Watt
Thonglor Soi 10, 095-795-5396. Open Wed-Sun 6pm-1am; Mon 6pm-1am
Teens of Thailand
The first Bangkok bar to specialize in gin is built from the remains of a near-crumbling shop-house. Co-owner and mixologist Niks Anuman-Rajadhon stockpiles an apocalypse-ready supply, while the venue's small, dimly-lit room gets rammed every weekend.
The gin: 90+ labels
Tonics: Fever Tree, Thomas Henry, Fentimans
76 Soi Nana (Charoenkrung Rd.), 081-443-3784. Open Wed-Sun 6pm-12:30am. MRT Hua Lamphong
WoodShed
Tucked inside rustic European restaurant Harvest is a jazz band and a rollicking menu of craft spirits and cocktails. Crafting drinks is former Harvest bartender, Suparb "Joe" Mopa, who does a fine introductory drink in Red: sloe gin, red currant, sparkling wine and lime. Invoke the lumberjack within with a Gintochoke of pickled artichoke with its briny juice, Whitley Neill Dry Gin and dry vermouth. Why are we going back? Because of the skilled mixologist, unconventional cocktail menu and a fine and evolving craft spirit selection.
The gin: Whitley Neill Dry Gin
The tonic: Lamb & Watt
24/1 Sukhumvit Soi 31, 097-235-8286. Open daily 5:30pm-midnight
008 Bar
After winning Diageo's Southeast Asia World Class cocktail competition in 2016, Pailin "Milk" Sajjanit took up residence at our Silom favorite, Vesper, followed by a stint at Zuma. She then moved on to open her own bar in Thonglor—008 Bar–and it doesn't disappoint. Newbies to spirit-forward cocktails may want to start off with a 1920s (Whitley dry gin, Campari and clarified orange infused vermouth, B360)—a drier, lighter version of a negroni.
The gin: Whitley Neill Rhubarb & Ginger Gin, Whitley Neill Dry Gin
The tonic: Lamb & Watt
11/F, Akyra Hotel, 02-392-8959. Open daily 6pm-1am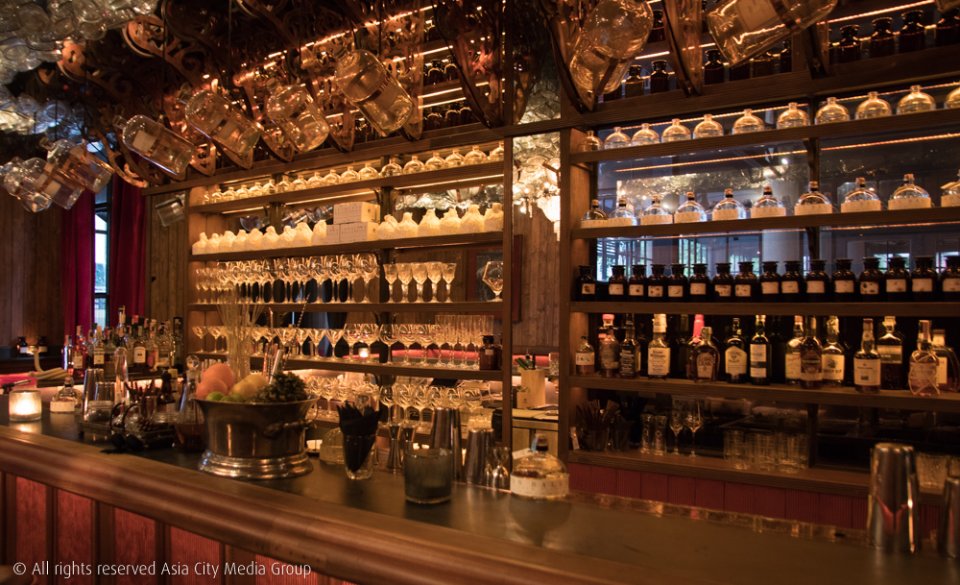 Iron Balls
Ashley Sutton, of Iron Fairies and Maggie Choo's fame, has two branches of his gin distillery, Iron Balls, one of which sits right beside another of his creations, Sing Sing Theater. There might only be one gin label on the menu (recently named Best Gin at the Cocktails & Spirits Fair in Paris), but we can't get enough of it.
The gin: Only Iron Balls
The tonic: Eight in total, including Fever Tree, Fentimans and Double Dutch
Parklane Sukhumvit Soi 63, 02-714-2269. Open daily 6pm-1am
Sukhumvit Soi 45, 02-662-4478. Open daily 8pm-1am
Credit: www.facebook.com/MutualBar/
Mutual Bar
A dark and moody place to get your booze on among red neon lights, potted plants and a hodgepodge of framed posters and pictures. Mutual Bar dips its toe into speakeasy territory sitting on the 5th floor of an old building in Phrom Phong hidden behind an unassuming doorway. Your only clues to go inside are regular live bands and chatter from it's nightly packed room.
The gin: Whitley Neill Rhubarb & Ginger
The tonic: Lamb & Watt
5/F, Sukhumvit Soi 24, 02 550 6820. Open Tue-Sun 5pm-1am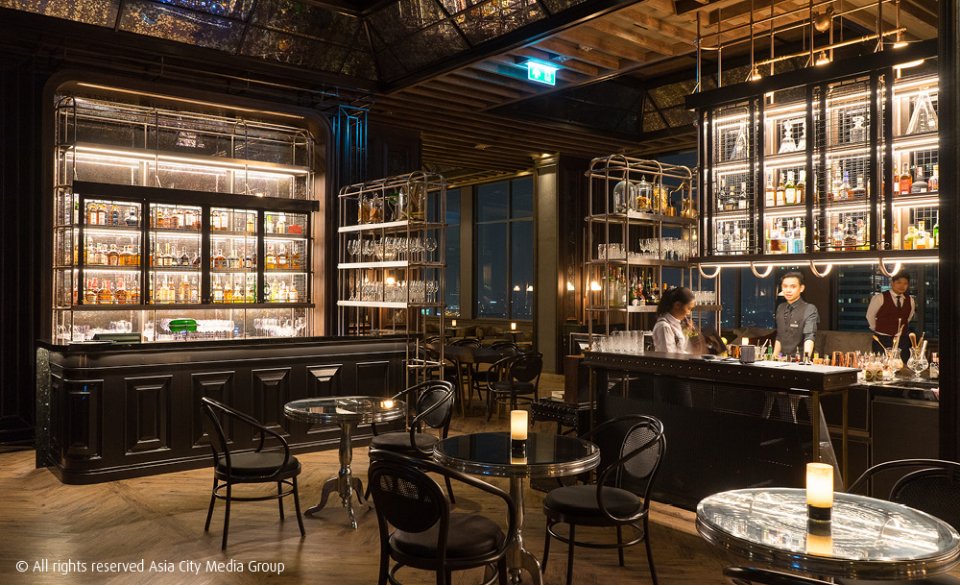 ABar
The rooftop bar at Bangkok Marriott Marquis Queen's Park divides a beautiful space overlooking Benjasiri Park into two floors and two bars, one with a focus on dark spirits, one specializing in gin. They claim to stock every gin legally available in the Kingdom.
The gin: Whitley Neill Rhubarb & Ginger Gin
The tonic: Lamb & Watt
37-38/F, Bangkok Marriott Marquis Queen's Park, 199 Sukhumvit Soi 22, 02-059-5555. Open daily 5pm-1am, 7pm-1am

Credit: www.facebook.com/sritrat/
Burapa Eastern Thai Cuisine & Bar by Sri Trat
The folks behind Bangkok's eastern Thai food sensation Sri Trat have brought their take on cocktail culture to the boozy Sukhumvit Soi 11. Burapa also focuses on the eastern side of Thai food, but the cocktails lean on the more twisty side. The outrageously opulent decor—dark woods, leather chesterfields and granite countertops amid moody lighting—put this into high-end drinking territory. The suspenders-wearing barkeeps and slightly train-car shape to the rooms give this place a distinctly '60s feel.
The gin: Whitley Neill Rhubarb & Ginger Gin, Whitley Neill Dry Gin
The tonic: Lamb & Watt
26 Soi Sukhumvit 11, 02 012 1423. Open Tue-Sun 6pm-1am
Credit: www.facebook.com/pakhwanpakkong/
Pakhwan at Pakklong
Pakhwan has that nostalgic Thai-riverside vibe. The best seats in the house to enjoy a cool gin and tonic is definitely along the lengthy and high wooden tables on the edge of the building and in front of the water. It's breezy, casual and gives you an outrageously nice view of the flowing river.
The gin: Whitley Neill Rhubarb & Ginger Gin, Whitley Neill Dry Gin
The tonic: Lamb & Watt
240 Chakphet Rd. Open 7am-10pm
Junker and Bar
Part WTF (crowds drinking on the street outside), part Escapade (hefty-sized, no-nonsense burgers), the compact galley space packs in a kitchen and a well-stocked bar serving locally distilled spirits, home-infused concoctions and Thai-made craft beers. The owner's personal obsession with gin means there's always a new label to try.
The gin: 50-60 labels plus 20 house-infused gins
The tonic: Waitrose Indian Tonic Water
454 Suan Phlu Soi 1, 085-100-3608. Open Tue-Sun noon-midnight
---
Whitley Neill - Handcrafted Dry Gin
The Original
After taking much of Europe by storm, the famous Whitley Neill gin is starting to creep into some of the best bars in Bangkok (see the list above). What makes The Original stand out from the others is its flavor profile—juniper and citrus, potpourri and exotic spices. The flavors of the herbs, cocoa and candied lemon peels slowly fade across a long finish. The nose pops with sweet citrus and subtle pepper with a distinct floral aroma.
Rhubarb & Ginger Gin
The Rhubarb & Ginger Gin break the traditional Whitely's mold a little bit. Post-war, the Whitley family settled in a rural part of England, eventually setting up a garden that both put food on their plates but also allowed them to experiment with different gin flavor profiles. This gin is the culmination of that, in a way, and homage to Johnny Neill's memories visiting his grandparent's home as a boy. The flavors are simple and defined: tart and crisp rhubarb to sharpen the smooth English-style gin, and ginger to warm the palate for a full-bodied finish.


Lamb & Watt Tonic Water
The Original & Basil
Made with all-natural ingredients, the original Lamb & Watt is a staple across many of the city's best gin bars. Quinine from Cinchona trees adds nice stabs of bitterness while organic blue agave syrup adds a touch of natural sweetness that doesn't overwhelm the palate. The water used is gathered from Lake District. Some natural basil extract in the "Basil" version makes it a great companion for the herbal nature of gin.
Sponsored by: