If you're looking to eschew the fancy cocktails and cookie-cutter feel of the modern bar scene, these Bangkok pubs are the best in the city for pints, music, and a few Sunday roasts.
The Londoner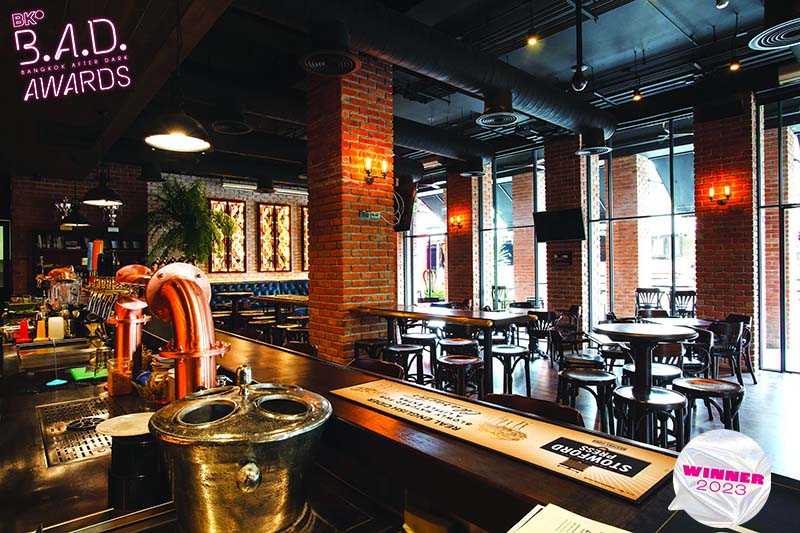 Why this spot over the cacophony of British pubs that haunt the tourist districts? The Londoner has been shelling out pints and pub food since 1997, making it one of Bangkok's oldest microbreweries—and it's made a lot of friends along the way. Here, it's about more than just a pint and a pie; it's whiskey and cigar nights, craft beer-battered fish and chips, and a communal space for indulging in pub food from Chef Yao built on quality meat from abroad. The location is a bit far from the Sukhumvit crowd, but it's better for that.
1178, Phatthanakan Rd., 02-022-8025. Open Mon-Fri 10am-midnight; Sat-Sun 9am-midnight.
Old English
A thousand beer bellies trembled when The Old English Pub opposite Thonglor 5 closed in 2022, but, not to fear, the bar quickly moved to a smaller space closer to the Thonglor BTS. The outside is a little louder than it used to be, but the wings are still crispy, the interior still inviting, and the beer is still cheap—an unbelievable B45 a pint at the right time. Also known for their "adult" milkshakes, the Old English Pub has been a staple sports bar in Thonglor since 2018.
1033, Sukhumvit Soi 53/1 (BTS Thong Lo), 02-392-3361. Open daily 8am-late.
Ekkamai Beer House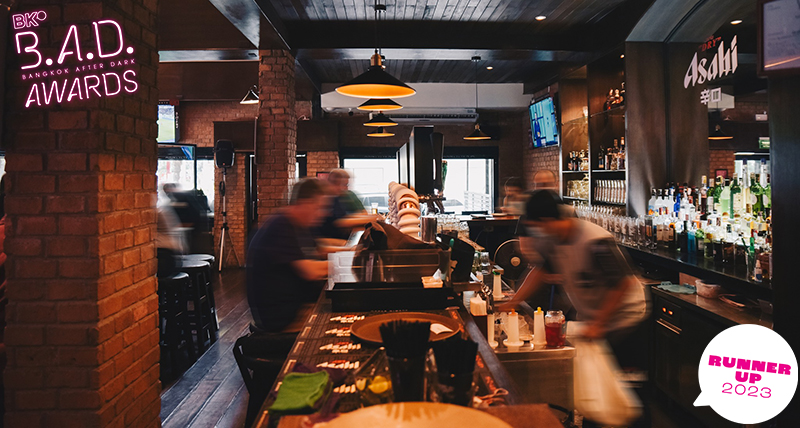 A lot of nights start and end in Ekamai Beer House. If you don't like what's going on, go to another floor. With 20 taps and a respectable selection of beers, the venue boasts three floors, with the third featuring pool, shuffleboard, and plenty of TVs for the sports fans. You'll find live music on the first floor several days a week along with good pub fare and one of the best roast dinners in town on Sundays. Get a pint in your hand, and explore the company of the space.
56-56/1, Ekkamai Soi 2, 02-714-3924. Open daily 11:30am-late.
Royal Oak
You won't find fancy pub food here or a particularly wide selection of beers—but it is fun. In addition to the obligatory TVs and daily happy hours, this spot hosts regular comedy from The Comedy Club Bangkok upstairs and a serious quiz night. Similarly, it's well situated on Sukhumvit Soi 33/1 within easy walking distance of something a bit more specialized like Hair of the Dog. Either way, when the other bars are winding down, Royal Oak's outdoor area buzzes with music and attitude.
595/10, Sukhumvit Soi 33/1, 02-662-1650. Open daily 9am-midnight.
PJ O'Brien's
Serving up pints and surprisingly good food for the Phra Khanong crowd, PJ O'Brien's evinces a refreshingly upscale pub take for something so far down the Sukhumvit. Here you'll find a lot of sports fans and occasional live music—as well as a lengthy and cheap happy hour from 11am to 7pm featuring Tiger at B75.
1108, 46-47 Sukhumvit Rd, 082-163-3382. Open daily 9am-midnight.
Robin Hood
Hanging off the edge of Sukhumvit, Robin Hood is decked out in comforting wood furnishings and is just staggering distance from BTS Phrom Phong. The long-running British boozer is packed for big sports events and serves an excellent Sunday roast. Just what Phrom Phong would be like without Robin Hood, we just can't imagine.
597, 1-3 Sukhumvit Rd., 02-662-3390. Open daily 9-11pm.
Hemingway's
Hemingway's is the Soi 11 staple that we need. On a street filled with clubs and quick gimmicks, Hemingway's is a Soi 11 institution, a reliable spot for high-end pub food, easily crafted drinks, and good company inside the bar and out. Of all the places on this list, it's hard to beat Hemingway's for food, but don't mistake this for a restaurant—Hemingway's can party with the best of them.
23, Sukhumvit Soi 11, 02-653-3900. Open daily 9am-late.
The Clubhouse Sports Bar & Grill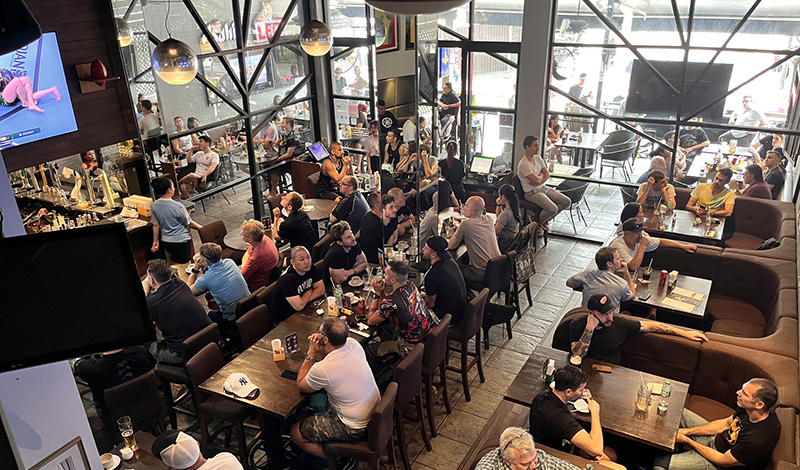 If there's a game on, you can expect the downstairs to be packed, and the upstairs offers a more intimate, fun feel. A little more sleek than you expect from your average sports bar, the staff are on the ball, and you can expect nine beers on draft, lunch specials Monday to Friday, and an exhaustive food list.
21/1-3, Soi Sukhumvit Soi 23, 02-003-9499. Open daily 9:30am-midnight.
Beer Republic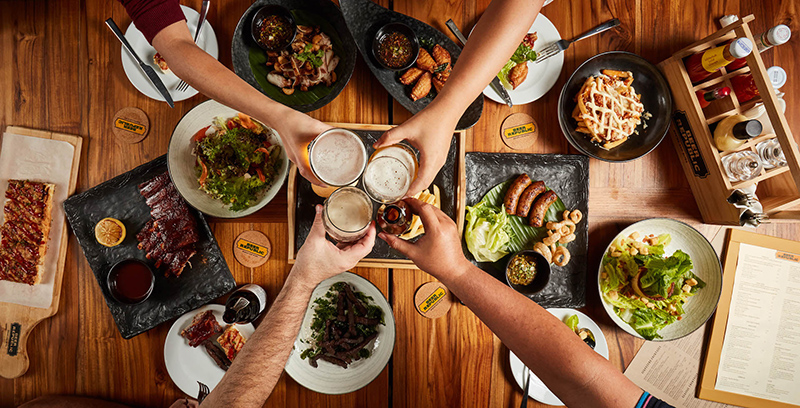 A bit on the edge of a pub and a beer bar, Beer Republic still has the dark corners and intimate feel you get from a pub—but with a truly astounding selection of beer. A spot for the sport lover and the beer snob, you'll find unusually high-end bites here—but trust us on the Tennessee BBQ pork ribs (B330 / 560 full rack).
971 Ploenchit Rd., 02-656-0080. Open daily 11:30am-midnight.
Delaney's
This is a fairly new one on the scene—and a rare pick considering the neighborhood. But this Patpong joint is drawing in everything from all-female comedy nights to regular live Irish music. Look for the yellow door and follow the tunes for this off-the-wall Irish pub with beer on tap and fun stage acts throughout the week.
Patpong Soi 2, Surawong Rd., 064-047-5970. Open daily 4pm-late.
Beer Belly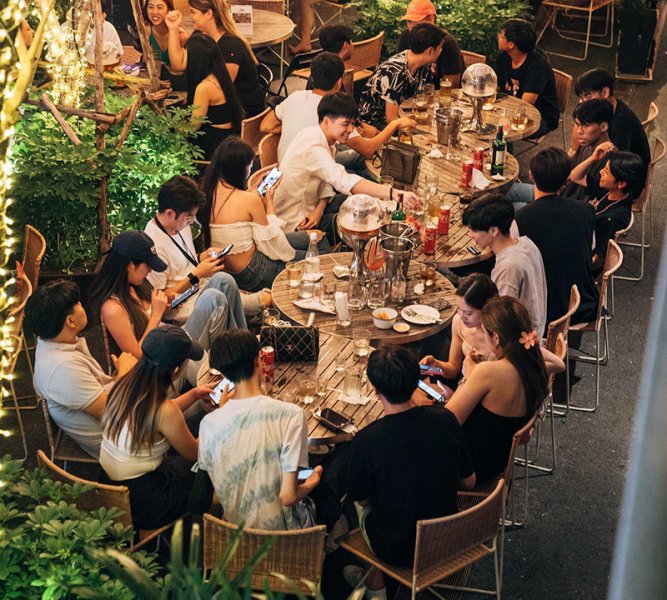 Beer Belly's large space will fill you with beer and East-meets-West drinking snacks. There's bar seating and tables outside for when the weather's nice, and inside you can enjoy games and air con. The space can get packed, and there's everything from foosball to live bands to keep you entertained.
72, Thonglor Rd., 02-392-7770. Open daily 5pm-late.
Scruffy Murphy's Irish Pub
It's the taste of Ireland shoved inside Asoke. With every sports game you can imagine, a great Sunday roast, and a packed, lively space, Scruffy Murphy's Irish Pub will fill you with fish and chips (B275 Fridays) and keep you awake with good company and occasional live shows.
10/1, Sukhumvit Soi 23, 02-661-7417. Open Mon-Thu noon-midnight; Fri-Sun 9:30am-midnight.
Topgolf Sports Bar
Hitting the scene last year and a bit out of the city, this comes with five restaurants-slash-bars, 102 hitting bays, 18-hole mini-golf putt course, and a golf academy taught by certified trainers set on the 29 rai compound. What really sets Topgolf Sports Bar apart from others is the 7x4-meter 4K TV on top of 15 other TVs and G&Ts start at B380.
971, Bang Kaeo, Bang Phli, Samut Prakan, 02-114-1289. Open daily 9am-11pm.
Blarney Stone Soi 4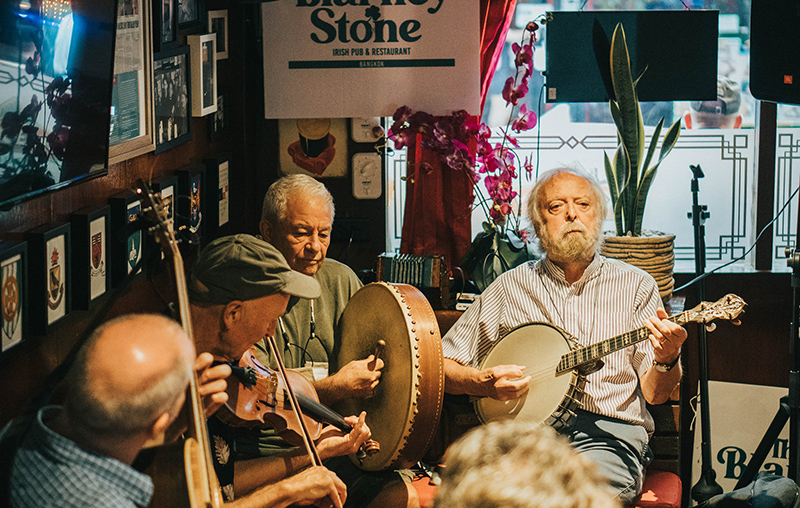 There's only one pub on Soi 4 on this list—for obvious reasons—and it's got to be Blarney Stone. They serve a pretty good breakfast, they're a good option on a street with a bad reputation, and every Saturday they have an Irish trad session from 4pm-6pm that is a really great way to start your night out.
21, 1 Sukhumvit Soi 4, 02-003-9499. Open daily 8am-late.
Sportsman
The OG Sportsman is a mainstay on Soi 13, featuring quizzes on Tuesday, sports galore, pool, and rather fun six-inch baguettes with your choice of fillings. People here like the Daily Mail and don't like sleeves. The Sportsman has had a hand in a number of sporting events around the city and is open very early and very late.
10, 22 Sukhumvit Soi 13, 097-023-8132. Open 7am-late.