Why you go there: You live in Sathorn and need somewhere nearby for brunch where your kids can run wild on the grass.
What it looks like: This could well be your dream backyard—big swimming pool (don't forget your swimsuit), sunbeds, trees, lawn and most importantly, a bar.
What you dance to: Chill pop to classic reggae.
What you drink: Fresh, easy-drinking cocktails like the R&G (a white wine spritzer with grapefruit juice and puree, B220), or a bottle of rose (B1,050-2,190).
Who you'll be swiping on Tinder: No one, this is a family-friendly place so there aren't any single people (you'll have better luck at sister bar Revolucion).
50 Sathorn Soi 10, 02-235-4822. Open daily 11am-11pm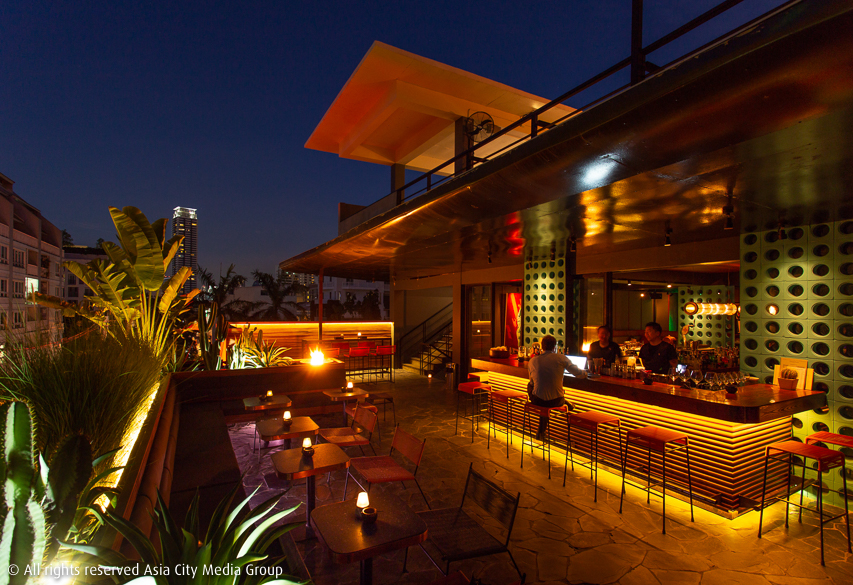 Why you go there: You were schooled in California and you miss that chilled beachy vibe where it seems like there's not a worry in the world.
What it looks like: Like Palm Springs transplanted neatly among Yen Akat's low-rises, complete with a bonfire on the rooftop.
What you dance to: Bangkok's coolest DJs dropping in to play tropical house tunes.
What you drink: Tasty and easy-to-down cocktails like the Californication (B320), which is served so icy-cold that you'll hardly even taste the Havana Club rum, mixed with pandan, passion fruit, pineapple, and chili to spice things up a little.
Who you'll be swiping on Tinder: Thai hisos.
15 Yen Akat Rd., 02-249-1451. Open Tue-Sun 5pm-2am
Why you go there: You're craving some sun, sea and tanning time at a beach club in Phuket but your budget only stretches to Phrom Phong.
What it looks like: Like Baba Beach Club had a night out in Bangkok and threw up here.
What you dance to: Tropical house music with the occasional live saxophone or weird bongo-ish percussion.
What you drink: Despite the decor, it's not all tiki and pineapple here. Signature cocktails like The Myth Maguey—something like a tequila-based Manhattan—will set you back B340.
Who you'll be swiping on Tinder: Pretty-face Thai bloggers who leave their food to go cold as they need to photograph it from every angle first.
5/F, The EmQuartier, 695 Sukhumvit Rd., 02- 258-6515. Open daily 5pm-midnight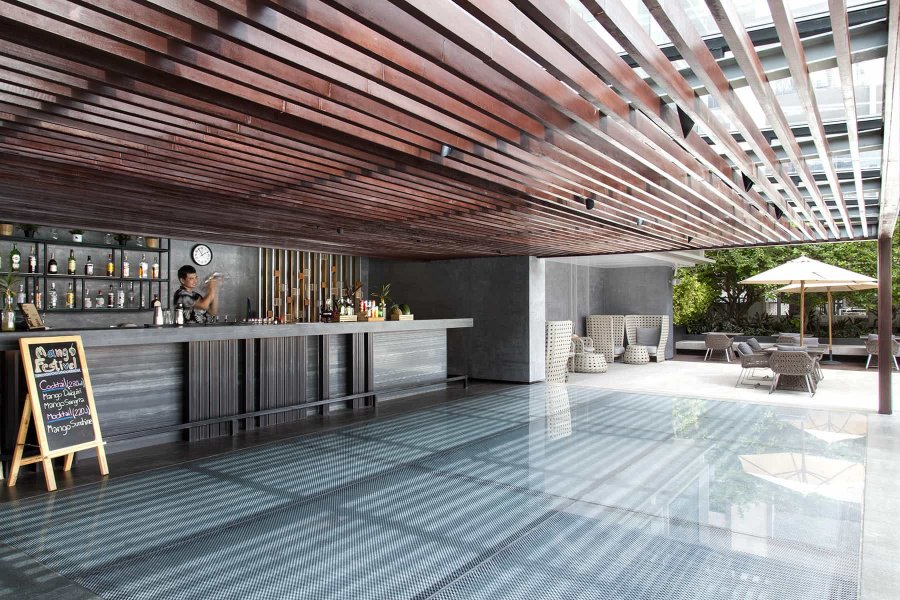 Pool Bar
Why you go there: Because they offer a really good deal for non-hotel guests. You pay B500 to use the pool, which can be redeemed as vouchers to use at the bar.
What it looks like: It might not look all that tiki and tropical but it has a really nice pool facing out over the business district, so you can lord it over all the office workers while you're soaking up the rays.
What you dance to: You don't. You just gently sway to their background-y house music.
What you drink: Whatever's on discount—mojitos are B150 between 2-4pm; Aperol Spritz is buy-one-get-one-free from 3-4pm; then all items are 40-percent off until sunset.
Who you'll be swiping on Tinder: Chinese tourists attempting to take selfies in the pool while simultaneously trying to avoid a tan.
9/F, Novotel Sukhumvit 20, 19/9 Sukhumvit Soi 20, 02-009-4999. Open daily 9am-8pm
Why you go there: You're bored of Bangkok's busy city lifestyle and feel like "getting out of town."
What it looks like: A cool, hip, millennial version of an Ayutthaya riverside grilled fish restaurant.
What you dance to: Eighties- and '90s-indebted synth-pop, funk and alternative rock.
What you drink: Easy-drinking cocktails to go with the easy-going vibe, but not the usual fruity suspects. The Bitterpine (B300) combines smoked whiskey, Campari and sweet vermouth with pineapple to cut through all the booze.
Who you'll be swiping on Tinder: Bangkok hipsters who try to be cool by trying not to be cool.
226/8 Phahon Yothin Rd., 080-111-1333. Open Thu-Tue 5pm-1am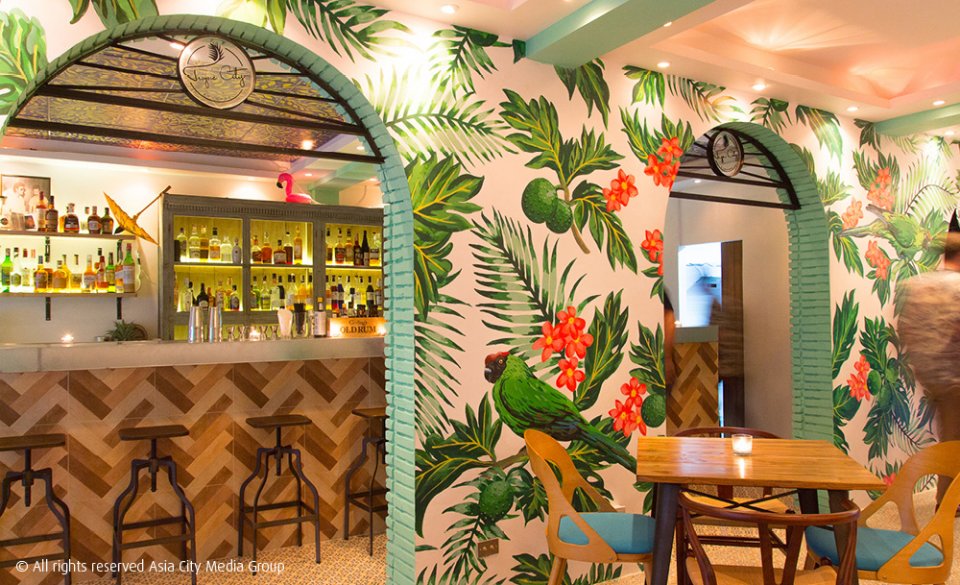 Why you go there: Thonglor has become too hip and crowded, and you keep bumping into the same faces. You've realized Bangkok nightlife stretches beyond Sukhumvit.
What it looks like: Tiki with under-the-radar edge.
What you dance to: Co-owner Sebastian De La Cruz also moonlights as a DJ, spinning whatever the cool kids would listen to.
What you drink: Their recent placement in Asia's 50 Best (no. 31) pays testament to their next-level cocktails—just order whatever's on the menu, it's guaranteed to taste good (from B320).
Who you'll be swiping on Tinder: Someone wearing either a Hawaiian shirt or a pair of rare collab sneakers.
672/65 Charoenkrung Soi 28, 083-838-2750. Open Tue-Sun 7pm-1am