These bars have the best views of the Chao Phraya.
Brought to you by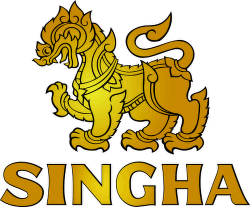 Riva Surya boutique hotel's Babble & Rum restaurant is a regular fixture on lists of Bangkok's best riverside venues. Now its sister hotel, Riva Arun, has popped up in Tha Tien (the area right opposite Wat Arun), offering this rooftop bar and restaurant with equally scenic views of the Chao Phraya River. Head up the four floors and you'll be greeted by a nearly-entirely alfresco terrace where simple white tablecloths set a tone that's classy but relaxed. Up here, it's all about those views, and practically every table in the place has a prime front seat.
4/F, Riva Arun, 392/25-26 Maharaj Rd., 02-221-1188. Open daily 7:30-11:30am, 6-11:30pm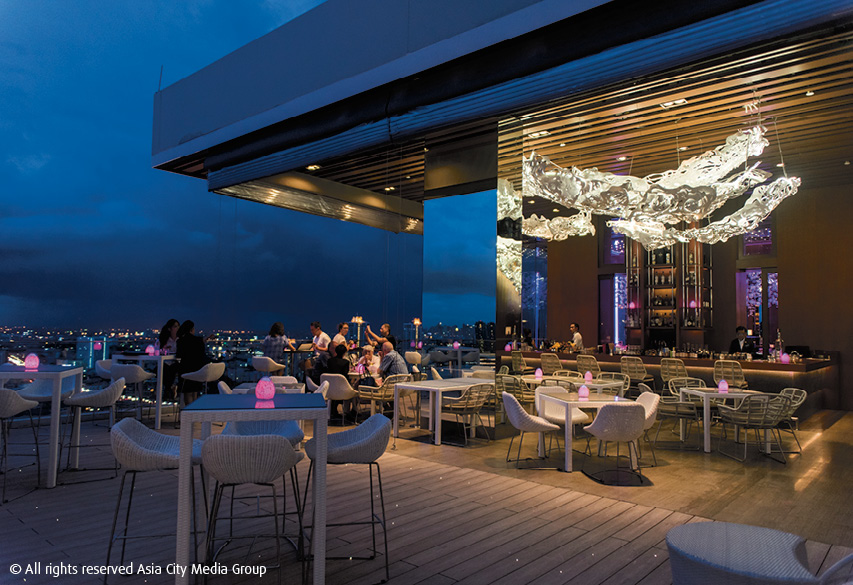 This bar-slash-restaurant shares the top floor with a swimming pool, on the 26th floor, both of which maximize the river view and city scape. A big, well-stocked bar stands up front among outdoor tables, offering booze to both swimmers and diners. The open-plan kitchen to the right of the bar also offers a few counter seats. As for the dining room, it's all flashy lighting and decor that sits between hotel fine-dining and a fun casual place. Those who just want a drink should grab one of the daybeds primed for river views.
Avani Riverside, 257 Charoen Nakorn Rd., 02-431-9100. Open daily 5:30pm-1am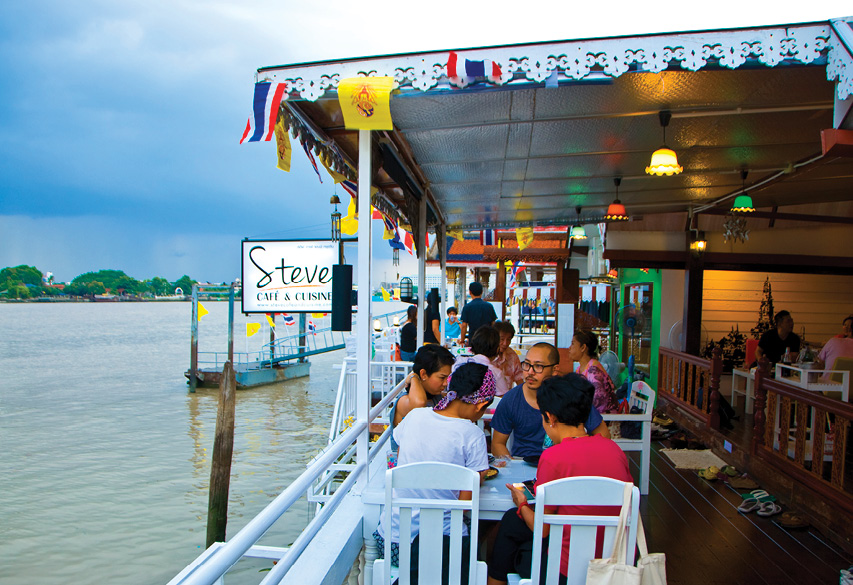 Located in the small community behind Wat Devarajkoonchon, next to Thewet Pier, this a 60-year-old house has been made bright and bold with a few licks of paint and the addition of some wooden furniture. The food is mostly typical Thai dishes served on plain dinnerware; it's not the most fancy, but it's very pleasant and comforting. Steve's casual and simple vibe makes for a relaxing experience—one that's only enhanced by the sunset views and sounds of the river.
68 Sri Ayutthaya Soi 21, 081-868-0744, 02-281-0915. Open daily 11:30am-11pm
There are many restaurants in Bangkok blessed with the backdrop of the Chao Phraya. Few, however, can boast a spectacle as inspiring as a brightly lit Wat Arun directly across the river from your table like this charming mostly outdoor venue can. The five-room boutique hotel that houses the Deck and the restaurant itself have been growing in popularity. They key is to arrive before sunset and relax with a nice cold beer while you peruse the menu before flashlights become necessary.
Arun Residence, 36-38 Soi Phatu Nokyung, Maharaj Rd., 02-221-9158/9. Open Mon-Thu 11am-10pm; Fri-Sun 11am-11pm
---
Stay Cool Wherever You Go with the New Singha Ice Pack
Whether you're headed to the beach or throwing a barbecue in your backyard, Singha has a new beer pack that changes everything. Its clever design allows you to pour ice directly into the box, so that your beer stays frosty cold despite the crushing summer heat. See, it's possible to leave the comfort of your air-con in the summer. You just need to pack the right stuff.
Brought to you by