The vibe: From locally-brewed craft beers to crumbling walls, this new Chinatown shop-house-turned-bar ticks plenty of boxes. The quirky name comes from a Game of Thrones quote—"Kill the boy and let the man be born"—that's meant to symbolize the bar's position operating on the fringes of legality. Let the Boy Die was the first bar in Bangkok serving Thai craft beer and it's run by architect-turn-brewer Pieak Pipattanaphon, founder of Golden Coins brewery, and Avi Yashaya, the guy behind the Brewtopia beer meetups.
What's on tap: Since the bar is also Golden Coins' first distribution point, you can expect to see at least one or two of the brand's beers on the rotating six taps—just check the board. Other regular guest beers include X Beer, Triple Pearl, Serious Panda, Mahanakorn and Soi Beer. Prices start from B160/pint.
542 Luang Rd., 096-695-6281 and 082-675-9673. Open Tue-Sun 6pm-midnight. on.fb.me/1WYj9Cu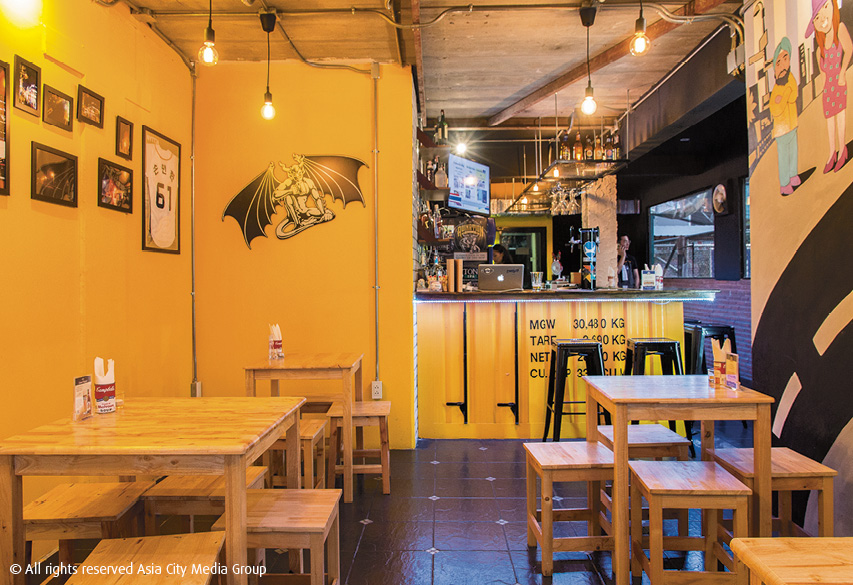 The vibe: Colorful and casual, mixing the style of a fast food joint with a beer bar. The owner, Ted Ahn, is a former engineer from Korea who left the industry to pursue his passions for craft beer and Korean food, and now dishes out Korean-Mexican fusion dishes alongside craft beer on taps and in bottles.
What's on tap: From two taps pouring Brew Dog and Evil Twin, Ted's selection has grown by a further six dedicated to Thai beers. Check out Sandport's Too Much Coffee porter and Roselle Red ale, Outlaw's Belgian Blondie ale, and Happy New Beer's Hardcore IPA and Thai Wit. Prices start from B180/pint.
The vibe: Craft n' Roll began as a lifestyle website featuring stories about cute cafes, crafty local brands and beer. Then they developed their own weekend festival in Kanchanaburi featuring a long list of local brewers including My Beer Friend and Chit Beer. Now, the same team has found a permanent spot by the Chao Phraya River (where To-Sit Pier 92 used to be) to pour craft brews on tap alongside burgers in the cafe zone, as well as handmade products in shop zone.
What's on tap: There are 10 taps on offer at the huge industrial, bare cement bar. Recent arrivals include Hardcore Apple Cider and Gateway IPA from Outlaw Brewing, Weizen Bock from Triple Pearl, Sauvignon Blanc Ale from Devanom Beer, Summer from Sandport, Oak aged ale and Raisa amber ale from Blaney's, Taopiphop's ale project, X Beer pale ale and White IPA from Happy New Beer.
The vibe: This oddly named bar is kind of like the younger brother of Craft n' Roll. Its founders are part of the same team, but have switched from the riverside to the trending streets of Ladphrao. Where Do We Go is a tiny, loft-style bare cement room that's decked out with huge wooden furniture and hanging bulbs.
What's on tap: Four taps are available here and, again, beers rotate after each barrel runs out, so check their Facebook page or chalkboard on every visit. On their first week of opening, they had Sandport Summer Pine and Happy New Beer Thai Wit on the taps.