Police said last week they will be monitoring social media to stamp out posts from business owners, celebrities and any member of the public that encourage alcohol use, but the announcement has been met with online ridicule.
This renewed enforcement of a 2008 law that bans any act that "induces" others to drink has already resulted in the investigation of four Nonthaburi-based celebrities who posed in photos which appeared to advertise alcohol, Post Today reports.
Violation of the notorious law carries a fine of B50,000 for first-time offenders, but critics say its terms are far too vague and effectively mean that any depiction of booze is subject to punishment.
An official English translation of Section 32 of the 2008 Alcohol Control Act reads, "No person shall advertise or display names or trademark of alcoholic beverage deemed to exaggerate their qualifications or induce people to drink such alcoholic beverage either directly or indirectly."
To point out the absurdity of the whole situation, some of Bangkok's top bartenders are taking to social media to mock the booze laws through hilarious photos.
Niks Anuman, owner of Soi Nana's hip gin bar Teens Of Thailand, posted the following photo on his Facebook, captioned, Kid tung Laos jung (I miss Laos)
The following selfie of Niks and fellow bartenders Kiattikoon "Toon" Auengkum (previously at Bunker, now working on a new exciting project TBA) and Fon Hitchman (bar name withheld), is sarcastically captioned, "What an amazing backbar!"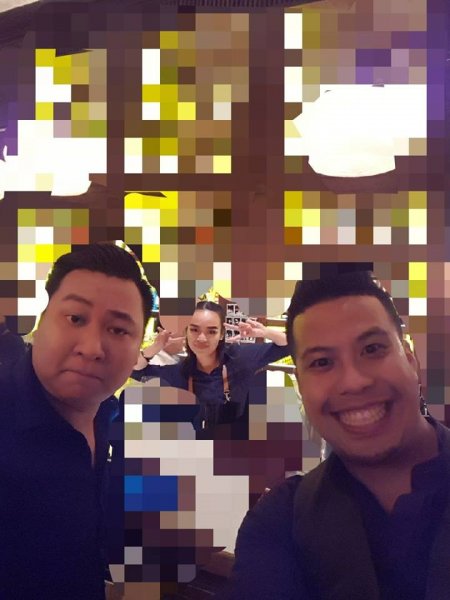 Toon joined in with his own version, captioned "#ระยะปลอดภัย (#SafeDistance) #Thailandprohibition"
World Class Cocktail Competition 2012 winner Supawit "Palm" Muttarattana chimed in with the following photo at Eat Me, captioned, "Last night with Mr. P," in reference to the head bartender there, Pop Direkrittikul.