We know Bangkok's bars are staffed with some of the best cocktail-slinging maestros in the world, and we'd never give up a chance to pick their brains on what exactly goes into crafting a bespoke cocktail recipe. So you can imagine our intrigue when we heard that the Giffard Company, a French-based independent liqueur and syrup company that's been producing premium products for over 130 years, had tasked nine of the city's most experienced bartenders with the same unique assignment: create a cocktail based on your favorite culinary dish.
Part of the task was to incorporate Giffard's newest product, the Giffard Piment D'Espelette, to help spice up their concoctions. To get the Piment D'Espelette's smokey and peppery flavor, fresh stalked Espelette peppers are macerated for more than four weeks and blended with rhum agricole from Martinique to acquire some warmer notes. The end result is a liqueur that brings a balanced bit of heat to just about any cocktail.
Depp Noppasate Hirunwathit (Rabbit Hole)
Drink: SIDE DISHES
Inspired by: Khao kha moo at On Nut Pork Leg Rice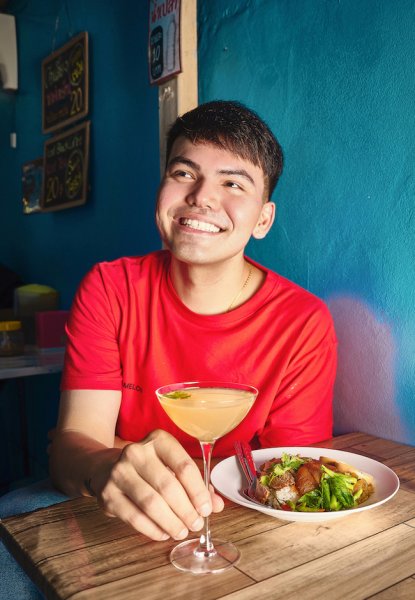 As a bartender at Rabbit Hole, one of Thonglor's first ever speakeasies (they opened in 2015), Depp knows a thing or two about whipping up a new cocktail, especially since the bar just launched a new cocktail menu last month. For inspiration for his drink "Side Dishes," Depp turned to khao kha moo (pork leg rice), a Thai street food staple that Depp eats "almost every day before going to work." The pork leg is first grilled before simmering for hours in an herb-and-spice-filled broth. Along with the rice, the final product is traditionally served with chillies, pickled mustards, garlic, and spicy vinegar. Side Dishes leans into these flavors, using fermented water from the pickled mustards to balance out the spiciness of the Giffard Piment D'Espelette.
Fahbeer (Lost in Thaislation)
Drink: FRUIT CART
Inspired by: Fruit carts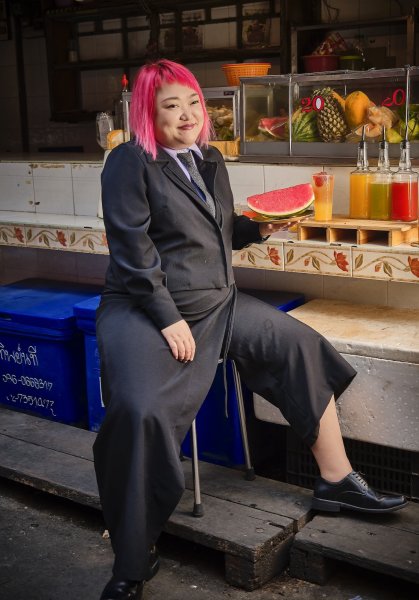 As one of the city's most well-known bartenders and the founder of Lost in Thaislation, Fahbeer is always about crafting unexpected recipes. After all, anyone who's been to Lost in Thaislation knows that their cocktail menu stands out from the rest of the city's thanks to its Thai food-based scheme (e.g. their Tom Yum Mary). However, she's kept it simple and stripped back this time with her "Fruit Cart," which was inspired by the many fresh fruit cart vendors that line the city's sidewalks. Think dashes of guava, watermelon, and pineapple. However, the sweetness is kept in moderation thanks to the spiciness of the Giffard Piment D'Espelette as well as the salt and chili soda (a nod, of course, to the condiment that can also be found at your favorite local fruit cart).
Oak Supaktorn Ramrauy (008 Bar)
Drink: SCORCHING MARGARET
Inspired by: Seafood pad pong karee at Aharn Tam Sung Tevada
While 008 Bar is arguably best described to newcomers as "that bar behind the hidden door on the 11th floor of the Akyra Hotel," regulars will vouch for its chill jazz-soundtracked vibes and high-quality drinks. In fact, in 2019, 008 Bar was the winner of BK's own B.A.D. Award for "Best New Bar." As the venue's current bar manager, Oak oversees the creation (and execution) of their cocktail menu, which as you can imagine, means many a late night. He explains that after a long shift, his go-to post-work meal is the seafood pad pong karee from a 24/7 eatery near his home. The dish is a hearty and flavorful mix of wok-fried seafood whose smoke and spices are reflected in the mezcal and Giffard Piment D'Espelette of Oak's "Scorching Margaret." The clarified watermelon is actually a reference to a sweet, cool glass of watermelon juice, which is his favorite drink to pair with the dish.
Milk Thanaworachayakit (The Standard Bangkok Mahanakhon)
Drink: HENG HENG
Inspired by: Chinese cuisine at Heng Heng Restaurant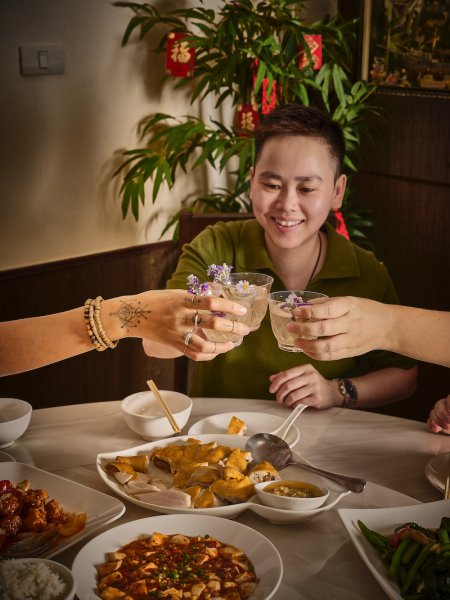 Prior to their official debut last year, The Standard Bangkok Mahanakhon was one of the city's most anticipated hotel openings, making the job of the hotel's Beverage Manager no easy task. And yet, Milk makes it seem effortless, overseeing the drinks across all of the hotel's on-site bars and eateries, which ranges from the Mexican restaurant Ojo to their signature restaurant The Standard Grill. For her cocktail "Heng Heng," though, Milk turned to a more homely source of inspiration: her love of Chinese food. Heng Heng highlights the white gourd which, because of its subtle yet refreshing flavor profile, is a common ingredient in Chinese cuisine, and whose sweetness is balanced out by the botanical notes from the gin and heat from the Giffard Piment D'Espelette.
Gabriel Gliga (Havana Social)
Drink: TEQUILA SUNRISE 2.0
Inspired by: Chicken tacos at Cholos Bkk
One of the most dance-friendly bars in the city thanks to their Afro-Cuban beats, Havana Social in Nana always promises a fun night out. Overseeing the venue is General Manager Gabriel, whose job description includes regularly coming up with innovative drinks ideas. Staying true to the Latin American theme, his "Tequila Sunrise 2.0" involves a classic tequila-and-lime-juice combination. The sweetness, however, comes through in the use of agave syrup and the Giffard Abricot du Roussillon, followed by an unexpected punch of spice courtesy of the Giffard Piment D'Espelette.
Taln Sudarat Rojanavanich (BAR US)
Drink: SATAY COCKTAIL
Inspired by: Satay moo at Pork Satay Nai Song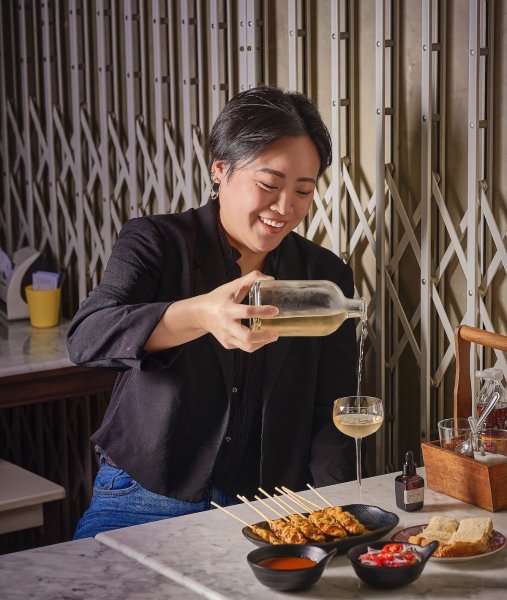 If you haven't been to BAR US, their funky drinks selection imitates a fine dining three-course menu, and is divided into "Starter," "Main," and "After." Taln's "Satay Cocktail," however, does a 180 from the fine dining concept, and instead refers to a street food classic: satay moo. The satay distillate and spicy Giffard Piment D'Espelette are the stars of the show, while chili oil, ginger brine, and red shallot vodka invoke replicate the spiced-marinated skewers. The cucumber and nut syrup is a nod to the sauces that are traditionally eaten with satay moo.
Dicky Hartono (Firefly Bar, Sindhorn Kempinski Hotel Bangkok)
Drink: WHEN PIMENT MEETS CUCUMBER
Inspired by: Moopan and fried rice at Hea Vit Khao Tom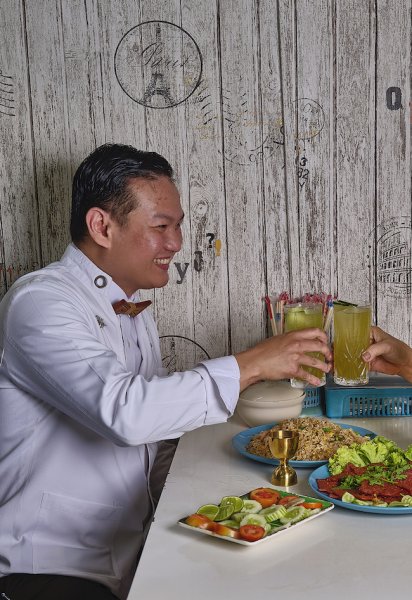 Whether it's one of their signature "smoke bubble" cocktails or a whiskey concoction, Firefly Bar's Dicky can regularly be found slinging cocktails at the jazz-inspired venue. When it comes to food, though, his favorite dish is a classic Chinese pork jerky paired with wok-fried rice, mainly due to the dish's blend of sweet and smoky. His "When Piment Meets Cucumber" similarly keeps things simple — although the Giffard Piment D'Espelette adds a kick — so as to complement the frills-free pork jerky and fried rice.
Golf Chaisiri Buranagit (Escape Bangkok)
Drink: PO TAEK
Inspired by: Seafood po taek at 55 Pochana
It's only fitting that Golf's "Po Taek" was inspired by his belief that a hot soup is the perfect hangover cure. A twist on the classic tom yum soup, po taek is a similarly spicy soup that involves more herbs, including Thai holy basil. The chilli in po taek is replicated in the use of the Giffard Piment D'Espelette, sous vide capiscum, and jalapeno pepper, while his own homemade syrup is a melange of the main herbs that go into the food equivalent. These flavors are rounded out by lactic acid in order to give it a sour kick.
Pae (Gir)
Drink: SRIRACHA PRINHA
Inspired by: Thai ceviche at Samlor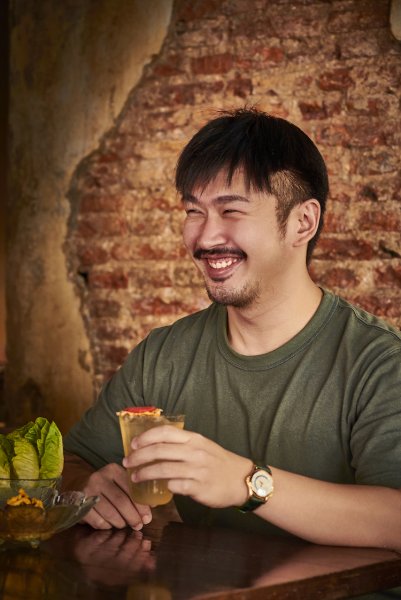 Located 40 floors above the city streets is Gir, one of Bangkok's coziest bars. It's also there that you can find Pae behind the bar slinging around items from the innovative cocktail menu, which is divided into three categories, Wild, City, and Coexistence, the first two representing the wilderness and city life, while the last merges them. Similarly, Pae's "Sriracha Prinha" draws inspiration from the fusion Thai ceviche, and combines hot Thai umami flavors with a traditional Brazilian caipirinha recipe. The drink turns up the heat thanks to the redistilled sriracha and the peppery Giffard Piment D'Espelette, but is leveled out by more earthy ingredients like smoked pineapple, lime, and cachaça.
For the Piment D'Espelette's launch month of June, each of these cocktails will be available as an exclusive at each bartender's establishment. For more information about the Piment D'Espelette along with the rest of Giffard's catalog, check out their website.
Photos by Turquoise Truck.