There are some good deals going on here
You remember that Estrella Damm beer pairing we wrote about a couple of weeks back? Well it's still going on, and now has an all new line-up of Bangkok restaurants rolling out special seasonal dishes to pair with some damn good Barcelona draft. These promotions will be going on until April, 2019.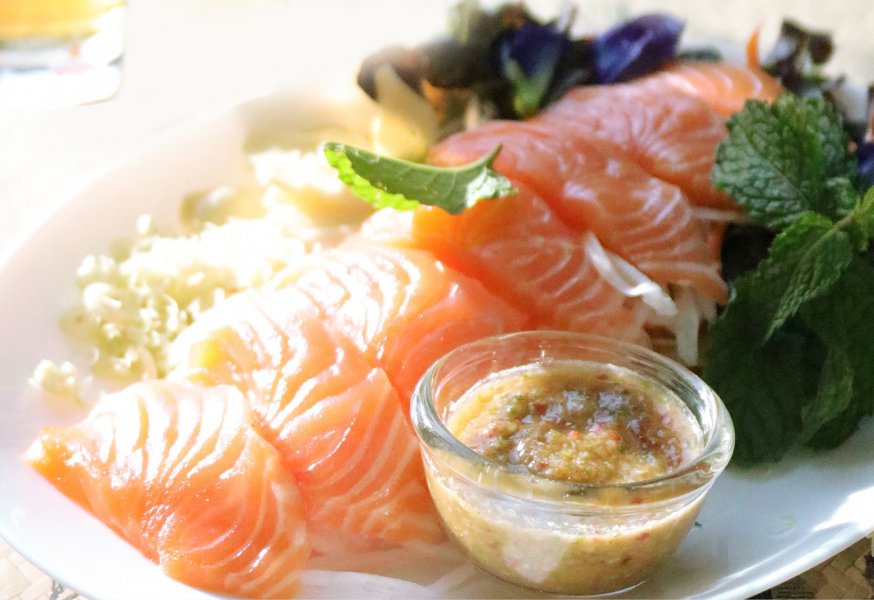 Garden 52
The Dish: Salmon Zest
The Flavors: Fresh salmon, "Mediter-Asian" style, topped with light and healthy ingredients and a tasty homemade sauce. With some nice subtle heat from Thai herbs, the dish has a nice kick that keep things interesting. The combo goes down well with some Estrella Damm Draught—refreshing and smooth on the palate.
The Price: Dish + 48cl of Estrella Damm, B550
9 Soi Sukhumvit 52, Phra Khanong, 091-885-4585. Open Tue-Sun 5pm–11pm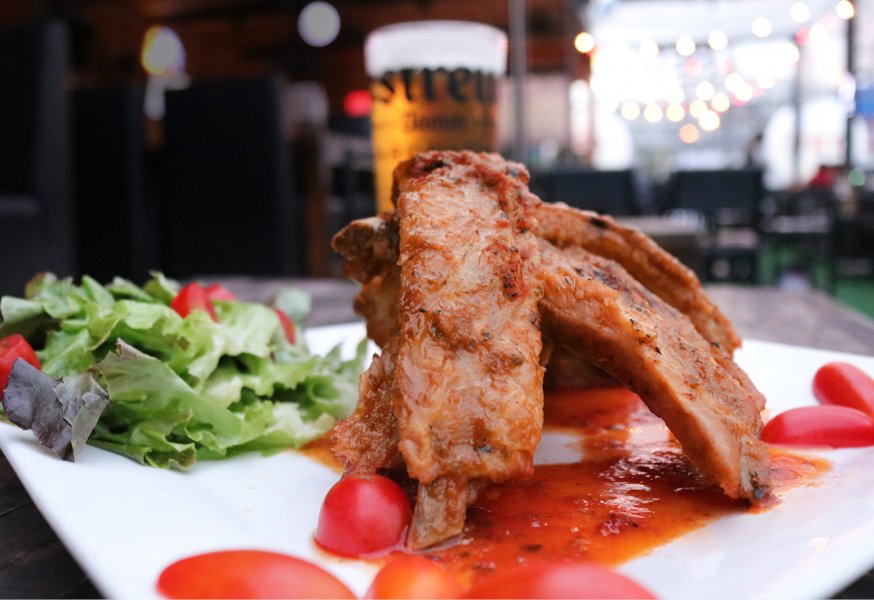 New Project
The Dish: Honey-BBQ Oven-Baked Ribs
The Flavors: Honey has long been the "secret" ingredient for serious barbecuers. It cuts the tartness or spiciness down on most BBQ sauces, and adds a nice sweetness. Here, New Project slow cooks the ribs in the oven, then covers them with the sauce to create a sweet, sticky and tangy honey barbecue glaze. A classic, no-fuss recipe that matches well with Estrella Damm Draught beer.
The Price: Dish + 48cl of Estrella Damm, B499
888/9 Srinakarin Rd., Bangmueang, Samut Prakan, 02-087-2442. Open daily 5pm-midnight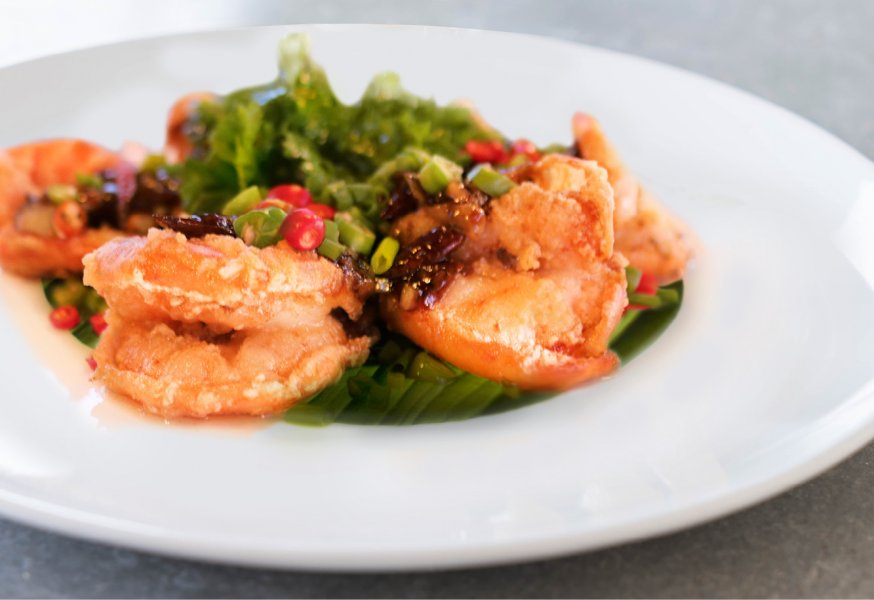 Loft Bar (Bang Na)
The Dish: Chilli Garlic Prawns
The Flavors: Deliciously crunchy and spicy. Once the prawns are fried up to be nice and crispy the folks at Loft Bar douse them in an authentic Thai sticky sauce, which is spicy, sweet and garlicky. It's served on a green banana leaf and garnished with chilies and spring onions. The flavors help to contrast with the bitterness of the beer.
The Price: Dish + 48cl of Estrella Damm, B800
58 Soi Bang Na-Trad 23, North Bang Na, 061-665-6415. Open daily 4pm-midnight. (Closed every 2nd and 3rd Sunday of the month.)
Wish You Were Beer
The Dish: E-San T-Bone
The Flavors: A juicy steak from Thai-French beef producer, Pone Yang Kham, which claims to be Thailand's best premium beef. Here, a butter-pan-sear cooking technique is used with a touch of brandy drizzled on top when grilled will ensure a richer flavor and more sophisticated crust—as the butter mixture and steak juices ooze out during when you bite down. It's served with a pair of "E-San Sauces", a unique sweet, spicy and sour dip.
The Price: Dish + 33cl of Estrella Damm, B295
The O-Zone Airport, 1529-B Ladkrabang9/5, Ladkrabang Rd., 094-505-8888. Open daily 5pm-midnight.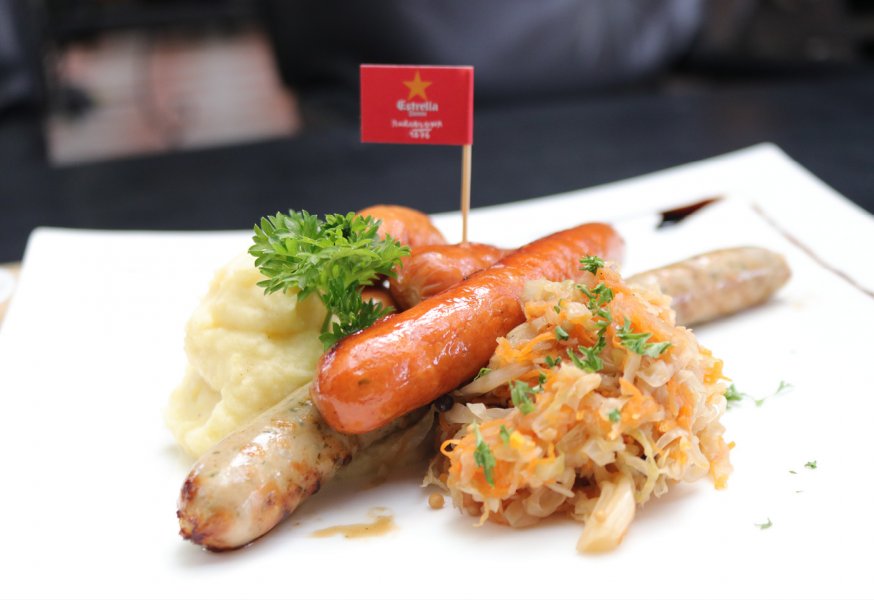 Chililaroni
The Dish: Mixed Sausages
The Flavors: Debrecener or Debreziner: a Hungarian mild spicy pork sausage, fully cooked and smoked at the smokehouse. Seasoned with marjoram, ginger, red paprika and garlic to create a hearty taste and a nice strong red colour. Thuringer Sausage: a German sausage that is roasted over charcoal or on a grill rubbed with bacon. It is a spicy and thin in shape and features from pepper, caraway seeds, marjoram, and garlic. Accompanied with Vienna sausage aka Frankfurter and Cheese Sausage.
The Price: Dish + 50cl of Estrella Damm, B680
7 Srinakarin Rd., Bang Na, 02-743-0901, 095-772-0582. Open Daily 11am-midnight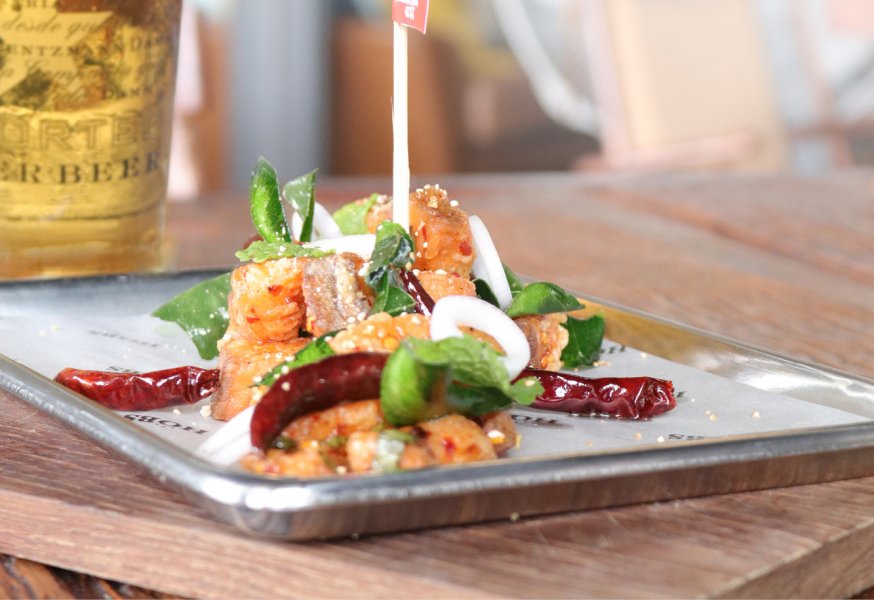 Hobs (Megabangna)
The Dish: Spicy Salmon Larb
The Flavors: The point of this dish is to mix savoury, sweet, sour and spicy flavours together to create balance and, most importantly, the delicate, fine and fragrant aroma of "Khao Kua" —toasted rice powder. This spicy, light, healthy and gluten-free crispy Salmon Larb pairs great with Estrella Damm.
The Price: Dish+48cl of Estrella Damm, B550
39, 1st Floor (1218 - 1218.O) Megabangna, Bang Na-Trad Rd., 02-105-1700. Open daily 10am–midnight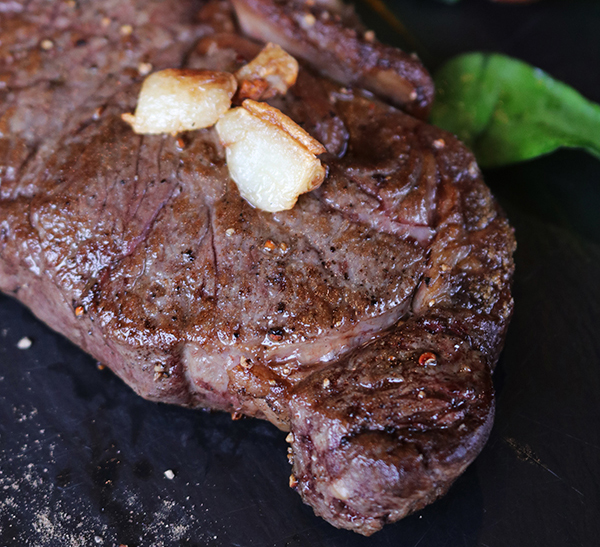 Pink Tender
The Dish: Wagyu Rump Himalayan Pink Salt Steak
The Flavors: The selected meat is Australian Wagyu Rump MBS 8-9, which is lean, full-flavoured and firmer in texture. The pink salt provides a subtle, salty flavour that brings out the buttery texture and tenderness of the meat. You can choose your prefered grilling technique (to keep the steak's natural fats and juices intact) or pan-seared (for those dripping, juicy flavors).
The Price: Dish + 33cl of Estrella Damm, B1,150
22 Soi Bang Na-Trad 23, North Bang Na, 02-396-0244. Open Tue-Sun 5pm–10pm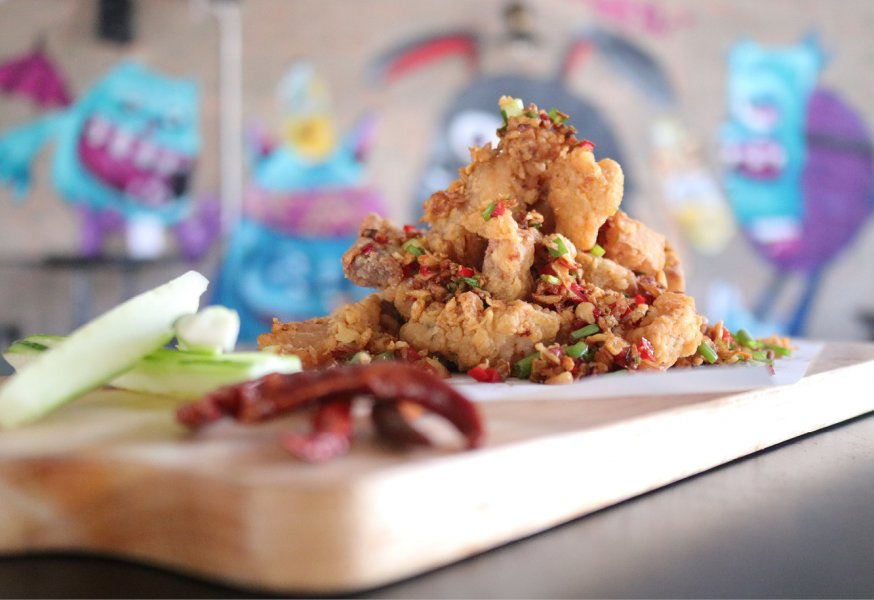 House of Monster
The Dish: Crispy Pork Belly Spicy Heaven
The Flavors: The folks at House of Monster say they discovered the secret to perfectly crispy pork belly from a Chinese Master Chef. Here it is: poke lots of holes in the pork skin to make the puffy crackling with bubbles when deep fried. The result is incredibly moist pork meat topped with golden, crunchy crackling. Then, they roast it with garlic and chilli until the fragrant oils spill down and add a subtle spiciness.
The Price: Dish + 33cl of Estrella Damm, B280
1772 Soi Bang Na-Trad 50, Bang Na-Trad Rd., Bang Na, 062-916-5699. Open Tue-Sun 11am–midnight
AB Café & Bar
The Dish: Angus Ribeye Dry Aged MS ⅘
The Flavors: Here, the high-quality Angus Ribeye is pan-seared, which cooks a little slower and allows the fat to tenderize. The dry-aging process gives a more intense beef flavour and a rich, buttery aroma. The dish is rich, tender and juicy, and served with a fresh Estrella Damm Barcelona draught beer.
The Price: Dish + 33cl of Estrella Damm, B499
95/13 The Connect Ramintra, Min Buri, 087-100-1010. Open Daily 5.30 pm–11 pm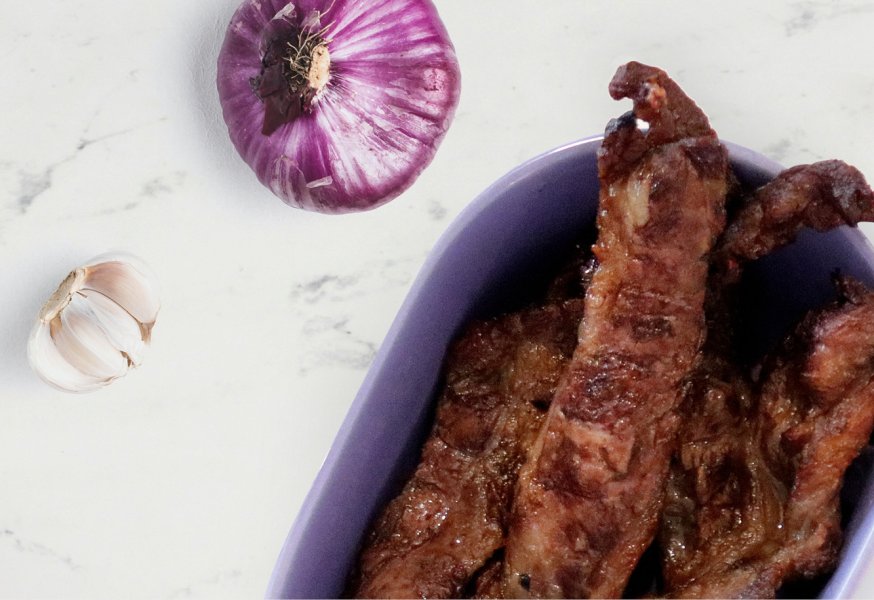 Journey of Meat
The Dish: Unstoppable Wagyu Beef
The Flavors: The famous Australian Wagyu Beef, seasoned with a Thai-style sauce and served with homemade pickles and jaew—a smoky, aromatic Thai dipping sauce from Galangal and dried red chillies flakes. Cooked with a hot air fryer—a healthy, fat-free way of cooking (instead of deep fried) that achieves the same flavours without excessive oil. The unique scents of beef combined with good old Thai fish sauce is a great combination.
The Price: Dish + 2 of 48cl glasses of Estrella Damm, B690++
9 Ramkhamhaeng 24 Yaek 20 (Rama 9 Soi 41), 02-077-6060. Open Mon-Fri 5 pm–10 pm, Sat-Sun 11 am - 2 pm, 5 pm–10 pm
For more information, visit the website: http://www.tapmapbkk.com/
---
This native ad was created by Asia City Studio. We use storytelling to help brands of all sizes influence and connect with people who matter. Visit us online:
studio.asia-city.com

Sponsored by: