Leading muay Thai trainers and champions have set up shop here to train stressed-out executives. Muay boran has revived interest in the sport's roots. And MMA's growing popularity has demonstrated the brutal efficiency of the "art of the eight limbs" when combined with Brazilian jiu-jitsu. With the Singapore-based One Championship MMA scheduling two big events in Bangkok in 2017 (Mar 11 and Dec 9), now's the time to work on your uppercut.
INNER CITY
The Fight Lab
A fighting paradise, if such a thing exists, with classes offered not just in muay Thai but also boxing, Brazilian jiu-jitsu, mixed martial arts, submission wrestling and kali (Filipino martial arts) within a big warehouse space. Expect an energetic, disciplined atmosphere and experienced trainers such as Kru Ni, who has trained seven muay Thai champions, and Shannon Wiratchai, a One Championship MMA fighter. Specific courses are also offered for women and juniors. A large range of packages cater to all age groups, while the standard drop-in rate is B500.
36/2 Sukhumvit Soi 69, 02-391-1754. Open daily 7am-9pm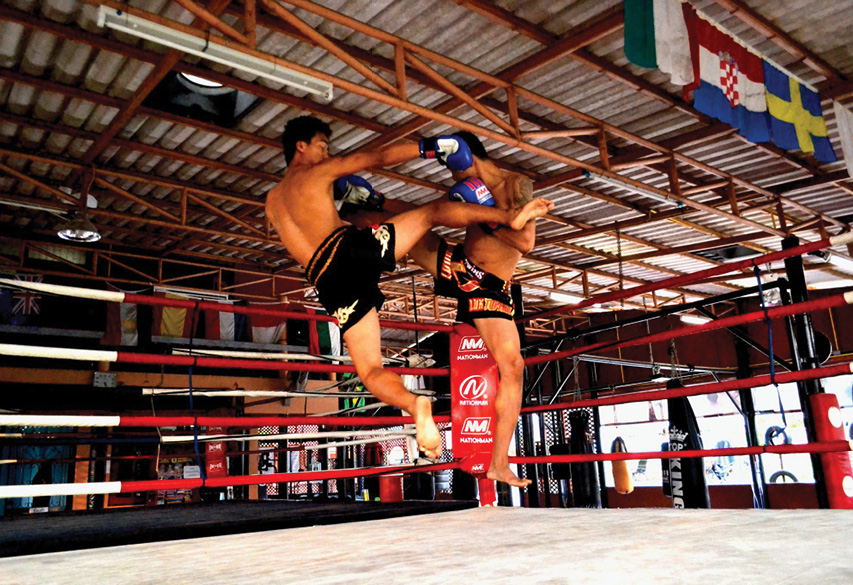 Credit: www.facebook.com/pg/Luktupfah
Luktupfah Muay Thai
Located on the outskirts of Bangkok, Luktupfah offers its students a homestay atmosphere detached from the city's distractions. The gym has trainers for all levels, from old-school muay Thai masters to Rajadamnern champions. The gym not only offers muay Thai classes but also muay boran (pre-1930s Thai boxing, before equipment and rules were standardized) as well as courses for refereeing. The gym charges B400 per session, B2,200 per week or B5,000 per month.
15, On Nut Soi 65, 086-101-4701. Open daily 6:30am-7:30pm
Legend Thai Boxing School
Located just a few minutes from Sathorn Square, Legend Thai Boxing School has a very experienced roster of trainers, all of whom have fought at least 75 fights each. The location makes it perfect for Silom and Sathorn office-workers, while most of the students are beginner level fighters who use muay Thai as a way of keeping fit. Group classes cost B500 while private classes are B800 per person.
66 Sathorn Rd., 089-795-2288. Open Mon-Fri 9am-10pm; Sat-Sun 9am-8:30pm
Credit: www.facebook.com/JittiGym
Jitti Gym
This is one of the few gyms in Bangkok that sticks to just one-on-one sessions for their customers. All of the trainers are hand-picked by Master Jitti Damriram, who was one of the first trainers in Thailand to accept foreign fighters and has taught in Japan, France, Germany, Switzerland and England. Rates for each session at Jitti Gym cost B600 for basic training and B800 for advanced training.
12 Ratchadaphisek Soi 19, 089-069-5026. Open daily 9-11am, 1-9pm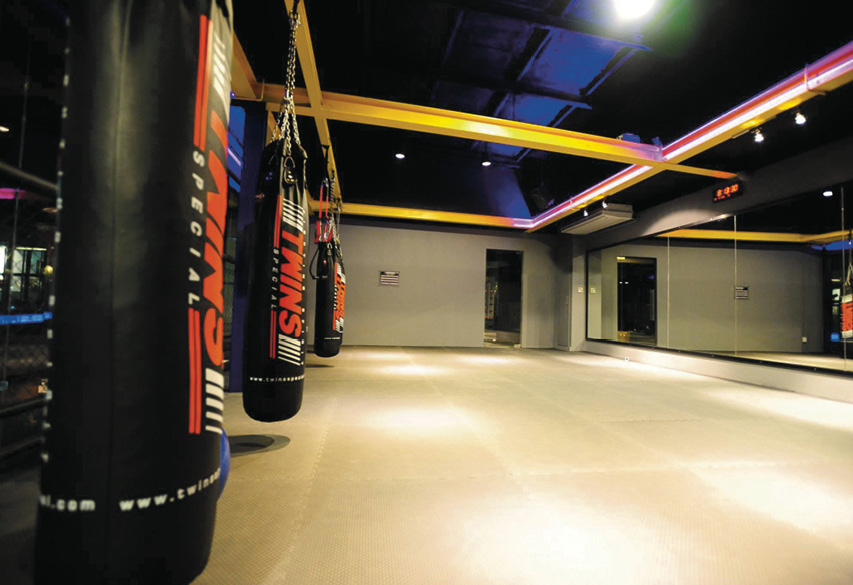 Rajadamnern Singha Muay Thai Academy
Now with gyms at five locations, Rajadamnern is probably the largest muay Thai gym franchise in Bangkok, offering an environment that's more Virgin Active than backyard bootcamp. Students can expect coaching from the best fighters from the famous Rajadamnern Stadium, with courses specially set up for women, kids, amateurs and professionals. Rates for basic training are priced at B500, while advanced training is priced at B800. Each session for kids is B400. Professionals must pay B1,500 for each session.
3/F Seenspace, 251/1 Thonglor Soi 13, 02-185-2384. Open daily 9am-9pm
Other branches: Riverside Plaza (02-469-8103), 2/F Jasmine City (02-661-6292), Habito Sansiri (02-053-3988)
Credit: www.facebook.com/phranaymuaythai
Mankong Phranai Muay Thai
Mankong Phranai might be located in the heart of the city on Sathorn, but the vibe remains back to basics, outdoors and surrounded by greenery. To create a family atmosphere, trainer Mankong Phranai makes sure that all his students know each other and their trainers, organizing regular events to socialize outside of the training sessions. The rates for regular classes are priced at B400 per session or B4,000 for 12 sessions and B800 for private training (primarily for competitions).
23/1 Sathorn Soi 1, 098-992-4059. Open daily 9am-noon, 4-9pm
---
GREATER BANGKOK
Meenayothin Gym
Previously known as Sakchaiyasit Gym, this space is managed by the coach of the national boxing team of Thailand. Wanheng Meenyothin, current World Boxing Council mini-flyweight champion, even trains here—hence the name change. The spacious gym accommodates everything from "get-in-shape" programs to intensive training for professional fighters. There are two time slots for training on a daily basis, at B500 for one session and B800 for both sessions.
45 Phahon Yothin Soi 15, 099-883-3257. Open daily 6:30-9am, 4-7pm
Master Toddy's Muay Thai Academy
Thosophon Sitiwatjana, more popularly known as Grand Master Toddy (see right), has trained muay Thai fighters since he was 16. His work has taken him to the UK and Las Vegas where he trained famous UFC fighters like Tito Ortiz and Randy Couture, and MMA fighter and Hollywood actress Gina Carano. Back in Thailand since 2009, Master Toddy now runs an academy that not only trains fighters but also provides training for kru—teachers of muay Thai—as well as courses on how to run a successful gym. With accreditation from the Thai government, Master Toddy's can even provide student visas to those interested. Group classes are priced at B350 per person and private tuition at B1,000.
55/103-109, Sukhumvit Soi 107, Bearing, 02-743-3372. Open Mon-Fri 7:30-9:30am, 5-7pm
Petchyindee Muay Thai Academy
This might be the most modern muay Thai training facility in Bangkok. Alongside state-of-the-art-fitness facilities come restaurants, a hotel and sauna so students never have to leave. But don't mistake Petchyindee for being all-show and no go; the academy has a 40-year history of training champion fighters, and promotes over 200 matches every year. One-on-one classes cost B700, private group classes of up to five people B500 per person, and standard group classes B350.
36/36, Charansanitwong Soi 34, 02-886-1116. Open daily 10am-10pm
Sor Vorapin Muay-Thai Gym
The 35-year-old Sor Vorapin Muay-Thai Gym prides itself in operating like a traditional muay Thai gym—in the open air. Named after the famed Sor Vorapin boxing family, the gym today is run by Thanomsak Sor Vorapin, who has trained boxers for the past 20 years and personally selects each trainer. Among them is Ratanachai Sor Vorapin, a former World Boxing Organization 118 lb. World Champion. Students can choose the gym's homestay program, which includes two meals a day and private accommodation (B1,500/day for A/C rooms and B1,300/day for normal rooms) or normal classes which are priced at B500 per session.
37/15 Suanpak Soi 1, 081-649-5704. Open daily 8am-7pm
---
BK Asks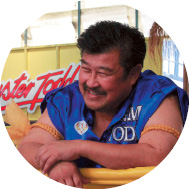 Thosophon "Master Toddy" Sitiwatjana
Owner/trainer at Master Toddy's Muay Thai Academy
What benefits can muay Thai give to someone over training at a regular gym?
It's a full body work out that people get hooked on very quickly. You will also learn about proper breathing techniques that help build up endurance. You don't just benefit from the physical aspects; it also improves your mental health and self-esteem. Muay Thai is also a good form of self-defense—an artform that's part of Thailand's history.

Have you seen the type of people who take up muay Thai training change in recent years?
Yes! Earlier, there were mostly just serious trainers who wanted to become either fighters or instructors. They would spend long hours on conditioning and use aggressive training methods. With the popularity of MMA, muay Thai has also become a form of fitness regime with lighter training methods.

How did your muay Thai career begin?
I started training at the age of five and formed a great bond with my master. Sadly he passed away when I was 14. But before he died, he asked me to continue as the main instructor in the gym and pass on his teachings. I couldn't refuse such an offer as he had taught me so much and helped me reach where I am today.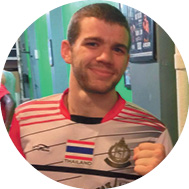 Alex Munro
Muay Thai Student at The Fight Lab and Professional Fighter
What benefits has muay Thai training brought you?
Muay Thai changed my life as it forced me to take interest in my fitness and nutrition. It also helped me build confidence during a time when I was suffering from anxiety and depression. It has made me a healthier person, physically as well as emotionally.
Why did you originally decide to train in muay Thai?
I was looking for a more enjoyable form of exercise than the treadmill. Being a casual MMA and boxing fan, my friend recommended I pick up muay Thai. When I started I used to train just once a week, but fell in love with it and eventually started training twice a day. Now I fight professionally in Thailand.
Have you done any other endurance training? How does the workout compare?
I was never much of an athlete so my only forms of exercise were running and swimming. However, I have done some Brazilian jiu-jitsu and wrestling training since picking up muay thai. They are all great workouts but I don't think any form of exercise exhausts me as much as five rounds of hitting pads in the Thai weather.