This Nov 9, new B54-billion riverside mega development IconSiam is set to debut, unleashing 750,000 square meters of luxury mall, living and entertainment space on Charoen Nakhon. Much like the hipster revival that followed the opening of Charoenkrung's Asiatique back in 2012, this new addition is expected to secure the area as a new business landmark. Add to that historical gems and an abundance of street food, and life on the Thonburi side of the river is an increasingly attractive prospect.
COMMUNITY
Sena Fest Credit: www.facebook.com/SENAfestMall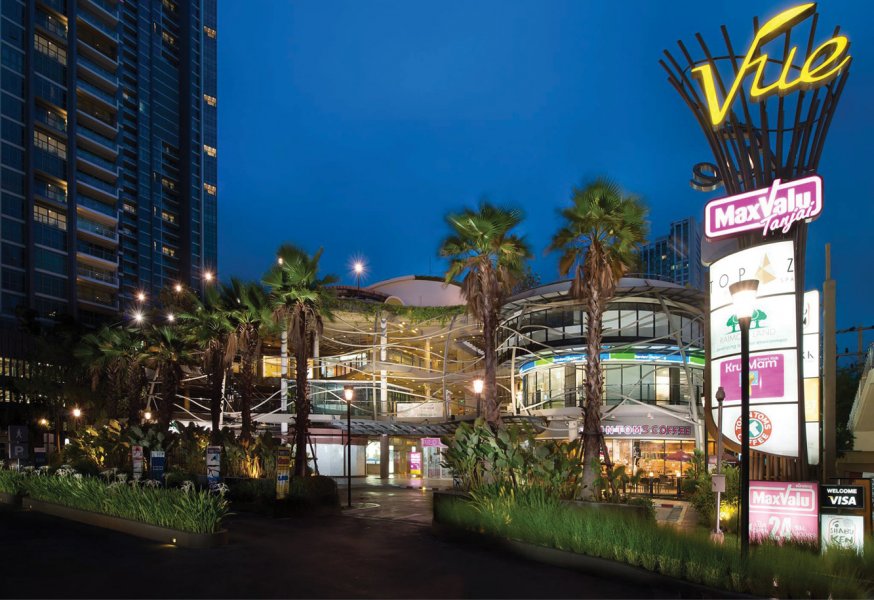 Vue Credit: www.facebook.com/vuebangkok

Around 20 minutes from bustling Siam, life along this stretch of the Chao Phraya is peaceful yet vibrant, and equipped well enough to be a self-contained community. Malls like Sena Fest (542, 542/1-2 Charoen Nakhon Rd., 02-108-9000) offer familiar franchises like KFC, Starbucks and Wine Connection, as well as Jetts 24-hour Fitness and Villa Market. For River Fitness and Max Valu, head to 24-hour lifestyle mall Vue (707 Charoen Nakhon Soi 13, 02-029-1888), or for Tops, yoga and co-working, seek out The Lighthouse (Charoen Nakhon Soi 14, 02-861-0085). Visit Klongsan Plaza (Klongsan Pier, Charoen Nakhon Rd.) for more affordable food, fashion and accessories. If you prefer the outdoors to the gym, Chalermprakiat Forest Park (404 Krung Thonburi Rd.) offers bodybuilding, boxing, a playground, futsal field and basketball court, all hidden beneath Saphan Taksin Bridge. There are also plenty of schools in the area, as well as easily accessible healthcare services at Taksin Hospital (543 Somdet Chao Phraya Rd., 02-437-0123).
COFFEE AND BREAKFAST
Walden Home Cafe
Midnight a Cocoa's Credit: www.facebook.com/midnightacocoa
Newly launched Walden Home Cafe (451 Somdet Chao Phraya Rd., 062-362-9915) will hit you with its vintage green exterior—try their signature chocolate and matcha latte (hot B70/cold B80) or the healthier cold-pressed juice Sunny Day (B90) with carrot, apple and lemon; to eat, go for the grilled chicken salad with goma dressing (B130). Chill out at industrial-style cafe Li-bra-ry (41/1 The Jam Factory, Charoen Nakhon Rd., 02-861-0968), situated within a bookshop, with a signature Library Waffle (B95) and refreshing Very Berry smoothie (B105). If you've got time to queue, Midnight a Cocoa's (347/1 Prachatipok Rd., 080-076-6767) iced cocoa (B50) is next level. Dessert-lovers shouldn't miss The Lantern (123 Charoen Nakhon Rd., 02-442-2000) at Millennium Hilton Bangkok Hotel for light snacks and a ton of sweet-tooth pleasers. Local favorite Baan Coffee (Krung Thon Buri Rd., 02-861-0863) is known for its tasty homemade cakes, bread and coffee.
LUNCH AND DINNER
The Never Ending Summer Credit: www.facebook.com/TheNeverEndingSummer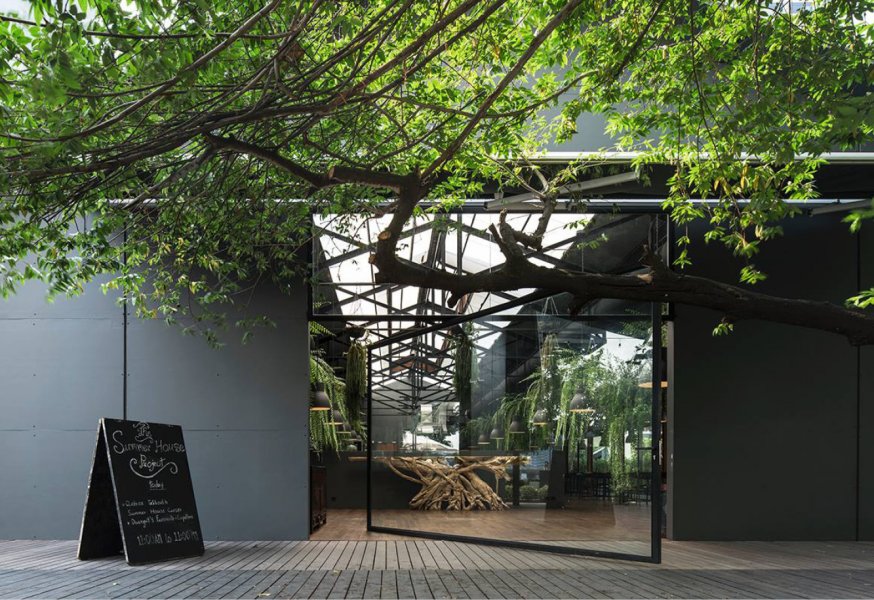 The Summer House Project Credit: www.facebook.com/thesummerhouseproject

Head to Indian Food (1297 Charoen Nakhon Rd., 087-021-2203) for reasonably-priced traditional dishes, like lamb curry (B210) or chicken tikka masala (B160), with a plain (B40), onion (B50) or cheese naan (B60). Experience Thai cuisine in a chic setting at warehouse-style The Never Ending Summer (The Jam Factory, 41/1 Charoen Nakhon Rd., 02-861-0968), where secret recipes and rare ingredients shine in dishes ranging from sai bua pad kapi (B250), featuring stir-fried lotus stem with pork and flavourful shrimp paste, to the must-try nam prik long ruea (B280) with sweet boiled pork and salted egg. Alternatively, sibling restaurant The Summer House Project (41/5 Charoen Nakhon Rd., 02-861-0953) serves European comfort food like Fisherman's Stew seafood soup (B240) or penne carbonara with roasted red pepper (B380). For more Thai, the elegant Thiptara (333 The Peninsula Hotel, Charoen Nakhon Rd., 02-020-2888) serves pla hi ma sam rod (deep-fried fish with spicy, sweet and sour sauce, B820) and pla gao phad miang kham (B540)—deep-fried garoupa topped with herbs and peanuts. For more affordable Thai dishes with riverside views, head to Be My Guest's (217 Charoen Nakhon Rd., 02-259-2653) two-story white house by Klongsan Pier. There's also a bunch of street food on offer.
DRINKS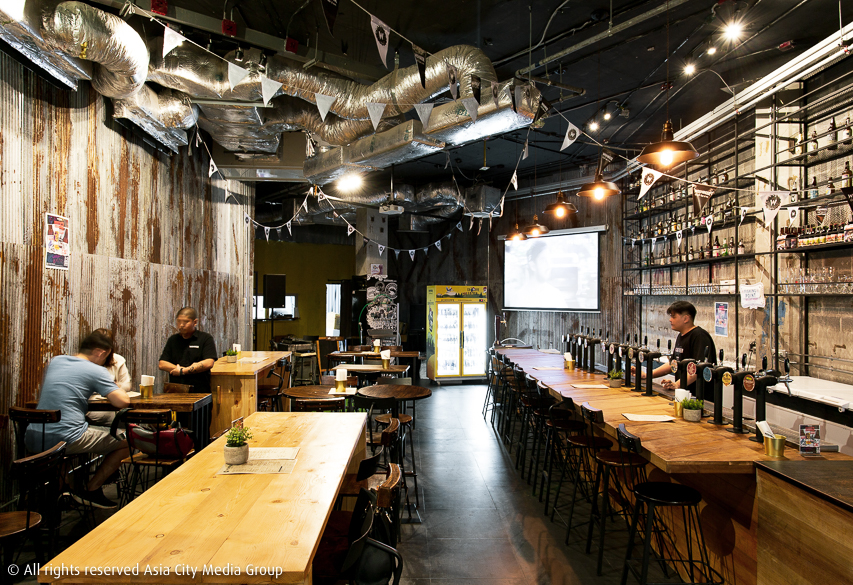 Wishbeer Garden
Hidden away, The 14th Barrel (99 Charoen Nakhon Soi 14, 085-327-9889) offers mostly local craft beer alongside fusion food like duck breast spaghetti (B180) or BBQ pork ribs (B200/B590). For more craft beer, check out Wishbeer Garden's (110 Vue, Charoen Nakhon Soi 13, 02-392-1403) industrial warehouse, where beer tasting flights are on offer (B750/six 175ml glasses), or play it safe with the Chalawan Pale Ale (B190/210ml). Warm and cozy Save Our Souls (250 Charoen Nakhon Rd., 098-424-6426) provides eight taps of rotating local and imported craft beer, as well as rare cans and bottles, like Sri Lanka's Lion Stout (B200) with notes of coffee, plum and dark chocolate, paired with snacks like deep-fried chicken tendons (B90). Visit Three Sixty Lounge (Millennium Hilton Bangkok, 123 Charoen Nakhon Rd., 02-442-2000) for jazz and delicious cocktails like the Testing Citrus Mojito (B450) with both an indoor and outdoor bar.
VISIT
The Jam Factory Credit: www.facebook.com/TheJamFactoryBangkok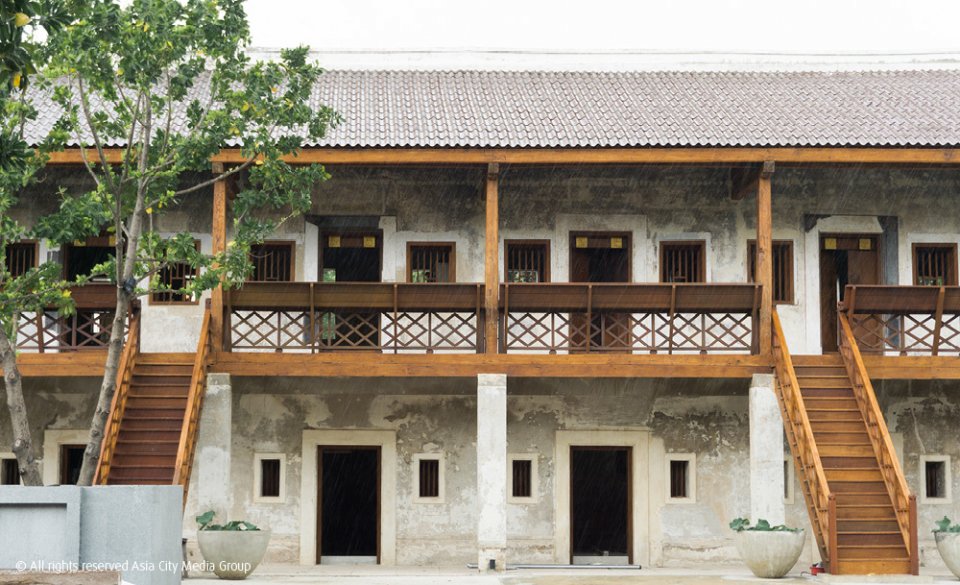 Lhong 1919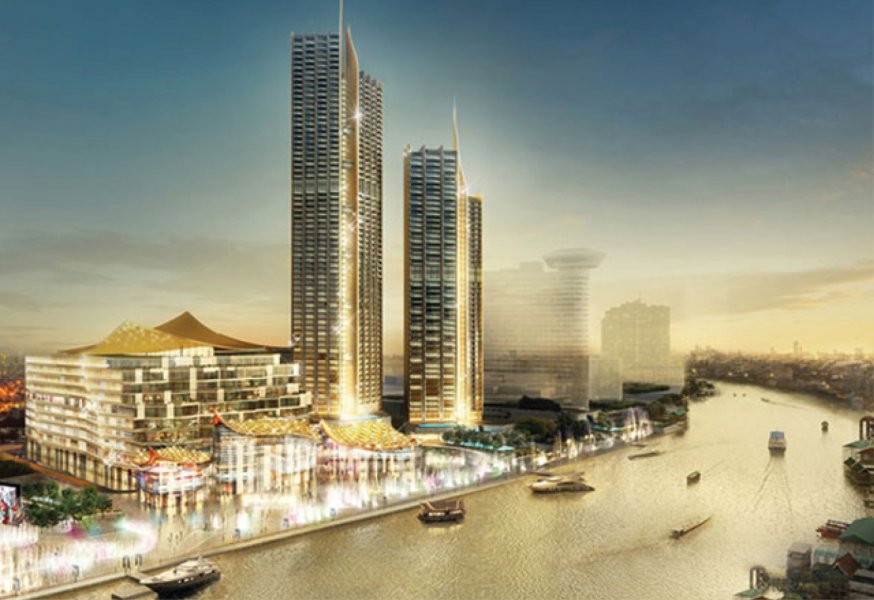 IconSiam

The 167-year-old Thai-Chinese compound Lhong 1919 (248 Chiang Mai Rd., 091-187-1919) centers around a Mazu shrine, and has now been developed to include art and craft shops like Karmakamet and Room 5D, as well as event spaces, restaurants and cafes including street food-style Nai Harng, Thai seafood joint Rong Si, and dessert shop Plearnwan Panich. Housed within three renovated warehouses, The Jam Factory (41/1 Charoen Nakhon Rd., 02-861-0968) offers rustic, industrial vibes with its bookshop Candide, Li-bra-ry cafe, Thai cuisine at The Never Ending Summer, and art space The Jam Gallery offering fashion and furniture. The freshly opened super luxury mall IconSiam (299 Charoen Nakhon Soi 5, 02-118-2211) is expected to become a new tourist hotspot, with four buildings of retail and entertainment, including a luxury shopping wing and two high-end condominiums—see box for specifics.
TRANSPORT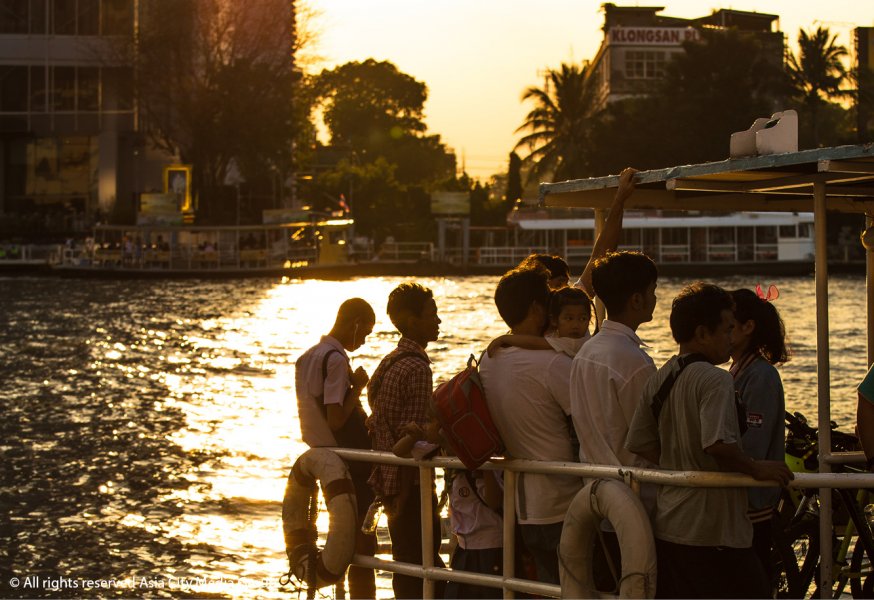 The area is equipped with both water and land transportation. By 2020, BTS Krung Thonburi will in be connected to the currently under construction 2.7-kilometer Golden Line monorail—a joint project between the BMA, IconSiam business group and The Krungthep Thanakom Co. Ltd. to make the area more accessible. The line will also connect to the future Red Line's Klongsan station, and the Purple Line's Prajadhipok station, as well as having a stop at IconSiam, with an additional station slated to open in 2023 at Wat Anongkharam. To travel by water, there are three main piers: Wat Suwan, Klong San and the so-called Pepsi Pier. Two more public piers from IconSiam will be available supporting the Chao Phraya express ferry and others.
ACCOMMODATION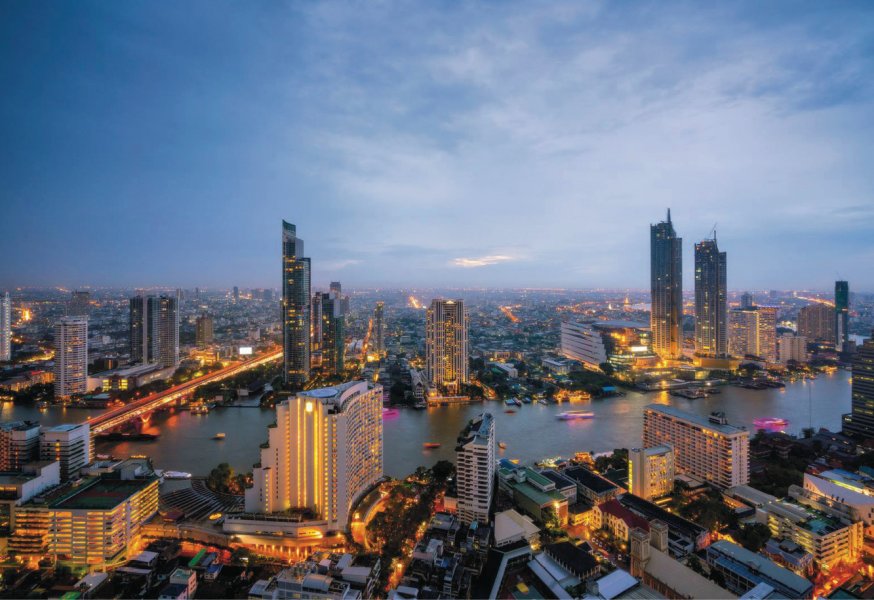 Credit: www.facebook.com/magnoliaswaterfrontresidences
An abundance of luxury riverside condos have shot up in the area, from the 31-floor Baan Chao Phraya Condo (208 Somdet Chaopraya Soi 17, 02-863-3170), with 478 units, a pool, gym and sauna from B15,000/month, to the more BTS-accessible 30-floor Lighthouse (Charoen Nakhon Soi 14, 02-861-0085), offering 134 units from B12,000/month. The River Condominium (110/602 Charoen Nakhon Soi 13, 02-029-1888) comprises of two luxury buildings with 833 units and a private boat service, located across from Vue community mall from B28,000/month, while the 40-floor Urbano Absolute Sathon-Taksin (345 Charoen Nakhon Soi 14/2, 02-409-1600) boasts a rooftop infinity pool and 593 units from B14,000/month. A number of developments seek to capitalize on the upcoming Golden Line, including IconSiam's two super-extravagant condominiums: the 70-floor Magnolias Waterfront Residences (215 Charoen Nakhon Soi 5, 02-118-2211) and The Residences at Mandarin Oriental (117 Charoen Nakhon Soi 5, 02-118-2211). For shorter stays, there are a number of boutique hotels in the area, such as the stunning J No. 14 Lodge (16 Soi Charoen Nakhon 14, 085-122-5249. B1,800/night), within 15 minutes' walk of IconSiam.
---
How does life by the river differ from the city center?
CHALERMKIAT WONGWALAIMAS, OWNER OF SAVE OUR SOULS
"In the past, Charoen Nakhon was pleasant and not crowded. There's still lots of delicious and affordable food hidden all along the street but, now, urbanization and changing lifestyles mean new businesses are responding with things like craft beer bars and cafes. I think Charoen Nakhon is going to become very developed in the near future."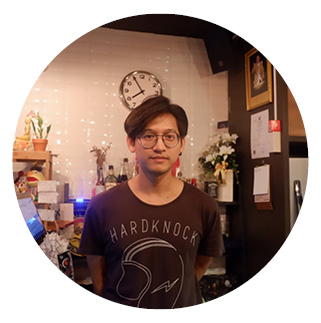 PEERAWAT HARNSOMBOONDEJ, CO-OWNER OF THE 14TH BARREL
"Charoen Nakhon and the heart of city are like Brooklyn and New York. Here, it's more peaceful and liveable, but it's still vibrant with many upcoming restaurants and businesses. Developments like the Golden Line skytrain are likely to bring deadly traffic jams. I used to work around Siam, Sukhumvit, and Phrom Phong, and I think that living here is far better than being stuck in three hours of traffic on Sukhumvit Road."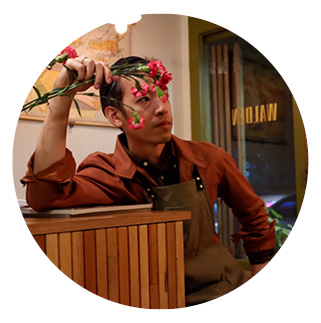 DITH CHANG, OWNER OF WALDEN HOME CAFE
"I was once one of those busy salarymen, but living here, life becomes slower. Nowadays, Charoen Nakhon is growing, and we're likely to see changes in the roads, traffic and the new skytrain. But I always wonder, did anyone ask the community what they want or need? Regardless of any developments, for me Charoen Nakhon will always retain the fascinations of traditional life and its old town vibe."
---
What's the Big Deal about IconSiam?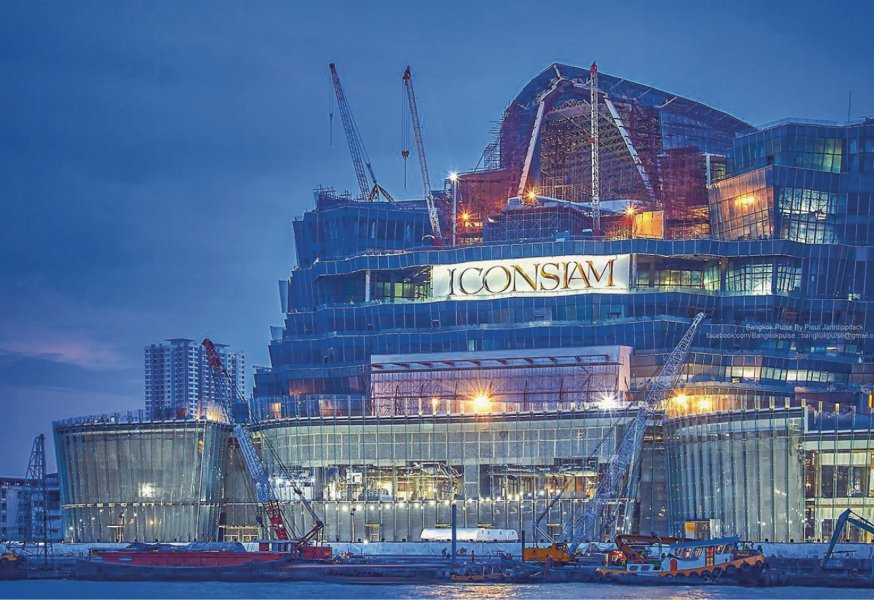 Credit: www.facebook.com/magnoliaswaterfrontresidences
"Paragon by the River" is not only set to create a transport hub in a previously hard-to-access area, it will also draw in the hordes with 100-plus restaurants spanning Michelin-starred spin-offs, Taiwan's Harbour rooftop bar and Bangkok's first branch of Singapore's premium Jumbo Seafood restaurant, while over 500 shops will include the giant Japanese Takashimaya department store, Thailand's very first Apple Store, A Land, COS, Adidas Originals, Nike Kicks Lounge and JD Sports. The complex will also include a Thai Heritage Museum and a world-class 3,500-seat auditorium, as well as the Sook Siam zone, dedicated to promoting local products and handicrafts—let's see if that's enough to balance the neighborhood's historic vibe with such rapid urbanization.