Over the past decade, Disney has been advocating itself as a frontrunner in Hollywood's scramble to diversify, as seen in movies such as "Moana", featuring a Polynesian protagonist and "Coco," which highlights Mexican music and culture. Disney's newest cultural obsession? Thailand.
Leading the charge is Thai-American cartoonist Matt Braly, the creator of Disney's latest cartoon, "Amphibia," which stars Disney's first Thai-American character Ann Boonchuy. Braly told NBC News: "From the very inception of the project, she was always going to be Thai, and it was something that where when I was growing up, there just wasn't any kind of Southeast Asian representation on screen, whether that's animated or not." Accordingly, animators are trying to emphasize specificity in cultural representation in order to introduce their viewers to that culture in detail.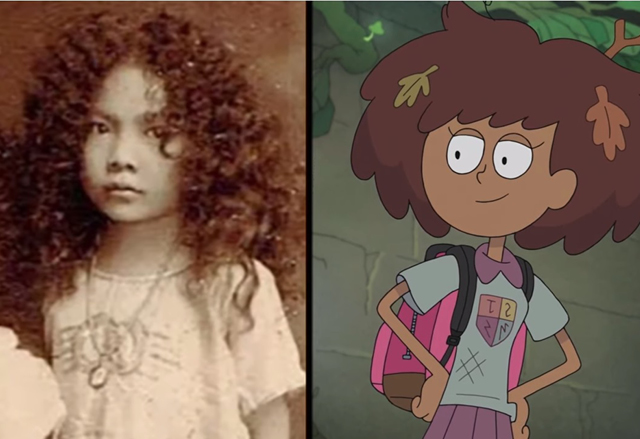 Amphibia's lead character (right) beside a portrait of the writer's Thai grandmother, which inspired the character
Following on the tails of "Amphibia," on Jun 22 Disney released "Mickey Mouse in Our Floating Dreams" onto its Youtube channel, which presented a 3:46 minute snapshot into the lifestyle of market vendors in Thailand's floating market.
The plot is cute and simple, seeing both of Disney's mascots Mickey and Minnie Mouse clad in traditional Thai clothing, selling pineapple fried rice. For the Thai audience, the most surprising feature, aside from seeing such recognizable characters in the media embodying Thai culture, is the absence of the English language completely. The entire short sees the characters speaking only in Thai, where characters greet each other with "sawadee" or Chip and Dale's annoyingly addictive song with Thai instrumentals and high-pitched vocals.
Mickey Mouse in Our Floating Dreams
Disney's attempt to expand their representation of Southeast Asian culture comes as part of a strategy that came with the 2018 announcement of Disney+, a new streaming service for all things Disney, Pixar and Marvel. Disney+ will be a competitor to other video streaming services such as Netflix, HBO Now and more. Disney's promotion involves gaining popularity in Southeast Asian countries, like Thailand, where people spend an average of nine hours per day on the internet, according to news channel One31.
Disney has already attempted to penetrate the Asian market with successful movies like "Mulan" and "Big Hero 6," alongside some not-so-successful attempts. Let's just say Disney's track record with Thai representation is not great, illustrated in a distasteful episode of Disney Channel's "The Suite Life on Deck" titled "Family Thais," where the main character London Tipton's (portrayed by Brenda Song who also voices Ann in "Amphibia") Thai heritage is highlighted in a trip to her "Khun Yai's" house. The episode was a huge misstep for Disney, exaggerating racist Thai stereotypes and committing many major inaccuracies, belittling Thai culture.
Still, representation matters, even if in small doses. With content like "Amphibia" and "Our Floating Dreams" opening doors that move away from past mistakes, we hope to see Disney create more content that features underrepresented groups in the media, provided they do their research first.