From a lack of access to basic healthcare to communities back-sliding into poverty, the pandemic has revealed a shocking lack of equity in a country that has increasingly failed to provide assistance to citizens who are most in need of help.
In the midst of it all, philanthropic groups and individuals have increasingly taken matters into their own hands. Some are helping local food vendors stay afloat. Others are providing medical assistance to Covid-19 patients. All rely on goodwill donations and volunteer support to continue offering their services.
Here is a list of some great organizations you can contact if you feel compelled to pitch in.
Image courtesy of Bangkok Community Help / Facebook
Started in April 2020, this foundation, co-founded by Sunrise Tacos owner Greg Lange and Dutch expat Friso Poldervaart, first picked up the slack by providing food, water, and other essentials to the Klong Toey community and has been a lifeline for at-risk communities ever since. Now their mission has expanded to providing aid to construction worker camps, too. The foundation accepts donations of cash and essential items (dried food, UHT milk, water, soap, etc.).
083-589-5414
Image courtesy of No One Cares Bangkok / Facebook
The Doo Lae Gun Eeng Group, aka "No One Cares," was founded after several construction sites were forced to close under the pandemic restrictions and neither government nor private employers stepped up to provide adequate resources to those locked within. The group seeks to help migrant workers who are currently jobless and without access to food and essential items. Last week, Swissotel Bangkok Ratchada sent lunch boxes each day and Tops supermarket donated dry food and essentials.

Image courtesy of Locall Thailand / Facebook
This online delivery platform was founded in March 2020 to help small, local restaurants survive as pandemic restrictions decimated business. Locall was created "by the community for the community," connecting small, individual shops and food vendors—especially ones that aren't digital-savvy—with consumers. Under a new campaign, "Thai Mung Rum Kan Jai," the service allows the public to not only support restaurants through orders but also aid others with a meal donation function in their ordering system. You can also donate food directly to the foundation, which will distribute the goods to communities that need it most.
Order via Line @locall.bkk
Image courtesy of Zendai / Facebook
The non-profit organization came about in early April this year and took matters into their hands by offering services to the unprivileged. Zendai helps to transport patients with Covid-19 and those who are at risk of being infected and are unable to travel by themselves. They also ensure that all patients receive beds at hospitals. They take donations and are open to contributions too, as they require volunteers to answer phone calls and coordinate pick-ups and donations, such as PPE kits and money to cover insurance costs for their drivers.
081-591-9714, 080-660-9998, 097-119-6836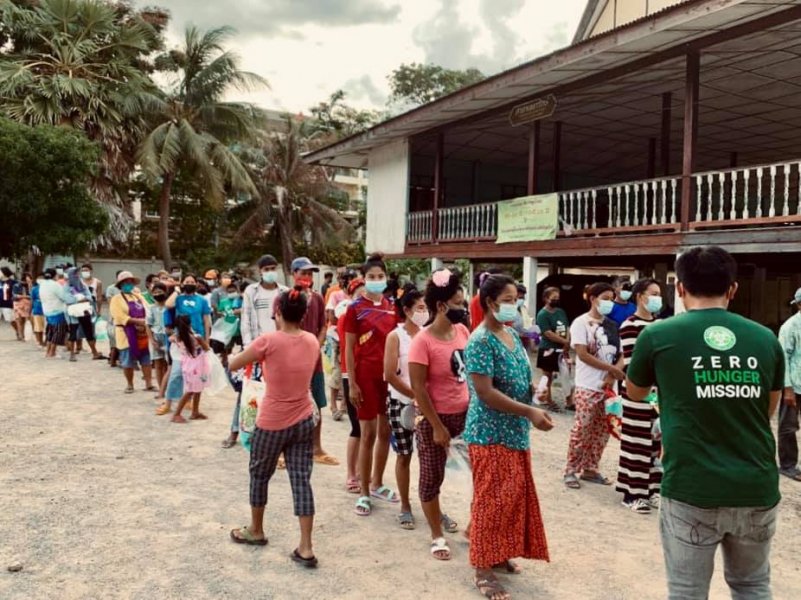 Image courtesy of Scholars of Sustenance / Facebook
Scholars of Sustenance (SOS) is an international food rescue foundation that has been serving Thai citizens since 2016. The foundation distributes high-quality surplus food from food-related businesses (restaurants, supermarkets, etc.) to the food insecure in Bangkok, Phuket, and Hua Hin. SOS is a member of The Global Foodbanking Network, which allows the organization to act as a food bank. The group also created the Rescue Kitchen Program to quickly cook meals using surplus food. Last year, this program served over 4.28 million people. If you have unused food or ingredients, you can donate them to SOS.
02-075-1417, 062-675-0004
Image courtesy of Up For Thai / Facebook
Up for Thai is a volunteer group established in early April this year to offer fresh meals and essential items to at-risk and in-need communities. They have sent and distributed meals to over 120 communities and 159 camps. They also provide information to communities to keep them up to date on the latest restrictions and news. The group accepts donations of cash, snacks, and ready-to-eat or canned food.
080-000-4566, Line @upforthai
Image courtesy of the Duang Prateep Foundation / Facebook
The Duang Prateep Foundation has been serving the community since 2012. Since the Covid-19 outbreak, it has served as an information and distribution center. Recently the organization partnered up with the U.S. Embassy in Bangkok to donate relief supplies, like 30,000 disposable masks, 5,000 tubes of alcohol gel, 5,000 hand gel dispensers, and 400 pulse oximeters for children, teens, and adults. The foundation also distributes survival bags, meals, and more, round-the-clock; engages children in skill-building activities; and helps rebuild homes. Money donations help fund these activities as well as survival bags for those most in need now.
094-343-1745
Please note: this list is not exhaustive. If there are some we have missed, contact us at editorial@bkmagazine.com and we will do our best to update this story accordingly.