Ari and Saphan Kwai weren't always like this. Seasoned residents can remember the days before Ari became a high-end residential utopia and Saphan Kwai's Pradipat Road turned into a budding lifestyle hub. We asked two such residents—Surakij "Pao" Metanukij, 33, second generation owner of 30-year-old Elizabeth Hotel, and 32-year Ari resident Wison Kaewkoon, 70—to share their thoughts on the area's early days and what they think its future holds.
Pictured: Surakij "Pao" Metanukij
How long have you and/or your business been here?
Surakij: In 1991, my dad decided to open the hotel here. Since he's Catholic, he took inspiration from Gothic Catholic churches and added pillars and poles to the design. He even took
the name of Saint Elizabeth for our hotel's name. Our first clients were mostly Thai public officers who needed a place for seminars or tourist groups. People might sometimes complain about our Wi-Fi, but they love the golden brown rad na we've been serving here for the past 30 years.
Wison: I've been living here for 32 years. I decided to move here because there were more employment opportunities back then. I used to own an architecture firm before I became a developer for Robinson and helped them design several department stores in Bangkok. One of the people I knew suggested that I should buy land in Ari—that's where it all started.
How different were Ari and Saphan Kwai back in the day compared to now?
Surakij: The place didn't have much. [Decades ago] it was all paddy fields and old shophouses.
Wison: They used to call this Thoong Phayathai since the place was literally filled with paddy fields. Even Victory Monument felt so far away back then. Many old phoodee (wealthy and elite families) settled down here, and land development was usually concentrated near the main roads. Then, some of the houses around here started to go up for rent. Some were turned into pubs, clubs, or other businesses. Inside [apartment complex] Baan Yoswadi, for example, you'll find aerial yoga studio Fly Me to the Moon. With the arrival of the BTS station, Ari has undergone rapid development. Now, the old wooden houses are being renovated. Some have been sold to land developers to build new high-rise condominiums.
What do you think of the development around the area now?
Surakij: Development is a good thing. Ari has become much more modern compared to what it was before. We have more cool places to visit and business is booming. All these new places are real magnets for tourists.
Wison: It's a classic problem. When you've been living in one place for 30-50 years, of course you would prefer how things were before. Ari used to be such a quiet place with more open space and less pollution. Now, many old houses are being sold, renovated, and turned into something else. I'm not against all these changes. It's normal to feel some kinds of conflict as things change around you. How are we going to make it work? Can we smooth out the transition of power and authority from one generation to the next? That's the question.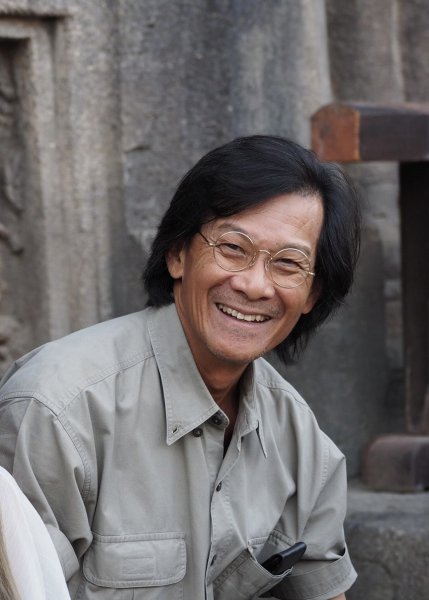 What do you miss about the old Ari and Saphan Kwai?
Wison: I do miss the peaceful vibe. The space near my place used to be a gallery and it was rather quiet. Now, it's an event space that people use to host parties. Noise pollution is everywhere these days—from construction sites to loud music at bars and hotels. The traffic is worse, too. While we can't stop development, we can take care of ourselves. If the community doesn't align with our needs, then one day it might be time to pack our things and leave.
What do you think the area will be like in the future?
Surakij: The area is booming. There's a mixed-use building near Saphan Kwai intersection under construction [The Rice], and once it's complete, it will draw office workers and other crowds to the area—that's a boon to our hotels with more potential clients. As for Ari, I think some business owners won't be able to afford rising land prices, so they may move to Saphan Kwai instead. Some of the mom-and-pop shops like pharmacies and leather shoe stores have already closed. [But] maybe some second or third generation owners will convert them into cafes.
Wison: With today's working culture being what it is, I think there will be fewer standalone houses in the next 10 to 20 years, with an exception to those that are unique on their own. We will definitely see more commercial projects in the next five years. Developers will respond to the wants and needs of tomorrow's generation.
By Veerabhatr Sriyananda and Porpor Leelasestaporn