Gian Luca
, or Luca, owner of
All Day Tattoo
, has built his tattoo studio from the ground up. Today, it's one of the best in the country. Here, he discusses
sak yant
, the importance of inclusivity in tattooing, and tattooing after Covid-19.
Tell us about your first tattoo. What made you decide to get it, and what does it mean to you?
I decided at age 16 I was going to get my first tattoo, but it took me some time to actually get it done. My cousin was a tattoo artist and would have tattooed me anytime, but I've always been very picky and detail-oriented with anything visual/artistic.
A few years later, I was living in London, and my roommate had a friend who was a famous artist working at the premier tattoo studio in London at the time (Into You). I finally knew what I wanted, and now I had found the right guy for the job and knew it was time.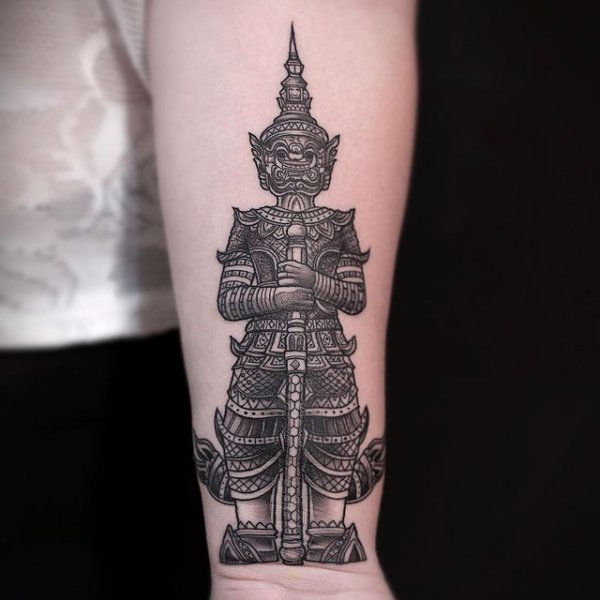 What made you come to Bangkok?
I was living in London and working for the "Art on The Underground" project and coming to Thailand regularly for holidays. Like many people, I absolutely fell in love with Thailand and specifically Bangkok the first time I came, and I ended up coming back regularly.
I had started a company that manufactures made-to-measure clothing for men, exporting from Bangkok to the UK, and my girlfriend (now wife) was living in Bangkok, too. Eventually I knew that I had to take the risk and choose to live in the place that I felt happiest. I moved to Bangkok over 12 years ago and have never looked back.
I've always felt there's an energy about Bangkok that I just haven't felt anywhere else. The mix of so many people, cultures, sights, sounds, and smells—it's just unique. Whenever I go anywhere I'm always happy to come back to Bangkok, so I know that means it's "home" for me.
Why did you open All Day Tattoo in Phrom Phong?
As soon as I decided to open a tattoo studio, I knew I wanted it to be in Phrom Phong. I've always lived around the area, and I knew it had the perfect vibe for what I was trying to build.
There's a lot of leisure and business being done here, and there's always a buzz. We have so many amazing restaurants and food options within such a small area. A lot of the cool clubs, bars, and nightlife happens around this area too, so once the shoppers and business people go home, there's still a lot to do and see. And if you're looking to get a bit of a break from the city, Benchasiri Park is right next to the Emporium.
Tell us about your team of tattoo artists.
We currently have 12 resident artists and local guest artists who are experts in a range of styles: traditional Thai (sak yant) tattoos and other popular Thai tattoos, geometric and mandala, Japanese, realistic, black and gray, minimal, old school/traditional, neotraditional, Polynesian, and more.
Our team makes us who we are. We have amazing artists and a team of supporting staff who are incredibly passionate about what they do. Most importantly from my point of view is that, apart from being great at what they do, they're great people.
It's important that the vibe of a tattoo studio is happy and inclusive. The tattoo experience [can] feel intimidating and unfriendly for people. Tattooing is a service industry just like any other, and the experience itself is just as important as the end product.
What's your opinion of modern Thai tattoo culture?
Thailand is a particularly interesting case, as they have taken a lot of influence from both the American/Western as well as the Japanese/Eastern tattooing cultures. This has really created an exciting and eclectic range of skills among local artists. In recent years, especially since the 1990s, there has been an increase in tattoo studios opening in Thailand, and it has really become known as one of the tattooing centers of the world.
What do you think about sak yant? Do they make you bulletproof?
Sak yant tattoos have a very interesting history. While the explanation you see for different designs is usually "protection" or "lucky," it's much more complex than that.
Each design has a specific origin and meaning as well as the benefits it is meant to bestow on the wearer. These things can range from "protection in battle" to "being able to find true love."
In my opinion, belief is an extremely powerful thing. While I find it hard to believe that a bullet could be physically stopped only by the presence of a specific sak yant design, there's a good chance that if someone believes they are powerful and protected they could feel more confident in their actions and overcome difficulties more easily and achieve more in their life.
Any interesting stories about your customers?
One that stands out in my mind is a customer that we did a small, minimalist tattoo for last year as his first tattoo. We warned him that this might be his first tattoo but we're sure it won't be his last. A couple of months pass and he comes back with an idea for a full sleeve tattoo!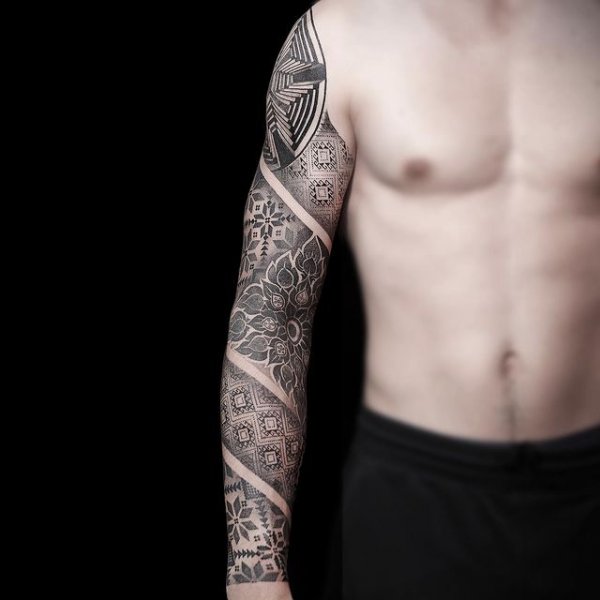 How have you guys adapted to the Covid restrictions?
We have been ordered to close twice so far for extended periods, which for any self-funded small business is a major challenge to deal with. We don't have credit or investors to fall back on so we decided that our best chance of surviving was to do what we have always done: do the best work we can for our customers and be the best employers we can be to our staff.
We don't discriminate and are open to accepting customers from all walks of life, but the reality is that, being a studio with high standards of English skills and customer service, and Bangkok being the world's most visited tourist destination, the vast majority of our clients before the borders were closed were tourists. We have so far managed to keep every staff member employed as we feel a sense of responsibility to provide for them and their families.
What's the future for you and All Day Tattoo post-Covid?
If you're not moving forwards, you're going backwards. We have been early adopters of many new techniques and technologies that have come into the tattoo industry. If something allows us to better serve our customers, we want to make sure we're making the best use of it we can.
One of the areas we are working on at the moment is an interesting concept in the digital art space. I can't reveal too much at the moment, but watch this space.