After retiring, Krittika "Yong" Sukpotarom, Daranee "Jeab" Puprasong, and Guthan "Boo" Suthiphongchai found themselves with a lot of free time. In February last year, they kicked off a flower-arranging business,
Maleejeerang
, and their herbarium crafts have garnered a lot of attention. BK Magazine speaks with them about their newfound passion for floral sculpture.
How did you start Maleejeerang?
Yong: We used to work at a creative agency and then retired from our old jobs. We always hung out and traveled to different places together. Sometimes we hosted our own little parties to chat, dine, and reconnect with one another. But we didn't want to make our hangout too typical, where we all just ate and then left. So, we came up with the idea that we wanted to do something together, something that would make us all happy, something that would help us feel fresh again.
Jeab: Since Yong was already keen on artisanal crafts—she owns another page called Rayangrawing craft workshop to teach people modern weaving techniques—we all wanted to do something for Valentine's Day. So we started our own business to offer a service for flower arrangements. We went to Pak Klong Talad, bought armfuls of flowers, and began experimenting with the craft. Ever since, whenever we found some flowers, we would stop and see if we could use them in our next project.
There are quite a few places in Bangkok that offer a similar service. What makes Maleejeerang different?
Yong: Flower arrangements are not new, and the same goes for herbarium crafts; we do these flowers arranged in glass jars. Just like any other craft, you can't just randomly put everything together. It requires specific knowledge and practice to give these glasses of flowers transformative elements. Luckily, we all have art backgrounds. I was a copywriter, Jeab a designer, and Bood an art director. Every piece is meticulously prepared and planned, and they all have their own specific stories. We also use natural flowers in our crafts and dry them to preserve their beauty, hence the name of our project malee and jeerang, which roughly translate to "flower" and "forever".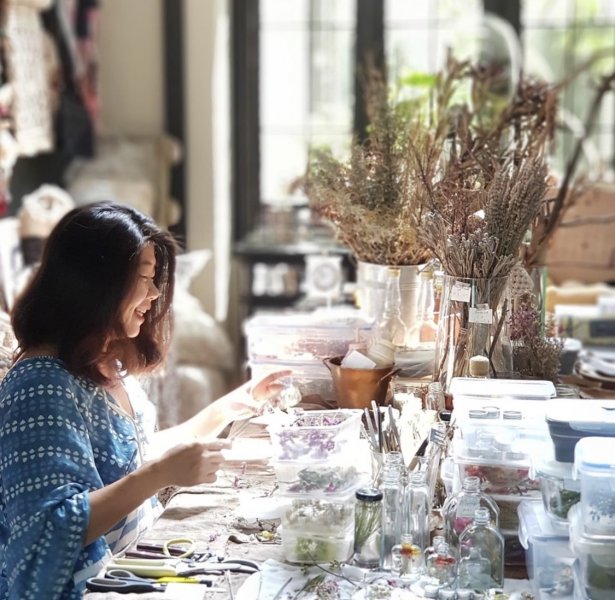 Do you have your personal preferences when it comes to designing the herbariums?
Jeab: As a designer, I typically see my flower arrangements as graphic designs. Each piece has its own brief and requires different types of layouts, color palettes, and compositions.
Boo: I like something flashy and chic and draw heavy references from fashion, so my works can be somewhat artsy.
Yong: I usually start everything with a tree branch and extend my design from there. Sometimes, it looks fine on its own with or without flowers.
Where do you find inspiration for your herbariums?
Jeab: Surprisingly, the most creative ideas come from clients. Among the most memorable was a client who requested a pair of herbariums for his temple visits and ancestor memorials. We didn't realize at the time that herbariums could be used like this, so we added these to our catalogs. The same goes for another client who wanted to order her herbarium to enhance her luck and prosperity according to Chinese feng shui, so we ended up kick starting our new line of good-luck products called malee mutelu (flowers and witchcraft).
What are your personal favorite customer requests so far?
Jeab: There was this one client who wanted to buy an herbarium for his girlfriend, which was not unusual. The surprising part was he sent a picture of his girlfriend: a woman standing among flowers turning her back to the camera. "Can you help me pick a design that matches with her?" he asked. We began micro-analyzing this woman's personality from the picture: maybe she isn't the type that wants to stand out, maybe she likes minimal stuff. So we used a minimalist color palette with a splash of green and one or two tiny flowers. He told us she was very satisfied with the result.
Boo: For me it's the long-distance relationship one. A woman opened a restaurant abroad, while the man worked as a military officer at a remote post. They were each other's first love but never revealed their feelings. They went their separate ways and started their own families. But many years later they divorced and started contacting each other. Since her boyfriend had to go on patrol and rarely had free time, she ordered seven sets of our herbariums—each representing different days of the week—and had us mail them to the camp he was stationed at. I felt like I wasn't just a flower artist. I was cupid.
Yong: This client requested "not too colorful" and wanted something that reflected her inner darkness. I wanted to add a bit of life to her request, so I started off with this autumn-like herbarium, using auburn and beige as a base with a tiny bit of purple.
Any future plans for your project?
Yong: As media people, we often discuss the prospects for our project, whether we'd like to see it grow further from here. If we wanted to push it further, maybe we might have to attend more market fairs, open our own shop, or pour more of our energy into it. But we also don't want to make it into something that exhausts us. Who knows? If the pandemic becomes less severe, we might get hyped up again. We've been wanting to explore more about local flowers with a little train trip where we plan to stop at every station to see if there are any interesting flowers to use.