It's hard not to hate Anont Alonzo. He plays the part of a spoiled Thonglor club kid, decked out in floral shirt, sunglasses, braces grill, and making it rain (fake money). So when the chiseled Shivam—who is a web designer when he's not suplexing people—bulldogs him into the mat, it's hard not to cheer.
This is Setup Thailand Pro Wrestling
, the city's premier pro wrestling organizer, featuring a very Bangkok lineup of fighters. This Saturday they traveled from their proper ring in Ladprao to the sold-out rooftop of Arcadia Barcade where dozens of fans gathered to cheer on the faces and boo the heels.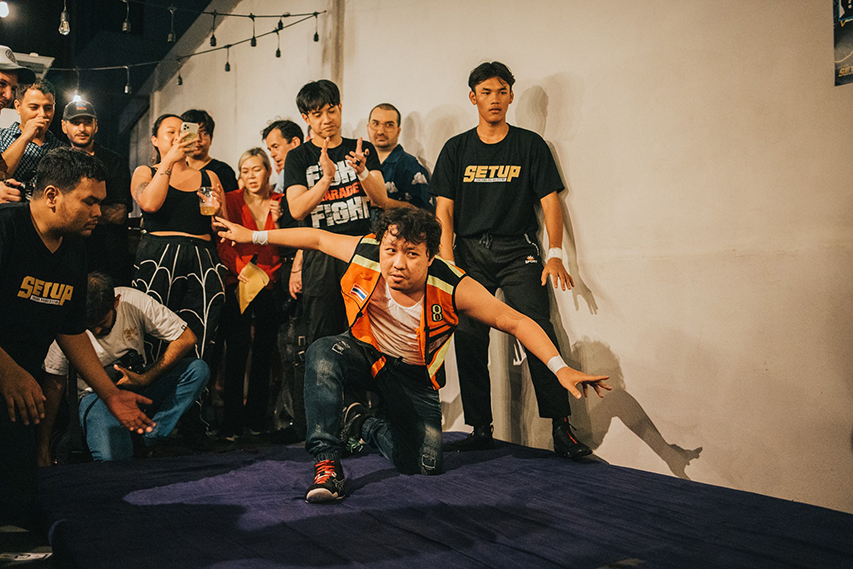 Photo: P'Suchart on the mat / BK Magazine
P'Suchart is a crowd favorite for an obvious reason: He's dressed as a motosai driver. For the price of an orange vest, he's the people's champion. As you might expect, his special moves are motorcycle based, including the "starting the motorcycle" where he twists his opponents' nose.
Sunny Z, a handsome and charismatic wrestler who looks straight out of the 1980s, fought in a tag team match with P'Suchart against the PornHub themed Pondhub and Akaradeth.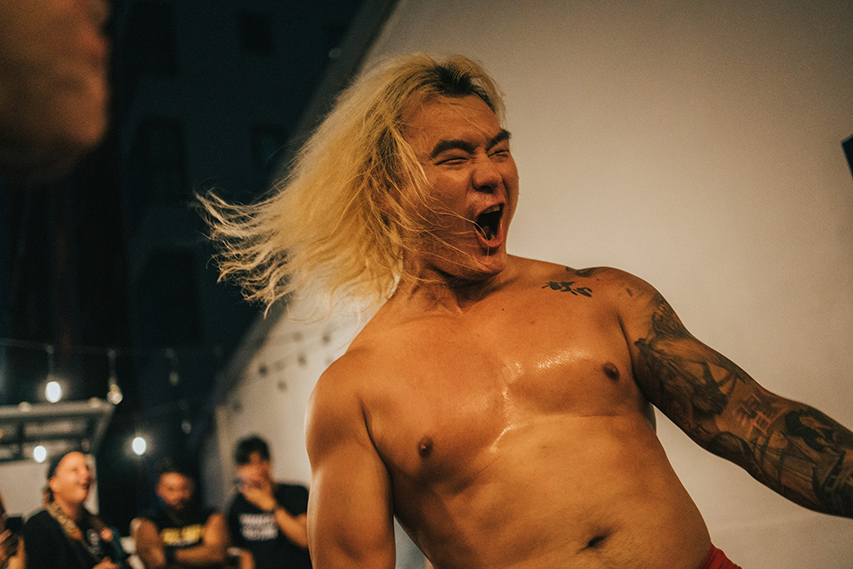 Photo: Sunny Z giving it the full Rick Flair / BK Magazine
"I got into it just by watching it on TV when I was a kid. I watched it like all the time," Sunny Z, who has been wrestling for the past three years, tells BK.
Rather than a torn mat on the rooftop of an Phra Khanong bar, the crew usually play to crowds in Ladprao's Circus Studio, G Village. This night, sponsored by OG Kratom, brought the art of violent panto to a whole new downtown crowd.
It's not just matches. Setup Thailand Pro Wrestling hosts seminars for hopeful local wrestlers, most recently Motorway Dojo in Suan Luang.
Photo: Kappa Rockstar trying to put down Paksa / BK Magazine
"Setup aims to give fans unique experiences and gain more fans," founder Pumi Boonyatud tells BK Magazine. "This is a chance for us to tell fans what Thai wrestling is all about. This show will be a great example that anything can happen at Setup."
And how right he was. Just as P'Suchart was going to for a pin fall, the evening's ring announcer—Todd Ruiz and owner of Arcadia as well as head of content at Coconuts—had to tell the raucous crowd to keep it down as the police had come twice to ruin the fun.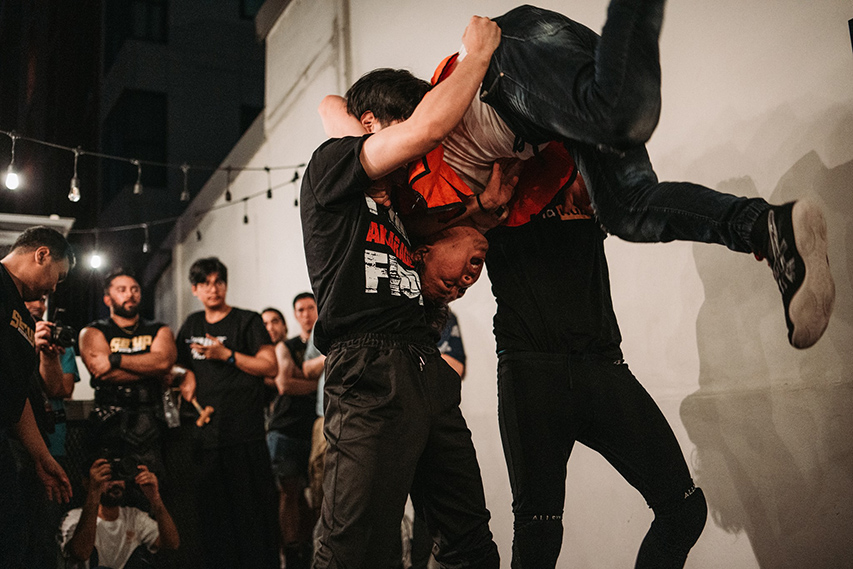 Photo: P'Suchart turning a suplex to his favor / BK Magazine
Despite that, the final match was for the real wrestling fans, a hardcore match of heel versus heel where chairs, ladders, and kendo sticks were smashed into heads and chests to gasps from the standing room crowd. The murderous everyman Paksa, who has been wrestling for more than a decade, from the mean streets of Thonburi took on the chunky Kappa Rockstar, a part demon Undertaker-style beast.
"I always wanted to be a wrestler. We are so happy to be here," says Paksa after his ladder moonsault and suplexes, breathing heavily behind the crowd.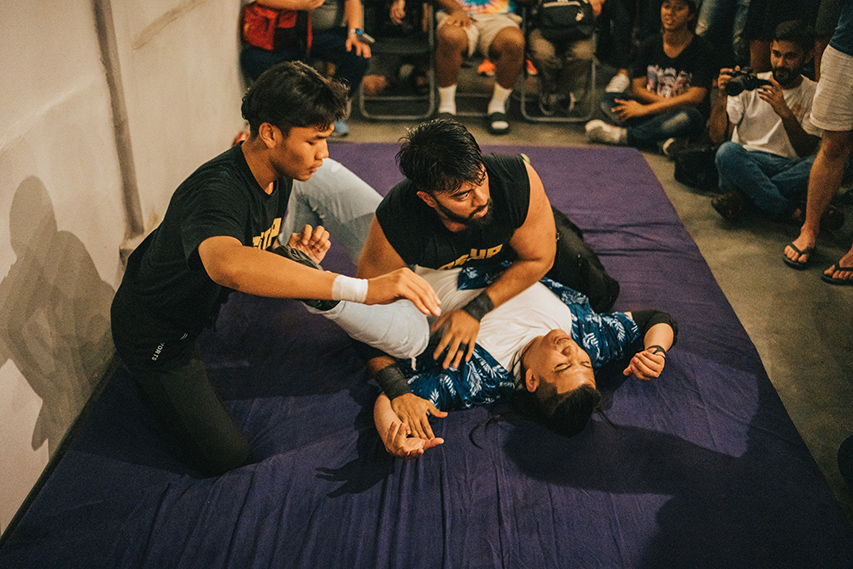 Photo: Shivam pinning the hi-so heel Anont Alonzo / BK Magazine
Even with the police (now there's a good heel) putting the kibosh on the fun, the wrestlers—half demon or full hi-so—came out to meet with spectators and take kitschy pictures and undoubtedly found new fans with the Phra Khanong crowd.
The next big show from Setup Thailand Pro Wrestling will be on May 20 and you can find more information
here
.