Thanayut "Book" Na Ayutthaya, AKA Elevenfinger, is the 17-year-old Klong Toey rapper behind the recent "This is Klong Toey Compton" rap battle, which gathered 48 local rappers and hip-hop artists. We spoke to him about how he got into hip-hop and his very personal reasons for pursuing it.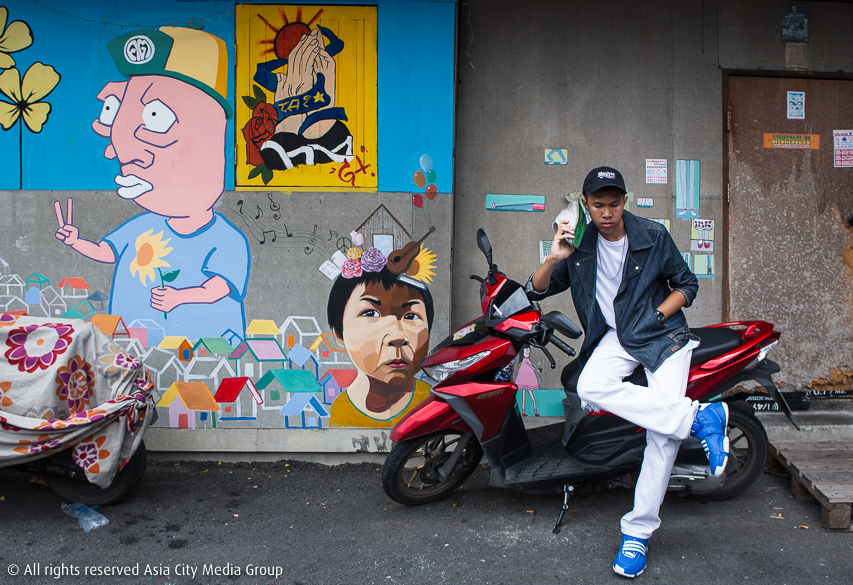 How did you come up with this project?
I used to be a gaming-addict, hanging out in an internet cafe like most kids in Klong Toey, but then my younger brother showed me hip-hop music. I was like 12-13 when I started rapping at the local park with my portable speaker. Earlier this year, I organized an event at a very small restaurant but around 200 people showed up, so I wanted to do it again. I used all my savings, and found more money and sponsors for the prizes to help make it happen. This 7-year-old kid from my area randomly came up to me and said, "I want to become a rapper, how should I start?" and I just knew I had to do it.
Why did you choose to have Compton in the name?
I feel like Klong Toey is the equivalent to Compton; the area may look rough, people see it as the drug hub of Bangkok, but there are gems hidden inside and I want the world to see that.
How many people attended your event? What was the youngest age?
Around 200-300 people attended, we had kids aged 2-3 coming with their mothers, too. The youngest who competed was 12.
What is the signature style for Klong Toey rap?
We talk about the things that are considered "dangerous" to talk about. Things that people don't want to mention.
What are you trying to achieve from doing this?
There are a lot of talented kids in Klong Toey who want to tell their life stories, and I love hip-hop so I want to show them rapping as a platform for this.
How do you feel about the Thai hip-hop scene?
It's definitely growing—the internet makes it easier to share music now. The audience is still very niche though, I hope that that will change in the future.
Why did you choose hip-hop?
My little brother and I are from the same mother but she refused to recognize me as her kid. My brother and I were still very close—he was the one that introduced me to hip-hop. One day, our mother passed away and her relatives took him away from me. I have no way of contacting him nor do I know where he is, all I know is he lives in Korat. I even went there before to try to find him but it's such a big city, so I'm trying to use hip-hop music as a platform for him to find me, because I know he is still listening to hip-hop.
What is hip-hop music, in your own words?
Talking about your life, everything that you have to face—happiness, sadness or disappointment—and telling people your message
You said you also have a hip-hop programme at your school, please tell us more.
I presented this idea to my school and founded the club, which now has around 30 members—half are girls. They are all so brave and talented, they write their own rhymes and some competed in the rap battle, too.
What is the plan for the future?
I want to organize the second "This Is Klong Toey Compton" around Oct or Nov.
Which hip-hop artists are you currently listening to?
Eminem because he faced a lot of life struggles like I do. I also listen to this Thai hip-hop artist Young Ohm—he used to be my senior at school and taught me a lot about hip-hop. A lot of people still think what I do is useless, but you just have to believe in yourself and stick to it.
What do you want to be with you grow up?
I want to be an artist, or event organizer, so I can do more events like this in the future.
You can listen to Elevenfinger here: