SC Asset, Thailand's eminent real estate trailblazer, recently held their grand celebration, "20 Years of Good Mornings," an extravaganza spanning five delightful days from October 19 to 23 at Parc Paragon.
The event, which we attended, served as SC Asset's launchpad as they embarked on their third decade in the industry, showcasing their remarkable journey and unveiling a vision for a brighter tomorrow.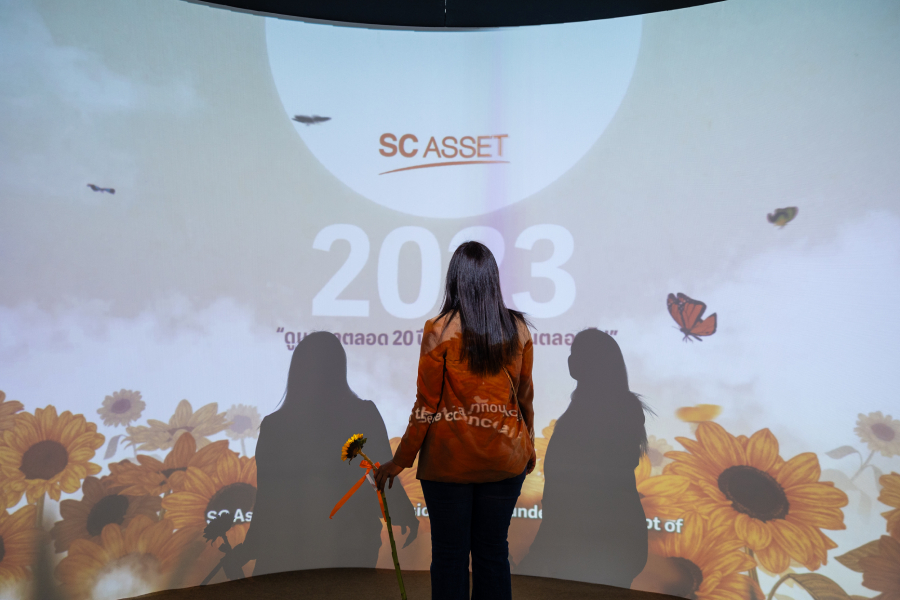 Attendees immersed themselves in a myriad of engaging activities designed to replicate the enriching experience of living in an SC Asset residence. One unique highlight was the "SC Event Morning Coin experience", which offered participants the chance to engage in activities mirroring a day in the life of an SC Asset resident. Completing these tasks earned them coins, which can be exchanged for exclusive SC Design souvenirs, SC Asset's Partners and Service Vouchers and exclusive SC Design souvenirs – a token of appreciation from SC Asset to their valued guests.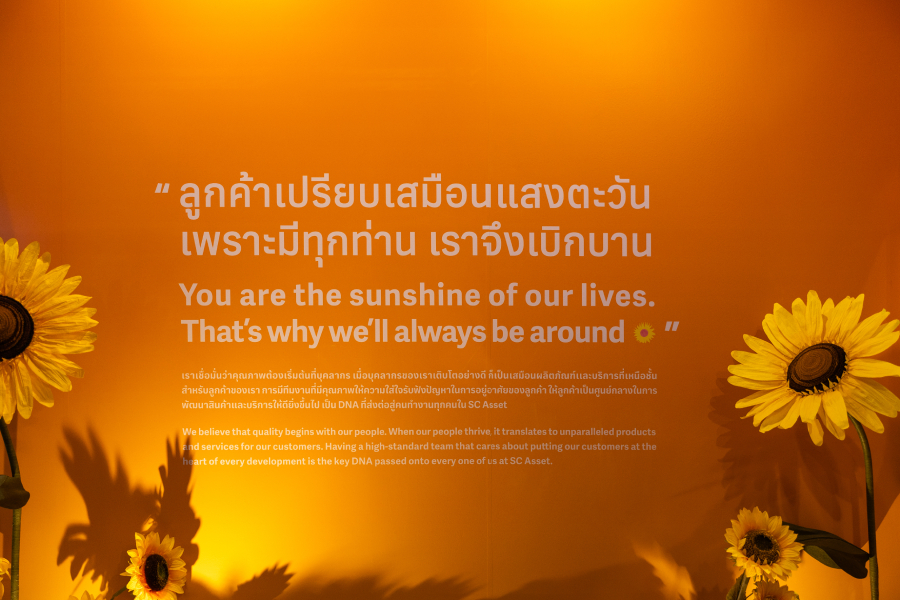 The site was divided up into the "Five Senses Exhibition" zones that took attendees through a visceral journey of SC Asset's Growth There was the Light and Sound Exhibition, where guests engaged their senses in an immersive experience that narrated the SC Asset story; Behind A Good Morning, which narrated how SC Asset grew based on clients' feedback and suggestions; Sunflower Service, where guests learned about the warmth of SC Asset's customer-centric approach; and Kingdom of Good Things, a sales reception area where attendees could get exclusive deals on SC Asset's current real estate projects including condos and townhouses.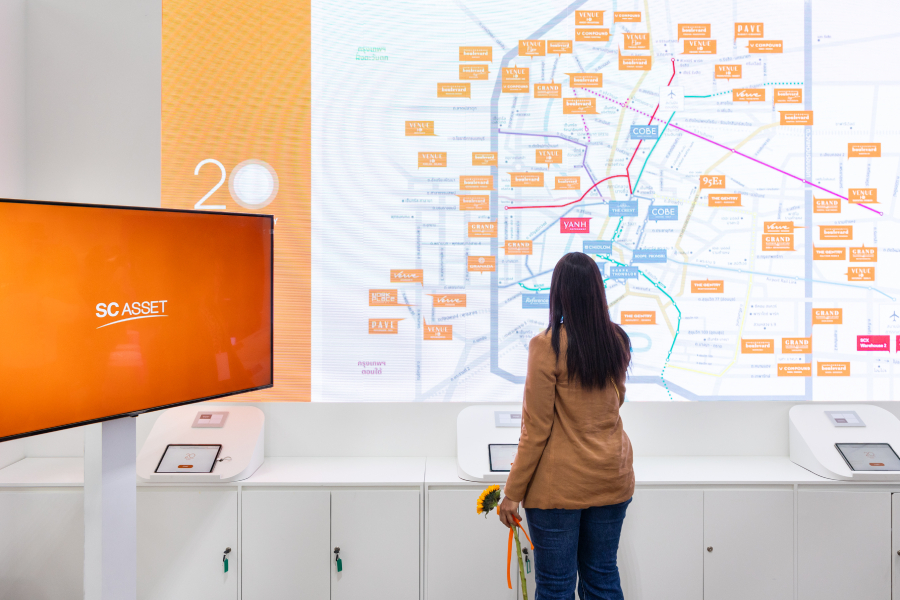 There was even a cool digital map that divided Bangkok into six areas, where we found out more details about the various SC Asset projects that were currently available in your area of choice, including nearby landmarks like BTS/MRT stations and major shopping centers.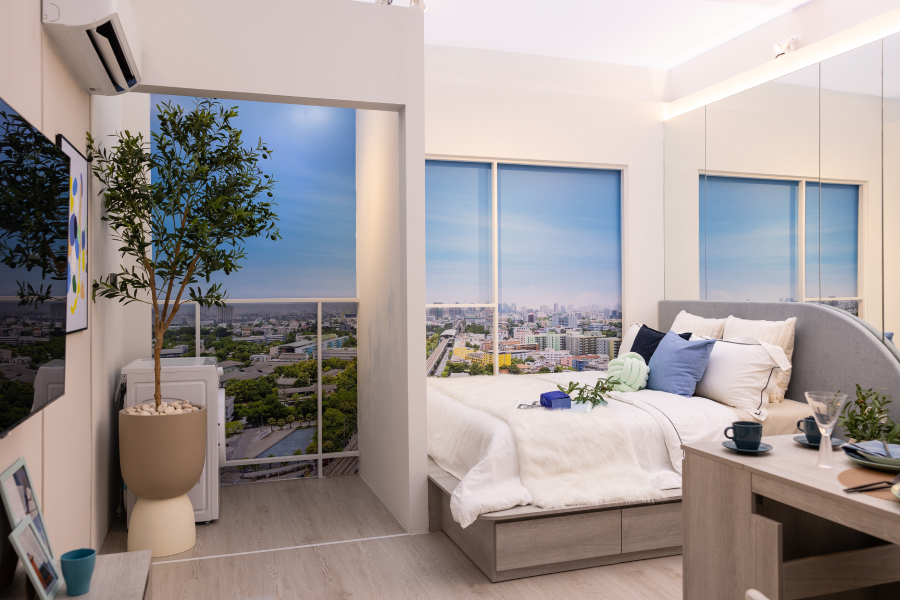 Notably, this event was also where the public got an exclusive first preview and could make a viewing appointment for SC Asset's next big project: the new COBE Condominium in the Kaset-Sripatum area.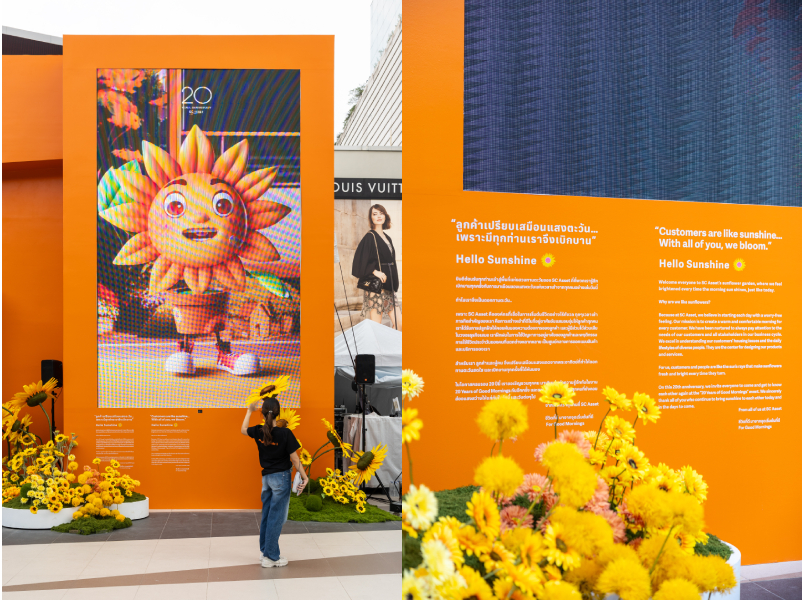 There was also sunflower décor throughout the site, including a six-meter-tall sunflower named "Dawn" who greeted visitors at the start of the Five Senses Exhibition Zone. It turns out that the sunflower is an unofficial mascot of sorts for SC Asset. Even the on-site SC For Good Mornings Café was dishing out bright orange ricotta pancakes and sunflower-shaped ice pops.
"At SC Asset, we have provided employees with training on the 'Sunflower Mindset' system, an essential principle that is practiced by all members of the organization. We refer to ourselves as the 'Sunflower' and our clients as the 'Sunlight,' which signifies that for the past two decades, we have always been attentive to our customers as if we were sunflowers that perpetually face the sun and bloom," explained Chomchada Kuldiloke, SC Asset's Head of Corporate Brand and Communications.
But it wasn't all just sales and viewings. In keeping with their community-driven mission, there was a section where attendees could purchase artworks and various lifestyle products that were designed by youths from ARTSTORY, a social enterprise business that empowers underprivileged autistic youth through art, including by providing outlets for them to sell their creations. All proceeds from the sale of the ARTSTORY products at "20 Years of Good Mornings" went directly to the organization.
In addition to the grand opening and a mini concert by PP Krit and T-pop band 789 DEBUT GROUP on the first day, the calendar for the next four days included a host of panels titled "Worry-Free Talks" where many experts and SC Asset team members discussed all things real estate. Highlights included "20 Years, 20 Questions" with Ken-Nakarin Wanakijpaibul and Faros, "Mu Te Room — Feng Shui for Homes" with Xin Sae Pen Nueng Wongphudon, and the Reviewer Review War, an awards showcase for the best property reviewer of the year. There was also a live musical performance by Pookan Kantrapee, and even a swing dance show!
After their establishment in 2015, SC Asset quickly became a major player in the Thai real estate market. Today, the company has a foothold in both the sale and rental spheres on properties ranging from houses to condos to entire office buildings.
"Throughout the past two decades, SC Asset has enjoyed consistent growth and success. Critical factors that determine our achievements include an in-depth understanding of all clients' needs, extensive collaboration with partners in the industry, and employee care that drives the organization forward," said SC Asset's CEO Nuttaphong Kunakornwong.
"As a 'Living Solutions Provider' committed to consistently fostering pleasant mornings for all clients, we are always concerned with gaining an understanding of their requirements. Our organization is committed to ensuring that each of our clients lives in a worry-free environment."
If you couldn't make it to "20 Years of Good Mornings" but would like to know more about SC Asset's current projects, you can reach out to them via their website.
Sponsored by: