With his
@bangkokcourts
Instagram account, long-time Sathorn resident—and former BK editor—
Oliver Irvine
has set out, rangefinder in hand, to document Bangkok's ever-dwindling number of mid-century, low-rise apartment buildings. He might be the perfect man for the task. Here, he talks about his affinity for tropical modernist apartment buildings, the people who reside in them, and what the city loses if they're all razed for development.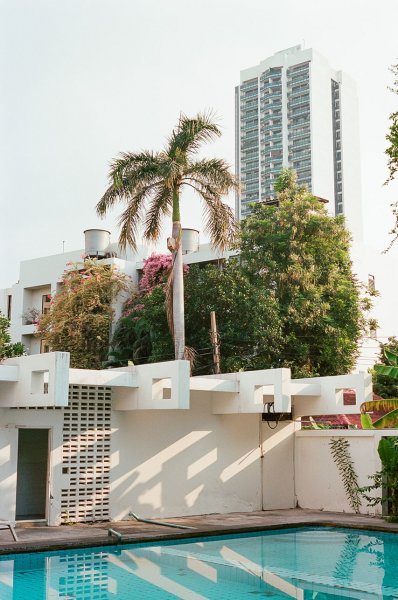 Development threatens the clean lines, muted palettes, and palm trees of places like Pitak Court, pictured here / Image: Bangkok Courts
Where does your fascination with these old, low-rise apartments come from?
Me trying to find a place in Bangkok I'd be happy to rent. I had been living, quite comfortably, in a modern, mid-rise Sansiri place in Ekkamai. I gradually became determined to find something that offered more than comfort. I had visited friends in several buildings from this era, and actually spoke to real estate agents trying to describe to them that this is what I was looking for. That didn't go well.
The film you use gives these places a stuck-in-time aesthetic. Were you trying to represent Bangkok courts in all their faded glory? Was that intentional?
In their faded glory, yes—the well-worn terrazzo floors, the almost-luminescent pool water, the ham-fisted plumbing that seems to be a hallmark of every unit. But there's no trickery going on to try and make the photos look in any way vintage. My choice of film is because I like that glossy effect it somehow gives, even when scanned, but I intend for my photos to be sharp and colors to be crisp and accurate to real life.
Where are the majority of these places anyway?
Four areas have a high concentration of residential buildings that fit the "court" mold. You'll find many around Dusit Palace and that area. These were built because of the SEATO treaty, for American soldiers. Those headquarters then became the UN. Lumphini Park unsurprisingly has a few courts scattered in walking proximity, and Ari, as a wealthy suburb, also has a great deal of this kind of architecture. The last area I'd point to is Sukhumvit Soi 26 and those winding backstreets, but I can't provide a reason why.
Dr. Maiyadhaj / Image: Bangkok Courts
Who is living in these buildings? From your account, they seem to be magnets for creative types.
Every apartment building has a broad range of characters, but there's no denying that certain courts will gather their own communities. I might get some shit for typecasting here, but Pichai Court in the Dusit area, for example, is a hub of designers, artists. Half the units in Pitak Court seem to find themselves passed between the hands of expat journalists, while Thonglor's TY Court holds a reputation among wealthy party kids. I actually consider it a failure of my account right now that there are too many "creative types." It's not representative.
My goal at the moment is to interview more of the owners of these properties, as they are invariably still owned and operated by the families who built them. The story of Samsen Court and its current owner, Dr. Maiyadhaj, is a great example of this. You'll find it in the early photos on my account.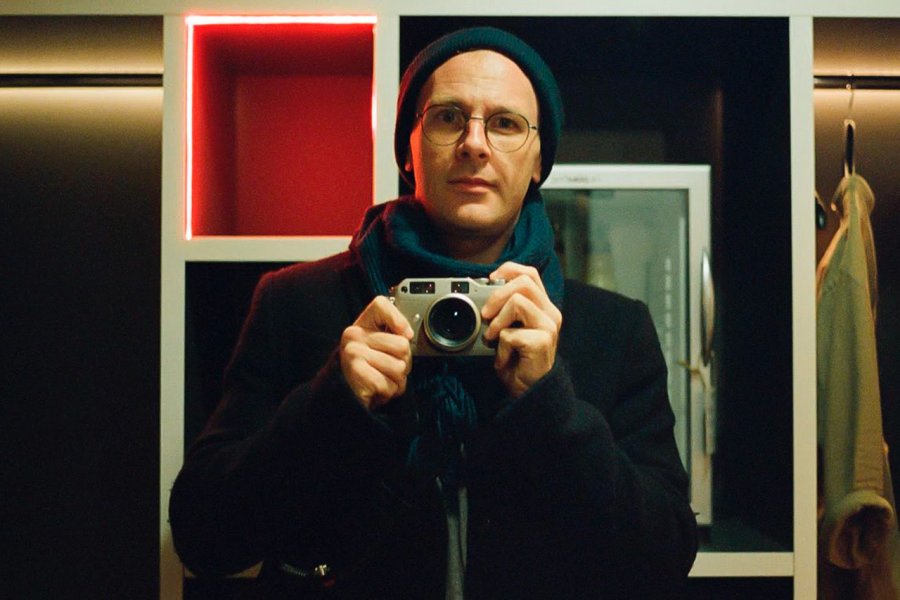 Oliver Irvine, the archivist of Bangkok's old apartments
What's the strangest story you've heard so far?
That would be from the place I live and the guy who used to live directly below me.
I don't know how long he'd lived there, but he was a part-of-the-furniture type, an old Italian with only one tooth who had a permanently naked torso and never stopped smoking. He was quite friendly, always left his door open. Anyway, one day I was walking up the stairwell, coming home from work, and the handymen were in there clearing out his stuff. They said he'd gone with just one suitcase in the night. I found out from someone else in the building that he used to be a mafioso and was living in Bangkok in hiding. Apparently some people from his past caught up with him and he had to make a run for it.
But I will caveat that story by saying there's a chance it's all bollocks. There's a fair amount of "apparentlies" and "this guy saids" in there. I haven't done any digging for Bangkok underworld, true crime stories.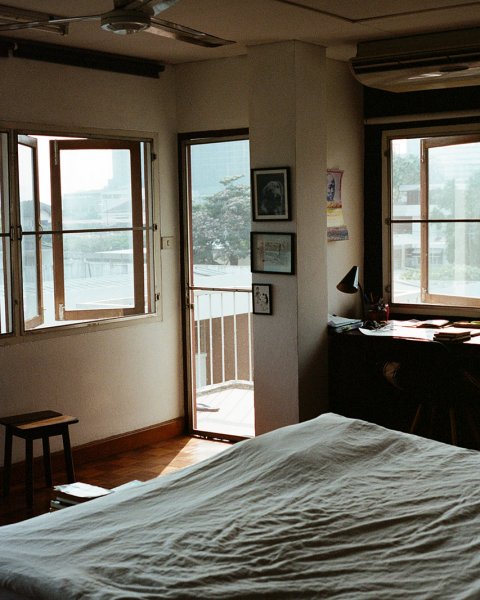 Inside Sunshine Court in Thonglor / Image: Bangkok Courts
What have you learned about design or the way people lived in Bangkok before the urban area expanded?
I think it's important to note that for the most part these courts were not built as affordable, mass accommodation, so I don't like to draw unfavorable, nostalgic comparisons with affordable condos being built now. These courts were expensive. Developers are still building spacious apartments using quality materials with well-off, expat communities in mind.
Architecturally, apartments from this generation give so much more breathing space. They're generally very open plan, without two bedrooms and a living room shoe-horned into 50 square meters. Often they can stretch the width of the building, too, meaning you get balconies at either end of the living space and therefore through-draft.
Do you get the impression property owners are trying to preserve these places, or are they all destined to be razed?
I mentioned Dr. Maiyadhaj earlier, who is very intent on ensuring that the court his grandfather built remains. But in general, yes, when living in this type of building you're always aware that the letter might be slipped under the door saying "sorry, only six months left."
What does Bangkok lose if or when all these old apartment buildings are gone?
It loses Bangkok's equivalent of London's red brick terraces or New York's Brownstones. They're part of the city's residential narrative and should be preserved for that reason alone. But they're also wonderful places to live that generally harbor quite a lot of green space, so you're also losing a part of the city's green footprint.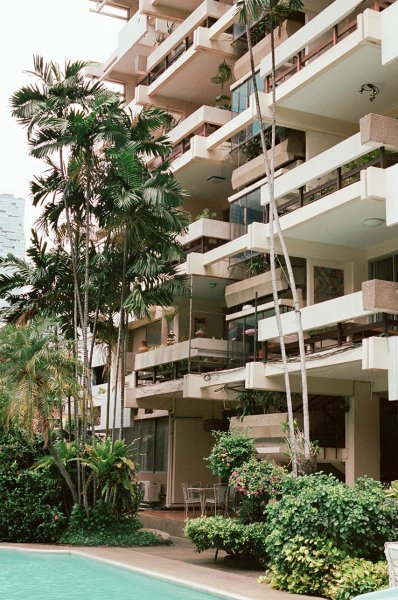 The strikingly gorgeous Kannikar Court / Image: Bangkok Courts
Do you have a favorite court from those you've visited?
Kannikar Court is just incredibly beautiful. The founder of Thammasat's architecture faculty dubbed it Bangkok's first modern apartment complex. The rear of the building facing Sathorn Road has these screens that create stunning shadow. The units are no less special. Not big, actually quite intimate in scale, but very simple and functional. The balconies, on the other hand, are huge, so it's an apartment that can genuinely provide outdoor living.
What's life like in your court?
When the hot water's running, the sink's draining, and the ceiling tiles aren't stripping themselves from the beams, it's splendid.