Maybe it's a romantic getaway, maybe a cheeky splurge, maybe you just really don't have to have to worry about getting home after a big night. Whatever it is, the staycation trend is bigger than ever. Galavant with the jetset, party on a rooftop, or just have a dirty weekend; these are your must-try stays in Bangkok.
Hi-so
B7,000 and up
Mandarin Oriental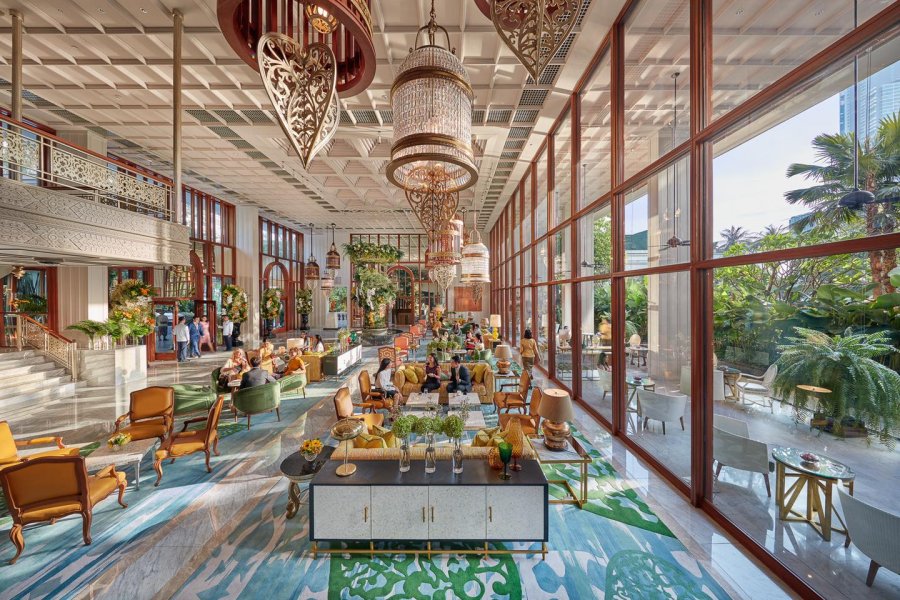 The Mandarin Oriental is arguably the most historic hotel in Southeast Asia. The likes of Somerset Maugham, Audrey Hepburn, Graham Greene, and Marlon Brando have called this 1876 hotel home. From the Author's Lounge—which looks like something out of a Victorian romance—to the gold standard of French dining by Le Normandie by Alain Roux, this is perhaps the most elegant staycation option in the city. Set on the Chaophraya in an area long ceded to the tourists and with more than a dozen dining options, this is where to stay for a romantic, ultra-luxe weekend of conspicuous but classy consumption.
The Siam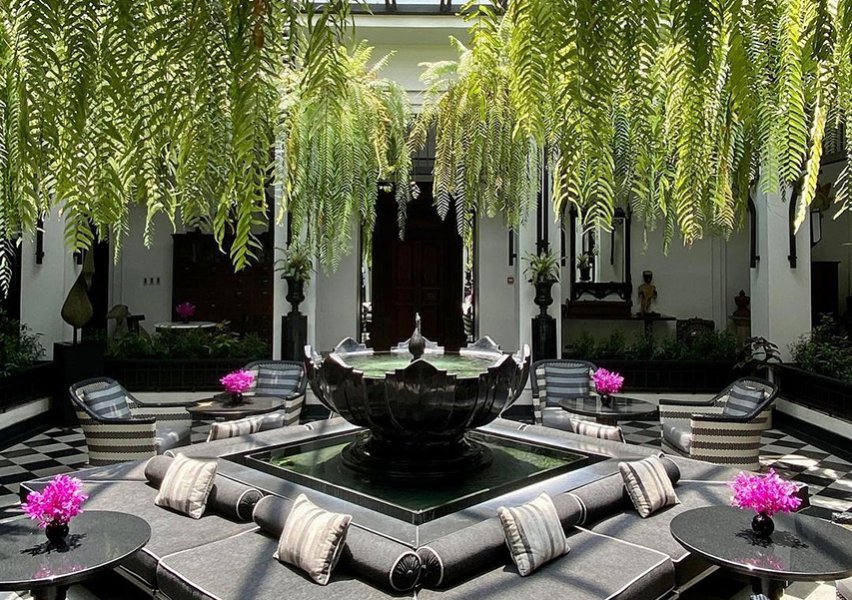 This hotel might not be well-known to those in the downtown areas of Bangkok, but it's a favorite the world over with high-rollers and lovers of the designs of Bangkok's resident starchitect, the eccentric Bill Bensley. If you're picking this for an ultra-luxe weekend, you take the boat from the downtown Chaophraya and step off in Dusit District for green, art deco majesty. To keep a little memento of your trip, The Siam offers a rare treat for a high-end hotel: on-site sak yant tattoos.
Kimpton Maa-Lai
Kimpton Maa-Lai is a fun place. And it's not just because of the drinks and music at Bar Yard. This is the ideal hotel—perhaps the only hotel—where you can have a genuine luxury hotel stay with your pet. Everything from the greenery to the spacious downtown rooms can be experienced with cats, dogs, and any other animal that fits through the elevator doors. While you're there, grab some drinks and bites at Ms. Jigger, and be sure to get your good boy or girl a snack at Craft—including dishes like Lickin' Liver Pate (B180) ice cream.
Waldorf Astoria
A lot of the luxury hotels in the city are found on the river because that's where the tourists want to go. Waldorf is a hotel for the downtown crowd. Just a stone's throw from the Chitlom BTS you've got brunch at Brasserie, bites at Bull and Bear, and some of the best high-end hotel Thai food at Front Room. It's not just the pool views and the food; on the 56th floor above Bangkok is the Loft, voted the Best Hotel Bar in Bangkok by BK's annual Bad Awards 2023 and boasting a surprisingly diverse cocktail menu.
Four Seasons
It's not just the White Lotus types at the Four Seasons. In our sin city, the relatively recently opened river hotel eschews the historical to create a world unto itself. The greenery, the pool, the views—how is this Bangkok? Of the nearly half a dozen drinking and dining options, the must-try is the Michelin-starred Yu Ting Yuan Cantonese restaurant. For your romantic late night drinks, the BKK Social Club is one of the most internationally recognized bars in mainland Southeast Asia.
Chill and Cool
B4,000-7000
137 Pillars
Definitely still on the high-end side, 137 Pillars is a breath of fresh air for the Phrom Phong crowd. It's a luxury inner city escape with a maddeningly Instagramable rooftop pool, and areas where you can literally look down on the city beneath your feet. Stop in at the recently reopened Jack Bain's Bar for a dark, intimate setting straight out of a movie, and if you want to bring the doggo along with you on your little staycation, don't miss the bites at the Bangkok Trading Post.
So Bangkok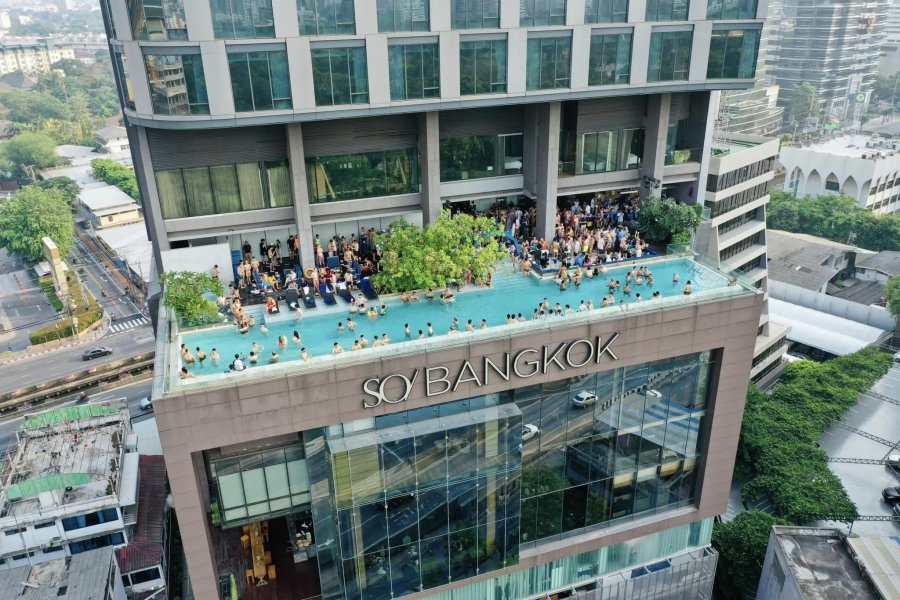 So Bangkok is one of the few hotel chains that knows how to party in style. From their rooftop pool parties to their unmissable monthly cheese evenings with free flow wine, there are a lot of reasons to want to get a room here even if you live in the city—if only to avoid stumbling home. So's brand pedigree needs no introduction, and this Sathorn haunt for the young and the jetset is not to be missed.
Sukhothai
The Sukhothai is a rare breed of inner-city hotel. First, guests will be struck by the architectural creativity in dark, moody tones juxtaposed with the bright, green, Asia-focused exterior. For foodies, this will seem familiar for Celadon, a Thai food traditionalist venue, and La Scala, which has a double-sided crusted pizza that is not to be missed—no, it's not a calzone.
Anantara Riverside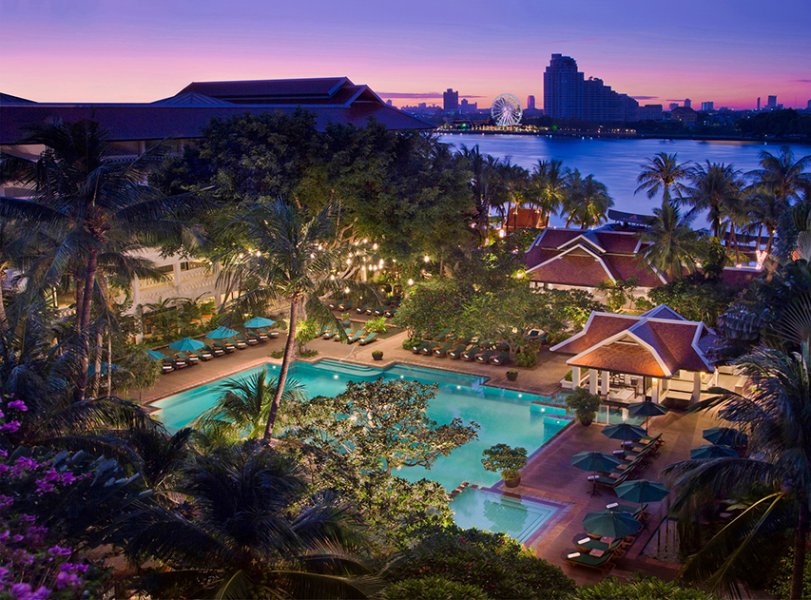 Sathorn's high-rises usually come to mind for the chill, cool stays in the city. Down on the river, the surprisingly reasonably priced Anantara Riverside offers the hi-so amenities of the bigger river hotels with a decidedly upmarket charm. If you want to feel like a pampered foreign tourist on your staycation, this is a good bet. Enjoy yourself at the Spice and Barley and the Benihana or take your late night across the road to Seen at Avani+ food good food and one of the best views in the city.
Banyan Tree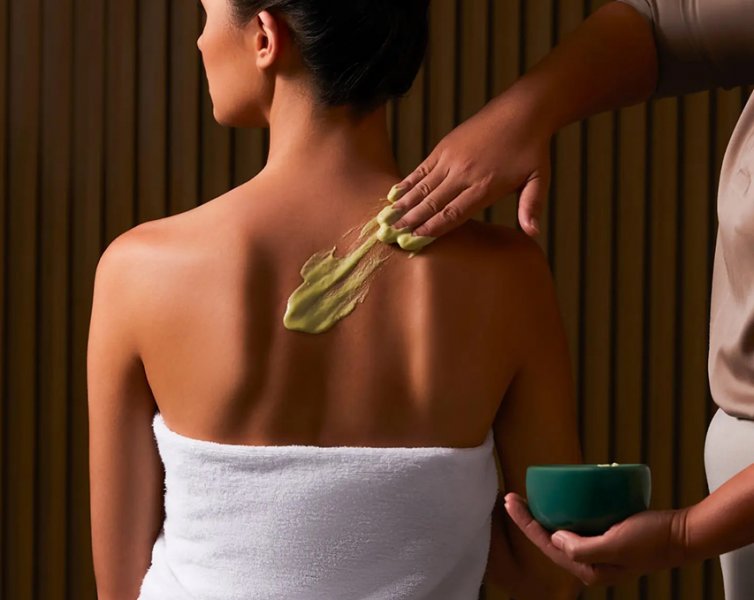 Some will say the reason to stay cation at the Banyan Tree is for the rooftop bars. And with a view like that, who are we to argue? But the real open secret at Banyan Tree is the spa. You walk through the clear bamboo stalks into a real wellness haven, and choose from a selection of massages. The inside tip is to try the Tropical Rainmist (B8,000) massage which includes a bath soak, steam bath, and rain shower.
The Standard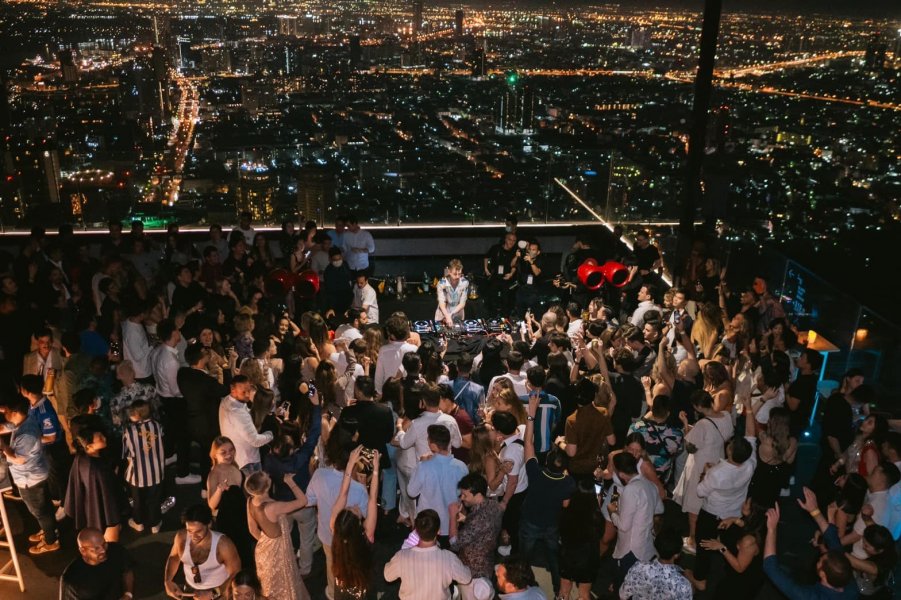 The long-awaited opening of the hotel in July last year—to say nothing of dining venues like Mott 32 and Standard Grill—rewarded fans of the brand with a chic, design-forward hotel at one of Bangkok's most famous addresses. What's more, this is a hotel that understands cool. If you want a big weekend with friends, hit up the likes of Ojo for dinner and delve into one of the many cool music shows, performances, or bingo—yes, bingo—events.
Neil Niwas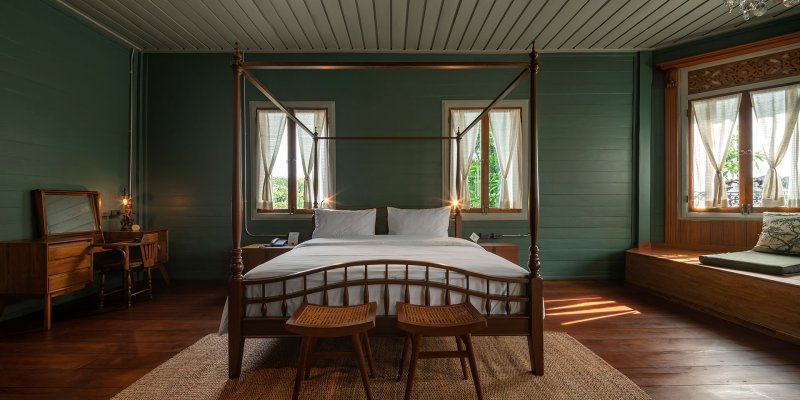 Photo: Neil Niwas / Photo by Wilson Thungthunya and W Workspace
This spot leaves the Bangkok for eigner river hotel throngs behind for a genuinely Thai B&B feel at a heritage hotel from the 19th centu ry. From the filigree architectural touches indoors to the food and the Bangkok Yai riverside, there are few hotels in the city that can offer this much history and charm. It's an ideal staycation getaway for someone who needs to remember Bangkok is bigger and older than the Sukhumvit.
W Bangkok
There aren't many big hotel brands that can boast a youthful, party atmosphere, but W manages it the world over. Here in Bangkok, in particular, for a high-end group who want to put their dancing shoes on, you've got the Wet Deck or Woo Bar pumping lively music and DJs on the regular, but patrons also have the likes of The Bar at The House on Sathorn if you need to class up your celebration.
Bangkok Treehouse
A lot of hotels tout their "greenery" and connection to nature. Bangkok Treehouse wins. Bang Kachao— Bangkok's "Green Lung"—is often touted as the city's best kept secret. For you cyclist staycationers or those who really want to leave the urban whirlwind behind, this venue is green, professional, and friendly. No, it's not an actual tree house, but the View with a Room (B4,000 on weekdays) is as close as you're likely to get. With cheaper rooms available that maintain that high-end natural feel, this spot also boasts the best food you can hope for on Bang Krachao.


Easy Stays
Under B4,000
Asai Bangkok Sathorn
A new addition to the city, Asai added to its offerings this year with Asai Bangkok Sathorn—as well as a new iteration of Err Urban Rustic Thai, with a menu created by Duangporn "Bo" Songvisava and Dylan Jones from Bo.lan. Under the stylish Dusit brand, this metropolitan getaway is a departure from its Chinatown cousin. With a sleek, perhaps even minimalist design, it makes a cutesy stay for cafe-hoppers.
Public House
The Phrom Phong crowd long wondered what would become of that green building at the corner of Soi 31 and Phrom Chit Alley. The answer turned out to be Public House Sukhumvit 31. In addition to pulling in cool music and fun events like the recent BKK Vinyl Fair, this design-forward venue features wall art from Ploenchan Mook Vinyaratn, 72 pieces of custom designed furniture upholstered in French fabrics, and walls lined with tat and artwork, Public House is a social, carefully hectic space for a quick midtown break with a great dining option and bar in Fest, as well as number of nearby restaurants for the traveling foodies.
Humz Canal Stay
Getting out of the city is a big reason for needing an in-city mini-break, and Humz Canal Stay ticks all the boxes. Don't worry about the stigma that usually comes with small canal hotels and their lack of air con and thumping boat music. Found 17 kilometers from the city center, you can relax with your legs in the water at this boutique spot. The beds look right out onto the water, so all you need to do to live that khlong life is open your floor-to-ceiling blinds and chill.

GalileOasis Boutique Hotel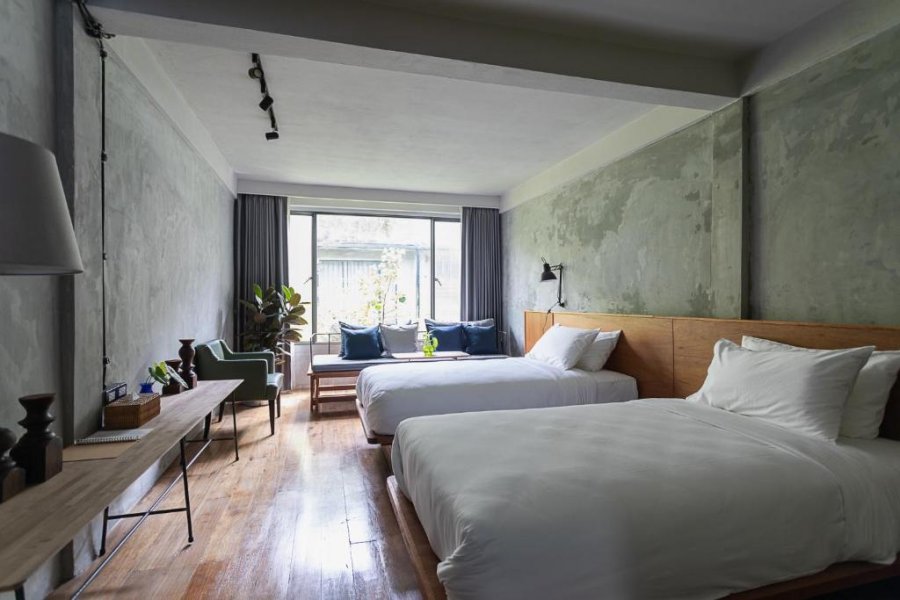 This quaint, brutalist boutique hotel sits just a stones throw from the heart of downtown and National Stadium BTS, but actually sits inside the leafy GalileOasis complex, which includes a theater, art space, and cafes. The bare concrete walls may make the venue look like it's crumbling, but that's part of the aesthetic, as is the lush greenery that surrounds most of the complex and gives it a nice hidden away feel. This is a great launching spot for the surrounding area.
1905 Heritage Corner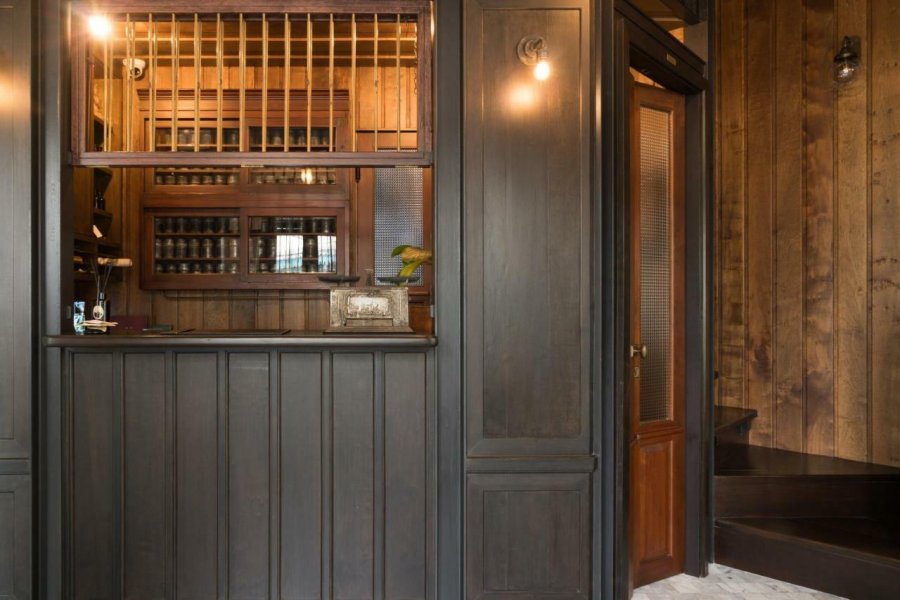 This small, three-bedroom guest house sits in the heart of Bangkok's Old Town just mere minutes away from the Grand Palace, but neatly tucked away from the noise of busy city streets. It's comprised of two refurbished, colonial-style shophouses that harken back to the traditional Sino-Thai communities that can still be found in the area. Inside, dark teak woods, clunky brass fixtures, and 1900s nick-knacks really hammer home the feeling that you've stepped back to a bygone era.
Baan 2459
Here is another one for you folks who want to immerse themselves in some old-school Bangkok charm. The Thai year 2459 converts to 1916 on the Gregorian calendar, and this immaculately maintained bright yellow colonial-style house imbues that time period well. While it comes with all the modern fixings (Wi-Fi, air conditioning, TVs, etc.), you'd never know it at first when walking inside where heavy metal lighting fixtures in the Queen Anne style rub shoulders with black and white pictures of the late King Bhumibol and golden Buddha statues.
The LA49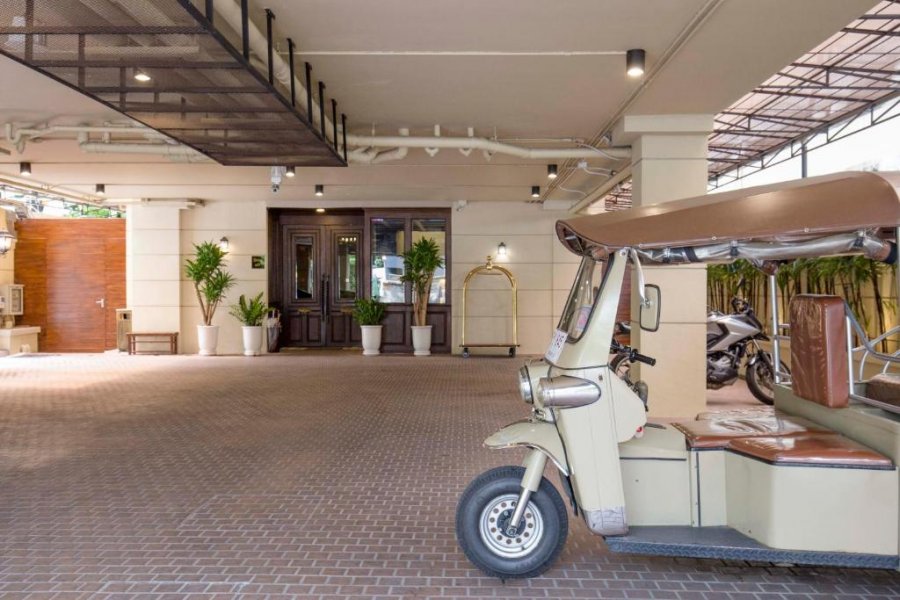 A popular spot among Japanese visitors to Thonglor, the LA49 comes lathered in 1920s American charm with its white stone tabletops, brass door handles, and plush art deco chairs. A nice, but often overlooked benefit of most Thonglor hotels is that they come with those fancy Japanese toilets, and that is no different here. The hotel rests just a few minutes away from The Commons Thonglor, so jaunting around the neighborhood is a breeze and you're not that far from the BTS.
MUU Bangkok
Enough with the old-world charm, how about some swanky future chic? Despite sitting directly on the main road in Thonglor, and being decked out in plush furniture, faux marble walls, and golden metal accents, this remains one of the best back-for-you-buck hotels in the area. Rooms with oversized windows let in plenty of natural light during the mornings, which will help you wake up if you've had one too many cocktails at the 1920s-style speakeasy on the 11th floor: 008 Bar.

Phranakorn-Nornlen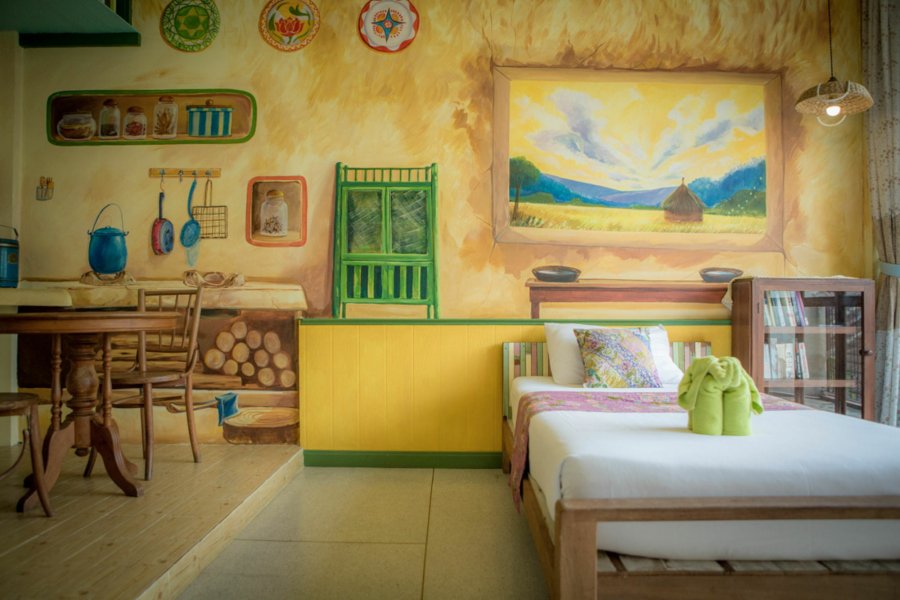 One of the wackier looking places to rest your head in the Old Town, thanks to a seemingly endless barrage of wall art and handmade, multi-colored linens that pepper every part of the hotel. We're not even sure what to call this style of decor, other than it is very memorable and will likely have you snapping away for your IG feed. There are no fancy-pants restaurants here, or ritzy amenities, but there is an undeniable out-in-the-country feel to this place and it is a great launching pad to explore the riverside.
Josh Hotel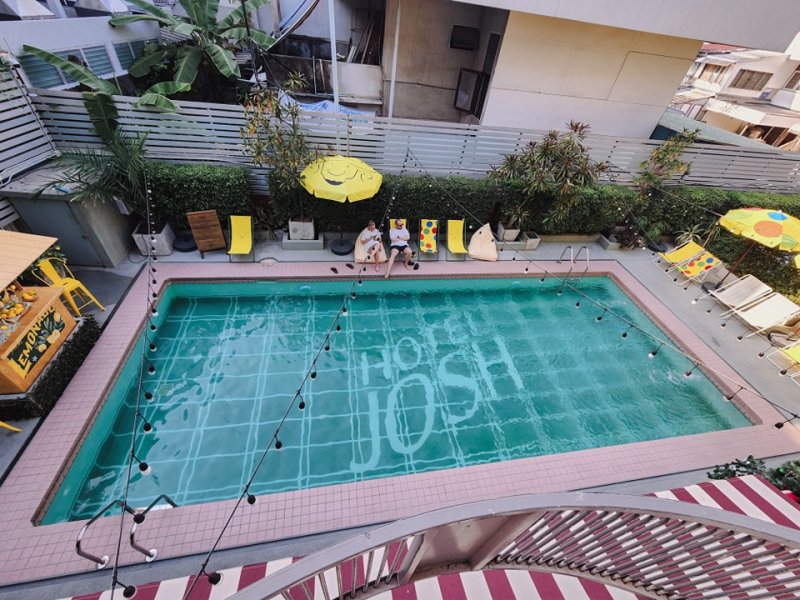 Long one of the most well-known staycation hotels in Ari, thanks in no small part to the wealth of events that happen here on top of a full slate of amenities that are good enough to function as standalone venues: a cinema, cannabis dispensary, izakaya, Mediterranean grill, pastry shop. There is tons to see in the surrounding hood, but you would be forgiven for just kicking back at the pool (perhaps with a joint, perhaps not) and taking in the eclectic vibe of this place.