Since 1974, Nancy Chandler's Map of Bangkok has been a rich source of insider tips for visitors and locals alike. Marking the end of an era, a recent announcement stated that they will be discontinuing after 45 years. We spoke to Nima Chandler, 51, the daughter of Nancy Chandler, about the company's history.
Can you describe the early days of Nancy Chandler Maps?

A month after our map came out, street signs suddenly got English translations—I think it was just a coincidence. In the early '70s, my mother started doing drawings for Sawasdee magazine. They asked her and her friends to do a story on Bangkok's markets with a simple one-page map showing Sanam Luang, Chinatown and the central shopping area. They visited Sanam Luang and got completely lost, so my mom started to take notes of what was where—cock fighting, pigeon feeding for kids, snake charmers. The map turned into a fold-out because they loved the experience so much.

How does the map relate to new gens, who tend to use Google Maps on their phones?

On Google Maps, there are dots and highways but you probably overlook things since there are no descriptions. We do all your online research for you and put it all in one place, including cool things that you'd have never thought to look for that will make Bangkok personalized for you. For example, movie buffs can find luxury cinemas, special effects cinemas, places that show only children's movies. We've personally picked "Fun Tour Options" that we think are really special, like taking a Thai dance lesson, street food cooking, spending a day as a fisherman, flower arranging, or visiting this boxing master's home that's been transformed into a cool cafe.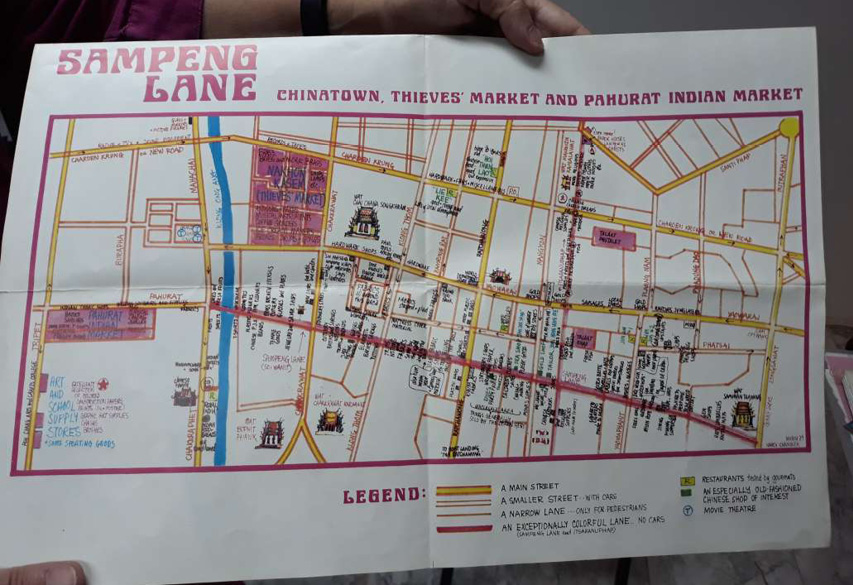 The first ever Nancy Chandler map

Can you walk us through how each map is made?

For Chatuchak, Chinatown and Khaosan we do it on foot and for Sukhumvit we usually drive. For the malls, we list what's interesting on what floor. A lot of our content now also comes from online posts by friends or BK Magazine, Bangkok Foodies, Richard Barrow and newspapers. Ideally, we update our map once a year, sometimes every two years. After my mother passed away, I think it was closer to three. It's very labor-intensive and normally it takes about six months to do one map. Bangkok is chaotic, we try to make sense of the chaos and make you comfortable enough to explore with confidence.

Is there a chance of relaunching in the future?

We have had a few people putting out feelers to see if they could have us relaunch in some way but personally I need to get some perspective before I talk about opportunities. I'm going to Prague next month on a family trip; I looked at the map and I cried because it just has sightseeing. I can't tell where the restaurants or the bars are, I can't tell where the cool neighborhoods are. I love the concept that my mother created with her maps. But as a business concept, without advertising, it's a labor of love, not a great business investment.

How have Bangkok and the places on the map changed over time?

My mother, as she got older, didn't like the skyscrapers and the big shopping malls so much, she would always love the markets and the mom-and-pop shops. For me, I know change is inevitable and I like finding the special places within the skyscrapers and big malls. There is still so much character even in modernity. You'll stumble across truly unique experiences.
Download PDFs of Nancy Chandler's maps until at least the end of this year at nancychandler.net.
---
"Change is inevitable and I like finding the special places within the skyscrapers"