Feel like chopping up your ride while downing a flat white? Now it's possible
A recent collaboration between Honda and Greyhound is fusing cafe culture with a creative space for genuine people who want to indulge in Honda's legendary models as well as custom motorcycle enthusiasts. The space includes a cafe, restaurant, fashion store, showroom and creative area.
CUB House, located in Ekkamai Soi 3, is unveiling what it calls a "Co-Creation Lifestyle Space" for motorcycle enthusiasts and collectors to experiment with customizing their motorcycles with the aid of an on-site "Bike Stylist" brotherhood who will help customize your bike. Instead of branding just another showroom, the space at CUB House aims to select rarer motorcycles with unique design and production lineages.
Befitting the motor theme, the bar's big on nitro drinks, with novelty signatures like the House of Super Cub (coined for a Honda bike, B185), nitro cold brew, milk pudding and condensed milk.
Snack on a Super Dog (garlic sausage, toasted bun with Sriracha mayo or Japanese curry sauce, B220) while perusing the Greyhound collection of biker wear.
The space also gives riders the chance to sample Honda's latest creation, the new Honda Monkey—one of the Japanese automakers most well-known products. The Honda Monkey has received a total redesign and feature overhaul, adding round headlines, separated seat and tank, a high muffler and new technology like LCD meters that display gauges and even show an animated monkey at specific moments.
The aim is to create a space that isn't just a coffee shop, bike showroom or customs shop. CUB House is a creative space that pulls the concept away from traditional arts and entrepreneurship and moves it into the realm of motorcycles and gear heads.
CUB House Flagship Store, Ekkamai Soi 3, 063-215-6163. Open daily 8am-8pm. BTS Ekkamai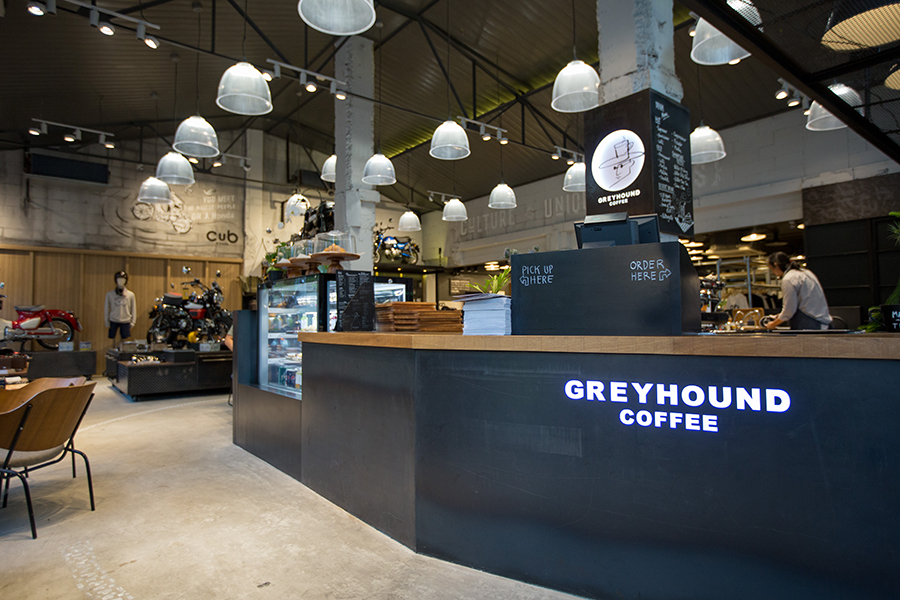 ---
CUB House – Only Who Knows the Genuine
CUB House's new co-creation space puts the emphasis back on originality and free thought. Two of Thailand's most well-known celebrities, K'Noi and K'Suki, explain the concept below, detailing what the new co-creation space is meant to be and also delving into the essence of what it means to be a free-spirited creative—whimsical and energetic like a child but wise like an old master.
Awaken the Monkey
Awaken your adventurous DNA, unleash your playfulness like a kid, just like what we truly are
The time when you can be true to yourself is when you have the opportunity to unleash your creativity. To be playful and fun in this way can reveal a lot about people. Instead of designing from a blueprint, the creative process becomes more freewheeling and natural—producing unexpected results in unexpected ways.
Genuine
Timeless design is what proves the value of imagination
Possibly the best test of a truly strong imagination are ideas that stand the test of time. Just like anything in the world, the best of the best always stands out. This is true of the imagination as well. The most beautiful and useful last longer than the others, proving their worth as time moves on.
Collectable
People find love regardless of age
Riding a motorcycle, in many ways, can be like experiencing new love. It makes people happy, and that's just a fact.
Cub House promises unforgettable experiences with legendary motorcycles and a zone that allows you to customize your bikes to reflect your style. There's a food and beverage zone and fashion store with unique designs that will reflect your story and uniqueness.
ขอเพียงแค่คุณได้รู้
ONLY WHO KNOWS THE GENUINE
Sponsored by: