Worldwide, youth activists have come out in droves to make their voices heard, whether it's for climate change—go Greta!—human rights or democracy, with protests happening in places like Belarus, Hong Kong and the US. Now, Thailand is catching the world's attention with its youth-led fight for democracy.
Earlier this year, university students across Thailand gathered to fight for justice following the dissolvement of the Future Forward Party. In July, Thai political activist Wanchalerm Satsaksit was disappeared in Phnom Penh, where he was living in exile. That event sparked another fire in Thailand's young gen leaders, and since then we've only seen more tenacity, more determination, more rallies for democracy. Here are some of the key figures in the youth movement fighting for democracy, freedom of speech and equal rights in our country. By Chonticha Thammarong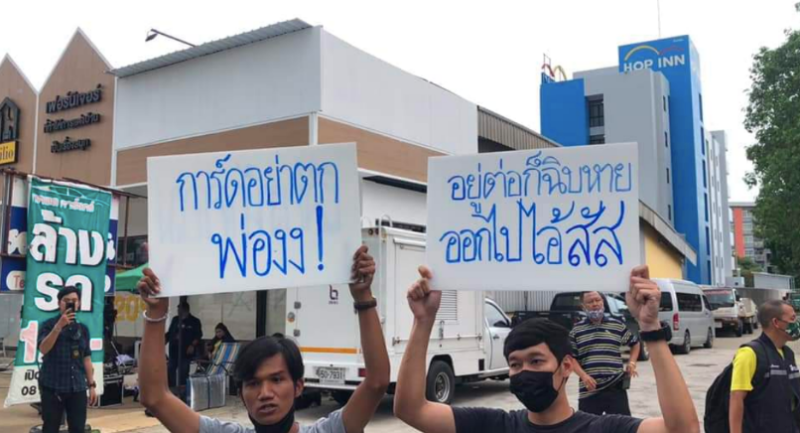 On the right, Panupong "Mike" Jadnok; on the left, Natchanon "Non" Payakaphan
Panupong "Mike" Jadnok, 23
Mike became well-known nationwide when he and friend Natchanon "Non" Payakaphan were seen being dragged away by a group of police officers in Rayong province. And for what reason? General Prayuth Chan-o-cha was in town to reassure people that everything would be fine after an Egyptian soldier, who had been allowed into the country quarantine-free and later visited attractions across the city, tested positive for Covid-19. Mike and Non, for their part, were standing with protest signs that said, "Keep the guard up, father"—the way he used the word "father" is considered an insult—and, "If you stay [in power], the country will be in ruins, you animal." Obviously, calling someone an animal in any language is an insult.
"One of the positive outcomes that we've all seen from the protests is that high school students are interested in politics and fighting for their rights. It's not just about university students anymore. We can see rising movements from students throughout Thailand, and that's very important," says Mike. "No, I'm not scared. There's nothing scarier than not standing up for your own country. Now is the time to take [Thailand] forward."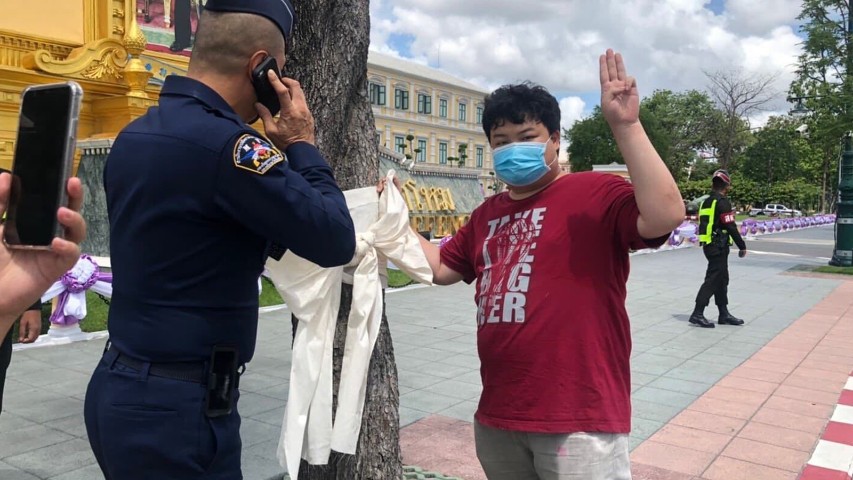 Pictured: Parit "Penguin" Chiwarak
Parit "Penguin" Chiwarak and Jutatip Sirikhan, Student Union of Thailand, both 21
Even though Penguin is only a university student, he has been fighting for human rights since he was in high school. Alongside his friend Jutatip Sirikhan and a few others, formed the Student Union of Thailand together. More recently, he spearheaded the Thammasat protest on Sep 19—the biggest Thailand has seen in years.
Both Penguin and Jutatip have been at the forefront of many symbolic movements over the years. On the sixth year anniversary of the coup staged by General Prayuth Chan-o-cha, the group drove a pick-up truck around Bangkok with banners brandished with Prayuth's face that read, "It's been six years, you animal." After activist Wanchalerm Satsaksit was disappeared, the Student Union of Thailand launched the white ribbon movement as a symbol of justice. (The movement saw protestors tying white ribbons around Bangkok to campaign for the activist.) This year, on Sep 1, Jutatip poured a bucket of white paint over her body in front of the courthouse and said, "Paint is washable, but injustice is not."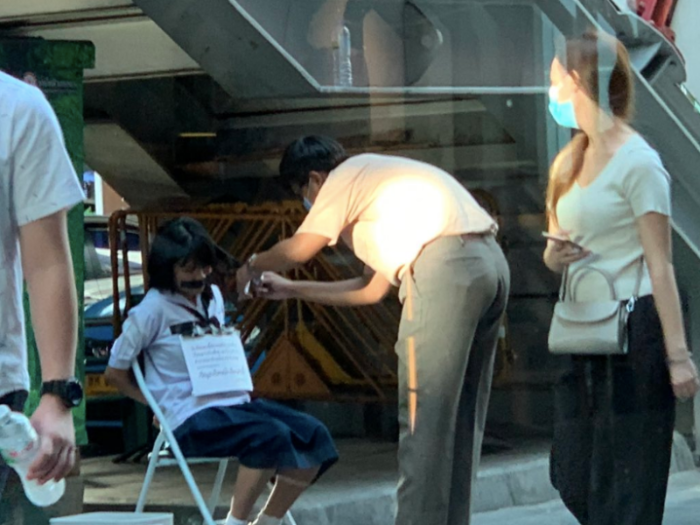 Pictured seated: Benjamaporn "Ploy" Nivas
Benjamaporn "Ploy" Nivas, 15
Ploy is the youngest leader of the bunch and is still in high school. She and a group of her friends set up now-widely known Twitter account @BadStudent_, a platform to help students in Thailand fight injustice and try to change the education system.
In June, Ploy stirred up social media when she was seen wearing a school uniform, sitting under BTS Siam, hands tied, lips duct-taped, with a pair of scissors on her lap. Hung over her neck was a sign that said: "This student violates school rules by wearing her hair long with bangs. You may punish her." Passers-by were invited to cut her hair. It was an act of protest against Thailand's unreasonably strict haircut rule in schools, which demands that girls keep their hair above the neck and boys rock the "I just enlisted in the military" look. (The haircut rule in Thai schools has since been changed by education minister Nataphol Teepsuwan.)
"The student movements have brought fire back into some adults, whose fire was put out by politics," says Ploy. "It may seem like such a small step, but it's a very important one for those who long to see change in Thailand. I want it to happen now, in my generation. I don't want to see the next generation grow up and experience what I've had to experience. This is the perfect time to fight for change."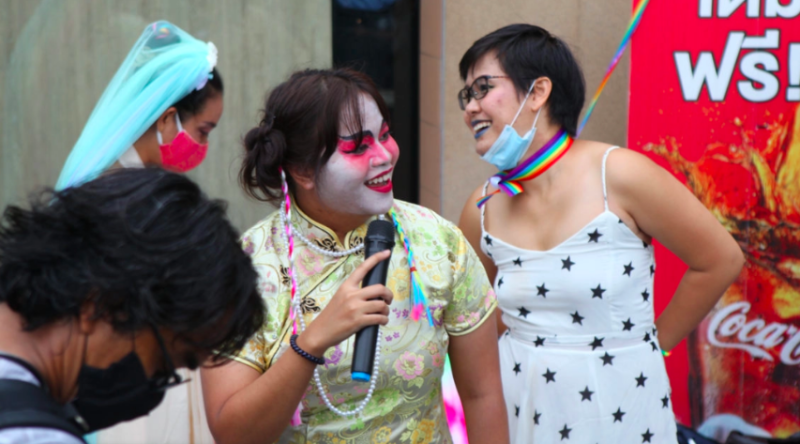 Pictured with microphone: Sugreeya "Mindmint" Wannayuwat
Sugreeya "Mindmint" Wannayuwat, 21
On July 25, Thailand saw a political protest that's never been seen before. A group of people came together dressed in drag or wrapped in rainbow flags. The phenomenon was called, #ม็อบไม่มุ้งมิ้งแต่ตุ้งติ้งค่ะคุณรัฐบาล ("not a cutesy mob but a flamboyant one, sir, Mr. Government). It was a response to former army deputy spokesperson Colonel Nusara Pataratorn, who called the student movement "ม็อบมุ้งมิ้ง" ("a cutesy mob"), intending to dismiss the protests as childish and irrelevant.
This LGBTQ+ protest was put together by Mindmint and her friend Siraphop "Raptor" Attohi. They were inspired to make the political protest style-centric after visiting Pangina Heals' House of Heals.
"What I would really love to see changed in Thailand is the education system. As someone who is currently studying in the Faculty of Education, I feel that a lot of problems this country has are deeply rooted in education," says Mindmint. "It doesn't really matter how much we try to deconstruct the problems. They always lead back to education."
---
Make It Pop
Pumiwat "John" Rangkasiwit, 20, on why we will be seeing more pop culture in Thai political protests
July introduced a lot of Thailand observers to the "Hamtaro run." For those still wondering what this has to do with protests: Hamtaro is a popular figure in Japanese anime, who yearns to break free from his cage. In July, hundreds of young people gathered together and sang a remixed version of the anime's theme song while running around Democracy Monument. The original lyrics were changed to:
"Come out and run. Come out and run, Hamtaro. / Wake up from the cage, let's run and run, Hamtaro. / The most delicious thing is... taxpayers money (dissolve parliament!)."
One of the people behind the Hamtaro Run was Pumiwat "John" Rangkasiwit, 20. Although John is not involved in any political movements anymore—he cites personal reasons for his separation from the protests—he told us it's likely we'll see more pop culture intertwined with our politics in Thailand.
Why did you co-opt Hamtaro for this political movement?
There was a movement on Twitter first. My team and I just helped make it happen in real life. Then we learned that using pop culture could be very successful [in spreading protest messages]. We also like how we can create a political movement using feelings other than just anger. I'm not saying that we wouldn't accept anger [as a motivating force], but political movements don't always have to be angry. Sometimes anger makes it harder for people to communicate with each other.
Do you think pop culture takes away from the messages you're trying to send out?
No, not really. I think pop culture has the power to grab the attention of a big crowd, using a shared interest—using politics as the main message, but also gathering a big group of people together via a shared interest in pop culture. It's also fun to be associated with something we are interested in.
---
Art is not a Crime
Sippakorn "Ken" Khiaosanthia, 24, reflects social and political issues through his edgy artwork. All carry unmentionable hidden messages, whether through the symbolic use of color or the cartoonish characters look a lot like certain Thai public figures. For his artwork to make sense—in order to understand its true depth—you have to be up to speed on current affairs and society news in Thailand.
You may have heard of Headache Stencil in 2018, when his graffiti of a black panther went viral on social media. The piece represented the infamous moment when ItalThai tycoon Premchai Karnasuta was found encroaching on protected forest, illegally hunting for panthers. Or maybe you recognized some of his other work, like graffiti of a clock emblazoned with General Prawit Wongsuwan's face. That, of course, represented the general's bounty of luxury watches "borrowed" from his dead friend.
For his third act, Headache Stencil has turned his art toward the former junta leaders and current politicians. Lately, he has reported being harassed by the authorities, with people waiting for him at his condo, demanding "friendly chats," or even sending him messages on Facebook pretending not to be cops. Nothing has stopped him, though. His work was even recently displayed at the Foreign Correspondents Club of Thailand.