For Kittipong "Thor" Pongsivapai, 52, building cars and motorcycles is an artform. Over 30 years, he's competed in and judged auto shows and won second place at the 2007 Asian Motor Show in Malaysia. We chatted to him at his garage as he worked on a bike that will be the first ever Thai entry into the World Championship of Custom Bike Building in Germany in October.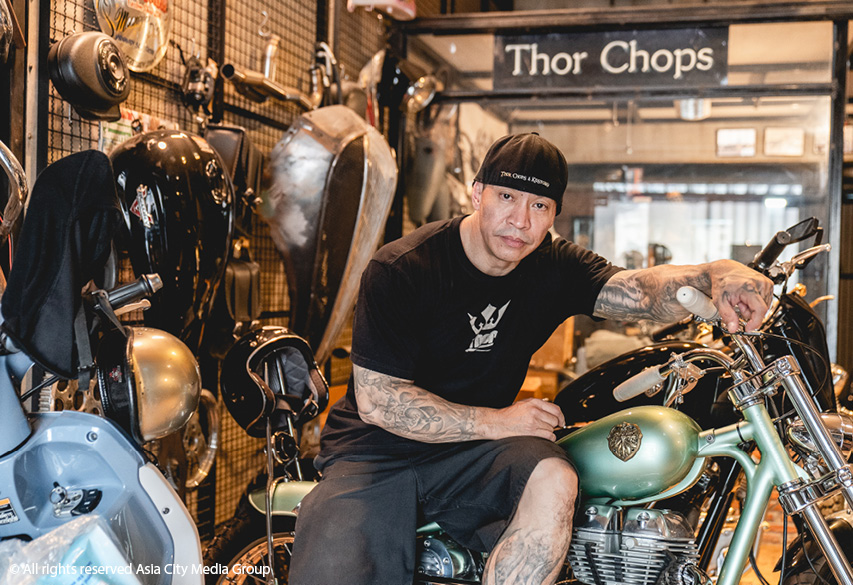 How did you get started?

I've always loved car engines. When I was studying political science at Ramkhamhaeng University, I would skip class to play around with my friends' cars or go to garages. My dad asked if I wanted to pursue it, then sent me to the US to learn about mechanical engineering. I started working on pick-up trucks first, then I started focussing on motorcycles and got my certificate from Harley Davidson's school.

What were your goals opening this shop?

I was 24 years old and I wanted to build something different—I wanted to create artwork. When I rode my first motorcycle to a show, everyone was impressed—they'd never seen such style before. Then they started to send me their bikes to build.

Who are usually your clients?

Businessmen. Super-calm businessmen, because I don't like it if they call me constantly to ask about their cars. My last client was so good, he only called once every six months and never came to my shop.

Do you have many international clients?

Plenty. From the Middle East, France, Malaysia, Hong Kong, to name a few.

How much does it usually cost?

Starting at B3 million for a car, minimum. I never make much money from this, as I spend like B2.5 million on manufacturing.

How long does one vehicle take?

For motorbikes, around four months. For cars, three to five years.
Walk us through the process?

I always have to get to know my clients first, by having a casual conversation. Every one of my clients has turned into my friend, we would do birthday parties, or even take road trips together, because one project takes a few years.

Are you the only one in Thailand doing this?

For this complete of a process, yes. I pretty much take every little part out and rebuild it like a brand new car.
---
"Nobody is teaching people to create their own automobile design"
---
Do you have any Thailand shiws planned?

I don't bring my works to the shows in Thailand anymore as I've won them all already, so now I'm a judge. I'm currently building a motorcycle to bring to the World Champion Show in Germany. I've been working on that for one year now. No Thai has ever gone to this show before.

What is your personal style?

Simple, neat, doesn't crazily stand out from a distance but when you look up close you can see all the refined details.

What don't Thai laws allow you to do?

I used to be able to import chassis easily back in the day, but now they don't allow you to do so without cutting them in half, then I have to remodel them to make them whole again—and they still charge the same import tax. I think there are about 20 cars in Thailand that went through that process.

Would you like this vocation to grow locally?

I want to see culture like this grow more, but nobody is teaching people to create their own automobile design and ideas, only to copy.