When Chanapong arrived yesterday morning at Ukraine's Bangkok embassy on Wireless Road, he carried a passport and proof of his military experience. He told its staff that he was there to enlist to help Ukraine's army fight off Russian invaders.
"I want the Ukrainian people to know that they are not alone," he said in an interview last night, identifying himself only by his first name. "If they ask for help, I'm willing to answer."
It was last week, as images and clips of Ukraine under attack filled his feed, that Chanapong was touched by a story of
a Ukrainian couple who rushed to tie the knot
as missiles rained down. Then he saw more stories of innocent children killed and Ukrainian families forced apart.
So, after participating in unsuccessful protests to restore democracy at home, the 27-year-old former airman decided to go fight for it abroad.
"I did not join [the Ukraine legion] as a Thai national, but I did so as a human being," Chanapong told
Coconuts Bangkok
last night, hours after his tweet from the embassy and announcement that he and a friend had volunteered to fight
ignited imaginations
.
But Chanapong, who said his tweet inspired others to do the same, admits the battlefield is still far away, and getting there may be too costly.
Chanapong said he served two years in the Royal Thai Air Force, which qualifies him to join Ukraine's newly established International Legion. He says that he is prepared physically and mentally. He was part of an anti-government protests last year in Bangkok's Din Daeng area where violence between riot police and protesters broke out nightly.
"I'm not just a gaming nerd, not just a three-hoofed protester," Chanapong said, referring to a dehumanizing term for anti-government protesters. "I can take care of myself and manage to survive."
Still, he realizes the risk.
"At the Din Daeng protests, the worst is that I got beaten and arrested," he said. "But this time, if I were to reach Ukraine successfully, I might be dead."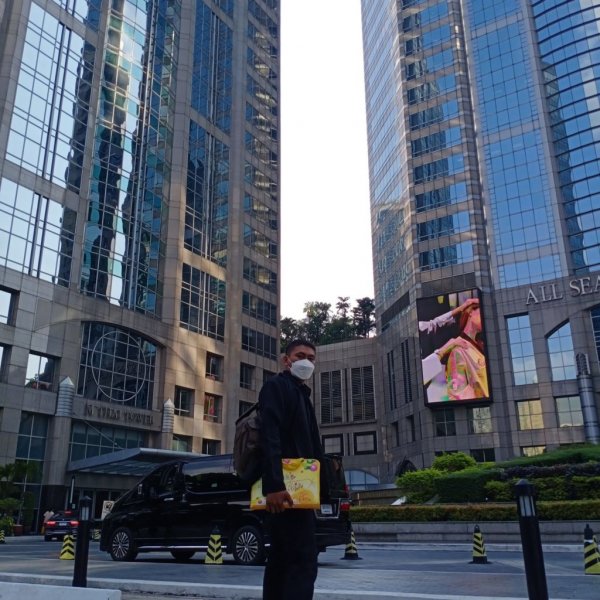 Chanapong at the Ukrainian embassy in Bangkok on Tuesday. Photo: Chanapong / Courtesy
At the embassy yesterday, he showed staff his Thai passport. There were no language requirements required, Chanapong said, noting that his English skill was "quite fair."
Earlier this week, Ukraine established the international legion for foreigners who want to "fight side by side" against Russia, according to the Ukraine President Volodymyr Zelensky on Sunday. Zelensky said Ukraine has waived visa requirements for anyone traveling to fight on his country's behalf.
Chanapong said he and his unidentified friend, who also has military experience, would apply online this morning. They were told by the embassy to wait a few days for the results.
The rest is uncertain after that. The cost of travel is another of Chanapong's concerns, since foreign volunteers must pay their own way to Ukraine.
"The round-trip flights from Thailand to Ukraine are not cheap," he said, estimating that it could be tens of thousands of baht, possibly more than he can afford, even with his savings.
"Would a millionaire or business owner go? No. It's the little people feeling defeated about humanity that want to go and help, but we need financial support, too, whether it's from Ukraine or Thailand," Chanapong said.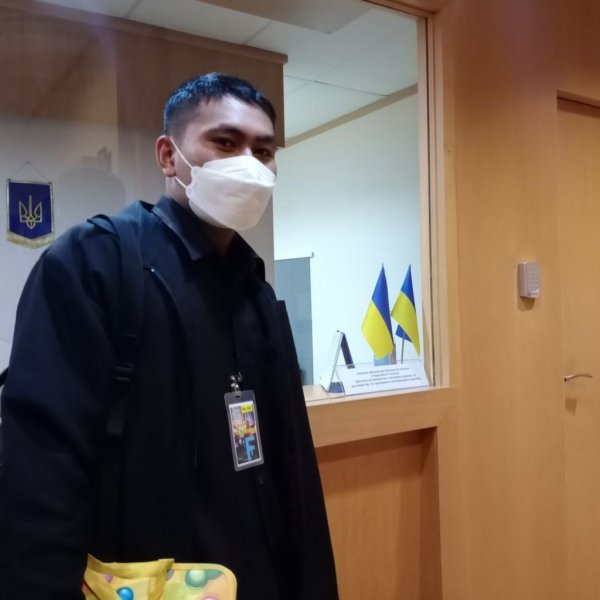 Chanapong at the Ukrainian embassy in Bangkok on Tuesday. Photo: Chanapong / Courtesy
Chanapong said after his
Tuesday tweet went viral
, he was contacted by many people looking to do the same. He said better information would be useful to those looking to help.
"There are so many Thai people out there who want to help, either by donating money or risking their lives abroad," Chanapong said. "I just wish we had clearer information such as how to sign up, what qualifications we need, and how much we actually have to pay to be able to go. When I was at the embassy yesterday, the translator was not very helpful."
An email sent yesterday to the Ukrainian embassy had not been returned as of publication time.