In February, 17-year-old high school student Danupha "Minnie" Kanateerakul, a.k.a Milli, became an overnight sensation when her debut Thai rap song, "พักก่อน" (Pakkorn / You Need to Calm Down)," went viral. It has since racked up over 20 million views on YouTube.
This addictively catchy tune is spiced up by her use of Isaan dialect along with the inclusion of "loo," a complex argot or slang popular among Thailand's LGBTQ community that has seeped into youth culture. It's not just her fresh rhymes that have got people talking—her badass "Nicky Minaj" attitude has viewers hailing her as "the rap queen of Thailand."
Packed with swear words and un-PC terms, her controversial lyrics have sparked less favorable reactions in the comments section, propelling her further into the spotlight. While we can dismiss the cussing as a classic byproduct of rap, her insults towards her fellow "schoolmates" (actors in the music video) are on the judgmental side—with her jibes about the girls being high on birth control pills ("go rest, talking like ur high on birth control pills"), chasing boys like an animal ("Chasing boys like that, are you a gibbon or a rhino?") and dressing like prostitutes ("Dressing properly? Nah, I kinda think you're on sale"), Milli is not exactly cut out to be the next feminist activist on the music scene. On the other hand, these comments could just be taken as crass but well-meaning jokes between high school friends.
This ground-breaking young rapper is clearly talented and, with more refined subject matter, she could be on track to have a significant impact on the Thai rap scene. With age comes wisdom, so we say you go girl!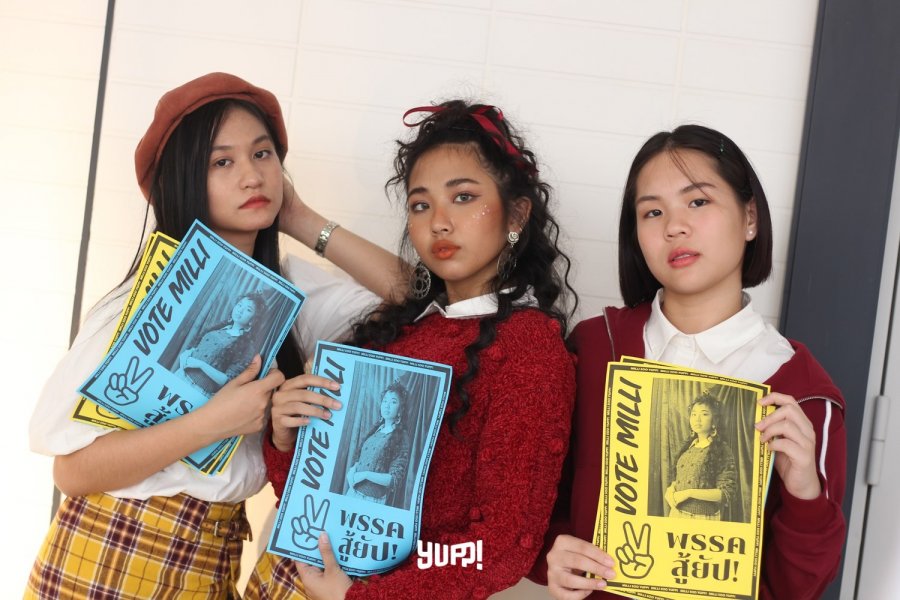 BK ASKS
Danupha "Minnie" Kanateerakul, a.k.a Milli, student and rapper
Who is your all-time favorite artist?
Pumpuang Duangjan—she's the queen of luk thung. I want to be a queen, too.
What type of music have you been listening to lately?
Hip hop and K-pop touch me the most. "Move!" by Niki is probably my favorite song right now.
How do you spend your time after school?
Rehearsing my shows, dancing, doing group projects with friends or simply just going home to sleep.
What inspires your song lyrics?
I write from my experiences. If I'm in love, I'll write love songs, if I'm heart-broken, I'll write sad songs—it's as simple as that. My latest song "Pakkorn" was actually inspired by how I love to play around with my friends at school and warn them to behave in my own language.
What is your favorite place to hang out with friends?
I love to go to temple fairs, but I'd say anywhere if I'm with my friends.
What words define you?
Big and loud—I do everything on a big scale and I'll always make it loud.