Freelance creative
Kanin "Kay" Puktiwong
, 27, has won hearts and minds across Thailand for his endearing cooking channel,
Mae menu nhee tham ngai
(How do I cook this, mom?). In his videos, shot at a small kitchen counter in his condo, he recreates his mom's recipes as she gives him instructions over the phone. They're deeply gratifying snapshots of life's simple pleasures: a food-filled home and intimate conversations with the ones you love. We talked to him about his videos, life in Bangkok, and why you should make more time for your family.
How did you start your channel?
As a freelance creative, I've always wanted to create a platform where people could see my work. I noticed that a lot of people like me were creating their own pages, and I thought it was about time to make something of my own. At first, I struggled with how I wanted to create my online presence, but after my mother got into a car accident, one thing was clear to me: I wanted to do something that would also let me spend time with my mom… and cherish every single moment.
"Her accident left me with a lot of questions about our working culture. Why do we have to sacrifice family time for work? Why do people need to leave their hometowns and go to Bangkok to work?"
Image courtesy of Kanin Puktiwong / Mae menu nhee tham ngai
Tell us about your creative style.
I draw references from various sources. The way I pan the camera, record the audio, or adjust the lighting is similar to how other popular content creators produce their videos—like the Japanese film Little Forest or the young farmer Li Ziqi, who films cooking videos in rural Sichuan. Although I don't have a home in the countryside like she does, I still try to share my environment in Bangkok with my audience and capture its idyllic moments.
Image courtesy of Kanin Puktiwong / Mae menu nhee tham ngai
Have you had any culinary training?
My videos may seem smooth and professional, but most of the dishes I film are, in fact, my first attempts at cooking them. You should see what it's like behind the scenes (laughs). My girlfriend, who is more of a cooking pro than I am, helps to direct a lot of these shots. It's all about the video editing and cinematography.
Did you have any other blogs or pages before you started doing this?
My girlfriend and I created a page called Single Mom Shark, where we used shark dolls as our online presence, or avatars. We drew inspiration from the Japanese YouTuber
Cooking with Dog
. It was fun and received good feedback, but the page stalled out. Plus, we had to adjust the dolls' gestures in every shot, so the process was more difficult [than what I do now].
What do you think of life in Bangkok?
Unlike others who have had to move to Bangkok, I rarely get homesick. There were times when I didn't talk to my mom very often, and since my home [Samut Prakan] isn't that far from Bangkok, the distance didn't seem so real. But life in Bangkok can be exhausting and expensive. In my hometown, you can just walk out of your home and pick basil leaves or spring onions if you need them for cooking. Here, you have to drive to the supermarket to buy them.
I turned 27 this year. Soon, I hope to start my own family, but I don't see how my children could grow up in this kind of environment. Condominiums have limited space. You don't have much green space, either. It is a far cry from what I remember as a kid. In Samut Prakan, kids can jump and play in the canal and there are a lot of trees. Throughout the pandemic, I've found that living in a condo—despite being located in the heart of the city—can be no fun at all.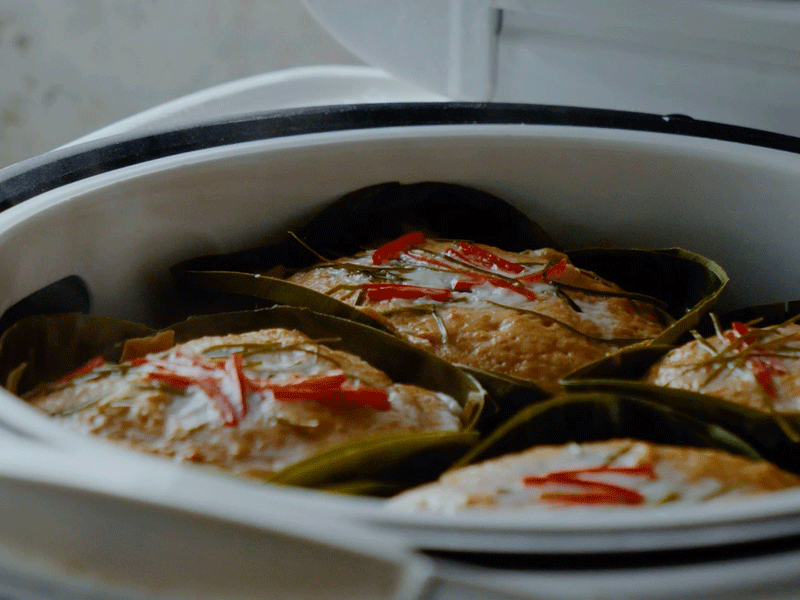 Image courtesy of Kanin Puktiwong / Mae menu nhee tham ngai
What message are you trying to get across to your audience?
People like us, who work in the city, may feel that time moves very quickly. When we take our eyes off the computer screen, we may find that a day or even a week has passed. But that's not entirely true for those who live outside of the city. Your family may worry if you rarely contact them. So you shouldn't wait until you've become successful in life to spend time with your family. Talk to them. Spare even five or ten minutes a day for them. Don't let work consume you.