Thonglor is more than just a posh party zone. Here's where you can go to dip into the past and eat well for cheap in Bangkok's hippest real estate.
Just a few decades ago, Thonglor was the outskirts of town, all fields and canals. Fast-forward to today, and the neighborhood has a reputation for being a pricey party district, an extended Japanese strip mall and, increasingly, a hi-so hellscape. Hidden between all the upscale cafes, nightclubs and community malls, however, is the Thonglor of old. Want to experience that slow-living, sepia-toned community? Visit these decades-old shophouses and chew the fat with the aunties and uncles—the real Thonglor cool kids—who have witnessed the rapid rise of the neighborhood and are keeping the past alive.

Tang Meng

Get off at BTS Thonglor, walk past Broccoli Revolution and soon you'll come across a family-run shophouse that sells the slightly unusual combination of khao mun gai and noodles. The proprietor—a woman known as Auntie Kim, who's usually found sitting in the corridor, overlooking the business—notes that her family has been feeding people for over 60 years. Today, the shop stands out for its perfectly plump pork-and-shrimp dumplings as well as its stark contrast to the surrounding skyscrapers. "There are a lot of tall buildings in Thonglor now. Back in the day, all of this used to be canals," she says. "But what can you do?"
Must-try dishes: Yentafo (B50), khao mun gai (B50), longan juice (B15).
887 Sukhumvit Rd., 02-258-7202. Open Mon-Sat 8am-5pm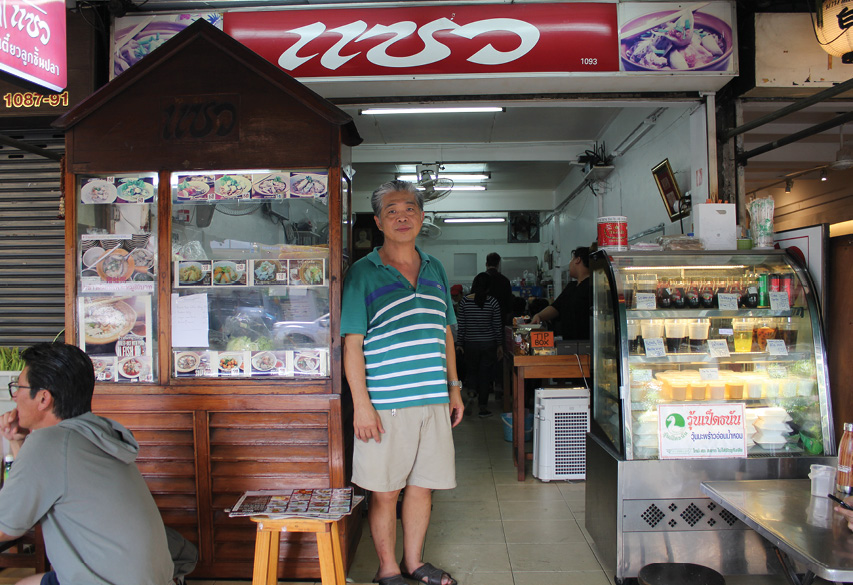 Zaew

In 1962, when this family-owned joint opened on Sukhumvit Soi 49, a bowl of noodles cost just B1.25. When the current owner (known affectionately as Uncle Kee) moved Zaew to its Sukhumvit-facing home in 1983, the handmade noodles had only jumped in price to B10. Today, they go for a pocket-friendly B50, and the old-school attention to detail and serving portions haven't changed, either. "I've been living in Thonglor since the roads were canals," says Uncle Kee, echoing Auntie Kim. "We can't really do anything with all the modern stuff [here]; we just have to adapt to fit in."
Must-try dishes: Tom yum noodles (B50), fish dumplings (B70).
1093 Sukhumvit Rd., 091-780-5604. Open Mon-Wed 7am-4pm; Fri-Sun 7am-4pm

Thonglor Pochana

Everybody knows Wattanapanit, the beef noodle shop in Ekkamai, where they've used the same base broth for decades. We've found—dare we say—an equally amazing alternative right on Thonglor. They've been feeding people for over 30 years here. Today, you'll find the middle-aged, second-generation owner taking orders when you walk in and a woman making noodles at the front, who seems to always be shouting (she's actually very sweet). Good luck striking up conversation, though—this place gets packed.
Must-try dish: Beef noodles (B60).
359/5 Sukhumvit Soi 55 (Thonglor), 081-629-0735. Open daily 7am-5pm

Boon Tong Kiat

This Singaporean khao mun gai place has been open for almost 20 years. Proprietor Tik was a regular at the original on Thonglor Soi 12, Man Tong Kiat; when the owner wanted to move back to Singapore, Tik and her late husband took it over and changed the name to Boon Tong Kiat after the chef's mother, Boontong. "Thonglor has developed so fast in the last 20 years. More condos, more pubs and bars. The price of things used to be more affordable, but now it's rare to pay less than B200-300 [for food or drinks]," says Tik. "We're trying to keep our prices affordable for everyone, even if our rent has doubled since we started."
Must-try dishes: Khao mun gai (chicken and rice, B70-85), khao moo grob (crispy roasted pork belly, B75-89), spare rib soup with green gourd (B65).
440/5 Sukhumvit Soi 55 (Thonglor), 02-390-2508. Open daily 10am-9:45pm

T Super by T. Thai Charoen

When you're going out for a bowl of yentafo at Tang Meng, you'll walk past a vintage-looking independent supermarket with big, red-and-white signage. Step inside to find everything from fresh herbs and vegetables to kitchen items and cleaning products. Auntie Hong is usually on standby at cashier number one—just as she's been for decades. "My family moved here around 72 years ago, when it was just fields and canals. Thanks to that, we were safe from the bombing during World War II," she says. "Our shop has been open for 58 years, and every few years we try to do more new things to keep up with the pace of Thonglor."
921 Sukhumvit Rd. (between Sukhumvit Soi 49 and 51), 02-258-7820. Open daily Mon-Sat 8:30am-9pm; Sun 9am-9pm
---
Why living in Thonglor has never been more affordable
On top of all the very affordable food, it's never been a better time to go apartment-hunting in Thonglor. According to the Bangkok Post, Bangkok land prices are expected to stay flat or drop this year for the first time in over a decade. We spoke to Panon Leelamanit, business development manager in the overseas business unit at Raimon Land Plc.—one of Thailand's biggest real estate developers—about why you should be bargaining hard now for a bougie Thonglor condo.
Is this a good time to buy property in Bangkok?
Right now, it's a buyer's market. If you're looking to buy a second-hand property today, prices are definitely better. And if you're buying new-build real estate direct from developers, you're getting better products and promotions than any other time in the past decade. What that means is: if you're buying for self-occupancy, this is the best time to do it.

And what should buyers be doing?
Ask for promotions or deals, and don't rush into a decision. Stick to the key principles: is this a good location for me to live in? Is the layout functional for me? Is the view great? What is the developer's track record? Are the projects they've delivered still desirable today?

What about renting?
Right now, tenants are getting great deals. A significant portion of rental demand comes from the expat community, and it hasn't outgrown the new supply of condominiums, which is coming in at a much faster pace. So the power is in your hands.

Any advice?
Don't simply browse for prices around the web and think that's the price you'll be getting—most published rents are "asking" and not "closing" prices. If you're staying in a not-so-new development, check the listings in your building to see how many units are available. Higher numbers mean better negotiating power.
---