ALL DAY Tattoo
The studio of 11 artists does East-meets-West tattoo styles—think Polynesian/Maori tribal, geometric and custom lettering and watercolor to name a few. There's also a big TV screen you watch while you get inked. All ink and needles are imported from the U.S. Prices start from B2,500.
710/4 Sukhumvit Rd., 098-381-4364. Open daily noon-8pm. BTS Phrom Phong. www.alldaytattoo.com
Artist Luke Satoru is all about super-detailed designs made using inks in retro colors. He covers everything from traditional Japanese to geometric tattoos. Check out Black Pig's Facebook for guest artists. Prices start at B2,000. Make sure you call ahead; it's by appointment only.
672/65 Charoenkrung Soi 28, 080-595-2999. Open Mon-Sat 11am-7pm. www.fb.com/blackpigtattoobkk
Inkception
Located inside Siam Square's Lido Theater, this long-standing studio has five resident tattoo artists. Unlike some of the more arty studios, this one will welcome your friend's doodle or that pic you grabbed off the web, be it a watercolor tattoo or typography. Prices start at B1,500. Recommended to book appointments in advance but walk-ins are welcome.
2/F, Lido Multiplex, 097-126-7130. Open daily 2pm-10pm. BTS Siam. www.inkceptionbkk.shop
Klai Jakkawan
The shop's team—a designer and three tattoo artists—encourage their customers to share their ideas so they can create a custom design for them, from short quotes to very detailed drawings to old-school color work. Prices start at B1,500. Check availability on Facebook or message LINE ID: Klaijakkawan.
Ladprao Soi 23 (Ratchadapisek 30), 094-675-8338. Open Wed-Sun 3pm-8pm. www.fb.com/Klaijakkawan
Lone Wolf Studio
Geometric, very thin line-and-dot artwork is the specialty here, making for detailed designs that are more modern and less cluttered than the old-school style. Embrace your inner hipster self and get a cool triangle tattoo, or go for a geometric wolf on your lower back. Prices start at B1,000. Book in advance.
Sukhumvit Soi 101 (Punnawithi Soi 3), 089-520-0994. Open Thu-Mon 1pm-8pm. www.fb.com/lonewolfstudiobkk

Fans of Pan Road's defunct Six Fathoms Deep tattoo parlor will spot familiar faces among the artists at this vintage Chinese shop-house near Saphan Taksin. Come here for old-school, vivid color tattoos, like a huge yakuza-style dragon for your back or a simple tribal design on your wrist. Special guest artists drop by on a regular basis, so check for updates on their Facebook page. Prices start at B2,000.
300 Rimklongsatorn Rd., 02-073-9161. Open daily noon-10pm. BTS Saphan Taksin. www.fb.com/common.ground.tattoo.999
Owned by the same team from Common Ground Tattoo (see above), The Golden Triangle is a boutique studio that focuses on psychedelic Hindu art—think trippy graphic wall art with Hindu motifs, Shiva and Ganesha framed posters and Indian flower garlands. But that's not all. The Golden Triangle has an in-house boutique, Loco Mosquito, a collection of vintage-style unisex pieces with kitschy Asian motifs. Prices start at B2,000 for walk-ins and small tattoos, while medium tattoos cost B3,000-5,000. For bigger pieces, expect to pay B3,000/hour.
3/F, Black Amber Social Club, Thonglor Soi 6, 02-073-9161. Fri-Sun 1-8pm. facebook.com/thetruegoldentriangle
Saklai Tattoo Studio by Poo & Leck NY
The owners-and-artists Leck and his wife Poo spent time in New York City mastering the art of tattooing back in the '90s, before moving back to Bangkok and opening this studio in 1997. They are particularly well-regarded for doing amazing traditional Japanese tattoos with lots of colors. Make a reservation in advance. Prices start at B2,000.
45 Ekkamai 2 Alley, 081-830-8325. Open Mon-Sat noon-7pm. BTS Ekkamai. www.saklaitattoo.com
Tattoo OD Studio
This little studio in Thonglor does many different styles, but our personal favorites are the line tattoos that prove body ink doesn't necessarily have to be big and intimidating. There are four resident artists, each specializing in different styles, from very graphic work to words and letters. Just check out their portfolio and make sure you make a reservation two days in advance—the wait is pretty long. They also have guest artists from time to time. Prices start at B2,000.
2/2 Sukhumvit Soi 53, 081-916-7802. Open daily 11am-9pm. BTS Thong Lo. www.fb.com/tattoo.odstudio
Mimp Tattoo
Forget dark and gloomy, this loft-style tattoo shop on RCA takes a bright and airy direction. Best known for their Japanese tattoo style, the studio uses imported equipment from the USA. Starting price is B1,500, but prices for certain artists depend on the intricacy of the design.
21/64 RCA Block C, Soi Soonvijai, 095-949-1778. Open daily 10am-9pm. mimptattoo.com
88 Ink Blood Tattoo
This studio as an aim to preserve and present modern Thai art to the world. Featuring vivid colors and lithe linework, these designs start from B1,500. Reservations are highly recommended.
Ladprao Soi 43/2, opposite Pibool Uppatham School, 086-895-1333. Open daily 1pm-midnight. www.fb.com/88InkBlood
---
BK ASKS
Bangkok's tattoo business owners and professionals on perfecting their art
Fhonthep "Fhon" Mukong, 31, ALL DAY Tattoo
Fhon has been drawing since he was a child—doodling, sketching and the like. He toyed around with tattooing as a teen and later learned the ins and outs of tattooing during an apprenticeship. Fhon has been a resident tattoo artist at ALL DAY Tattoo that opened in 2016 for more than two years. He has been tattooing professionally for 10 years.
Why are you a tattoo artist?
I always knew that drawing was my passion but I wanted to figure out how I could turn that into a paycheck and make money doing what I love. I tried a lot of different media—from street art to traditional canvas—and although the feedback was always great it just didn't feel right. When I finally started tattooing, it just clicked and I knew this was what I was destined to do.
What do tattoos mean to you?
I think tattooing is a truly pure art form. Any real art should always make people feel something and tattoos are, in my opinion, the truest example of that. For most people, a tattoo is a permanent reminder of something—whether that be something positive like a holiday of a lifetime or the birth of a child, or something sad like the death of a relative or some type of loss. The tattoo tells their story to themselves and the rest of the world. I love being a part of that.
What was your first tattoo and why did you get it?
My first tattoo was an old-school rose on my arm. I was always really inspired by the flash drawings I saw of the old school artists like Sailor Jerry and Don Ed Hardy. I wanted my first tattoo to be a tribute to the work they did.
What is the craziest tattoo you have done?
The craziest tattoo I've done here is the "Monkey King" as we like to call it. The customer who got it is a huge fan of monkeys and had a whole lot of different monkeys tattooed on him and he asked us to come up with a tattoo that would be the "King" of all them. We took inspiration from "Sun Wukong" which is an ancient Chinese legendary figure from the 16th century, often referred to as the "Monkey King." The customer loved it and we enjoyed being able to create something so completely original for him.
Luke Satoru, 39, Black Pig Tattoo
Luke is a painter, tattoo artist and the owner of Black Pig Tattoo. The shop has been open for three years, but Luke has been tattooing since he was 19 in New York City—though he took a long break to explore the corporate-design world.
Why are you a tattoo artist?
I love to tattoo and I love to work with the people that like my stuff. The simplest way to put it is that I love how tattoos empower people and make them feel good. I love being a part of that.
What do tattoos mean to you?
Tattoos represent—to me—past, present and future. They are reminders of our past; they are reflections of who we are today and for the future, things we aspire to be.
What was your first tattoo and why did you get it?
My first tattoo I got was some Japanese characters when I was 15 to impress a girl—why do guys do anything? It was the Japanese characters "Kamikaze" because it was her favorite shot and we drank it together. I thought it would impress her but my judgment at 15 wasn't amazing.
What is the craziest tattoo you have done?
I did a cover-up of a white power tattoo. It was super cool. Obviously, the guy went through this crazy metamorphosis and it was cool to be a part of someone's positive change.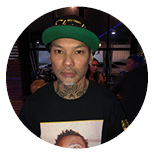 Chanan "Petchy" Tokrisna, 44, Tattoo OD Studio
Petchy opened Tattoo OD Studio with his wife in 2011 when few tattoo parlors lined the streets of Bangkok. Petchy's love of art and drawing pushed him to pursue tattoos—that and the story behind the ink.
Why did you open a tattoo shop?
I'm not a tattoo artist, I just like tattoos. I was actually going to open it with a friend but he passed away—he was going to be one of the tattoo artists. So instead I opened it with my wife. I wanted to proceed and go on with this project. I overlooked the whole project, found clients, rented everything and overlooked the design of the shop.
What do tattoos mean to you?
For me, it means a lot of things. It's kind of the story of my life. I have tattoos that show a part of where I live. It puts together the whole story for myself. It's a passage because not everybody can get it. Back in the day, it was for the warriors; it's not for everybody. It shows a lot when you have a tattoo—kind of like who you are.
What was your first tattoo and why did you get it?
It was something spur of the moment. It's a little tiger thing. I came from a football game and said "Let's get a tattoo." The mall was next to the stadium. This was when I was about 21.
What is the craziest tattoo you have seen someone get at Tattoo OD?
There's a guy who came in to finish two arms in four days, which is normally impossible. Normally, one arm takes months to finish but we did it in four days. The guy had to suffer a lot. He had limited time and we banged it out really quick. If you do back-to-back tattoos it's really hard.
Dheera Na Pombejara, 37, Lone Wolf Studio
Dheera has been tattooing for 17 years and started his work at Lone Wolf in 2014 when the studio first opened.
Why are you a tattoo artist?
When I was 20 years old my friend wanted me to try to do a tattoo for him. I had to watch other tattoo artists to understand how to use the tools and create a tattoo.
What do tattoos mean to you?
Tattooing is my whole life. I can only do tattooing, I cannot do any other job anymore. It's a part of me.
What was your first tattoo and why did you get it?
I got a small tribal tattoo on my upper arm when I was 18 years old. It was my gift for getting into university.
What is the craziest tattoo you have done?
All of my work is crazy in different ways. My logo is crazy. Many of my clients come into the shop and say that my logo is so crazy. It has many cultures represented in one logo and a lot of clients get my logo as a tattoo.
Mimp Tattoo