Sam Yan is changing. Chulalongkorn University is
pumping money
into the neighborhood behind MBK, transforming aged food centers and machine parts shops into shopping arcades and sports centers. But between the eerily new boulevards and parks, some of the old life still remains.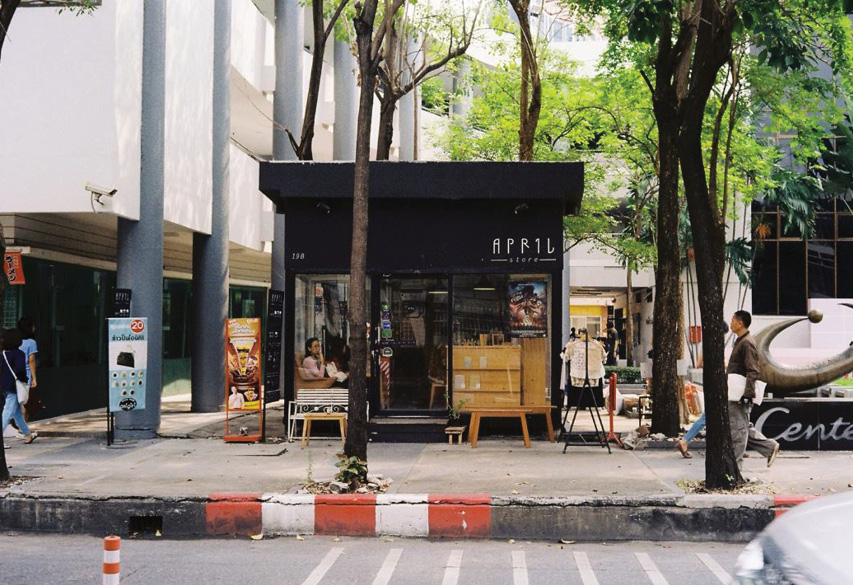 April Store. Credit: https://www.facebook.com/aprilstorebangkok/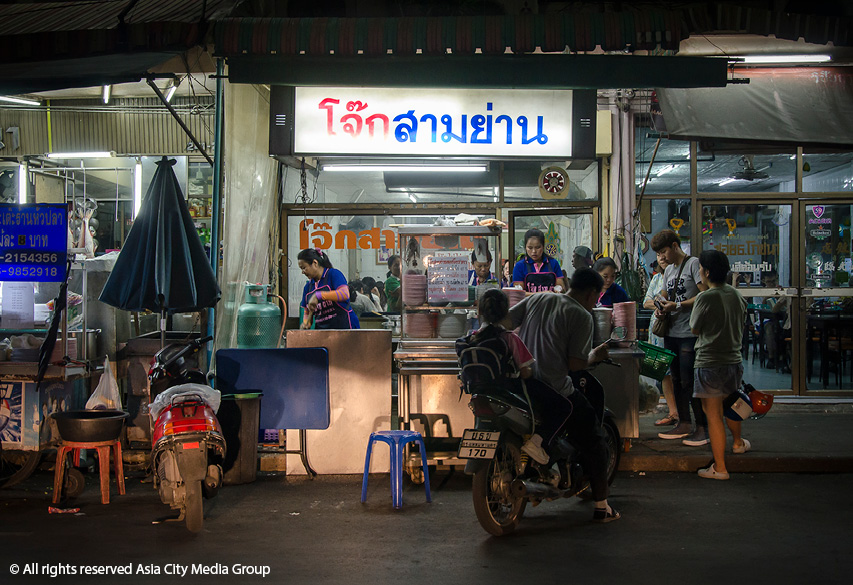 Coffee & Breakfast
Head to April Store (U-Center, 097-979-6495) for a scone (B55) and Americano (B55), or try the fresh-baked soft cookies and unusual homemade ice cream (bacon and egg flavor, anyone?) at Creamery Boutique Ice Cream (U-Center, 098-798-7098). For a more familiar breakfast set (B195), Baan Samyan (12 Si Phraya Rd., 086-612-6060) serves (real) bacon and eggs, or if you want to keep it traditional, queue up at the 60-year-old Joke Samyan (245 Chulalongkorn Soi 11, 02-216-4809) for Thai-style rice porridge (40B-60B). Luerjai (U-Center, 0806576212) offers a health-conscious salmon pokebowl (B189).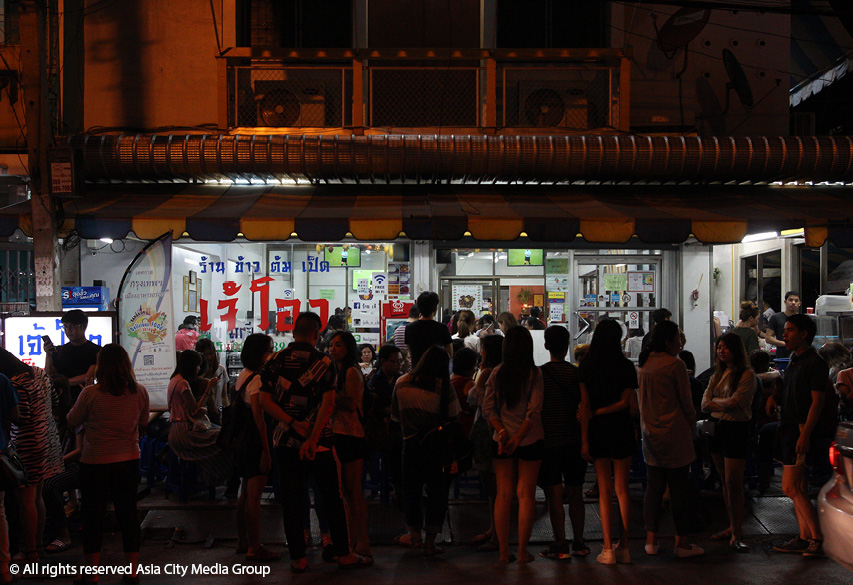 Lunch & Dinner
Choices abound in this area, from Hi Sheng (Chulalongkorn Soi 9, 086-808-5456)—with real fish ball noodles (no borax or flour, B40-B50) to Kuaytiaw Moo Tun Samyan's (200 Chulalongkorn Soi 50, 02-215-3449) steamed pork Chinese noodles (B50). Queues for the signature fried noodles with huge river shrimps (B300) at Leng Kee Radna Hong Kong (46 Chulalongkorn Soi 46, 086-992-1231), or for yet more noodles, head to Ya Leum Chan (218-220 Chulalongkorn Soi 50, 081-642-5215), whose comforting kod sien talay (B250) features Mama topped with seafood. Jae Oh Khao Tom Ped (113 Soi Charat Mueang, 081-682-8816) offers Mama noodles with seafood (B120-B800).

Drinks

Due to the proximity to Chula there are no bars—head to neighboring Ratchadamri or Silom for kicks.

Transport

Besides MRT Sam Yan, you can just about walk to BTS National Stadium and Silom.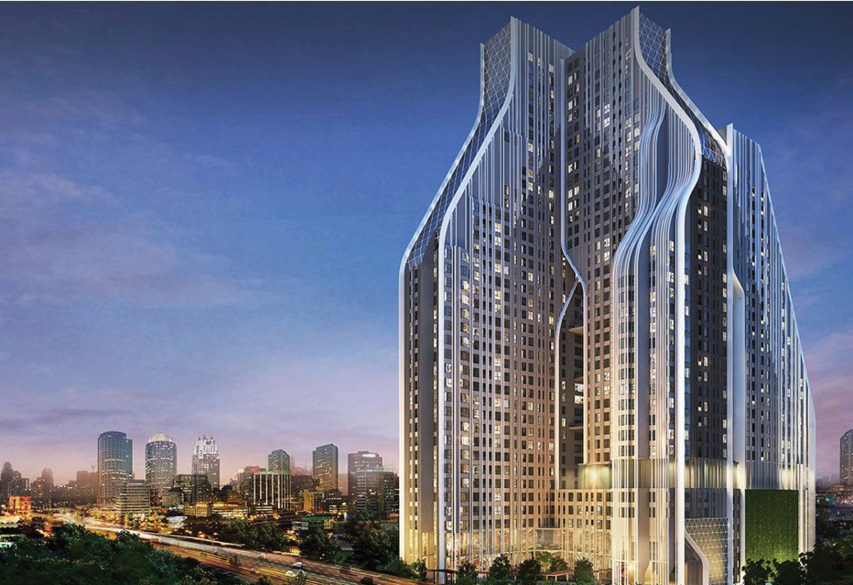 Ideo Q Chula Samyan. Credit: www.ananda.co.th
Accommodation
The ultra-convenient 24-floor Chamchuri Square Residence (Phayathai Rd., 02-218-3590) is directly connected to MRT Sam Yan, offering 220 units from B30,000/month, while within 300 meters of the MRT Altitude Condo (169/3, Si Phraya Rd., 062-363-6456) has 97 units from B22,000/month. Five minutes' walk of the MRT lie the 25-floor Wish@Samyan (18 Si Phraya Rd., 02-887-6322), with 465 units from B17,000/month; the 23-floor Vertiq Condo (188 Si Phraya Rd., 02-887-6322), with 196 units from B19,000/month; and the luxurious 40-floor Ideo Q Chula Samyan (660, Rama 4 Rd., 02-316-2222), with 1,598 units from B22,122/month.
Community
Apart from every food type you can imagine, Sam Yan also offers community malls like I'm Park (353 Chulalongkorn Soi 9, 02-214-4100), food markets like Samyan Market (6 Chulalongkorn Soi 9, 02-215-3662), and green spaces like CU Centenary Park (254 Phayathai Rd., 02-215-3555). Co-working spaces are also readily available, like Too Fast To Sleep (762 Rama 4 Rd., 081-899-1551), Naplab (Chulalongkorn Soi 6, 095-951-9523), and NexDots (2/F, I'm Park, 353 Chulalongkorn Soi 9, 065-816-5697).

Visit

Visit
Stadium One
(849/17-18 Chulalongkorn Soi 6, 095-849-4375) is a massive new fitness center. Visit
Wat Hua Lamphong
(728 Rama Rd.)—well-known for making coffin donations. Opening in 2019, the student-friendly 222,000-square-meter
Samyan Mitrtown
(197/2 Phayathai Rd., 02-764-6200) promises shops, restaurants and residential units. For now, check out the street art project on the site's wall.
---
What's special about Sam Yan?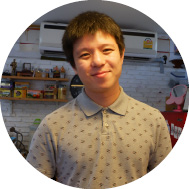 Kanit Wipvasutti, owner of April Store
"Sam Yan is a place of old and new. There are students, teenagers, many emerging stores, and also the old people with their traditional recipes. As for my recommendation, Kuaytiaw Moo Tun Samyan offers high quality food at a fair price that's really worth the money."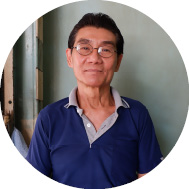 Banlang Pisittiporn, owner of Kuaytiaw Moo Tun Samyan
"Sam Yan is the real food store for Bangkokians. Every place is absolutely worth trying because they are run by professionals. They have to prove themselves with quality, as those that offer quantity over quality cannot survive here."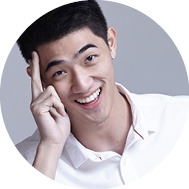 Poowanut Tanwattanakul, Owner of Luerjai
"I think Samyan is the best area for finding a wide variety of food at affordable prices. It's also easy to reach, in the city center and has parking lots, too."