Comprising Praeng Sappasart, Praeng Nara and Praeng Phuthon, the Old Town's charming Sam Praeng neighborhood has been a hub of local activity since the reign of King Rama V. Once central to business in Bangkok, the area is now a must-hit spot for street food.
Coffee & Breakfast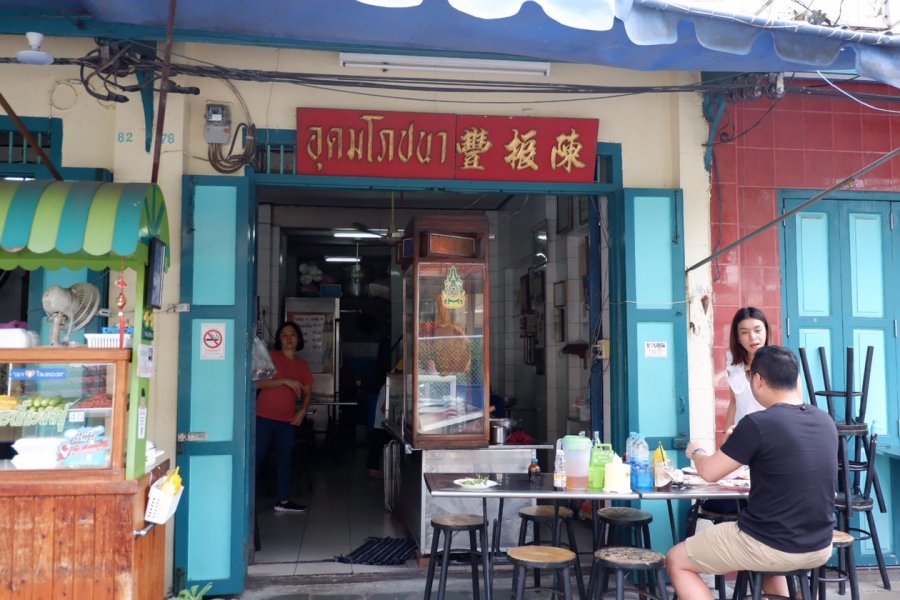 Udom Pochana
This early-rising community is full of breakfast choices, from grab-and-go grilled pork balls with spicy dipping sauce (B8) at Luk Chin Moo Praeng Nara (544 Tanao Rd., 081-483-2347) to crab spring rolls (B40) and khao moo daeng (rice with Chinese red barbecue pork, B40) at 80-year old Udom Pochana (78 Praeng Phuthon Rd., 02-221-3042). Old-style Chigatcha (550 Tanao Rd., 081-559-9608) offers caffeine hits (from B35), while more modern 3rd Cafe (20 Mahannop Rd., 095-563-9942) serves cold white malt coffee (B75).
Lunch & Dinner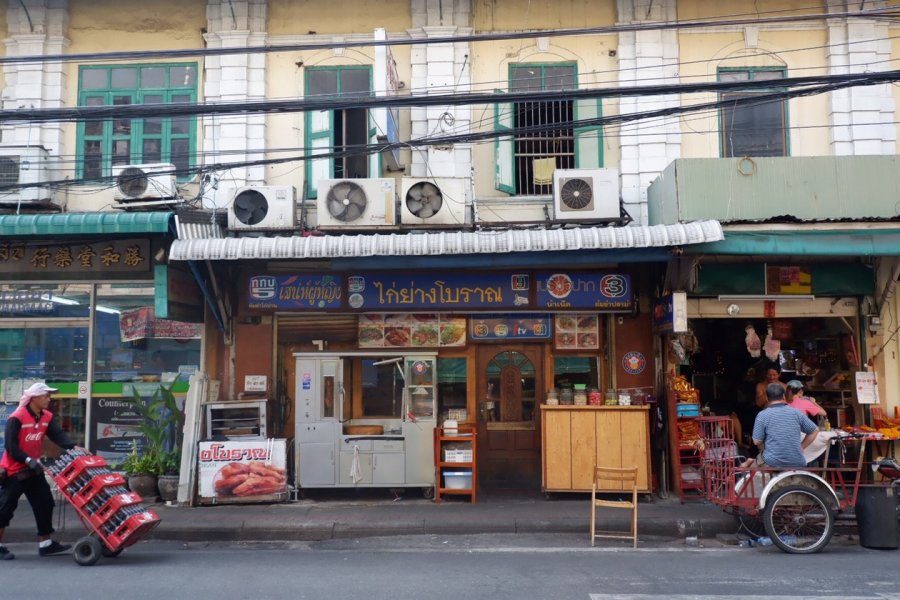 Kai Yang Bo Ran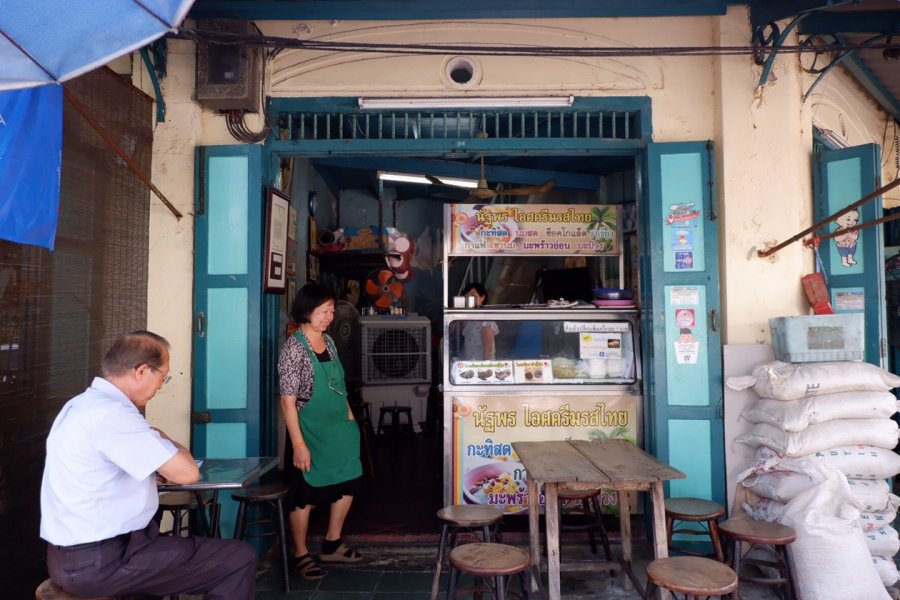 Nattaporn Ice Cream
Although nightlife is scarce, the abundance of street food ensures a vibrant atmosphere. Try Kai Yang Bo Ran's (474-476 Tanao Rd., 02-622-2349) renowned grilled chicken (from B110) or Thai Tam Gao Lao Mun Smong Moo's (28/1 Praeng Phuthon Rd., 02-221-7612) gao lao (pork brain and entrails soup, B100). The squeamish can opt instead for 50-year-old Kuay Tiew Nuea Gim Tong's (91 Praeng Phuthon Rd., 02-222-0744) flavorful beef noodles (B50). For traditional Thai-Chinese recipes, try Kuay Jub Matsaya's (50-52 Praeng Nara Rd., 02-223-6503) kuay jub (rolled rice noodles with crispy deep fried pork, B40-B50). Finish on a sweet note at Kanom Buang Pa Sri (Praeng Nara Rd., 02-222-8500) or cool down with coconut ice cream at Nattaporn Ice Cream (94 Praeng Phuthon, 089-826-5752).
Transport
The area is best accessed by bus or the Chao Phraya Express Boat, via Phra Athit, Phra Chan, and Maharaj piers.
Accommodation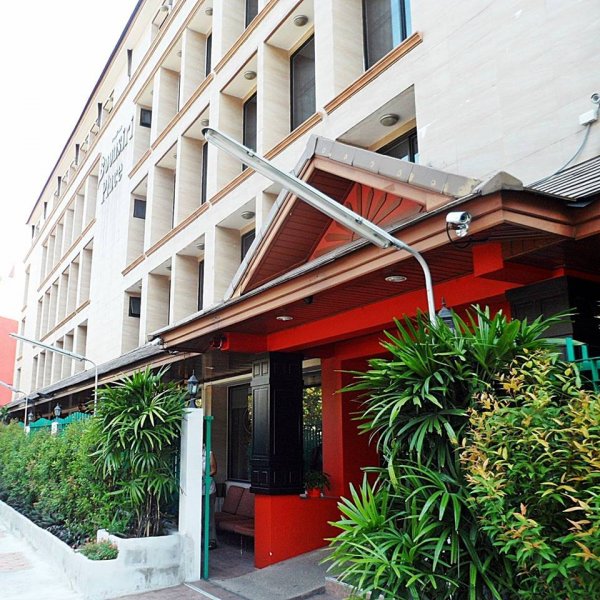 Boonsiri Place Service Apartment
Cozy Sino-Portuguese-style shophouses dominate the area, some of which have been renovated as contemporary hostels (from B700/night). Condo and apartment rentals are rare, but include
the 48-unit Thai-style Boonsiri Place Service Apartment (55 Soi Boonsiri, Buranasart Rd., 026-222-189. From B7,000/month) and the simple, super-affordable Hor Pak Eakkorn (109 Tanao Rd.,
095-487-3456. B2,900/month). Two kilometers away, Ratdamnoen Condominium (111/3-179 Klong Thom Wat Sommanat Rd., 02-282-9074) offers 175 units from B10,000/month (46-sq-meters). The luxurious 36-floor Bangkok River Park (432 Soi Saphan Yao, Songwad Rd., 02-221-2338, B26,000,000/for sale) has a fitness room, swimming pool, sauna and basketball court.
Community
Food is at the heart of this peaceful old-style community, with Trok Mor Morning Market (Soi Tesa, Ratchabophit Rd.) providing fresh ingredients as well as clothes, accessories, and home products. Just under a kilometer away, Saranrom Park (Charoenkrung Rd.) is a popular place to exercise.
Visit
Sam Praeng Facestreet

San Chao Pho Sue
On Nov 24-25, annual art event Sam Praeng Facestreet will fill the area with local workshops, music, shows and food stalls. Year-round, the Taoist Tiger God Shrine, San Chao Pho Sua (Tanao Rd.), offers blessings of good fortune, while just over a kilometer away, Rommaninat Park (between Siriphong and Maha Chai Rd.) takes over the former grounds of the central prison and now houses the Bangkok Corrections Museum.
---
BK ASKS
Why do you love Sam Praeng?
Thitiporn Techakupsinee, owner of Luk Chin Moo Praeng Nara
"Sam Praeng is a good alternative to busy Yaowarat for affordable, traditional and homemade food. Many visitors are attracted to the area's peacefulness and there have been new hostels popping up recently"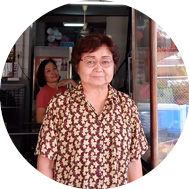 Waree Rungrojsuwan, owner of Udom Pochana
"Sam Praeng is a quiet and friendly community. Now, we have some local and foreign travelers—it's not as crowded as Khaosan, but it's more interesting. Most of the stores here have a very long history, offering homemade dishes."
Nattaporn Rungrojsuwan, owner of Nattaporn Ice Cream
"People in Sam Praeng live together as a family—our old-style community is different from living in new suburbs where people don't even talk to their neighbors. Each of the little sub-sois hide rare gems and many delicious food stores to explore."