The BTS commute could be about to get a tiny bit less crowded.
According the BTS SkyTrain official Twitter page, the first of 46 new trains has arrived at Chonburi's Laem Chabang port, from which it will be transported to Bangkok.
Announced back in June, 22 new trains from German manufacturing conglomerate Siemens will serve the extension of the BTS's Green (Sukhumvit) Line, expected to be operational at the end of this year.
A further 24 trains are to be supplied by China's Changchun Railway Vehicles, with all trains slated for delivery by late 2019.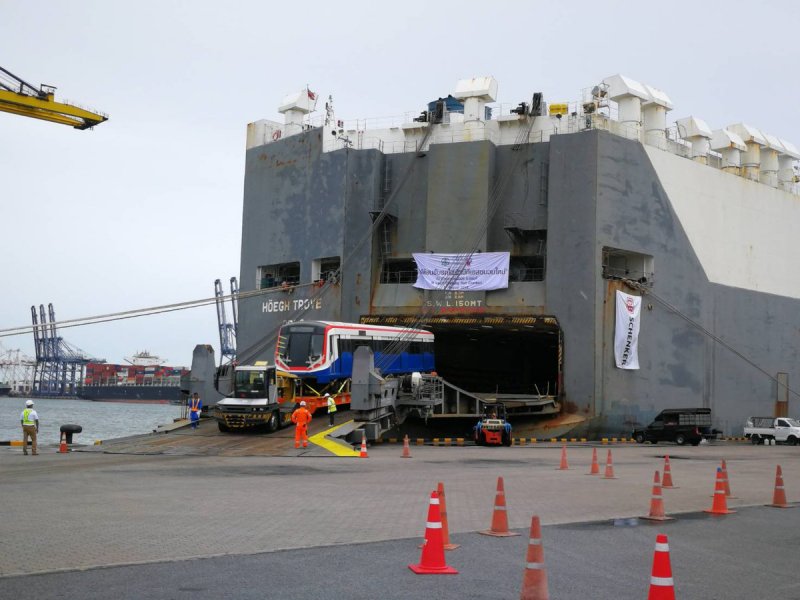 The new train arrives at Laem Chabang port. Credit: BTS SkyTrain
For Bangkok commuters, the new trains, whose carriages have a 10-percent greater capacity than current ones, may help ease the increasingly frantic rush-hour crushes.
Each train "will have innovative construction of the car body that reduces energy consumption," said the CEO of the Siemens Mobility Division, Sabrina Soussan, in a press release on the Siemens company website. "Four doors on each side of the cars enable passengers to board and leave the train rapidly, reducing dwell times at stations and increasing system capacity."
The Green Line is being extended to nine new stations beyong Bearing and 16 stops beyond Mo Chit station in the north.