Lush coconut palms, wild mangrove trees, faded stilt houses, charming Buddhist temples, quaint walking trails and elevated bike paths winding through a bamboo jungle and over water canals—welcome to Bang Kachao, a hidden green oasis of calm right in the heart of Bangkok.
Sitting just across the Chao Phraya River from Klong Toey, this 16-sq-kilometer (12,000-rai) artificial island often referred to as Bangkok's "green lung" has long countered the capital's carbon output—according to a 2011 study conducted by the Thailand Greenhouse Gas Management Organization and Kasetsart University's Faculty of Forestry, Bang Kachao is capable of absorbing 6,000 tonnes of carbon dioxide annually and producing up to six million tonnes of oxygen per day—and was established as a protected conservation area back in 1992. Fast forward to Feb 28, 2019, and the Thai government has issued a new environmental control law to preserve Bang Kachao as an environmental landmark, with all its six sub-districts—Bang Namphueng, Bang Kachao, Bang Yo, Bang Krasob, Bang Ko Bua, and Song Khanong—to become a protected area.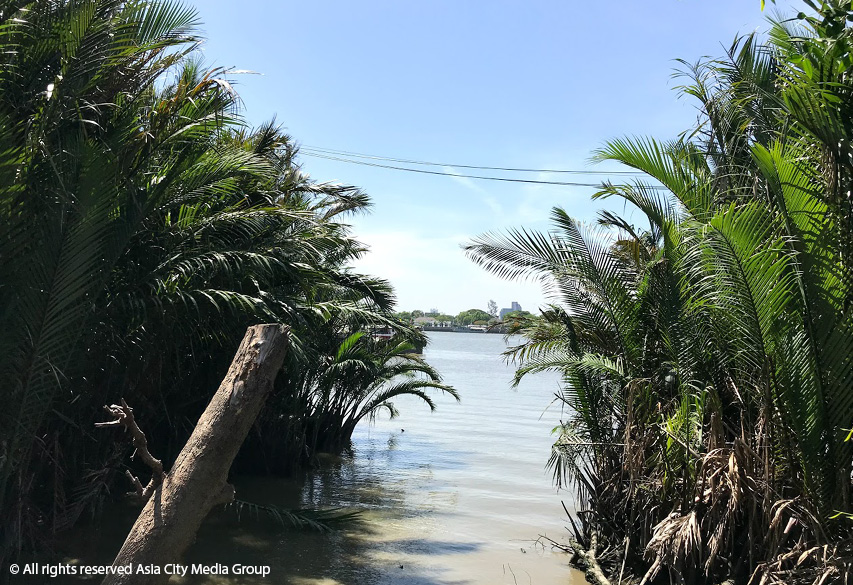 All these strict laws set by the government make it seem like things are heading in the right direction, but Bang Kachao business owners say they're receiving mixed signals. Skyrocketing land prices mean that locals are selling up at a quicker rate than ever before, while booming numbers of tourists have also brought other challenges including waste management, water pollution, traffic jams and blocked waterways. The fight to preserve Bang Kachao is underway.
Urbanization
Given its abundant space and unique location—safe from potential flooding and close to downtown Bangkok—Bang Kachao is considered one of the city's most valuable assets in the eyes of property developers. As the island rapidly transforms into an urban zone, many local residents are cashing in on their land.
"I know someone who just sold their eight-rai plot for around B45 million. They had a 126-sq-meter plot of land in total, each plot costing around B13,000-14,000," says Khwan "Pond" Malithong, a 30-year-old local bicycle tour guide who has lived in Bang Kachao his whole life. "You can expect to pay at least B25,000 up to B40,000 per square meter if the land is close to the main road. The closer the plots are to the main roads, the more expensive they become. By comparison, the plots that are deeper into the island are much cheaper, costing around B13,000-15,000/sq meter."
Born and raised in Bang Kachao, Pond says he worries about how urbanized the area has become. "When outsiders come to Bang Kachao, they still get the impression of it being a green oasis based on the volume of trees and wild vegetations they see. But in reality, many locals feel that the area is not what it used to be. Ongoing deforestation is happening to make way for new properties. For the last two to three years, I've seen so many construction sites and new roads built. If you visit the outskirts of Bang Kachao, you'll see what I mean."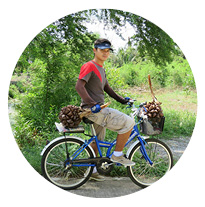 " WHEN OUTSIDERS COME TO BANG KACHAO, THEY GET THE IMPRESSION OF A GREEN OASIS "
Khwan "Pond" Malithong, local cycle tour guide
This has also led to a reduction in the number of agricultural workers, most of whom are now elderly. "Nowadays, young Bang Kachao residents all go to Bangkok to work," explains Pond. "Hardly any of them want to do farming. It's sad to see that the people who want to live here are outsiders, while original residents want to move out."
Goustan Bodin is one such outsider. A French landscape architect and permaculturist, he has made Bang Kachao his adopted home for the past year, where he runs local environmental tours. He also voiced his concerns about Bang Kachao. "Since land prices here are much cheaper than Bangkok, you have a lot of outsiders who want to settle down and build stuff. But they're not local people. They know nothing about plants, animals or the importance of farming; they don't care. In my opinion, this place needs very strong protection. There will be no green space left within 10-15 years, except for the land that is protected by the Crown."
The Law
Around 1,276 rai or 10 percent of Bang Kachao is owned by the Royal Forest Department, where agriculture is encouraged and construction is prohibited. After His Majesty, the late King Bhumibol Adulyadej declared his wish for the island to be preserved, the Environmental Impact Evaluation Bureau under the Ministry of Science, Technology and Environment purchased 564 plots of abandoned farmland—1,276 rai—and turned 148 rai into Sri Nakhon Khuean Khan Park.
Since then, three-city plans have been implemented in Bang Kachao. The 2001 version did not allow any buildings to be constructed in the "Green-White" zone, while the 2005 version allowed buildings to be constructed, although not over 200 sq meters. Buildings in the "Green" zone were limited to 10 percent of the whole area and, in order to stop housing estates from being built, landowners were not allowed to sell their land.
The controversial 2013 Samut Prakan city plan allowed for more construction. Questions linger over the legitimacy of the redrafting process, which locals claim was carried out without their consultation and leaves room for developers to take advantage of ambiguity.
The major amendment to the plan concerned two land categories: the "Green" zone, which is a protected conservation area, and the "Green-White" zone (the vast majority of the island), which is a rural and agricultural area. Regarding the Green zone, landowners are now allowed to sell their land, meaning they could sell it to a developer. The 2005 plan states that up to five percent of the "Green-White" zone could be used for "other purposes" (aside from growing crops) and buildings not exceeding 200 sq meters could be constructed. Under the new plan, however, the constructible zone has been extended to 15 percent.
The Department of Public Works and Town and Country Planning of Samut Prakan states the changes to the "Green" zone are to support a sustainable community model, allowing locals to build homes and small businesses, and to actually alleviate their need to sell land to investors and move out. Meanwhile, the changes to the "Green-White" zone have been made because, in effect, the old law had already been broken: already over 10 percent of the land has been used for other purposes and capping it at five percent would automatically prohibit locals from building any houses.
The environmental control law of Feb 28, 2019, strictly bans the construction of new commercial properties such as factories, hotels, shophouses, piers and golf courses. It also states that no buildings can be constructed on state-owned land. Any buildings built must not be taller than nine meters, except for "Thai-style" buildings, which can be as tall as 12 meters.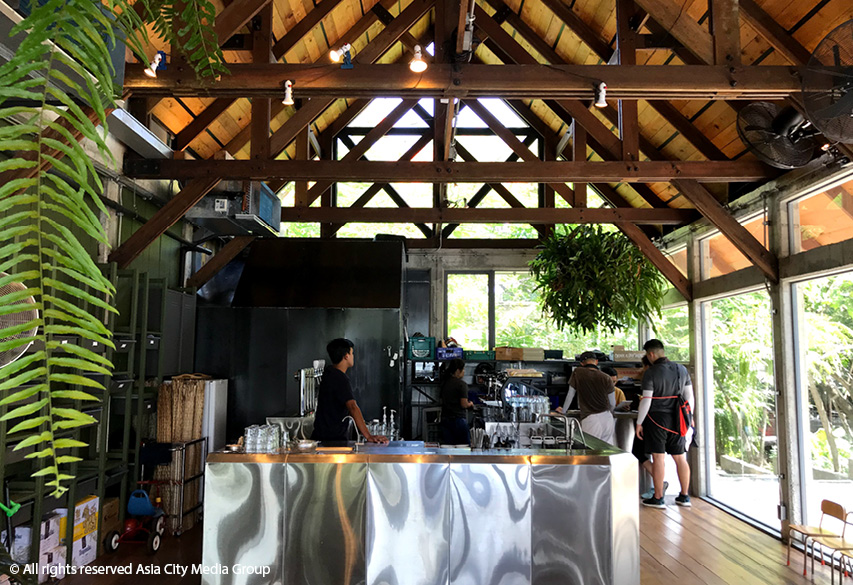 Hiddenwoods
Not everyone thinks these rules are practical. Panya "Man" Temkamkwan, architect and owner of Hiddenwoods, a newly opened eco-friendly cafe, event space and soon-to-be homestay, says, "I do understand the government's good intention of wanting to protect Bang Kachao. But the laws that are written are so inflexible and impractical not just for business owners, but also for those who want to build a home here."
"The new law states that you can only use 15 percent of the land you own for construction—how is this fair? As a result, many landowners here feel that they don't have much choice to do anything with their land, other than [leave it vacant]. The most they could do when they run out of ideas is pour concrete on the ground and set up street food shacks. There should be more organizations coming in to give advice and set up guidelines for locals who want to set up small enterprises, especially on how to make their businesses sustainable and in tune with the island's environment."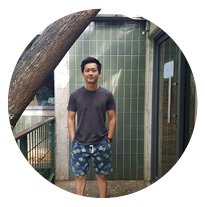 " THERE SHOULD BE ADVICE AND GUIDELINES FOR LOCALS WHO WANT TO SET UP SMALL ENTERPRISES "
Panya "Man" Temkamkwan, architect and owner of Hiddenwoods
"When I built Hiddenwoods, the old city plan was still being applied, which allowed for buildings of up to 25 percent of the total area, 200 sq meters in size and 12 meters in height. The land I have is pretty big, so the 25 percent bit was still a generous size for me. Plus, I followed all the rules according to the law, so I didn't have any problems building this place. The same would not be true now."
Man suggests that if the government really wants Bang Kachao's tourism to thrive, they should draft a new law that allows people to set up businesses that support visitors' needs. "Tourism is still growing, but most visitors who come here are day-trippers. Many want to stay the night here, but feel like they don't have a lot of accommodation choices. Hotels are banned, meaning the only accommodation allowed is four-room homestays. In this day and age, there are so many types of accommodation available, from Airbnb, boutique hostels to bed and breakfasts. I'm planning for Hiddenwoods to have an accommodation space as well, but probably not 100 percent a homestay. What laws would be able to support me then?"
Waste Management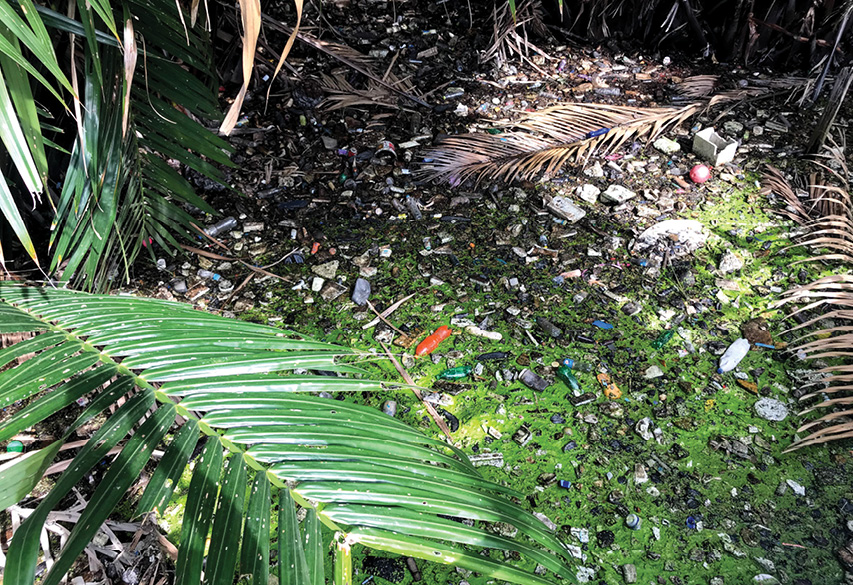 The island is fighting against a wave of garbage coming from the Chao Phraya River, while some land areas have become dumpsites. Polluted waterways and debris clogging up canals harm the health of locals, and also endanger the long-standing local fruit farming businesses.
On Jun 18 this year, in an effort to help reduce the amount of marine waste in Bang Kachao, the Department of Marine and Coastal Resources (DMCR) together with the Ministry of Natural Resources and Environment, the Tourism Authority of Thailand and Bang Namphueng Sub-district Administrative Organization, Samut Prakan province, launched a project to set up 250-meter-long clean-up booms (nets made to trap trash) at the mouth of the Chao Phraya River around Bang Kachao. As reported by the National News Bureau of Thailand, the DMCR has set up 10 clean-up booms in 10 pilot areas out of over 700 canals and more than 100 rivers. The efficiency of these clean-up booms will be studied for further developments before they expand to other areas.
Samnao Rassamithat, president of the Bang Namphueng Sub-district Administrative Organization, claims the amount of garbage has lessened since the clean-up booms were installed by the government and private sector, while local authorities have campaigned for a reduction in the use of plastic bags and styrofoam.
There's another issue: tourists. Sukit Plubchang, eco-activist and founder of the environmental conservation group Lumphu Bang Krasob, highlights how tourism has heightened Bang Kachao's waste management concerns. "Every weekend, garbage bins here overflow with trash. The more tourists who come, the more plastic waste we get. It would be very much appreciated if tourists were more mindful about the things they throw away here in Bang Kachao," he says.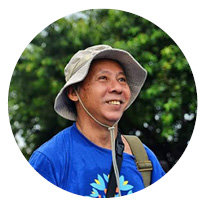 " EVERY WEEKEND, GARBAGE BINS HERE OVERFLOW WITH TRASH "
Sukit Plubchang, eco-activist and founder of environmental conservation group Lumphu Bang Krasob
Even so, Sukit believes that Bang Kachao's waste problem starts with its people. "Right now GC (PTT Global Chemical Public Co., Ltd.) and conservation group OUR Khung BangKachao are organizing a nationwide waste management competition called 'Waste Runner 100 Day Challenge' to find the team with the best business model to help tackle the island's waste issue. But at the end of the day, I don't think we should always wait for help from these big CSR groups. We should build more awareness in the community about plastic waste consumption. We need to come together and help promote sustainability."
"For example, there should be water coolers installed along bike routes for cyclists to refill their water. I've just set up a water cooler outside my house, and I've already noticed a few cyclists dropping by. It's a small start, but it's something we should all help promote."
The Eco Route
Amid these changes, ecotourism is being touted as a positive way to help save Bang Kachao from losing its verdant landscape, peaceful atmosphere and rural way of life. Many conservation groups host events and activities to help preserve the environment and promote a sustainable future for the island, with some local community people actively joining in.
The Rak Kung Bang Kachao conservation group is a big player in gaining local community participation with its various eco-friendly activities throughout the years. They have teamed up with The Big Trees Project, an environmental volunteer and advocacy group, to replant trees near canals in Bang Ko Bua or hold cycling sightseeing tours while tasting local dishes.
Sidney Jhingran, a travel specialist who works in ecotourism and also partners with Bang Kachao locals to support cycle trips, suggests that farmstays and agro-tourism are the two most promising avenues for tourism development. "They both have the benefit of retaining traditional ways of life. Some farms here already offer accommodation and bicycles, as well as selling herbal and traditional products while hosting agricultural learning activities, such as learning how to produce coconut sugar," says Sidney. "Growing trees in an agroforestry farm and learning how to cook traditional meals also look promising. These activities could be linked together, as has been done in places like Tha Kha, Amphawa and Nakhon Chai Sri."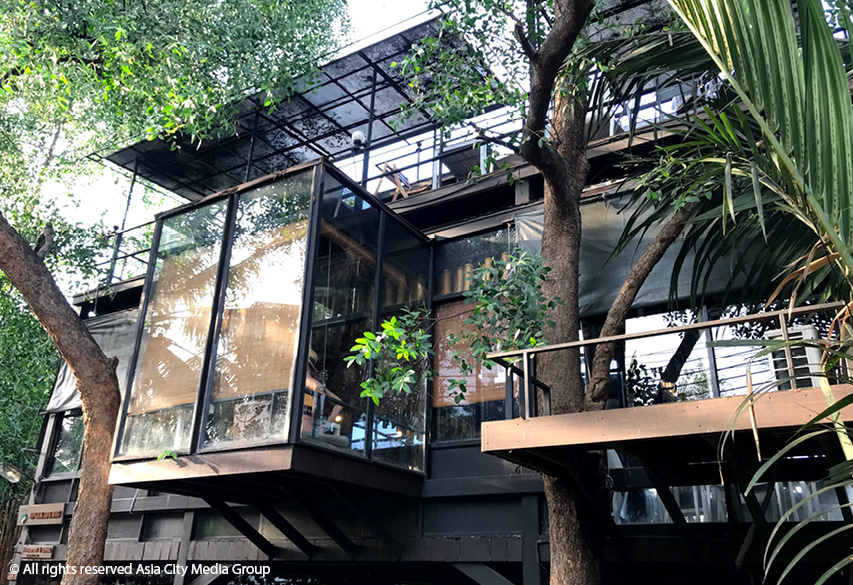 Bangkok Tree House
Another route that Sidney suggests is more controversial: ecotourism resorts. "Hotel and resort developers have the potential to outbid other types of developers for large pieces of land. Rather than being turned into housing estates or factories, sustainable hotel planning could create eco-resorts that are in tune with the surrounding environment. Bangkok Tree House is one example of this. The concept could be taken further. Imagine a brand like Six Senses coming in and creating an eco-retreat right next to Bangkok. With the right kind of planning and local involvement, I see potential in this."
Opened in late-2011, the stylish yet eco-friendly Bangkok Tree House is Bang Kachao's best-established accommodation and tourist hotspot. With its solar-powered rooms and use of organic materials and upcycled garbage in the hotel's construction, this popular green retreat claims to be fully committed to "the greenest of green travelers."
"This place was designed to blend in with nature, while also having a unique and modern appeal," explains Tanaporn "Namfon" Wittayasiripaiboon, manager of Bangkok Tree House. "We try to be sustainable by using as many natural materials as possible. All our walkways are made of recycled wood, and we try to surround ourselves with lots of trees to cool the air. As for waste management, all our kitchen and organic waste are composted, while used cans and plastic bottles are sold to give local collectors some income. Right now, we are also planning to become a certified green restaurant."
For now, this green lung is still breathing. But for how long? The local government needs to show leadership and give a clear vision for Bang Kachao. Do they want to preserve it like a national park? Turn it into a tourist destination like Singapore's Gardens by the Bay or open it up to developers to give visitors more things to do with more accommodation options? Currently, the island runs the risk of creating uncertainty for locals and business owners, while hindering tourism.
---
Don't miss these five Bang Kachao attractions
Siamese Fighting Fish Gallery
Opened in 2009, this museum claims to be the only Siamese Fighting Fish Gallery in the world. It displays a wide variety of fish including species found in the Chao Phraya River.
8/1 Moo 3, Soi Wat Rat Rangsan, 090-323-9159. Open Sat-Sun 10am-5pm. Free admission.
Sri Nakhon Khuen Khan Park and Botanical Garden
Cycle around the abundant green space while taking in scenic views of the lake and resident bird species.
73 Soi Wat Rat Rangsan, 02-461-0972. Open daily 5am-7pm.
Bang Nam Phueng Floating Market
Shop, eat and chill at this local and tourist hotspot. Expect local food, desserts and fruits all at very cheap prices. You can rent a small wooden boat for around B20.
Soi Bua Phueng Phatthana, 02-461-3254. Open Sat-Sun 8am-4pm.
Wat Bang Nam Phueng Nok Temple
Refuel on drinks and snacks while admiring ancient murals from the late-Ayutthaya period at this century-old temple situated on the riverfront.
10 Moo 1, Bua Bueng Pattana Rd., Bang Nam Phueng Nok.
Baantoop (Herbal Joss-Stick Home)
Learn how to make DIY herbal incense joss sticks and tie-dye fabrics. Classes cost B60 per person. An appointment is recommended.
22 Moo 3, Soi Petchhueng 52, 02- 815-0729. Open Sat-Sun 9am-3pm.