"The government said we should adapt. They said if our cash flow was low, we should take out a loan with a bank. But no banks in the universe would lend money to businesses that can't operate normally," Bard Passapong, founder of Suan Phlu's Junker and Bar, wrote on Facebook last weekend.
They argue that little or none of a B1 trillion relief loan granted to the government last year went to their businesses.
But with a recently approved B500 billion loan on the table, a group of nightlife leaders believes it isn't too late to make up for what Thailand's lauded food and beverage industry has lost.
This morning, a group dubbed Fire & Ice delivered a detailed proposal to opposition Seri Ruam Thai Party member Dr. Rewat Wisutwet, who intends to present it to parliament on Thursday, June 17.
"To save this industry, doesn't mean saving only the [small] business owners. It's important to note that one bar or one restaurant can create dozens more job opportunities," Dr. Rewat said at a press conference held at the new parliament building on Samsen Road.
Surrounded by supporters displaying paper signs that read "always the scapegoat," "money before the country," and "cocktail is not a crime," the Fire & Ice group—led by bar owner Niks Anuman-Rajadhon; Minway Chi, founder of spirits distributor Bootleggers Trading Company; Artid Sivahansaphan from the Craft Beer Association of Thailand; and former BK nightlife writer Choltanutkun Tun-atiruj—shifted focus away from alcohol and onto lost jobs.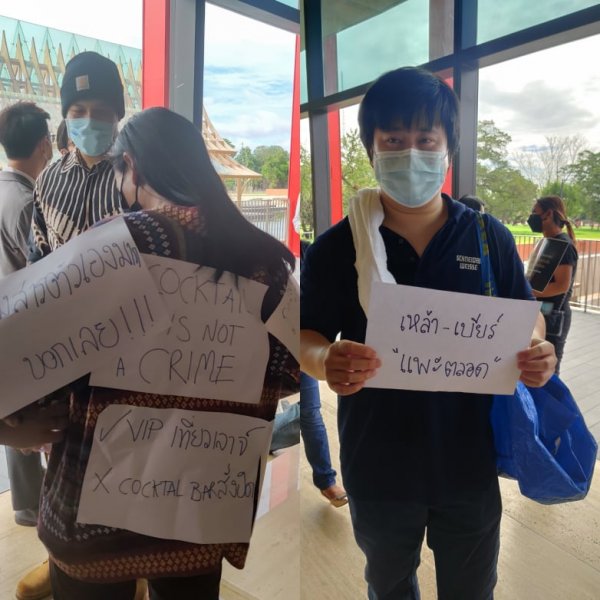 "Most of my branches are gone," said Sugrid Pongkumpund, owner of Jim's Burger. "What is really frustrating is we know there is a budget [from our tax contributions], but we are never on their list for help. Right now, I'm trying to save my staff as much as I can. They are humans who deserve human dignity. But we're not sure the government sees it that way."
The proposal includes behind-the-scenes programs that range from targeted fixed interest government loans and rent forgiveness for businesses that have to operate at less than half capacity to a 15 percent cap on the fees delivery apps charge restaurants.
The group is also calling on the government to allow takeaway, delivery, and online advertisement of alcohol. Delivery is currently outlawed in business-to-consumer transactions, and alcohol advertisement is regulated by the Alcoholic Beverage Control Act (2008), a law often interpreted to prohibit even posting pictures of alcoholic beverages on social media.
"We need to make sure there are consequences for extending the lockdown," explained Taopiphop Limijittrakorn, the craft beer brewer and member of opposition Move Forward Party. "The government still hasn't compensated these business owners [despite forced closures]. If there were a need to help these businesses, [government leaders] would realize they can't prolong this forever."
Even if alcohol delivery is given the greenlight, it might not serve the entire breadth of the country's bar industry.
"Our places serve experience, and that can't be packaged and sent in delivery," said Suwincha "Chacha" Singsuwan, manager of popular bars and restaurants like Rabbit Hole and Canvas.
Prior to approaching members of parliament today, the Fire & Ice group conducted a survey of 54 hotels, restaurants, bars, and suppliers that highlighted the economic fallout the food and beverage industry has endured since 2019.
Respondents revealed that, on average, revenue had dropped 79 percent from 2019 to 2021, staff count had fallen 24 percent, and salaries had plummeted 52 percent. Eight venues had closed entirely.
For some, help can't come soon enough.
"We are literally dying, and it isn't just about our business," said one craft beer representative. "Our current situation is like waiting for help that will never arrive. Every time we ask for it, we are told to take care of ourselves."
Additional reporting by Porpor Leelasestaporn.