For years, he always had a smile and kind words to go with his slices of pineapple, papaya, and watermelon.
Today, Chulalongkorn University students, alumni, and faculty are mourning the death of a man known on campus as "Uncle Fruit," following his death early this morning due to Covid-19.
Image: CU Fruity via Facebook
A fruit vendor who was a common sight at the downtown university, Baksia Saelim died of coronavirus complications at 2:40am Tuesday, according to his
Facebook fan page
. He was believed to be in his late 60s.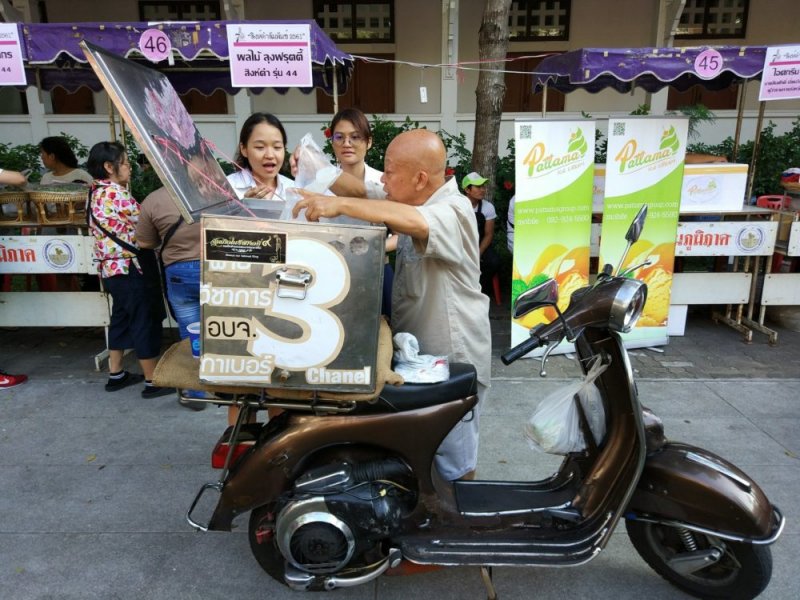 Image: CU Fruity via Facebook
"It's very devastating news. I often ate his watermelon," Twitter user Fairytopiaclub wrote. "Whenever I felt upset [at the university], I would come down to buy this uncle's fruit. I liked talking to him because he always told me my fortune. How many more lives must be lost because of failed management? I'm so angry."
His death was mourned across social media today by those who admired the man, who sold fruit from his Vespa and was known for his friendliness and generosity.
"RIP, Uncle Fruit. Back then I didn't have much money, so I bought his fruit only seldomly, but he always gave me extra pineapple," illustrator Sawangwonganan Pipat wrote on Facebook along with a drawing of Baksia. "With love and condolences."
Image: CU Fruity via Facebook
"Whenever I would go to Chulalongkorn University for meetings, I'd often buy fruits from Uncle Fruit as a snack," wrote Tongthong Chandransu, a former university law dean. "About a few months ago I went to buy fruits from him… talked to him a bit and came home. That's the last time we met."
"My condolences on the passing of Uncle Fruit. Last month, I was still talking to him. If Thailand's political situation were good, we wouldn't have to lose so many people we love in such a short period of time," well-known student activist Netiwit Chotiphatphaisal tweeted.
ขอแสดงความเสียใจต่อการจากไปของลุงฟรุ๊ต เมื่อเดือนก่อนยังได้พูดคุยกับคุณลุงอยู่เลย ถ้าหากการเมืองดี เราคงไม่ต้องสูญเสียคนที่เรารักในช่วงเวลาสั้นๆได้มากมายขนาดนี้
Thailand has been under ever-worsening pandemic conditions with record-high infections and deaths recorded almost daily. Today the country reported 18,901 infections and 147 deaths.