Life in the concrete jungle has even the toughest of us pining for Mother Nature from time to time. Bring a touch of life and color into your home by visiting some of the best plant markets in the city.
Chatuchak Plant and Flower Market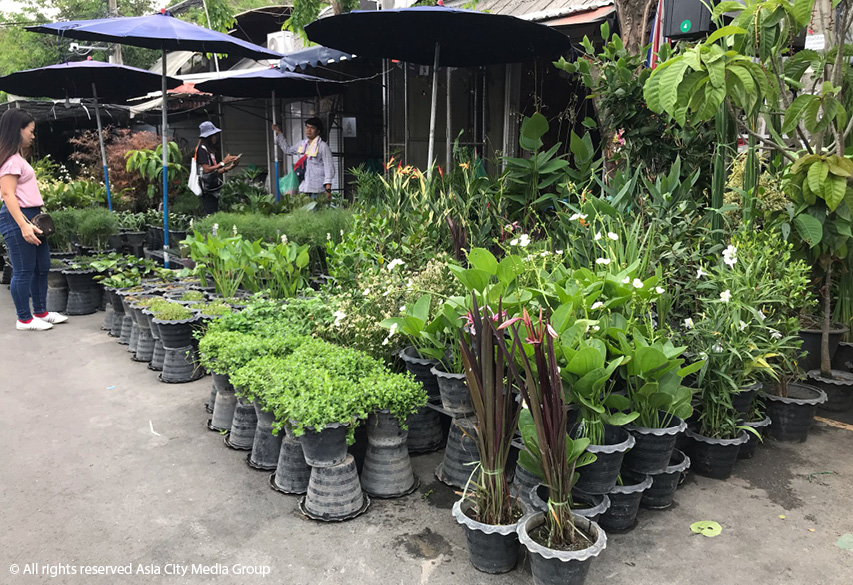 The place: This much-loved green haven only opens on Tuesdays, Wednesdays and Thursdays, and occupies the inner circuit of Chatuchak market. The vibe is lively, yet way more relaxed than its weekend sister, but be warned: it gets hot.
The goods: This is a one-stop shop, offering everything from plants for good luck and prosperity like Pisonia grandis and camphor trees, to cacti, bonsais, orchids, air-purifying house plants, herbs and exotic fruits like tamarind and garcinia cowa (a type of orange). There's plenty of gardening equipment, too, including plant pots, watering cans and fertilizers.
Prices: B30-80 for potted plants; B10-20 for small cacti; B20-100 for succulents; B50-80 for Mona lavenders and hydrangeas; and anywhere from B50 to B25,000 for bonsai trees.
How to get there: BTS Mo Chit, MRT Chatuchak Park and MRT Kamphaeng Phet are all within a few minutes' walk.
587/10 Kamphaeng Phet 2 Rd. Open Tue noon-6pm; Wed-Thu 5am-6pm
11th Infantry Regiment's Plant Market

The place: Don't be put off by its name just yet. Talad Nat Ton Mai Rarb 11, as the locals call it, was founded to help military housewives and their families earn more income, and is one of Bangkok's finest plant markets thanks to its solid selection. If you get there around noon, you may notice that most stalls are vacant of vendors—this is because they're all indoors somewhere nearby to escape the heat! To make a purchase, simply call the number on the blue sign (every stall has one), and they'll come to assist you.
The goods: Ornamental plants and flowering shrubs are towards the front, while further back you'll find perennials and specimen trees. There's no shortage of edible plants and herbs like mint, peppermint, basil and betel leaf either. This market also offers gardening services and supplies, as well as lots of lovely hand-painted ceramics at affordable prices.
Prices: B20 for purple heart; B30 for lady palm; B60 for Arabian jasmine and snake plants; B80 for rosemary; up to B1,000 for popular, lucky house plants like fiddle-leaf fig trees.
How to get there: The 34, 39 and 59 buses from Victory Monument will take you all the way there, or get off at the 11th Infantry Regiment station on the BTS Green Line extension, located right outside the market.
106/1218 Phahonyothin Rd. (opposite Wat Phra Si Mahathat). Open daily 8am-5pm
Liab Tang Duan Plant Market
The place: As the name ("the plant market located along the expressway") suggests, this market transforms the narrow sidewalk along the Ramintra-Ajnarong expressway into a quaint, leafy space dedicated to mostly ornamental and indoor plants, as well as gardening tools and decorations. It also connects to a back soi (Sukhonta Sawat Soi 38), where you can park your car and explore even more shops selling cacti and hanging plants.
The goods: Very impressive curated collections of luscious houseplants and vividly colorful, healthy-looking flowers—think luck and prosperity plants like Chinese evergreen and fragrant orange jasmine; moon cacti; and Euphorbia milii (crown of thorns). A few herbs and edible plants can be found here, too, including eggplants and cherry tomatoes.
Prices: B35-50 for marigolds; B85 for a small stone roses cactus; B80-150 for a peach lily; B120 for a moon cactus; B200 for Chinese evergreens; B400 for Holland hydrangeas; and B450 for fiddle leaf figs.
How to get there: Since there's no public transport nearby, the easiest way is by car or taxi.
6/13 Pradit Manutham Rd. Open daily 8am-6pm
Thonburi Market Sanam Luang 2

BK Pick!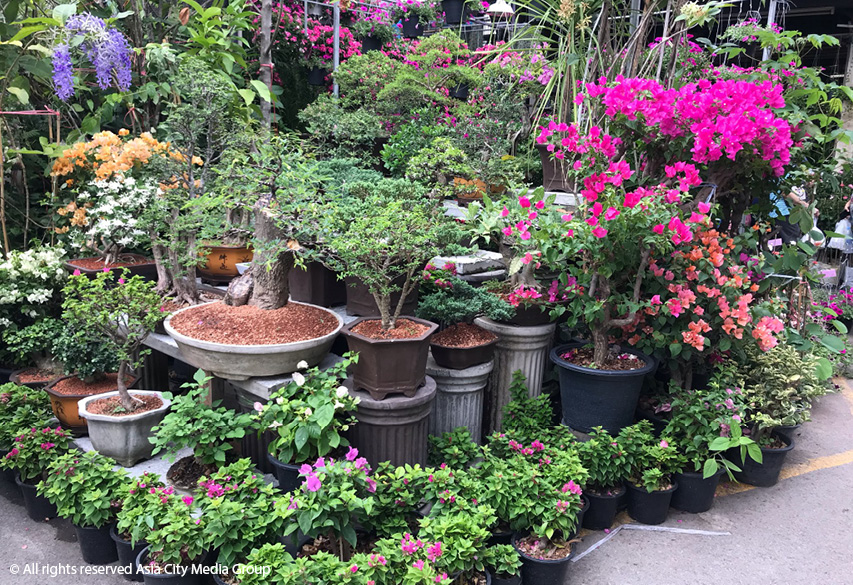 The place: This sprawling, 110-rai market is simply an oasis. Its friendly, lively vibe is similar to Chatuchak, with sections dedicated to everything from furniture and food to second-hand clothes and, of course, plants. The plant zone is jam-packed with hundreds of stalls selling everything you could ever want, with knowledgeable and passionate vendors who are happy to advise you on how to keep your greens thriving.
The goods: Whatever you can think of, there's a very high chance this market has it. As well as a wide range of edible plants, spices and herbs, fruits—think durian, guava and Vietnamese red pomelo—orchids, cacti, bonsais, and countless lucky plants of various sizes, you'll also find aloe vera, coffee trees, pine trees, jasmine—you get the picture. There's also a great selection of gardening tools, fertilizers, plant pots, chic ceramics and various seeds.
Prices: B10-30 for tiny potted plants; B50 for three pots of Croton tree; B80 for crown of thorns and rose periwinkle; B100 for a small Arabica coffee tree; up to B500 for a big and luscious desert rose; around B20 for plastic plant pots and trays.
How to get there: You can take the 515 bus from Victory Monument and get off at the Phutthamonthon Market stop. From there, it's under 10 minutes by taxi. Driving is not recommended, as parking is hard to find.
195/1 Klong Thawi Wattana Rd. Open daily 6am-6pm
Thewet Plant and Flower Market
The place: Nestled along Krung Kasem Road between Thewet's fresh market and Wat Noranartsoontarikaram in the Old Town, this low-key plant market is one of Bangkok's oldest. It only has around 50 stalls but it's a solid place to pick up lush and healthy plants and handy equipment.
The goods: Mostly small and medium plants, including an impressive range of lucky plants, orchids, lotus flowers, (lots of) orange trees, cacti and succulents, plus a few herbs and kitchen plants. Gardening equipment, hand-painted clay pots, soils, fertilizers and coconut coir (a soil alternative) are also available.
Prices: B30-300 for orange trees, depending on size; B20-40 for cacti; B20 for marigold and little yellow star; B100-600 for aloe vera; and B60 for the air-purifying golden hahnii.
How to get there: The easiest and quickest way is to take a taxi, but if you're in the mood for sightseeing, you can take the orange flag Chao Phraya Express Boat from Sathorn Pier (Central Pier) and get off at Thewet Pier (N15).
Krung Kasem Rd. Open daily 9am-6pm
---
Beginner houseplants for people who kill everything they touch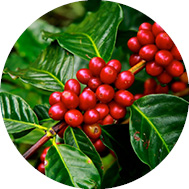 Credit: Cliff N. Via www.goodfreephotos.com
Arabica Coffee Plant
These guys don't need direct sunlight but keep in mind that you should water it at least once a day.
Credit: beautiful_lie Via pixabay.com/th
Aloe Vera
Do not overwater aloe plants. Ever. Like cacti, aloe plants are succulents, so they can go a very long time without water. Watering two-to-three days per week is more than enough.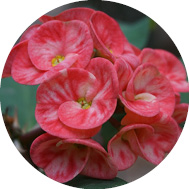 Credit: naturepost Via pixabay.com/th
Crown of Thorns
These guys require at least half a day of sunlight, but since they're succulents, they don't need a lot of water. Water this plant thoroughly two days per week, and make sure to allow any excess to drain off.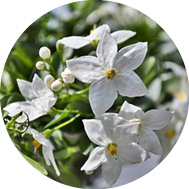 Credit: Acaria Via pixabay.com/th
Jasmine
Jasmines do need regular watering but you should always let them dry out before their next drink. In other words, don't overwater! Two-to-three days of watering per week should be fine. Also make sure your room is well lit, because jasmines love light!