Back at the end of April, a crowd of 10,000 people filled the grounds of Queen Sirikit Convention Center for four straight days for what has so far been one of the biggest and most energetic conferences of the year: Startup Thailand. Packed in the exhibition halls were teams from over 180 budding Thai startup companies hungrily sharing their business models to investors, fellow entrepreneurs and even potential comptetitors. Organized by the Ministry of Science and Technology, the four-day exhibition was a microcosm of the entrepreneurial ecosystem that has taken over Bangkok in the past five years, a city whose number of startups funded by a venture capital firm or angel investor has grown from three in 2012 to 72 in 2016.
With the success of Startup Thailand and many other startup-related events (Thailand Startup Week, TechSauce Summit, Echelon Thailand), the number of co-working spaces popping up daily and the rise of venture capital firms in the country, Thailand is becoming a regional startup hub with rising potential for investment.
Booming Investment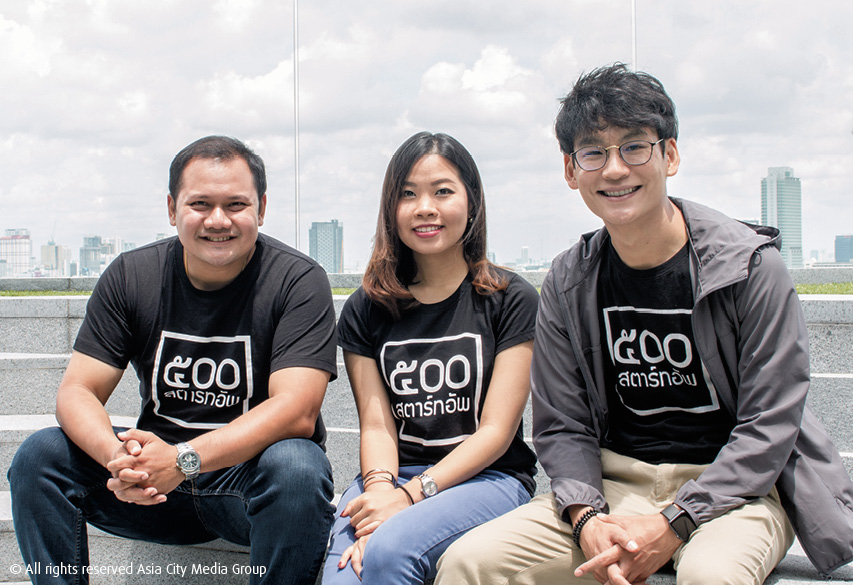 Among the country's most prolific startup investors is a Thai branch of the California-based venture fund group 500Startup, dubbed
500Tuktuks
(
www.500.co
), whose B520 million fund size hopes to groom up to 60 local startups within the next two years.
"We believe that within the next 5-10 years, Thailand can produce a 'unicorn' [a startup valued at over $1 billion], which means that we need to find that contender right now," says venture partner Krating Poonpol, whose team has already funded 20 startups so far, making it the most active VC in Thailand.
"One of the main things missing in Thailand's startup scene previously was funding, but things are looking up now. Because we are merged with the Silicon Valley branch, we believe we can provide a solid runway for Thai startups to go global. Plus, the fact that local competition is so low means that there's potential for all sectors to grow, whether that's tech, food or ecommerce."
On top of VCs and angel investors, even the government is getting on the bandwagon, with ICT minister Uttama Savanayana announcing back in April that he would launch a $570 million (almost B20 billion) venture fund to boost the number of startups, which currently sits at approximately 1,000-2,500, up to 10,000 by 2018. In July, the government also announced plans to make Thailand the startup gateway of Indochina, an initiative headed by the Information and Communication Technology Ministry with two events taking place in Chiang Mai this month (Aug 5-7 and 26-28) that aim to connect startup businesses in Thailand, Cambodia, Laos, Myanmar and Vietnam.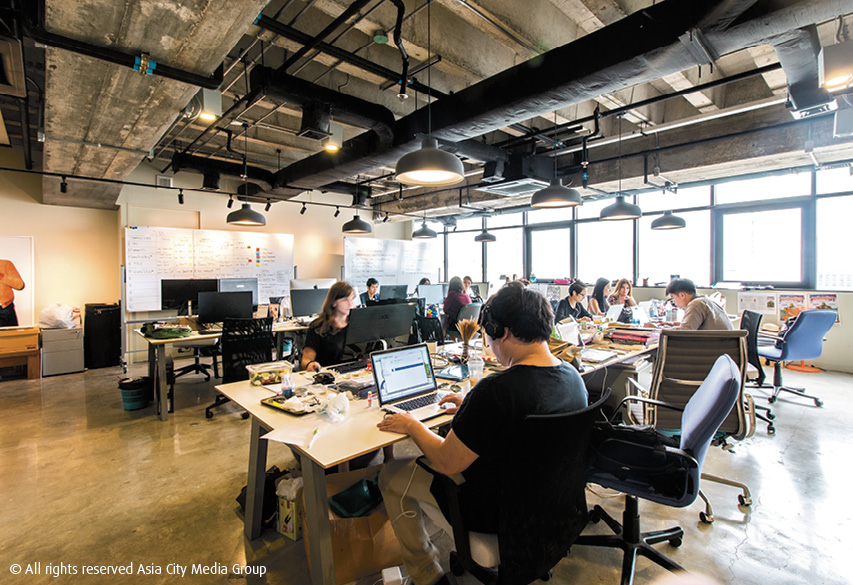 Asiola
Further support comes from communities such as
Asiola
(
www.asiola.co.th
). A startup company itself, Asiola focuses on crowdfunding creative local projects by individuals and groups. "We aim to help people at all levels—whether that's starting level, equity level or beyond," says CEO Jon Lor, whose business has crowdfunded projects ranging from large-scale graffiti works to a rap bootcamp with Thaitanium.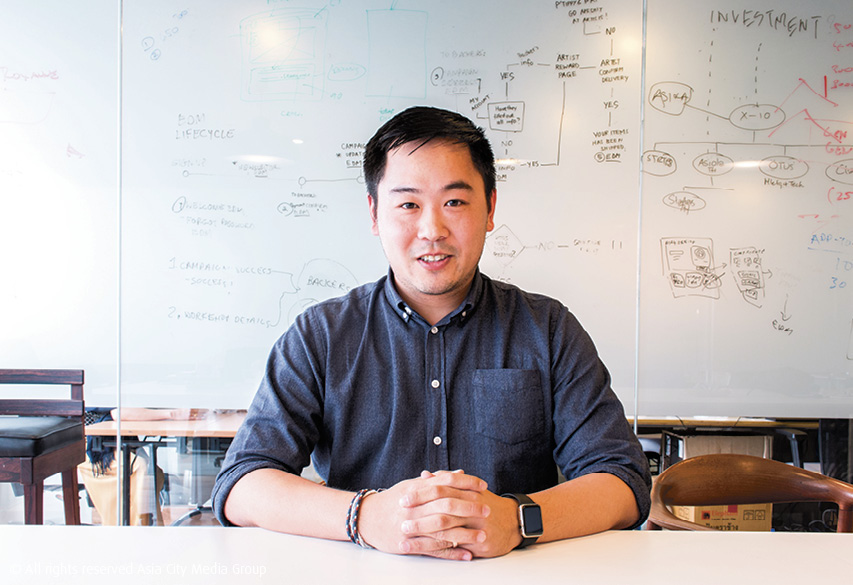 Jon Lor, CEO of Asiola
"I also started this journey on the other side of the fence," he explains. "I had a lot of ideas but I didn't know where to start. Here, we want to try and encourage that smartly. Crowdfunding can validate ideas in a low-risk way. If you have a good idea, great! Let's put it to the test and see if people are willing to spend money on it."
Starting Out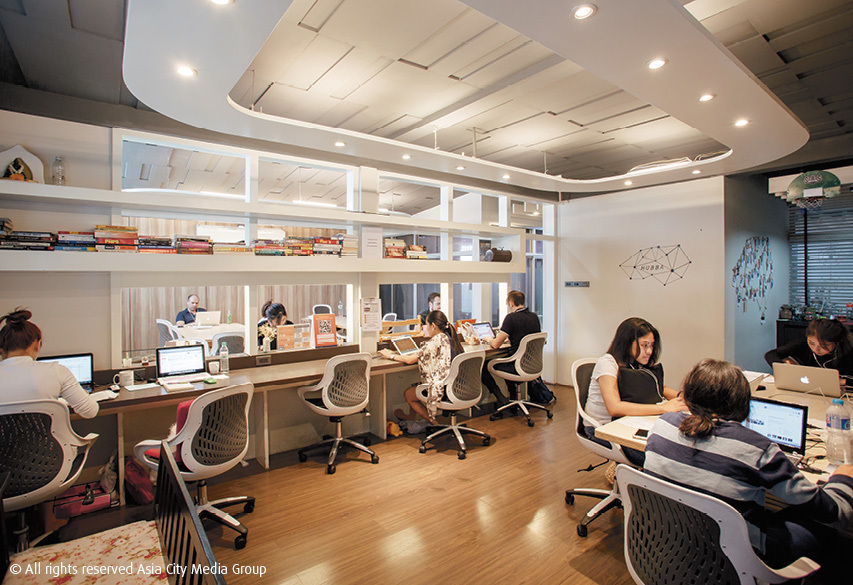 Hubba Thailand
So with all the factors lining up, what should entrepreneurs be doing right this second to make a move in the startup scene? Amarit Charoenphan, CEO of Bangkok's first ever co-working space, Hubba Thailand, refers to the concept of an "entrepreneur's journey."
Amarit Charoenphan, CEO of Hubba Thailand
"You begin by being inspired by an idea," says Amarit, "then you learn as much as possible about the idea and all its problems, which leads to forming a team, forming a business model, scaling up to meet maximum success, and then reaching the top as the lead organization in that field," he says.
From an investor's perspective, Krating Poonpol of 500Tuktuks suggests that the team members are the most crucial ingredient. "The first thing I do is feel the energy of the team and ask myself; would I want to join this team? Then comes their knowledge and skill to implement the startup idea. I ask myself; could I compete with these guys? Can anyone compete with them? Is there anyone better than them? If the answer is no, then it's a startup worth investing in."
It seems, however, that the crucial first steps are often where most startup teams trip up. "Many people tend to skip the learning phase and create the product way too soon. Without enough of a foundation in the idea, how it works, what it needs, what its problems are, it's very easy for the startup to fail," says Amarit.
Another obstacle is having to teach the market about your product, says Asiola CEO Jon Lor. By attempting to introduce new concepts to the market, whether it is crowdfunding or ordering food through a bot, a lot of it is about pitching why Thailand needs and is ready for that product.
"Trust can be a problem at the beginning when it comes to startups," he says. "Be transparent with all the success stories, communicate your growth and encourage people that they can be a part of it. As the company starts to grow and evolve, you constantly have to reinforce your idea and your story to people so that they can understand it and, more importantly, use it."
Despite the problems all startups are guaranteed to face, Krating reiterates that businesses should never call it quits. "Startups are all about pivoting, adapting and growing—constantly shifting your business model to better suit the market," he says, referring to Instagram as an example of a product that started as one thing before getting acquired by Facebook and turning their business model around. "If you're not willing to adapt your product along with the market, if you're ready to call it quits, the startup scene might not be for you."
Golden Year
2016 is looking like the golden year for Thailand's startups, with things bound to go up from here. But is there anything still missing? There seems to be one consensual answer among Thailand's startup community: the need for Thais to start using, working for, and relying on local startup products.
Nick Morgenstern, CEO of Ginja Thailand
"In the West, startups have a cool, excitable air about them, while Thai graduates seem to be a lot more conservative," says Nick Morgenstern, CEO of
Ginja Thailand
(
www.ginja.co.th
), whose food delivery service boasts the first commerce application of Facebook Messenger bot technology in Southeast Asia. "Many people still want to go and work for big established companies, as it seems more secure."
This problem extends onto the consumers themselves, many of whom still feel doubtful when choosing to use products from a startup company. "We always go for the established Japanese or Western brand, we don't support our own entrepreneurs or ideas," says Amarit of Hubba. "What we're left with is a digital economy that uses other people's products, which means it's that much more difficult for homegrown talents to find their way onto the global map."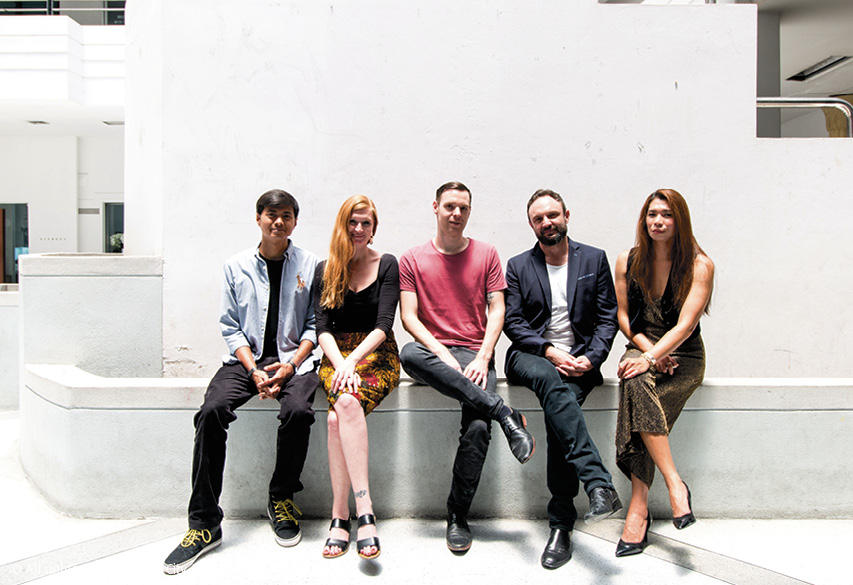 Ginja team
But differing consumer behavior between the West and Thailand is exactly where startups can find fertile ground for business potential. "People transact money in a very different way here compared to the UK or Australia," says Morgenstern, whose food delivery service Ginja is adapting an international model to the local market. "Here, people use Line to do customer service, to do e-commerce, to complete deals. Conversion rates are so much higher than websites—not to mention storefronts.
"In Thailand, people go straight onto Instagram to find a product and then use Line to negotiate and transact the deal. With a 147-percent mobile penetration rate and 38 million 3G users, it seems that technology and social media are the tools that Thais use to satisfy their demand for convenience, leading to demand for tech-based startups to be higher than ever before."
With Bangkok's startup scene still in the early stages, the city still provides fertile ground for anyone seeking startup business opportunities.
---
Cool New Startups You Should be Using
BentoWeb
Helps set up your own online store with payments from social media and mobile devices.
Drivebot
A Fitbit for your car that monitors for mechnical and electrical faults.
Available for free download on the App Store and Google Play.
GetLinks
A marketplace for finding jobs at top startup firms in Asia.
Glazziq
An online shopping destination for trendy glasses and sunglasses.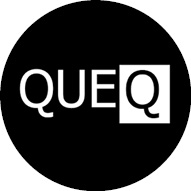 QueQ
An online queueing service for restaurants including BonChon and Oishi Grand.Available for free download from App Store or Google Play.
Santabox
A trial box service that lets you taste/try the latest products from top food brands to help them with market research.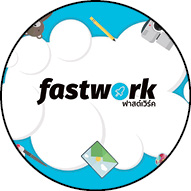 Fastwork
An online marketplace for freelance jobs in Thailand.
---
Co-Working Spaces
Co-working has taken off in a big way in Bangkok, representing a new, communally -minded way of doing business. "In the past, people were afraid that sharing business ideas would lead to other people stealing it," says Amarit Charoenphan, CEO of Hubba Thailand, the city's first co-working space. "For entrepreneurs, going to co-working spaces is like footballers going to football fields: you're in a community of like-minded people who can share ideas and support one another." Here are some of our favorite spots in the city:
Colab on Convent
Starting at B300/day. 2/F, Liberty Square, Soi Convent, 093-420-6661. Open Mon-Fri 8am-6pm, 093-420-6661. BTS Sala Daeng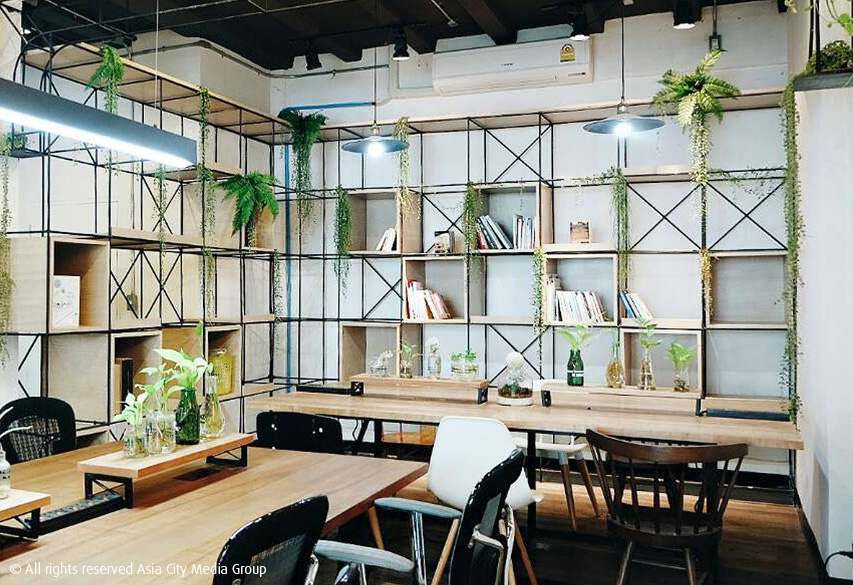 Growth Cafe & Co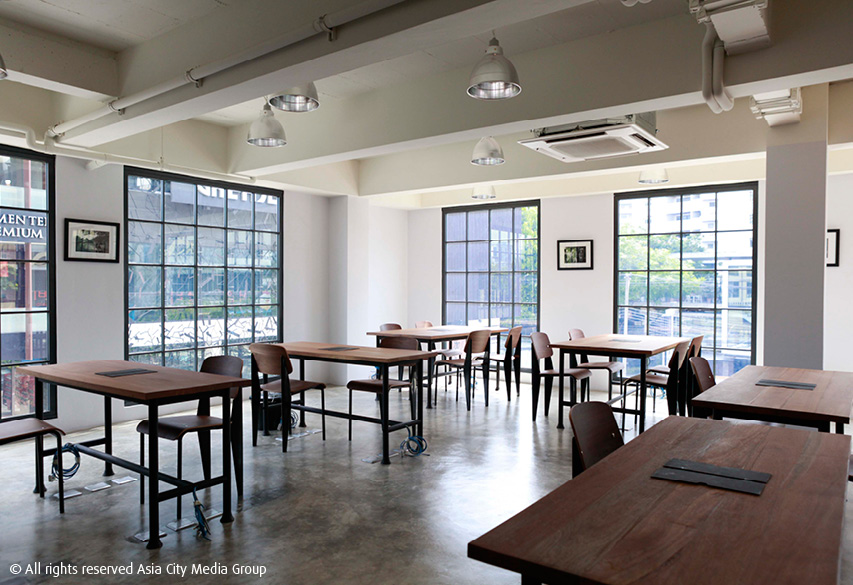 The Hive Bangkok
Hubba
Starting at B299/month.
19 Ekkamai Soi 4, 02-714-3388. Open daily 9am-10pm. hubbathailand.com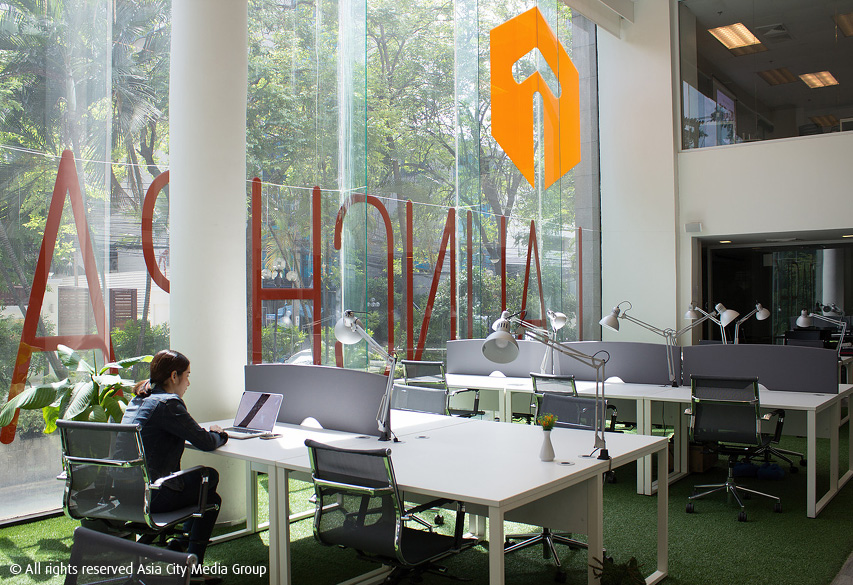 Launchpad Co-Working Space
Starting at B260/day.
1/F, Sethiwan Tower Silom, Pan Rd., 02-266-6222. Open Mon-Fri 9:30-8pm and Sat 10:30-6pm. BTS Surasak. www.fb.com/launchpadhq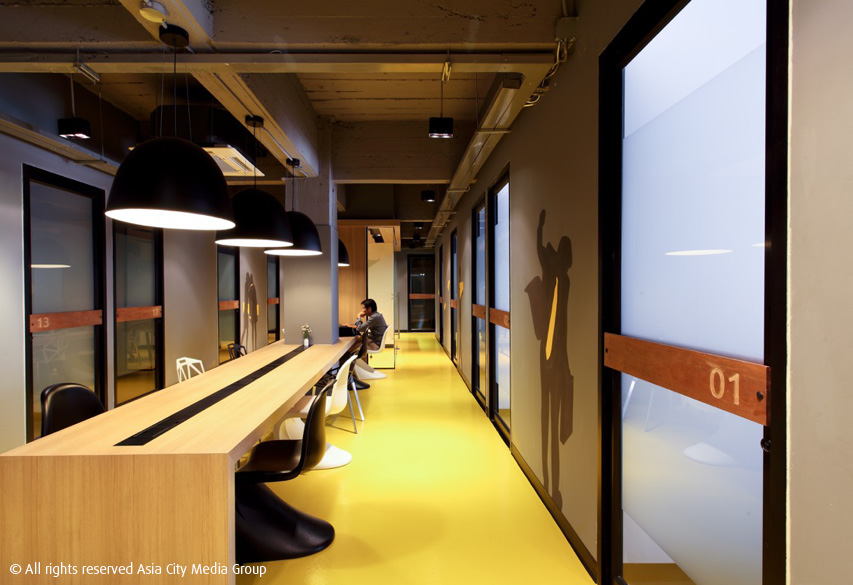 Kliquedesk
Starting at B300/day.
93 Sukhumvit Soi 23, 02-105-6767. Open Mon-Sat 9am-7pm. BTS Asoke. www.kliquedesk.com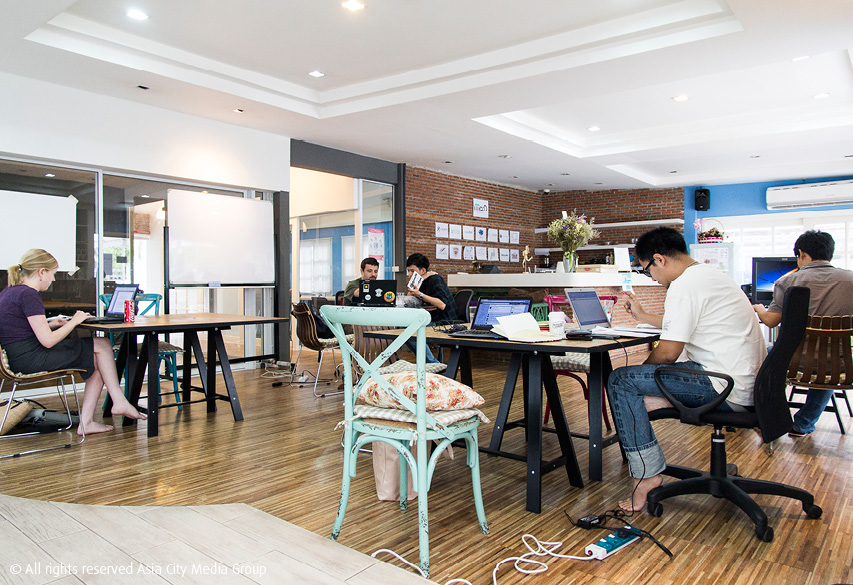 Ma:D
Free hot desks with B3,500/month for private working desk.
42/3 Ekkamai Soi 4, 094-661-6046. Open 9am-7pm. www.fb.com/madeehub
Pencave Coworking Space
Starting at B320/day. Naiipa Art Complex, Sukhumvit Soi 46, 062-553-5345. Open daily 9am-10pm