Co-working kicked off in Thailand back in 2012 when Ekamai's
Hubba
showed Millennial entrepreneurs that what they needed wasn't an office costing B30,000 a month but a desk and a strong Wi-Fi connection for B3,000. Since then, co-working spaces have taken over. According to the Bangkok Post, the number of co-working spaces in Thailand will rise to 150 by the end of 2018, in line with an estimated 25-percent increase in market demand.

The first half of 2018 has seen a wave of big international operators move into the city. With their stylish facilities spanning multiple floors and thousands of meters, they are on the verge of eclipsing local, small-scale businesses often found in modest, cafe-like spaces.
They include big names like Amsterdam co-working brand
Spaces
(from B4,490/month), whose first industrial-chic branch spans 1,260 sq meters across the top floor of Phra Khanong's Summer Hill mall. Their latest opening at Chamchuri Square comes with more refined decor and spans a whopping 3,281 sq meters, including 143 individual desks, a cafe and a business club which seeks to emulate their "community-first" concept by providing opportunities for networking and socializing.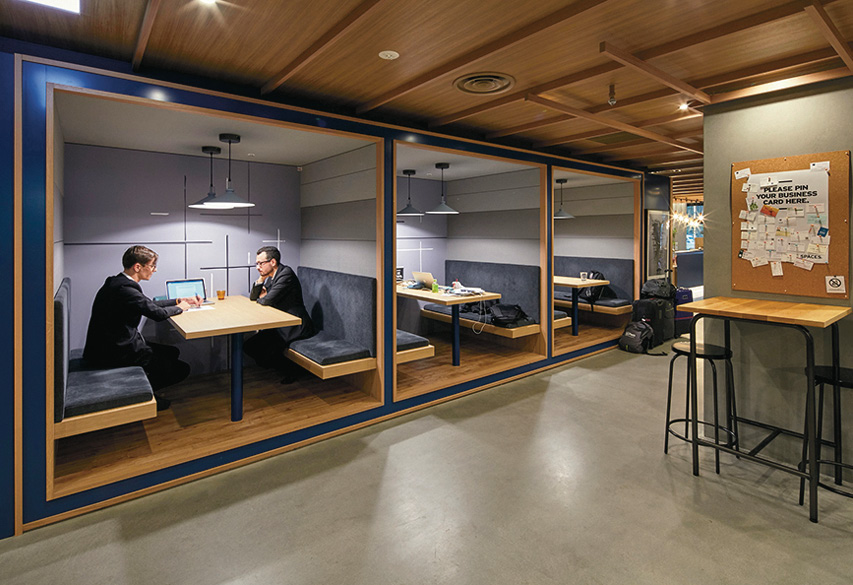 "A quality working environment is key to attracting the world's best talent," says Noelle Coak, Thailand country head of Spaces, adding that the co-working space is open to professionals of all types. "We believe that true creativity comes from diversity. Our central club allows you to meet new business partners from different fields. We designed this place to embrace socializing within the workplace. That way, the office will feel more like home."
Another co-working brand moving in on the Bangkok scene is Singapore's
JustCo
(B990-7,500/month)—currently the largest co-working space provider in Southeast Asia. Its newly opened location occupies 3,200 sq meters of AIA Sathorn Tower, housing quiet pods for personal space, as well as hot-desking areas, a cafe, meeting studios and event spaces for members to collaborate, declutter and relieve stress.

With modern Scandi-chic furnishings, brand-organized events and quirky, playful elements like a hanging swing, a foosball table and golf corner, JustCo encourages interaction among its members. "JustCo members will automatically become part of a connected community with options to network and attend social and professional events to learn new skills and build their own connections within the community," says Kong Wan Long, co-founder and head of enterprise sales, JustGroup.
As international co-working brands go all out, local players are striving to keep up.
Glowfish
, which began life in
Asoke Towers
in 2010, has opened a
highly ambitious second branch in Sathorn
(from B500/day or 10,000/month). Here, you'll find a super-luxurious modern space filled with art and tech installations, 26 serviced office spaces, three conference halls (that can be connected to create one mega 400-sq-meter event space), five smaller themed meeting rooms, plus an in-house Kuppadeli cafe and fitness centers like Base and Physique 57.
Another hip local co-working brand is Siam's
Growth Cafe & Co
(from B190 for 3 hours), which occupies three floors of the old Lido cinema building with a cafe zone and shared co-working space, event spaces and private meeting rooms. "Although we're right in the city center, the atmosphere here is like a serene oasis hideaway with lush gardens," says Kampanart Leosirikul, co-founder and partner. "What's essential to any co-working space is to foster a sense of community and belonging so new business opportunities can flourish."
Other local operators include
Draft Board
at Orakarn Building in Chitlom (from B350/day or B5,900/month) and
Pencave
at Naiipa Art Complex on Sukhumvit Soi 46 (from B320/day or B6,000/month). Further international players having touched down in Bangkok this year include Singapore's
The Great Room
(from B9,300/month) and the US's
WeWork
(from B8,000/month).

And what of the place where it all started? Hubba is also moving with the demand for better and better co-working facilities. The Post reports that the brand plans to open four new sites and is seeking partners to expand into shopping centers and office buildings. But with more than a dozen Bangkok co-working spaces having opened in 2018 alone, their own start-up vision is looking like an increasingly tough playing field.
---
Essentials

Draft Board. 12A/F, Orakarn Bldg., 46 Chitlom Rd., 098-746-9151. BTS Chit Lom
Glowfish. 2/F, Sathorn Thani 2, 57 Narathiwat Ratchanakarin Rd., 02-109-9600. BTS Chong Nonsi
Growth Cafe&Co. 2-4/F, Siam Square Soi 2, Rama 1 Rd., 086-778-8163. BTS Siam
The Great Room. 25-26/F, Gaysorn Tower, Ratchadamri Rd., 02-073-0222. BTS Chit Lom
JustCo. 9-10/F, AIA Sathorn Tower, 11/1 Sathorn Rd., 02-055-8606. BTS Chong Nonsi
Spaces. 24/F, Chamchuri Square, 319 Phayathai Rd., 02-026-0635. MRT Samyan