Real-life escape games are trending globally, asking you and your friends to solve a series of brain-challenging puzzles and riddles in order to escape a specific scenario. The rules are usually pretty simple. Channel your inner Sherlock Holmes by using various clues to solve puzzles and find a way out of a locked room in under an hour. Note that every venue changes at least one game every 6-8 months, so if you've already tried all the games, you can visit again half a year later.
The venue:
The third floor venue at Gateway hosts four rooms, each with a capacity of 2-5 people.
The rules:
Figure out the riddles, find the clues and escape within 55 minutes to be set free... or otherwise remain trapped inside forever.
The games:
Right now there are two options which see players travel through time solving some of history's biggest mysteries: prove your innocence as an angry mob closes in on you thinking you're Jack The Ripper in 1888 London; or fast-forward to 2035 when the world has been destroyed by climate change, and dodge and weave past starving survivors to reach a ghost tower lab and save the world.
The price:
Starts at B1,600 for two people, B2,300 for three, B2,900 for four and B3,400 for five. Single players are welcome but must pay the price for two and children may be permitted to have more than five players.
3/F, Gateway Ekkamai, 091-107-4065. Open daily 10:30am-9pm (first game at 11am). BTS Ekkamai. tickettomystery.com
ESCAPE HUNT EXPERIENCE
The venue: Open since 2013, this claims to be Southeast Asia's first escape room venue. Escape Hunt Experience now has branches around the world, including Phuket and Pattaya.
The rules: Up to five people per game and each game lasts 60 minutes. You can ask the game master for a hint, but each one counts as an additional minute to your final game time.
The games: There are a total of three games on offer split over six rooms, each of similar difficulty levels but requiring different skills. The games range from Blackmail in the Bedroom (our pick), the Legend of Naga and Lost in the City of Angels.
The price: Walk-ins have a surcharge of 10 percent, so book online for discounts. Bring more people for cheaper prices, too: 2 players (B900 per person), 3 players (B800 per person), 4 players (B700 per person) and the maximum 5 players (B600 per person).
B2 Level, 399 Interchange Building, Sukhumvit Rd., 02-611-2828. Open daily 9:30am-8.30pm (last game at 7pm). BTS Asoke. bangkok.escapehunt.com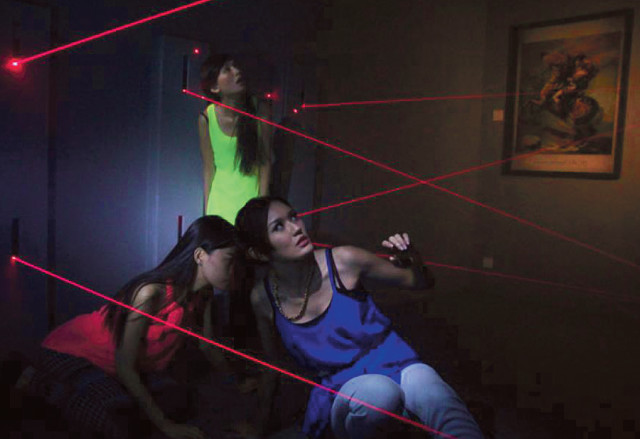 The venue: Opened in April 2015, this venue takes its inspiration from a Japanese online escape game, where you must work your way out of anything from a haunted hotel room to a Pharaoh's tomb or a slaughterhouse. Having started in Malaysia, Escape Room International now has 16 branches around the world.
The rules: You're allowed 2-6 players per game and can ask for a clue twice over the course of your 45-minute game.
The games: The six rooms are rated from 3-5 stars in terms of difficulty and each has a different theme and story. These range from the 3-star Slaughter House and Mummy Returns, and 4-star Prison Break and Mysterious Room to the 5-star Overlook Hotel: Room 13 (our favorite—don't the let the horror soundtrack get to you!) and Crime Scene. They also have a weekly challenge: the group who escapes a room in the least time wins a gift.
The price: B550 per person