Photographer Peeraya Sirathanisa traveled around Yaowarat to link archive photos with their modern-day locations.
This amazing photo series for the Bangkok-based website Soimilk shows how little parts of the city's Yaowarat neighborhood have changed in 60 years.
Photographer Peeraya Sirathanisa gathered archive photos from her family, friends and online resources before tracking down the locations (both by foot and with Googlemaps) to see how they looked today.
While many of the street scenes remain little changed from the archive images, there are some big differences.
Most noticeable is the absence of Yaowarat's traditional cinemas. The Odeon Circle, for example, which 40 years ago used to be a neighborhood landmark, is now the giant Chinese arch which marks the beginning of Yaowarat Road.
One of the oldest images in the series, which shows a group of women crossing the road in front of Seng Heng Lee goldsmith, features another of Yaowarat's old cinemas, the Tian Gua Tian cinema, though the goldsmith remains the same.
Here is the photo series in full, which you can also see at the Soimilk Facebook page.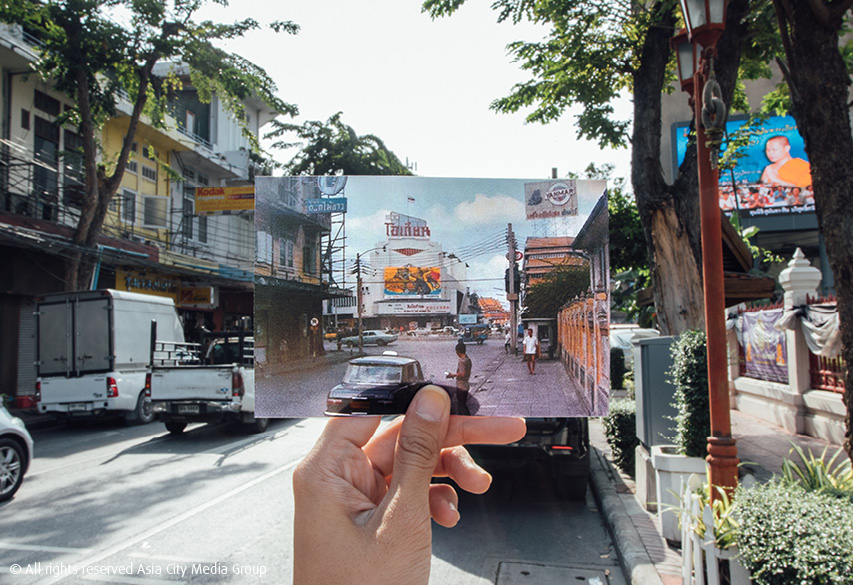 The Odeon Circle, where Yaowarat Road breaks away from Chareonkrung Road, was an entertainment hub for the area 40 years ago. Now, the circle is known for the massive Chinese-style gate built to celebrate King Bhumibol's 80th birthday.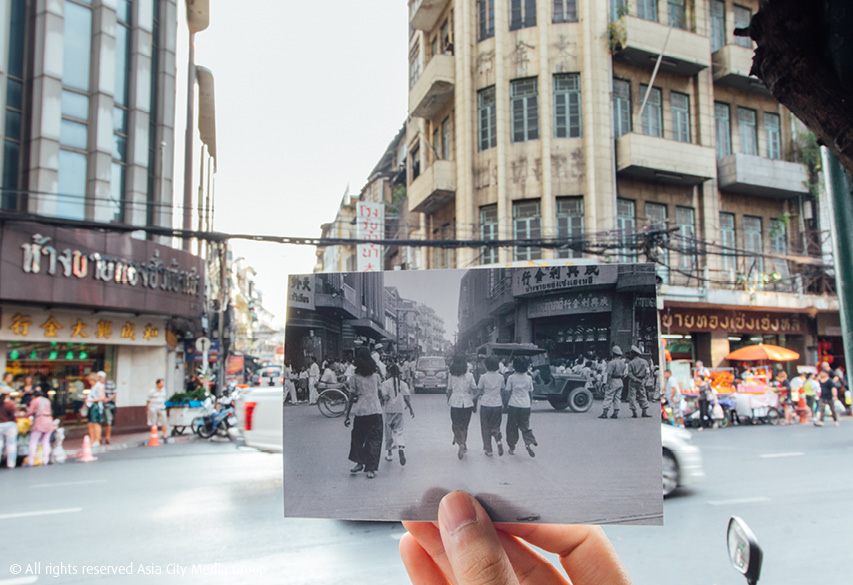 The corner where Yaowarat Road connects Yaowapanich Road used to have a Tian Gua Tian cinema on the left. Seng Heng Lee goldsmith still remains on the right of the junction.
Another photograph of the same junction from 20 years ago shows Hua Seng Heng goldsmith looking not so different from how it does today.
Opposite the modern-day Pizza Company on Yaowarat Road, there used to be another cinema, complete with vintage billboard imagery. Today, though, it's a closed contruction site and a 7-Eleven.
The shark-fin soup businesses on the corner where Phadungdao Road meets Yaowarat Road have undergone more modern renovations, but the messy electrical cables remain the same.
One of the oldest photos in the series shows where the very first Central Department store stood.
Another of the area's characteristic billboards, this one showing a beautifully painted Chareonrat Teochew opera.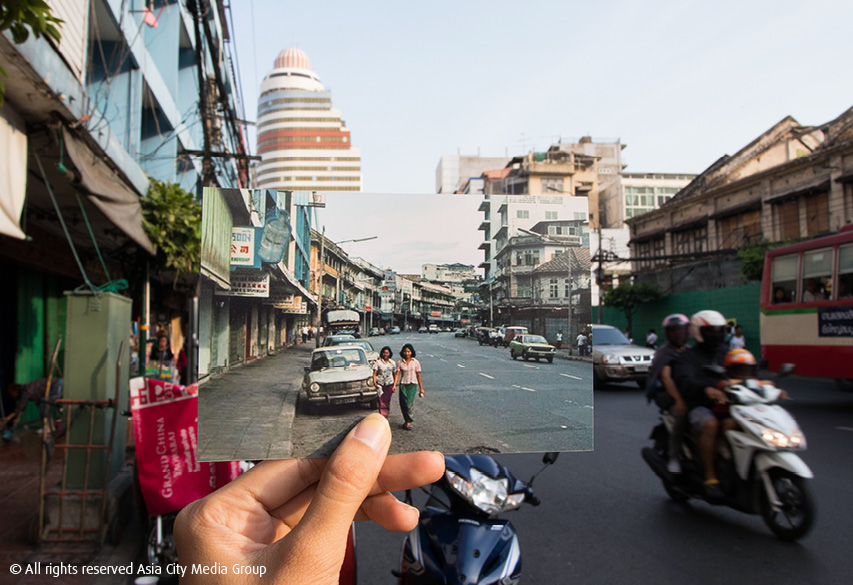 This scene near Wat Teuk has barely changed since 1979—if you block out the Grand China Hotel in the background.
---
Photos by Peeraya Sirathanisa