1. Everyone Else Is
Whether you do or don't, the rest of the planet sees the World Cup as a big deal. The football fiesta in Brazil will be broadcasted in nearly 200 countries, even more than the last World Cup, when a whopping 3.2 billion people tuned in. So even if you responsibly skip the alcohol-fuelled late nights/early mornings, no one else in the office will. Why should you be picking up all the slack while your colleagues wander around like sleep-deprived zombies for a month?
2. It's in Brazil
Brazilians quite like football. In fact, it's not really an exaggeration to say it's the life blood of the nation. As a result, they are more than a bit excited about it returning to their shores for the first time since 1950. They also happen to be quite good at the old kick ball and so most Brazilians, from Rio to Manaus, already believe that their boys in green and gold are predestined to win a sixth title come the final on Sunday, July 13. If they do, it could be the biggest party the world has ever seen. If they don't, the fallout could be just as seismic (and potentially just as fascinating to watch for the rest of us).
3. Dark Horses
Every tournament has its share of rank outsiders that manage to shock the big boys and have an awe-inspiring run (that ultimately ends in glorious failure). South Korea, Bulgaria, Turkey and Uruguay have all stepped up to the plate in recent competitions. Belgium is a likely candidate this year, full of exciting players like Romelu Lukaku and Eden Hazard. Croatia have the talent if they can get out of their group, while Greece are well-known for their sheer bloody mindedness. Chile are not exactly packed with household names but they've beat England and ran Germany very close in recent friendly matches and should enjoy playing so close to home. Keep an eye also on the technical Japan side and maybe, just maybe the Didier Drogba–led Ivory Coast.
4. New Balls to Blame
Every World Cup FIFA introduce a new football so kids everywhere can harass their parents to go out and spend a small fortune buying a replica. It also allows the players, pundits and commentators to bang on endlessly about how it travels through the air funny, is too light/heavy, smells odd, et cetera. This tournament, it's the Adidas Brazuca which has undergone numerous rigorous field tests, but will still no doubt be cited as the reason that a particular goalkeeper threw the ball into his own net and a striker managed to miss that open goal.
5. Greatness in the Making
The World Cup offers a global stage for the planet's very best players to shine. Who's going to step up to the plate this time around? Will the one-man show that is Cristiano Ronaldo propel Portugal to the title? Can the twinkle-toed magician Leo Messi finally find his Barcelona form for Argentina, or will the hard-running dynamism of Bastian Schweinsteiger help the fancied German team capture the cup on South American soil for the first time? Neymar for Brazil, Robin van Persie for the Netherlands and Luis Suarez for Uruguay are some of the others tipped to take the tournament by storm. Watch this space.
6. Hotties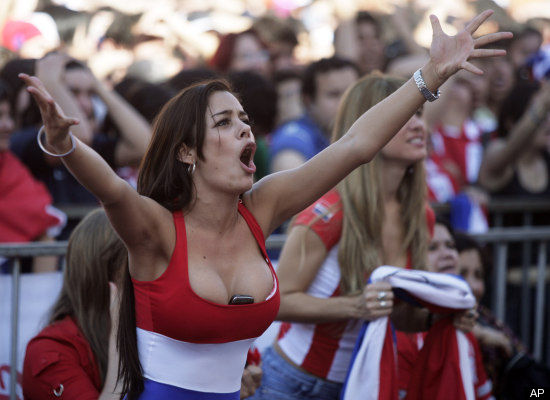 As well as being the spiritual home of football, Brazil is also the home of carnival. This heady mix of football and fiesta is going to be in full effect inside the 12 World Cup stadia and should be a feast for the eyes and ears. Even if you couldn't care about the matches, we can guarantee there'll be plenty of long panning shots of the crowd, with TV producers eager to seek out all those scantily clad senhorita and senorhas doing the samba on the terraces. So who cares if its 3am? Pour yourself a stiff caipirinha, get into the party mood and have a good ogle.
7. Global Talking Points
Every World Cup has those defining moments that transcend the sport and make global news. Zidane's head butt in the 2006 final, Diego Maradona's 1986 Hand of God goal, to name just two. Don't be the one who missed that flying Kung Fu kick, the shocking disallowed goal or the diplomatic crisis that got the world talking. Oh, and just to add some further edge: the anti-government protesters have already started rioting on the streets this year, putting Brazil on the front as well as back pages.
8. Teams from Crazy Dictatorships
North Korea had the honor last time out, with rumors that their players were tortured and received a six-hour telling-off for embarrassing the nation's proud ideological struggle by losing all three of their games in South Africa. While we'd love to give the title to Russia this year, the distinction probably falls on Iran, the country that everyone loves to sanction. Unfortunately for us, they didn't get drawn against the USA and will struggle to get out of group containing the hotly fancied Argentina. What fate will then befall their unlucky players?
9. Technological Advancements
Despite all the money, football has remained wonderfully archaic. All major decisions have been made by a middle-aged man chasing the ball around with a pair of wheezing assistants holding natty flags. But FIFA might finally be waking up to the possibility that the ref can occasionally get it wrong and is introducing new gizmos to help him out. First is goal line technology to see if the ball really has crossed the line, potentially ending hours of arguments in pubs across the world. More exciting though is the use of a vanishing spray to mark the 10-yard line where teams defending free kicks need to stand. We can't wait to see how referees will work out what ten yards is, though. A measuring tape? A ruler? Or just guessing, like always?
10. Musical (Dis)harmony
Music and football seem to have a natural affinity. Every tournament has its official song, and Brazil's is delightfully terrible. "We Are One (Ole Ola)" by Pitbull, featuring Jennifer Lopez and Claudia Leitte, has such insightful lyrics as "Put your flags up in the sky (put them in the sky), And wave them side to side (side to side)." Then there are the embarrassing team songs, often accompanied by a video of the players looking awkward and uncomfortable while singing about how they are going to win the cup this time, even when they know they're not. Then there's the real backing track from the terraces at the matches. Last time, it was the deafening buzz of the vuvuzelas. This time will surely be hypnotic drums beating out a seductive samba rhythm—we hope.
11. Last Good World Cup
Alas, despite all this, the World Cup is losing its luster faster than a penny in a sewer drain. As well as ridiculous plans to increase the number of countries competing and ensuring an overblown event full of meaningless and mismatched fixtures, the next two host nations hardly get the pulse racing. First up in 2018 are Russia, known for their love of gays, their overwhelming hospitality at Sochi and their current plans to annex most of Europe. They'll then be followed in 2022 by Qatar, equally beloved for their exceedingly kind treatment of laborers, their absence of footballing pedigree and temperatures so hot that players will be too busy trying not to spontaneously combust to actually play. So enjoy Brazil while you can, guys.