---
Silom-Sathorn

Occupying a total space of 3,200-sq-meters over two floors of AIA Sathorn Tower, this Singapore-born co-working space boasts modern Scandi-chic furniture, exposed brick walls and edgy neon lights, along with splashes of vibrant-colored graphic wall art and other playful elements that invoke a strong creative vibe. "JustDesk Basic" (B990/month) gives you access to the shared workspace once a month, "JustDesk Unlimited" (B3,900/month) offers you unlimited monthly access to the shared workspace, "JustDesk Dedicated" (B6,900/month) lets you have your own very own reserved desk, while "JustStudio" (B7,500/month) offers you an exclusive studio space. While on your break, you can get your dose of coffee and light bites at their in-house cafe curated by Coffeeology or play games at the foosball table and golf corner.
9-10/F, AIA Sathorn Tower, 11/1 South Sathorn Rd., 02-055-8606. Open Mon-Fri 8:30am-6pm. BTS Surasak www.justcoglobal.com/th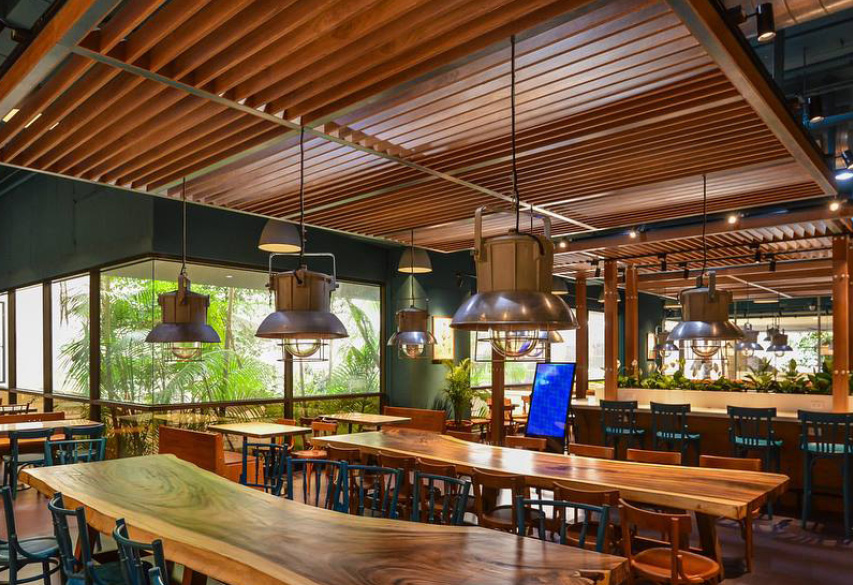 Glowfish's second branch in Sathorn is one of Bangkok's most ambitious co-working spaces to date. Just a few minutes' walk from BTS Chong Nonsi, the super-modern space filled with art and tech installations feels more akin to a luxury shopping mall or boutique hotel than a workspace. Here you'll find 26 serviced office spaces (B32,000/month), three conference halls that can be connected to create one mega 400-sq-meter event space (B7,000- 20,000), five smaller meeting rooms designed under different themes (B1,000/hr for the "Secret Service" option), as well as virtual offices starting at B15,000/six months. While grinding out those entrepreneurial dreams, you can get your sustenance at Kuppadeli or Viet Concept, and work up a sweat at gyms Base and Physique 57.
2/F, Sathorn Thani 2, 57 Narathiwat Ratchanakarin Rd., 02-109-9600. Open Mon-Fri 8:30am-5:30pm. BTS Chong Nonsi. www.glowfishoffices.com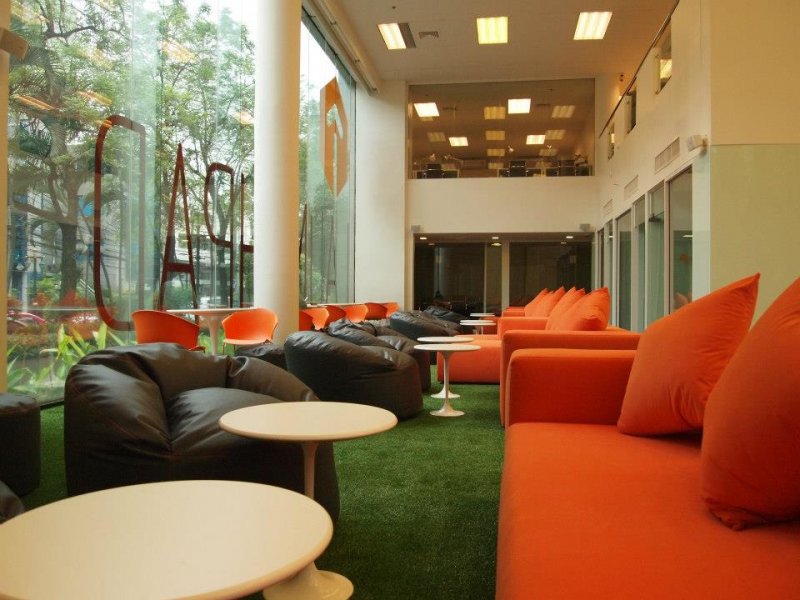 Located in the Silom business district, in Sethiwan Tower, Launchpad has created a professional yet playful environment for entrepreneurs to collaborate and exchange ideas. They've taken the first and eleventh floor and filled it with plenty of workspaces for startup companies, including private offices as well as fixed and flexible desks. There are standard, medium and large meeting rooms that can hold from 6-30 people and more than fully-furnished 15 private offices with capacities for 4-20 people. Individual desks start from B260/day or B7,500/month. Facilities also include lockers, 24-hour security, a reading area, kitchen and pantry, and standing-work tables. Members can also enjoy their cafe, Brush, which is operated by Roast Coffee & Eatery and located just outside the co-working space.
1/11F, Sethiwan Tower Silom, Pan Rd., 02-266-6222. Open Mon-Fri 9:00-8pm and Sat 9:00-6:30pm. BTS Surasak. www.fb.com/launchpadhq
---
Siam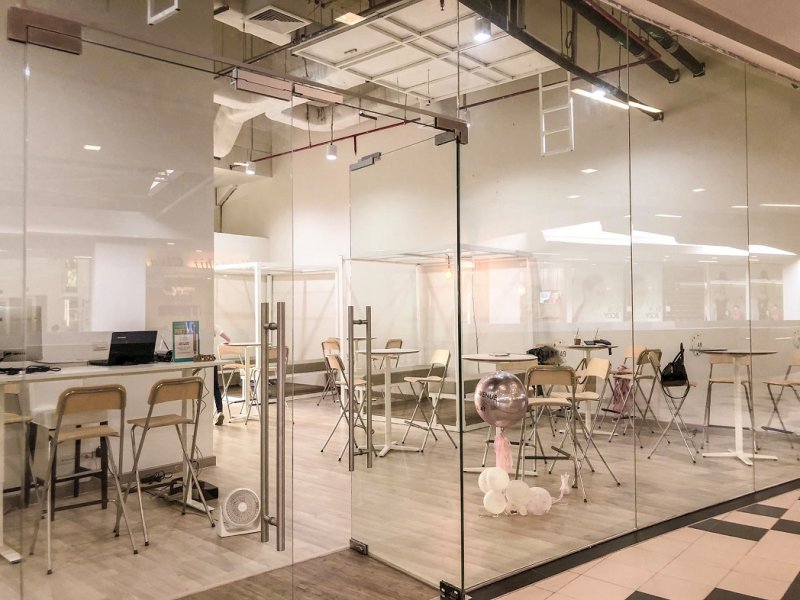 Within a minute's walk from BTS Siam, Clue49 has taken up residence on the sixth floor of Siam Square One. Despite the busy surroundings, this latest spot manages to offer silence for its coworkers in a peaceful space that combines pure white walls with minimal style. Separated into zones, there are quiet individual workspaces (B49/hr), or private meeting and conference rooms for groups of up to 50 (B4,900/hr), with an external cafe area offering complimentary drinks during break times.
6/F, Siam Square One, 388 Rama 1 Rd., 099-013-3330. Open daily 10am-10pm. BTS Siam. www.facebook.com/Clue49
The atmosphere created here is what some might call a hipster's dream hangout: industrial vibes given an earthy touch with pot plants spread generously throughout the space. The co-working space can be rented for as little as B190 per 3 hours, and students enjoy discounts of up to B60 per day. Perks include high-speed Wi-Fi, multiple power sockets, snack bar, lockers and security cameras. Coffee ranges from B65 for an espresso to B140 for the Growth Mocha Frappe. For those not so fond of coffee there's also warm milk (B70), Oolong tea (B85) and a range of Italian sodas (B75).
Siam Square Soi 2, 095-991-4856. Open daily 7am-1am. BTS Siam. www.fb.com/GrowthCafeAndCo
---
Phloen Chit-Chitlom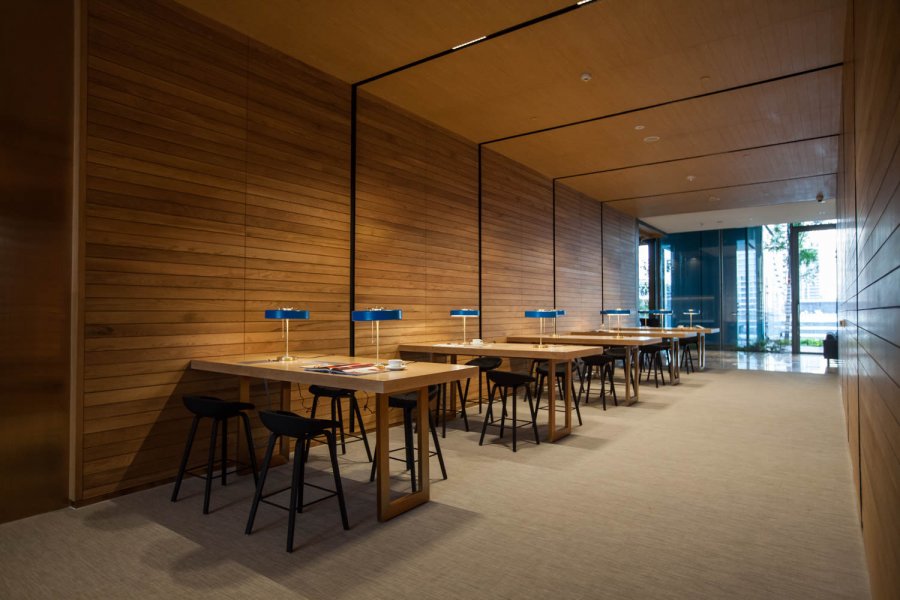 Occupying 2,300 sq meters on the 19th and 20th floors of the high-end mall, Gaysorn Urban Resort offers a relaxed ambience with the sort of warm, natural furnishings you might expect to find at a fancy spa and floor-to-ceiling glass windows looking out to a panoramic view of Bangkok's Ratchaprasong District. You can choose from independent hot desks, lounge areas, meeting rooms and workspaces such as the "Cocoon Office" (from B1,000/hour), a private space for 2-4 people, and "Tree Pods" (from B1,500/hour), a floor-to-ceiling glass window private meeting room overlooking the outside terrace. But the real highlight has to be "The Crystal Box" (B150,000/4 hours, B250,000 for full day), a stylish all-glass conference room that is said to make you feel as if you're floating in air, which caters up to 250 guests with state-of-the-art equipment for meetings, press conferences and seminars.
19-20/F, Gaysorn Tower, 127 Ratchadamri Rd., 02-253-3999. Open Mon-Fri 9am-10pm. BTS Chitlom. www.gaysornurbanresort.com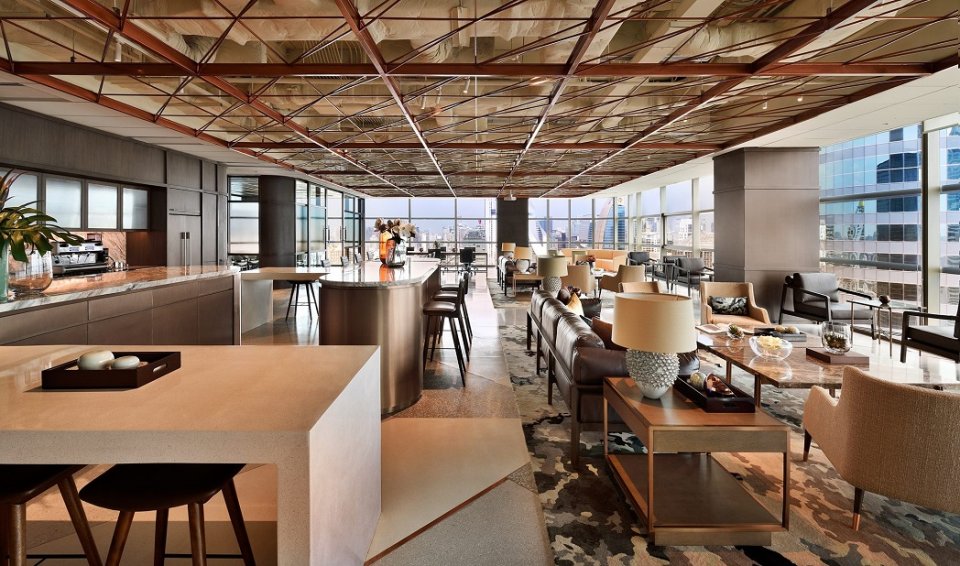 Chit Lom's The Great Room shuns the makeshift-industrial aesthetic in favor of a five-star hotel lobby vibe. Spread across two sky-high floors of Gaysorn Tower, this Singapore-born workspace offers you rich interiors of marble-clad desks and tan leather sofas. The "Drawing Room" lets you chill out with your laptop on the couch, "Hot Offices" (B8,000/month) offer private day-to-day workspace and "Dedicated Offices" (B32,000/month) are for burgeoning business empires.
25-26/F, Gaysorn Tower, Ratchadamri Rd., 02-105-2017. Open Mon-Fri 9am-6pm. BTS Chitlom. www.thegreatroom.co

Draft Board
Founded in 2014, this co-working space is open to all freelancers with an emphasis on designers. The space aims to create a home-like atmosphere with the convenience of all the office equipment one would need. Features include a photo studio, chill room (with a pool table), Wi-Fi and production printers. Printing costs B10/page for casuals and B3 for members. Day-long rental on a shared desk cost just B300 including two hours of free Wi-Fi. There's also fixed desk (B6,500 per month), private room (B39,000 per month of up to 4-15 people) and meeting rooms (from B400 per hour for a medium size room up).
12A/F, Orakarn Building, Chit Lom Rd., 098-746-9151. Open Mon-Fri 9am-8pm. BTS Ploen Chit. www.fb.com/draftboard
---
Nana-Asoke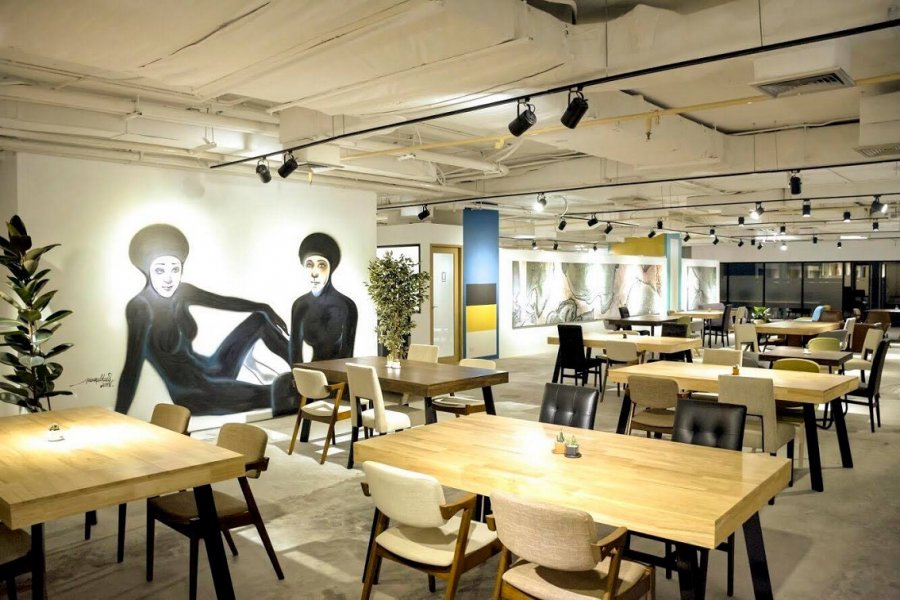 Located on the 23rd floor of Asoke's GMM Grammy Place, this co-working space hailed from Japan offers a professional yet casual environment for startups, freelancers and entrepreneurs to collaborate and get their creative juices flowing. The minimal and functional space features a common area (B400/day, B1,200/week, B4,500/month), dedicated desks (B8,300/month), meeting rooms (B300/hr for 8 persons and B500/hr for 10-12 persons), private offices (B20,000/month for 2 persons and B35,000/month for 4 persons), as well as a photo studio for budding photographers and creatives (B800/hr, B2,500/4hrs, B4,500/day). Other perks include unlimited tea, coffee and water, secured lockers (B600/month for members and B1,000/month for non-members), enclosed phone booths and office equipment such as photocopier, printer and scanner—as well as some impressive views.
23/F, GMM Grammy Place, 50 Sukhumvit 21 Rd., 092-435-4240. Open Mon-Fri 9am-7pm. BTS Asok. www.thecompany.jp
---
Phrom Phong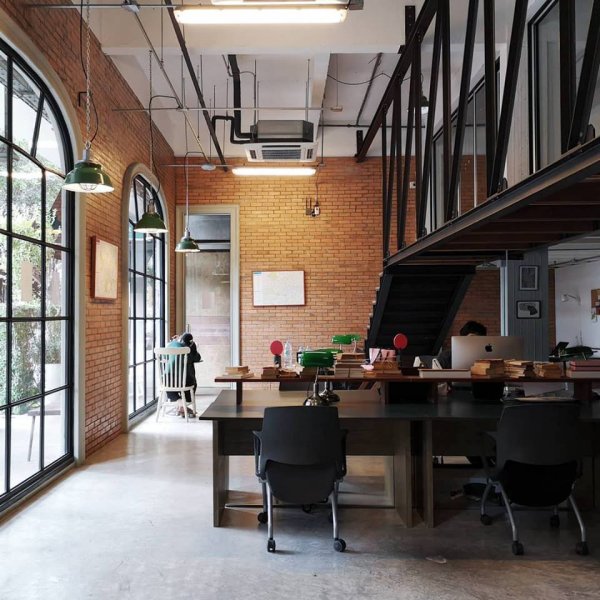 The fourth branch of the hip cafe Casa Lapin is much more than a coffee shop. This Sukhumvit Soi 26 project also features a hostel, co-working space and a restaurant. The hostel, dubbed Oneday Pause, offers dorm-style accommodation priced at B450-B1,890, while Oneday Forward co-working space costs B350 per day and offers four types of workspaces: individual desk, group work, coffee shop style and meeting room for up to 10 people.
51 Sukhumvit Soi 26. 02-108-8855. Co-working space is open 24 hours. BTS Phrom Phrong. www.onedaybkk.com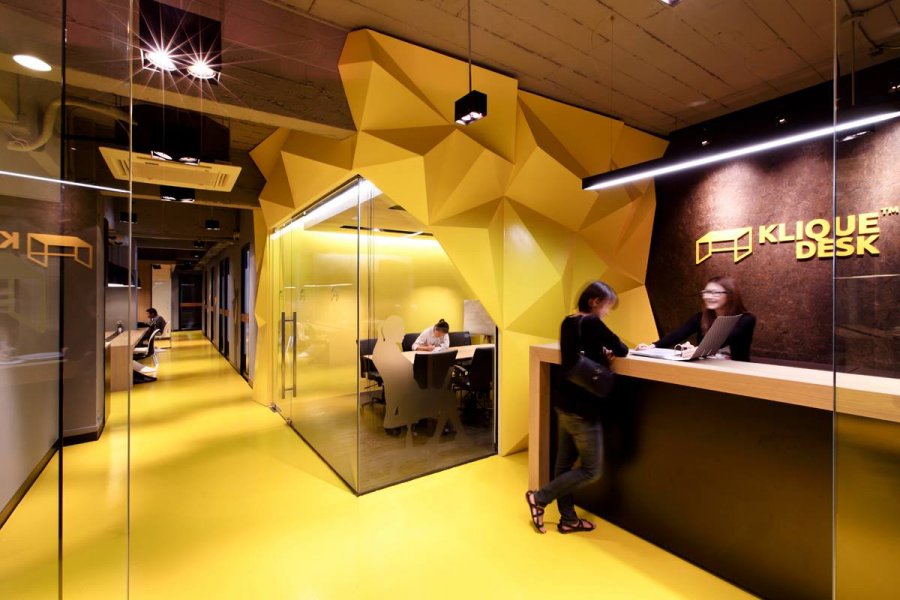 Opened in 2013, the modern design building features a cheerful yellow, black and grey color scheme. Kliquedesk delivers a more formal office atmosphere, although rental packages can still be considered pocket-friendly for freelancers and new ventures. There are three packages available: Hot Desk recommended for freelancers who want a proper and ready-to-use office on a daily basis (B200 per day); and Serviced Offices for real-deal ventures but with flexible leasing terms (B18,000/month). There's parking for members and guest, 24/7 individual access and printer/scanner/fax machines.
94 Sukhumvit Soi 23, 02-105-6767. Open Mon-Sat 9am-7pm. BTS Asoke/MRT Sukhumvit. www.kliquedesk.com
Located in Sukhumvit Soi 49, just opposite Grease, The Hive Bangkok is part of a co-working space brand that already has 22 locations across six Asia Pacific countries—all of which are accessible to members. On top of a communal space, it has meeting rooms, post boxes and storage units. The wood-dominated loft design has the requisite coffee shop chic with lounge seats and access to a rooftop garden and bar. Hot desking prices start from B300 for a day-pass, B3,600 for a part-time pass (10 days/month, 8am-8pm, inclusive of B300 printing credit) and B5,800/month for 24/7 access inclusive of B600 printing credits. Dedicated desks run from B6,000 (including three hours of meeting room time and B600 printing credits), while private offices start at B46,000 (eight people, 32 hours of metting credits and B4,800 printing allowance). Head up to the roof to grab a drink after work or head down to the spa with quick options starting at B300 for a 30-minute head and shoulder massage.
46/9 Sukhumvit Soi 49 (opposite Grease), 02-662-6062. Open Mon-Fri 8am-8pm. BTS Phrom Phong. thehive.co.th
---
Ekkamai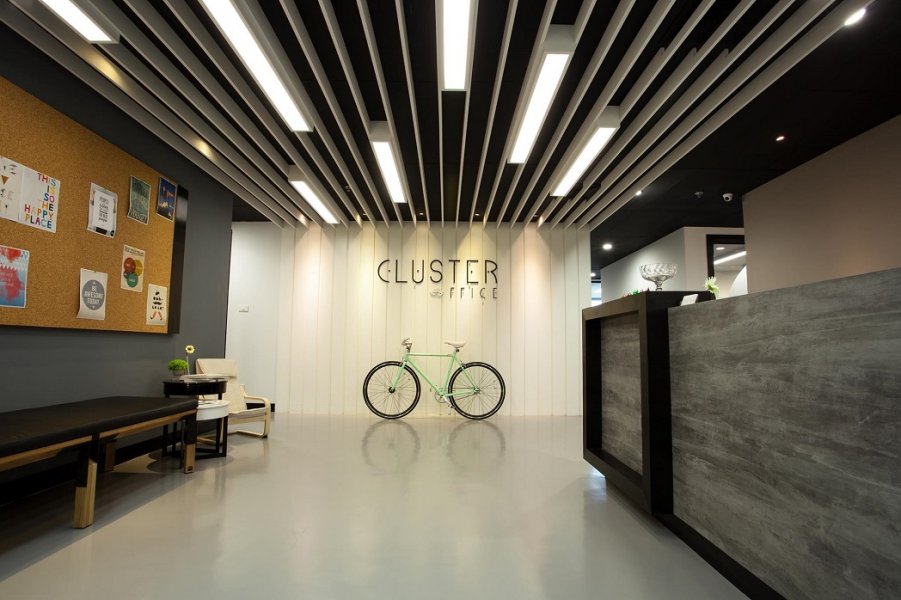 Hubba teamed up with investors to create its second location at Ekkamai's S.S.P Tower. The decor is beautifully designed in a modern industrial style and decked out with wood-based furniture from the emerging Flo studio. It consists of 13 rooms, which cater for 4-7 people. Facilities include coffee and tea, mailing address, printing, high-speed Wi-Fi, kitchen and a meeting room, while members are also welcome to host private events. Catering for more long-term clients (no one-day passes ), membership options for a small serviced office begin at B17,000 per month.
16/F, S.S.P Tower, Sukhumvit Soi 63 (Ekkamai), 098-585-2095. Open Mon-Fri 9am-6pm. BTS Ekkamai. www.fb.com/clusteroffice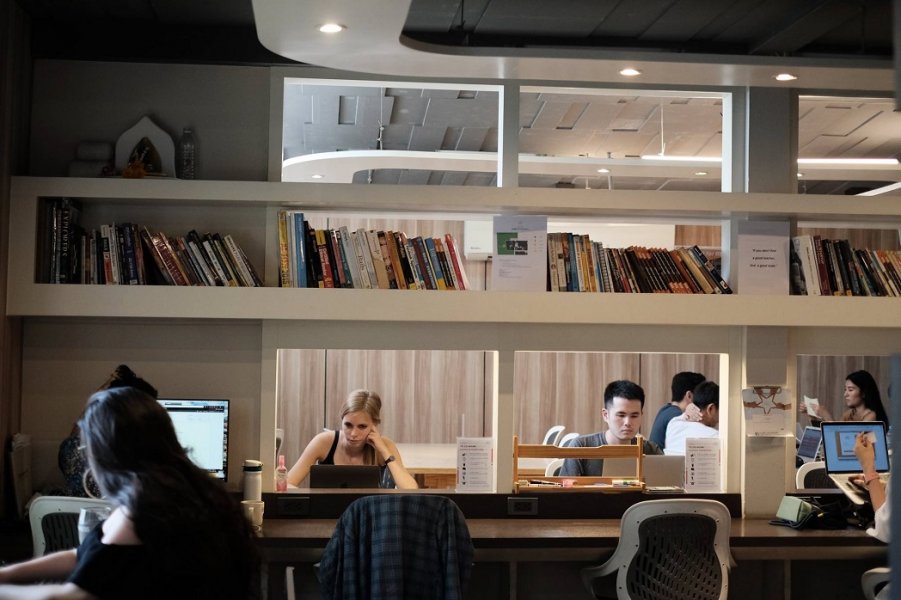 You could say Hubba was the first to really kick off the co-working space scene in Bangkok. The old house painted white reminds us of those charming home-come-bars like 6ixcret and Suea Non Kin, only it's designed for working in the daytime. The place is very organized, with zones like the "hot desk," where individuals can come together to share a long wooden table, as well as private rooms for setting up mini offices. There's a library corner with sofas and a sizable play yard out front where you can take a break from your work or even organize events. Other facilities include high-speed Wi-Fi and LAN internet connection, meeting room, post box rental services, complimentary coffee, tea and snacks, 24-hour CCTV, pantry, canteen and, perhaps most impressive, shower rooms. Price for a day-pass is at B290 per day, while packages for members start from B3,900/month for hot desks and up to B53,900/year for the mega unlimited package including access to a full range of benefits and having your own dedicated desk at any of Hubba's branches.
19 Ekkamai Soi 4, 02-714-3388. Open Mon-Sat 9am-6pm. www.hubbathailand.com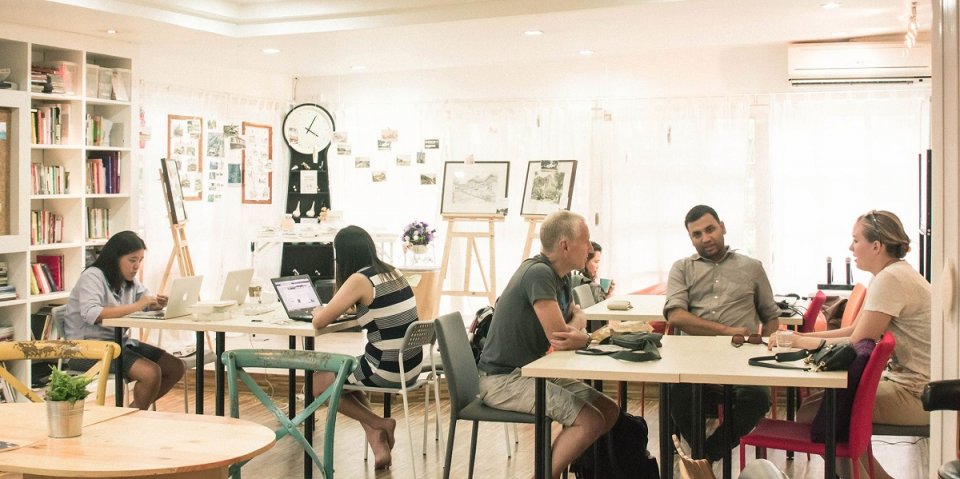 Ma:D
Opened since mid-May 2013, the space is separated into an active zone and a quiet zone, while providing services such as meeting rooms, private offices, event organization and even shower rooms. The price for a private working desk starts at B3,500 and private offices range from B15,00-18,000/month. The are also three meeting rooms available which range from B350 (per hour for up to 12 people) to B700 (catering for up to 20 people). Ma:D plans on being a model of sustainable energy use, as well as cultivating healthy habits to avoid office syndrome among its customers.
42/3 Ekkamai Soi 4, 063-639-0693. Open daily 9am-7pm. BTS Ekkamai. www.facebook.com/madeehub

---
Ari-Chatuchak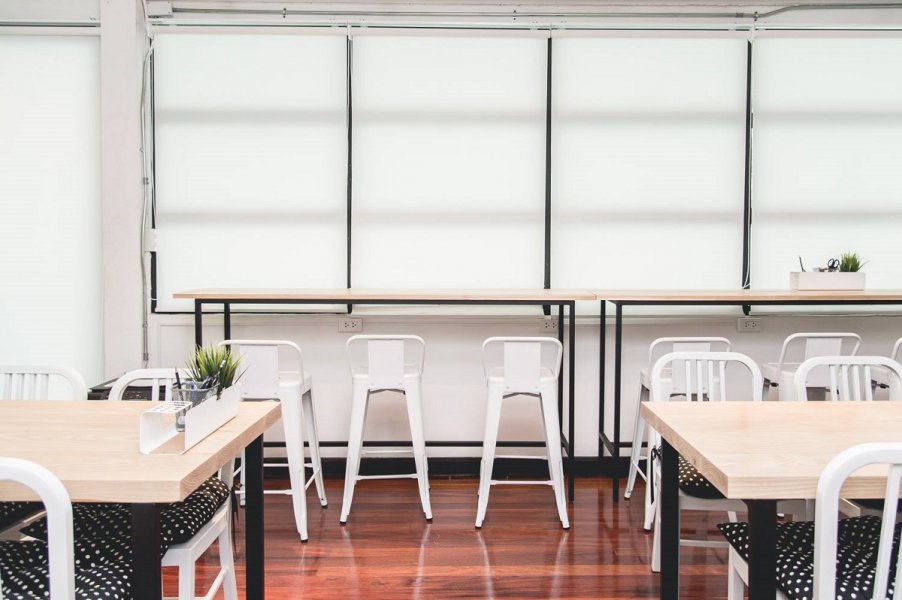 Set in a standalone house tucked off the main soi, Ari's new cafe and co-working space goes for a suitably laid-back vibe. Prices for the upstairs co-working space begin at B120/2 hours including high-speed Wi-Fi and the use of a printer/scanner. There are also meeting rooms catering for up to 12 people (B600 per hour) which include a TV and whiteboard, as well as bean bags where you can curl up with the local cool cat, Mang-mee, who was there long before the cafe opened.
40/1 Soi Ari, 092-828-5424. Open daily 10am-10pm. BTS Ari. www.fb.com/Easebkk

Rather than present themselves as a proper office building, the team behind Muchroom have given this 50-year-old house in Pradipat Soi 23 a café-like atmosphere, with plenty of work desks and five private rooms for rent. The starting price is B240/day for walk ins while member rates start from B1,085/week, B3,900/month, up to B29,200/year. For those who want to set up a proper office, a private room for two people starts from B11,000/month and for 2-4 people at B18,000/month. Facilities include a common printer, Wi-Fi, a phone operator and messenger. Meetings in the Muchroom Hall start at B800/hour and B600/hour for the Very Muchroom.
61 Pradipat Soi 23, 081-699-9872, 02-618-7800. Open daily 9am-8pm. www.fb.com/muchroomthailand