Praya Palazzo
When Chulalongkorn University announced plans to raze the Lido, and possibly Scala, there was a public outcry. Partly, the indignation stemmed from the prospect of an educational institution bulldozing two independent movie theaters. But in Scala's case, it was also a question of architectural preservation. Built in 1967, Scala is grandiose and luxurious, with overwrought rococo elements blending with graceful white columns and a sweeping staircase that dominates the cathedral-like vaulted lobby. We owe the theater to Chira Silpakanok, one of Thailand's foremost modern architects and the designer of the Indra Hotel, another very elegant building were it not covered in ads and electrical wires. Until it was threatened with destruction, Scala was neither listed nor formally recognized by the Association of Siamese Architects (ASA). (In the wake of this incident, the cinema just won an ASA Architectural Conservation Award 2012.) While Scala seems safe for now, this worrisome episode raised serious questions about Bangkok's policy for urban heritage preservation.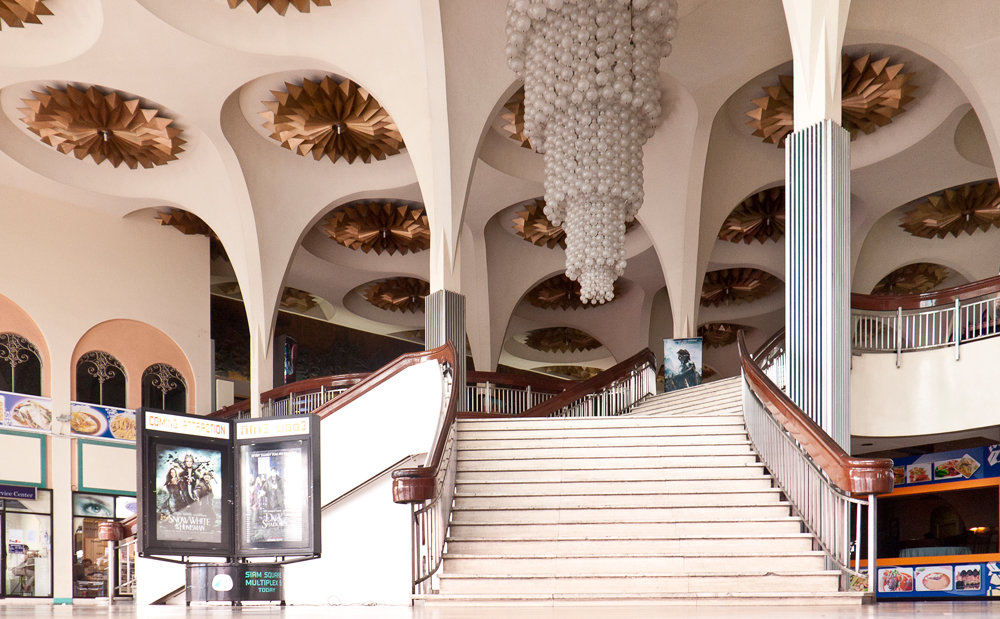 Scala Cinema
THE SHORT ARM OF THE LAW
The Fine Arts Dept. is responsible for architectural conservation, under the snappily-titled Ancient Monuments and Archaeological Sites and Remains and National Museum Act of Parliament, which was first passed in 1961 and revised in 1992. The law says anyone who destroys unregistered monuments is punishable with fines of up to B700,000 or seven years jail time while the punishment can be up to B1 million fines and 10 years jail time if they destroy registered monuments. It sounds like a suitable deterrent, however in practice, the Fine Arts Dept. rarely pursues those guilty of knocking down historic buildings.
As a case in point, the house of ML Devathiraj P. Malakul, next to BTS Ratchathewi was razed by the owners to make way for a development project. The house was an intricately carved 90-year-old structure—and from the BTS platform everyone had front row seats when the bulldozers moved in. The building had not been registered but any building of architectural, historical, educational and social value is, in theory, protected under the current law. Why didn't the Fine Arts Dept. sue the Malakul family? We asked Vasu Poshyanandana, architect at the Office of Architecture at the Fine Arts Dept. "The fact is, this house was already gone, so the Fine Arts legal team might have figured it was better to put our limited resources and budget towards other urgent cases."
The Fine Arts Dept. already had a bitter taste in their mouths from a legal battle with the head monk of Wat Kalayanamitr. Three years ago, he ordered the demolition of a registered pagoda. The department did sue in this case, but the court rejected their claims as the site's 50-year-old registration under the Archeological Act did not detail which parts of the temple were listed.
"I'm worried that this case sets the wrong example for future conservation disputes," Vasu says. When pressed further, Vasu does point out that you can always sue the Fine Arts dept. if you feel they are not doing their job, an odd invitation that betrays a hint of desperation.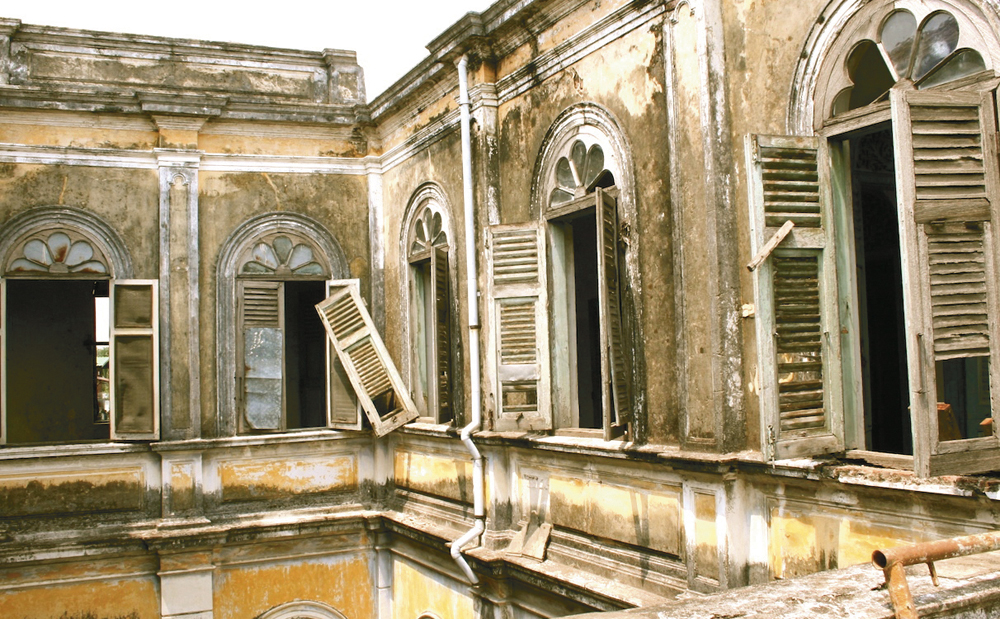 Praya Palazzo before renovation
A Private Problem
Today, the Fine Arts Dept. has listed some 8,700 monuments all over the country. Specifically, Bangkok has 191 registered and 342 unregistered monuments that range from temples, government offices, fortresses, bridges and private buildings. (Unregistered buildings are the ones the Fine Arts have not yet completed a full survey and historical research for.) Of these hundreds of buildings, the hardest ones to protect are those that are privately owned.
A few years ago, Vasu explains the Archaeological Act was further weakened in a new draft that is currently on hold. Under this proposed revision, owners of private buildings could now choose to accept Fine Arts listings or not.
Most owners would refuse to be listed. For one, there's some misunderstanding surrounding the effects of being registered. As most listed buildings are public, owners fear losing ownership of their home if it is listed—a total misconception.
They're also worried about being harassed by the Fine Arts Dept. "The property still belongs to them but they need to report to the Fine Arts before they do something to the house," Vasu explains, who sees this as a benefit. "We're their advisor in conservation."
Pongkwan Lassus, president of the ASA's Art and Architectural Preservation Commission, says Thailand adopted its conservation model from France, but left out the part where there are government grants benefitting those who register their house.
"In France, the government gives owners grants and tax exemptions [on preservation work and inheritance tax] to owners of listed buildings, but Thailand has no benefits to persuade owners to preserve their buildings," Pongkwan says.
Trungjai Buranasomphob, a senator and chairperson of the Standing Committee on Religions, Morals, Ethics, Arts and Culture, agrees. "The laws only says what you can't do. It doesn't help owners with preservation." Without these laws, Trungjai role is also limited to being a mediator, trying to convince owners of heritage properties to follow the Fine Arts advice on restoration and preservation.
As for those owners who are already intent on preserving a heritage building, the lack of incentive means they are just as likely to ignore the Fine Arts Dept. altogether, as was the case for the owners of a lovely 1920s building on the river (See Going Private: Praya Palazzo, right) which was restored using private funds.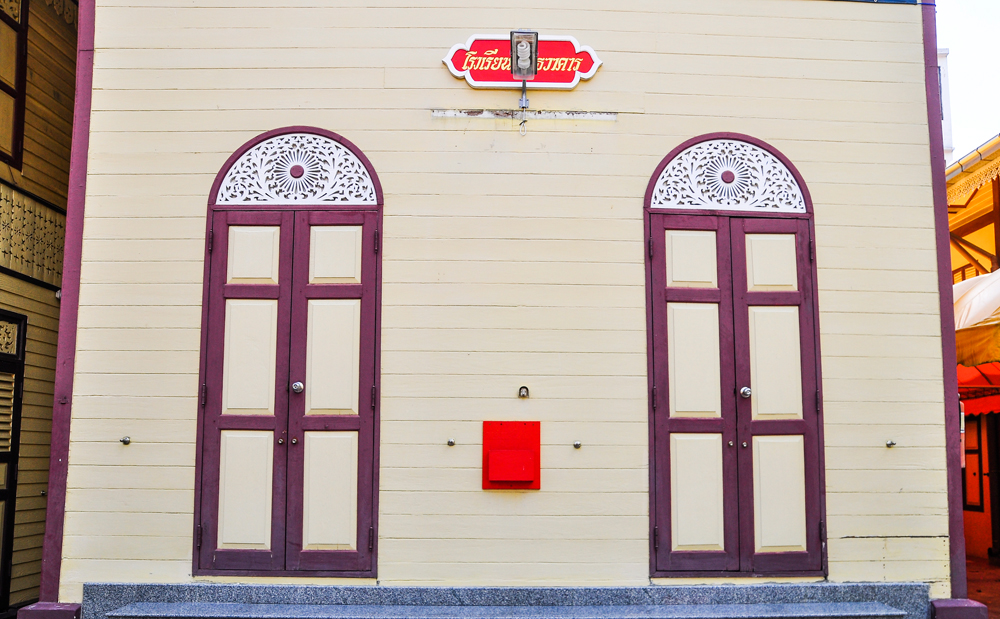 Wat Suanploo
Got A PLAN?
To recap, there is no law enforcement and no financial incentives to better preserve Bangkok's architecturally significant buildings. There is also a dire lack of urban planning. The Bangkok Metropolitan Administration's Department of City Planning who oversees conservation in Bangkok gets a tiny budget compared to that of the Public Works Department. And it is the latter who grants the rights to build or tear down buildings. If a building, like Scala, is situated on Chulalongkorn University's private property and deemed by the BMA to be in a commercial zone, then it is basically defenseless.
"We have to list each zone based on the main activity currently prevalent there. So, Rattanakosin Island is Bangkok's conserved quarter because it's our old capital and the main tourist attraction. But other areas that are zoned as residential or commercial, they are free to develop," says Prapapan Channual, Director of the Land Readjustment and Urban Renewal Division of the BMA's City Planning Department.
"Bangkok is famous as the Venice of the East but our picturesque canal scenes are disappearing," says Pongkwan, who is also on the committee at ICOMOS Thailand Association, an NGO focused on conservation. "Tourism is big business but we never put money into preserving what makes people come here. The decaying houses in the canals like Klong Bangkoknoi are main attractions but all they get out of tourism is the noise of long tail boats roaring past all day long. All the money goes to tour operators."
We contacted the BMA's Public Work Department for an interview but they declined to talk to us.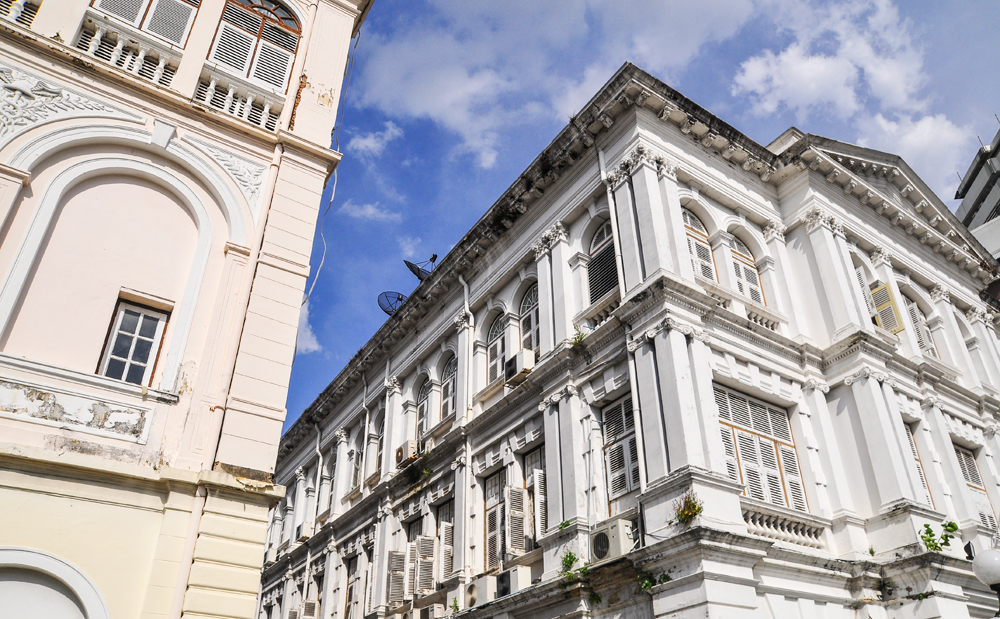 East Asiatic Building
TOO YOUNG TO LIVE
Scala is also penalized by being too young for conservationists to take interest in it. "This kind of architecture, you can't find it anywhere else in Thailand. Our modern architecture has mostly been knocked down. People don't see its value because it's too new," says architect Duangrit Bunnag, whose uncle designed Scala, about Bangkok's 60-70s architecture. One famous such building was the Siam Intercontinental Hotel, which was designed by Joseph Salerno and opened in 1964. It was knocked down to erect Siam Paragon.
The lack of protection for newer buildings is part of a wider problem. The Fine Arts Dept. was first conceived to protect sites like 17th century temples and 19th century palaces, not late 60s movie theaters or even private homes from the early 20th century. Today, our heritage conservation needs a drastic overhaul to reflect our new needs. Ironically, retro has never been this popular, with fake themed mall ands markets like Plearnwan and Asiatique.
"The problem of Thai society is that we live with so much inauthentic stuff, we end up believing that it's authentic," says Duangrit. "But the original places have an incredible power to amaze us. Destroying our history is cutting ties between the younger generation and our roots. And you can't move forward without strong roots."
Restoring a Heritage Building in Bangkok: Praya Palazzo's Preeyadhorn Pitakvorrarat
Leave a Comment
New Places