From Jul 2 until Aug 23, Thonglor's WTF Gallery and Cafe is celebrating its 10th anniversary with "Conflicted Visions Again." The politically-charged showcase invites the six artists who exhibited under the same concept in 2014 to revisit their ideas through the lens of the social and political climate of 2020.
In the immediate build up to the military coup of 2014, the original exhibition questioned whether opposing sides with disparate beliefs could reach beyond prejudice and discuss their differences peacefully. Now, through works created between 2014 and 2020, they seek to challenge whether military rule has created more conflict than it has solved.
Expect works of paint on woodcut by Prakit Kobkijwattana exploring the concept of the "new normal" under the current military-democratic regime; sticker series documenting recent Thai political events by Pisitakun Kuantalaeng and Miti Ruangkrityai; an installation titled "Program Will Resume Shortly" by photographer and filmmaker Manit Sriwanichpoom, questioning "untouchable" content and censorship; neon tube works by Sutee Kunavichayanont exploring the debatable land between free speech and hate speech; and a tension- and anxiety-evoking installation by Jakapan Vilasineekul. The exhibition is curated by the director and co-founder of WTF, Somrak Sila.
Join the opening reception on Jul 2, 6pm, or visit Tue-Sun 4-10pm through Aug 23. Entry is free.
WTF Cafe & Gallery, 7 Sukhumvit Soi 51, 02-662-6246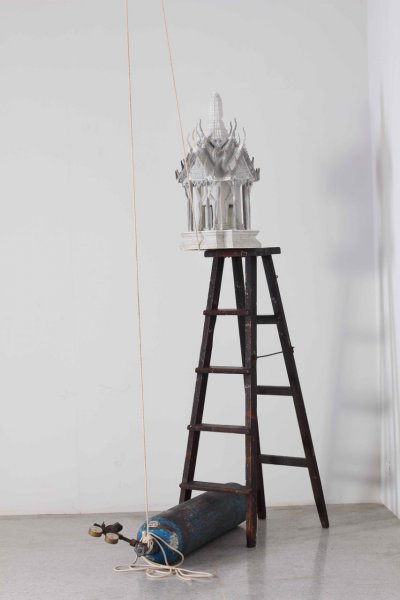 "In The Tension" by Jakapan Vilasineekul
---