According to the Global Digital Report 2019, Thais spend an average of nine hours on the internet daily, compared to the world average of just under seven hours—if you minus seven hours for sleep, that equals more time spent staring at a screen than engaging with the real world. We also rank eighth in the world for time spent on social media, at an average of over three hours each per day—these are some worrying, if not surprising, stats.
"Smobies" (cell phone zombies) and "phubbers" (those who snub physical contact in favor of their phones) swarm Bangkok's streets and restaurants, fueled by our rampant celebrity and influencer culture. Even the unwilling are indoctrinated by unfettered advertising blasting from screens on the BTS, outside malls and inside elevators. Perhaps it's time to acknowledge that digital addiction is a very real problem.
Tapping into this emerging epidemic, digital retreats aim to approach the issue in the same way as other addictions or wellness disorders. Offering patients the chance to unplug from the online world and reconnect with real life, these Thailand getaways are your ticket to reducing your internet use—honestly, we can think of a lot stranger wellness trends (goat yoga, anyone?). If you think it's time for a digital detox, here are some places to check out.

The Hideout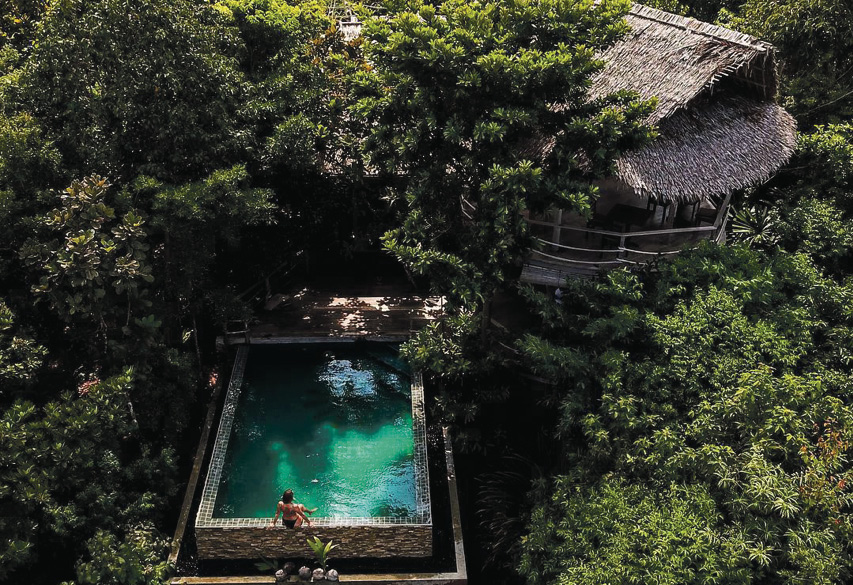 Where: Phang Nga Bay
The place: Nestled in a lush tropical forest on the secluded island of Koh Yao Noi, this little oasis features charming treetop villas with stunning views of the secluded coast. For those looking to detox, the sanctuary offers an all-round wellness experience in an eco-conscious living environment, as well as other packages like the seven-day Goddess retreat, which boasts a combination of yoga, meditation, embodiment, ceremony, hormone balance and healing classes.
The therapy: With mindfulness as the main focus, the treatments foster awareness of the presence of devices and creating a balance when it comes to using them. The treatment mixes daily classes of yoga, meditation in the jungle, rejuvenating massages and a private discussion with consultants to create a suitable treatment program—all to help you develop mindful movements and behaviors.
The package: The seven-day Digital Package, priced at B91,000/person, includes a six-night stay in the tree-top villa with three daily meals (vegan and Ayurvedic are available) and a trip to the stunning islands around Koh Yao Noi.

Digital Detox Asia

Where: Khao Yai
The place: Most and other locations of this company's retreats are held at Parco by Bonanza—a 16,187-sq-meter property hugged by mountains—as three-day packages during the weekends, though sometimes the location changes depending on the client's requests. Combining a luxurious vacation with a break from technology, the resort features clean yet rustic rooms that face out towards the stunning greenery of Khao Yai. Facilities include a golf course, swimming pool, outdoor camping and horse-riding.
The therapy: The program encourages you to take a break from all devices and to engage in the present and your environment. You'll relax your senses through daily activities like yoga and meditation, as well as making real connections with other human beings without the distraction of technological devices. Apart from that, there's plenty of time for outdoor adventures like exploring Khao Yai National Park and visiting waterfalls.
The package: The cost is determined by how many people are in the group and the location. If it's being held at Parco, the price for a two-night stay including all activities is likely to start at B7,500 for a twin room; B10,000 for a private; and B20,000 for a suite.

The Dawn Rehab

Where: Chiang Mai
The place: This hideaway on the bank of the Ping River in Hang Dong is the perfect sanctuary for unplugging from it all. They only allow 20 people in the resort at a time to ensure the environment is as calm as possible. The treatments merge Eastern and Western holistic approaches, with therapists on hand to help you formulate a plan that suits you best.
The therapy: Here, it's not just a digital detox. Acknowledging that today's society is inextricably intertwined with modern devices, their approach aims to create a long-term beneficial relationship with the internet, rather than cutting it out completely. A therapist will dig beyond the symptoms down to the root of your obsession, before teaching you mindfulness and cognitive behavioral therapy skills to help overcome it. In addition, therapies include tension-relieving massages, meditation, exercise, yoga, Pilates and art classes.
The package: The 28-day residential internet addiction program will set you back an eye-watering B394,900, though it promises treatment from an expert team of Western-trained psychologists and counsellors who are well-versed in treating both substance and behavioral addictions.
---
BK Asks
Paolo Veneracion, counselor at The Dawn Rehab
At what point should someone seek help?
While excessive internet use is an important element, it doesn't necessarily equate to addiction. We also consider whether it involves obsession and compulsion and what adverse effects it may be having on the user's physical and psycho-emotional health, relationships, school or work performance. Though "technology addiction" is not yet officially recognized as a mental health disorder, it can destroy lives in a similar way to psychoactive substance addiction and is the subject of much research.

Signs of "Technology Addiction"
1. Constant preoccupation with and urge to use the internet.
2. Spending increasing amounts of time on the internet to gain satisfaction (gaming/social media).
3. Using the internet to cope with certain emotional issues.
4. Repeated failed attempts to stop or cut back use of the internet.
5. Continued use of the internet despite negative consequences.
6. Feeling irritable, restless or moody when attempting to control or stop use of the internet.
Do you have any tips for people to control their own internet use at home?
Do a "Tech Timeout" by abstaining from any technological devices for a period of time (whether at home or at work) and instead read a book or interact with friends. Alternatively, challenge yourself to a "Digital Detox," which is a similar approach but for an extended period of time—three days to a few weeks.