Aside from its title as Sumatra's largest city and the region's economic hub, the name of Medan may not ring a bell for amateur travelers as they often overlook this city since it lacks the majestic mountain ranges and close by beach of other Indonesian destinations. That's a shame, because those in-the-know have always seen Medan as one of Indonesia's must-visit culinary destinations—and it is easy to see why.
Roaming the streets of Medan is like opening a treasure trove of savoury treats thanks to myriad ethnic groups and unique communities that pool their mouthering dishes into winding streets and hawker centers—and much of it is exclusive to Medan and the surrounding area.
The cosmopolitan city is also home to some breathtaking colonial architecture as remnants of the Dutch occupation from 1800-1945. Over the years, these buildings have been modified and changed to reflect local preference, but the historical look-and-feel still remains and has captivated travellers for some time.
A lack of beaches and mountains doesn't mean the area is void of natural wonders, either. There is no better form of rejuvenation around Medan than the wealth of natural hot springs and geysers—most notably the Tinggi Raja White Crater.
While it might not be on everyone's top list of Indonesian destinations, Medan should be. With rewarding sightseeing, great shopping and very contemporary restaurants and bars, it is worth a trip on any itinerary.
How to Get There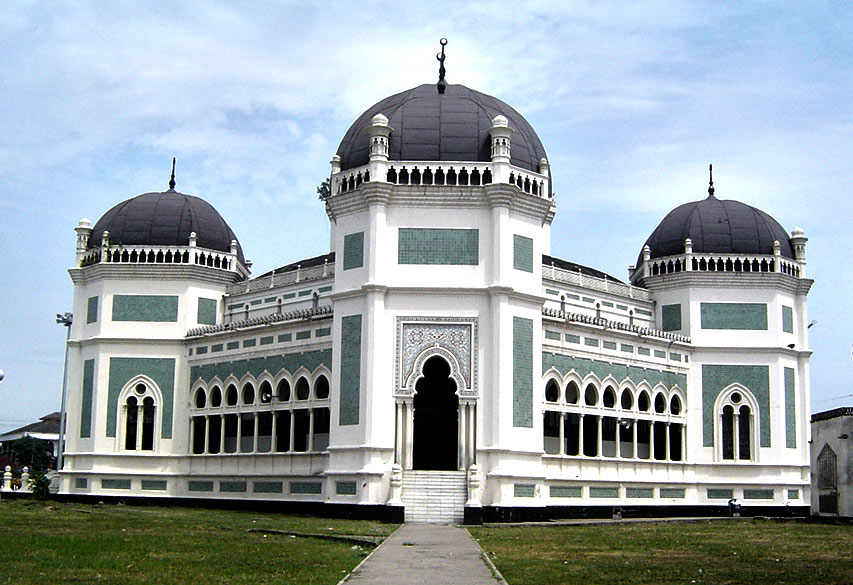 From Bangkok
Thanks to its wide range of options, you can book a direct flight to Sumatra's capital city. On the cheap go with AirAsia (from B3,000), but if you are looking for something a little more fancy then airlines like Cathay Pacific will get you there for around B17,900.
From Jakarta
If you are first landing for a few days in the nation's capital, direct flights from Medan are cheap and easy (as low as B2,000).
From Lake Toba
Medan is a bit of a bypass to both Samosir Island and Lake Toba. Considering the short length between the destinations, you may want to go for rental car service—only B150 per hour and around B2,000 for the whole day—to get there.


What do to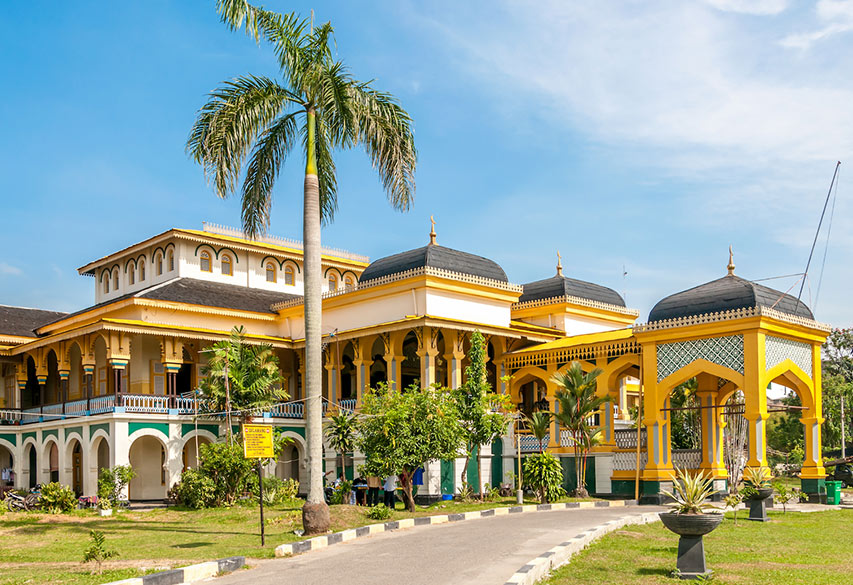 Take a journey through time at Maimoon Palace
If you have seen a picture of Medan, you have seen a picture of this place. In terms of historical buildings in Medan, the Maimoon Palace takes the cake. Though Sultan of Deli's reign is in the distant past, the building is kept in a pristine state and opened up for tourists to learn about his legacy and to just take in the stunning architecture.

Photo Credit: Trip Canvas

Dip yourself in a pool of soda water
The Sipoholon Hot Spring has been given a nickname "soda pool" because the bubbly taste of the water resembles drinking soda pop (not in sweetness, mind you). Revitalizing in Sipoholon is a must for all visitors, as the healing minerals usually leave the skin feeling fresh and revitalized after long days in the sun. The surrounding area is also quite stunning, so prepare your waterproof phone bags and snap an IG story or two.

Dine at Restaurant Garuda
There are absolutely tons of places to eat in Medan, but if you're looking for authentic food experience, stopping by this sleek spot will leave you with an explosive taste of real Indonesian cuisine. The staples like chicken satay and beef rendang—a pungent mixture of spice marinated beef with rice—has remained faithful to the local street-style plates. But what we recommend is ayam kremas—crispy fried chicken topped with spice and flakes.

Explore Medan's take on satay at Sate Sabar Menanti
Unlike many other satays, Padang-styled meat skewers are often dipped in turmeric sauce and spiked with additional spices. Across the Sumatra street lies one of the best satay providers—Sate Sabar Menanti—known for its variety of meat options. Aside from their standard chicken options, you can opt for the grilled chicken hearts or other innards like tongues, intestines and lungs. Might sound scary at first, but each are absolutely delicious and worth a try. Each skewers cost only around B34 (or RP15,000.)
Indulge in crispy pancakes at Martabak Piring Murni
Forfeit what you know about pancakes, as these piles of crepe may be not what it seems. At the entrance of Selat Panjang, Martabak Piring Murni heats its dough over charcoal-fired furnace. The result is a delectable crispiness—the opposite of Japanese sweet cafes in Bangkok. Dress them with a dab of butter, sesame and chocolate sprinkles. The dough also comes with three flavors: chocolate, nuts, cheese, or mixed.


Where to Stay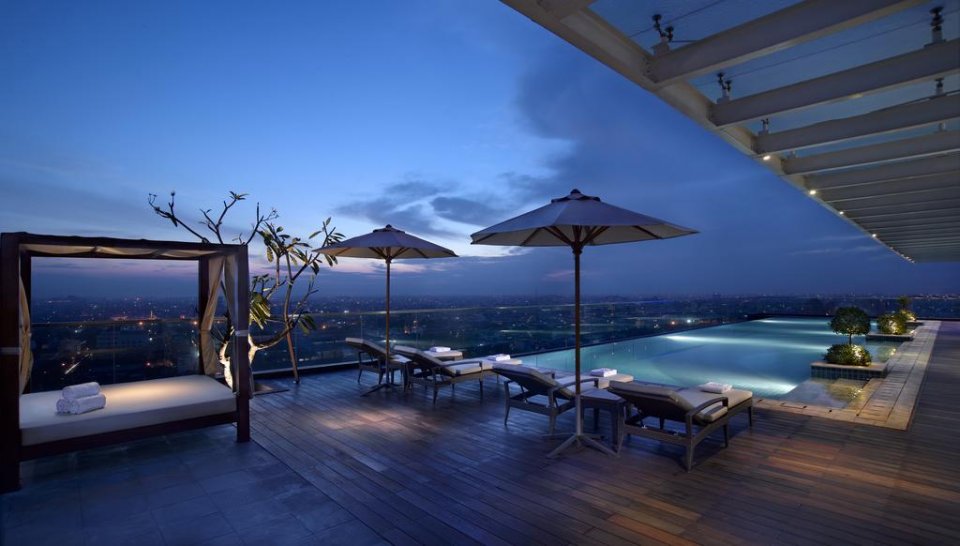 Aryaduta Medan (from B1,980/night)
Those shopping fanatics who look for a place to stay near Grand Palladium Shopping Mall downtown should head for this elegant European retreat. Known for its lengthy 35-meter courtyard pool, it's a great place to socialize with other travelers in a clean, classy setting.

JW Marriott Medan (from B1,875/night)
Trekking through the streets all day long will take a toll on your feet, and a relaxing spa day is just what the doctor ordered to patch that up. This five-star hotel is arguably the best accomidations in the city. The staff are attentive, the full service-spa is impeccable, but most of all, the rooms feature stunning views of the whole city.
Gandi Inn (from B823/night)
A budget pick for those who plan to utilise their pocket money for something other than upscale accommodations. The truth is you can't judge its quality of this place by the price alone, as the Gandi Inn is well kept, clean and with decent amenities and friendly staff.
Experience the 5 Natural Wonders of Indonesia


Nature, Scenic Landscapes & Wilderness
In this tropical country, explore the magnificent white sandy beaches, great volcanoes or colourful marine treasures. One lifetime would not be enough to explore Indonesia's natural wonders.

Culinary & Wellness
This is where to spoil your senses: hearing, sight, touch, smell and taste. Explore the many flavours Indonesia has to offer by taking a bite out of some local delicacies or delighting in traditional spa treatments.

Arts, Culture & Heritage
Indonesia is a huge nation comprised of hundreds of cultures derived from local regions, making it one of the most diverse countries in the world. Explore the unique culture and heritage of each region in Indonesia!

Recreation and Leisure
A nation is often measured by how advanced its technology is. Indonesia's major cities adopt modern lifestyle that is complete with stunning skyscrapers, vibrant nightlife and technologically advanced offices.

Adventures
One would never get bored exploring Indonesia. Plunge into thrilling caving adventures, exotic diving escapades, challenging volcano climbs, intriguing jungle treks and many more!


For more information, visit: www.indonesia.travel
---
This native ad was created by Asia City Studio. We use storytelling to help brands of all sizes influence and connect with people who matter. Visit us online: studio.asia-city.com

Sponsored by: