Europe's architecture meets China's vibrancy in Qingdao, a picturesque city in Shangdong Province.
"Is this really China?" isn't an uncommon question among tourists wandering the wide boulevards of Qingdao, which was seized by the Imperial German navy in 1897 and held for 17 years, resulting in a port city molded to a German aesthetic. Today, however, the European monoliths of old have been dwarfed by local developments. The hallmarks of modern China are all present: teeming business district, imposing skyline, architectural-feats (a 42km bridge!), but the downtown bustle is tempered by an unexpectedly laid-back, seaside attitude. In the summer, local shops sell beer by the kilo in plastic bags. Puncture your beer with a couple straws and join other buzzed park-goers for an evening stroll, a tradition that would do the Germans proud.
---
What to see
Xiao Yushan Park (Little Fish Hill Park)
Crowning the eponymous hill is a traditional pavilion of three levels. The structure's spectacular in itself, but the real prize for making it up the slope and the spiral staircase is the view of the entire bay from the top. The entrance fee is B50.
Qingdao Catholic Church
Alternately known as St. Emil Chruch, St. Michael's Church and Qingdao Catholic Church, this 1932 building is a beautiful confusion of architecture—the city in microcosm. Conceived by a German architect, the outside of the granite and red-tiled church is a mishmash of Gothic and Roman styles. The interior is decked out in Italian Renaissance style with a dome fresco and seven copper lambs dangling from the ceiling. This is also the favorite spot for locals to take wedding photos, so expect to see gowns.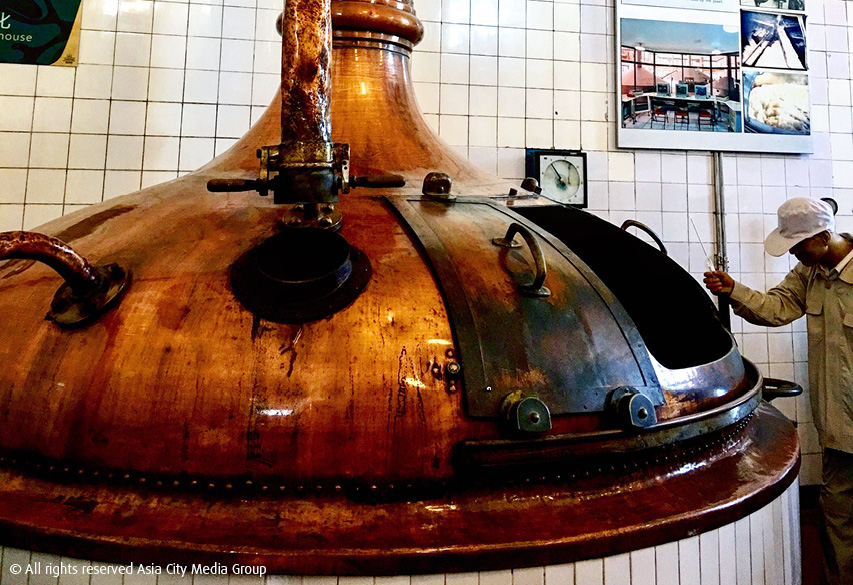 Tsingtao Beer Museum
Beer enthusiasm goes deep in Qingdao, another legacy of German imperialism, which today means the city's become a site of pilgrimage for beer aficionados. At the heart of that beer quest is the Tsingtao Beer Museum, the home of China's second largest brewery. Take a tour of the 6,000-sq-meter museum to see the old factory and the actual factory. Come thirsty because you'll be sipping raw (unfiltered) and filtered Tsingtao beers throughout the tour. Entrance fee is B250.
Zhanqiao Bridge (Damatou: Big Pier)
Said to be the first man-made structure in the area, this landmark pier juts out from the downtown area. The 440 meters makes for a perfect morning walk on a warm day. You'll find all manner of local activity along the pier, from starfish catching to barbecuing and, ever present, beer drinking. At the end is a pavilion with a second-story view of the sea and the city.
Taidong Pedestrian Street
Skip the malls and shop on Taidong Street, the most popular night market in town. Come for lip-smacking street food and an array of affordable women's fashion, from colorful coats (B1,000 or less) to accessories.
May Fourth Square
Smack in the middle of the business district is the May Fourth Square, created in memory of the political movement of May 4, 1919, that resisted an attempt by the authors of the Treaty of Versailles to sign Shandong over to Japan. Look for the iconic, red "May Wind" sculpture.
---
Where to eat
Pi Chai Yuan
For B500-ish at the below restaurants, you'll get a table laden with seafood plucked fresh from the waves.
Chuange is a dumpling restaurant to rule them all, with fillings of fish, squid, lamb and vegetables. Other classic Chinese dishes are on offer, but look to the locals' tables for cues: all dumplings.
At the seaside Dezhuang, the main draw is a spicy, tasty hot pot featuring mala broth (combining Sichuan and chili peppers). There's nothing more satisfying in winter than dunking fresh seafood in mouth-numbing (and soul-warming) soup.
At Steam Delicious, dining takes the form of big trays heaped with seafood, sliced tender beef and giant crabs. As if cooking over your own grill set weren't satisfying enough, below the grill is a pot of rice porridge, placed there (Thai restaurateurs take note) to catch the umami-rich juices dripping down off the grill to flavor the porridge.
Tucked off of a main downtown road is Pi Chai Yuan, a food street where you'll find seafood sizzling on hot grills, steamy dim sum and mouthwatering Chinese sweets. We recommend the marinated squid skewers—so soft and fresh. The more adventurous can crack open a grilled starfish for the meat and eggs snuggled inside.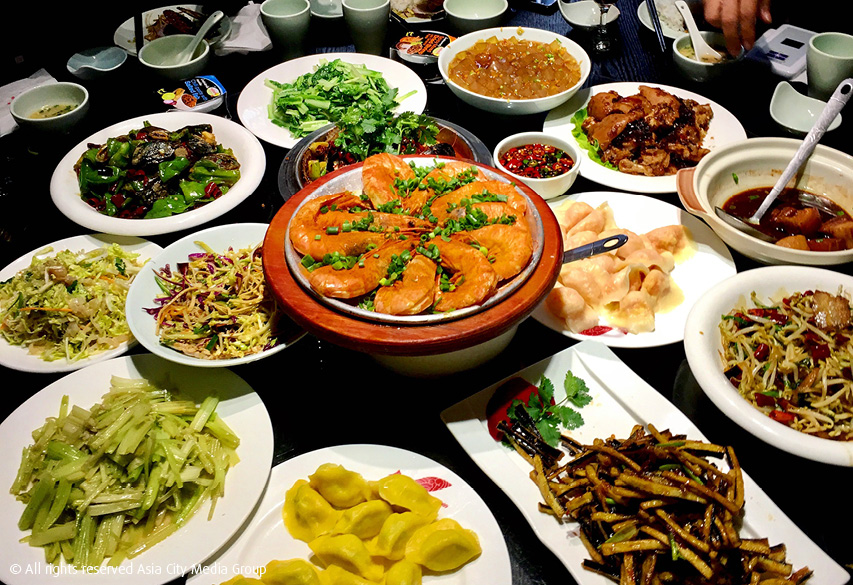 ---
Getting there
NokScoot
(
www.nokscoot.com
) offers direct flights from Don Mueang International Airport in Bangkok to Qingdao Liuting International Airport in Shandong, four times a week: Tuesday, Wednesday, Friday and Sunday. The flights cost about B10,140/round-trip.
Getting around
The language barrier in Qingdao is real. A subway and buses crisscross the city, but for convenience's sake we recommend a tour try travelshandong.com (travelshandong.com). This will see to your personal driver, hotel-bookings and sightseeing tickets. It might not be the most adventurous option, but it should maximize your sightseeing and eating time.
Where to stay
Clearly,
Hilton Qingdao Golden Beach
(
www3.hilton.com
) was built with a European palace in mind. It lives up to that reputation. The King Guest Room (only at B2,717/night) comes with the standard comforts of TV and mini bar and the uncommon luxuries of walk-in closet, secluded bath area and a work desk. For a more local stay, check in at
M.G Hotel
, where prices start at B1,821/night on booking.com (goo.gl/vKuAaU). The hotel is right in the center of town, only 300 meters walk to the Qingdao Catholic Church.
---