Five-star resorts untainted by the neon glare of 7-Eleven have firmly secured Tubkaek Beach as a destination for high rollers. Just 45 minutes by car from Krabi airport and 25 minutes north of well-trodden Ao Nang, this quiet stretch is perfectly situated for a peaceful beachside getaway. Here's where to stay, what to eat, and what to see on your next trip down south.
STAY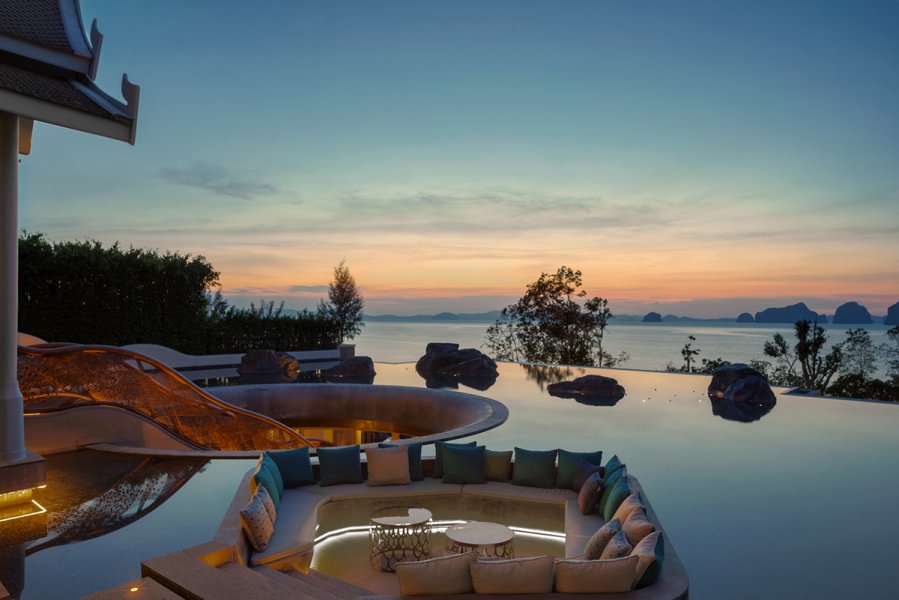 Image: View from The Banyan Tree Krabi lobby
Accommodation on Tubkaek Beach couldn't be further from the hippie shacks and reggae bars of nearby Tonsai. In recent years, this stretch of sand has evolved into a haven for the jet-set crowd, with the Amari Vogue, the Ritz-Carlton Reserve's Phulay Bay, and the Tubkaak Boutique Resort offering luxury and isolation in equal measure.
But the energy is still building and the area is still developing, albeit not at the breakneck pace that has overcrowded other southern destinations. Take the new
Banyan Tree Krabi
as proof. The lobby itself sets an impressive scene, with sweeping views of the island-dotted Andaman and a dramatic naga-inspired staircase descending into a cascading water feature. Paying homage to the nearby Dragon Crest Mountain, the naga theme runs throughout the resort in undulating bannisters, scaled wallpaper, and jeweled light fixtures.
Image: The Banyan Tree Krabi
Unveiled in October 2020, the whitewashed resort is made up of 72 private pool villas perched on the hillside overlooking the beach. Of the eight suite and villa types, the smallest is a rather sizable 99-sq-meters and comes with its own terrace, jet pool, and salt water plunge pool, while the largest is the majestic seven-bedroom, 1,335-sq-meter Presidential Villa.
All-day-dining spot The Naga Kitchen serves up Thai and international cuisine in an extravagant banquet hall. For Thai fine dining, guests can board the funicular up to the Banyan's signature Saffron restaurant, stopping on the way for a cocktail served to nest-like tables suspended in the trees.
Besides relaxing at the spa or in the poolside cabanas, activities include paddleboarding and kayaking—we recommend taking the see-through kayak on the 15-minute journey to nearby Silanto Beach, a deserted paradise.
Banyan Tree Krabi, 279 Tambon Nongtalay, Krabi, 075-811-888
EAT
Tubkaek's dining scene may be limited—with all but one restaurant residing in hotels and resorts—but Australian chef David Thompson injected some serious Michelin cred into the area with
The Arundina
at The Tubkaak Krabi Boutique Resort.
The restaurant marks the Nahm founder's second foray into the south, following his 2019 opening Long Dtai at Cape Fahn Hotel, which takes over a private island just northeast of Samui. He says the two restaurants are worlds apart.
"I've tried to keep them as separate as possible because they're from different regions. What's grown in Krabi isn't grown in Samui—there are similarities but I want each restaurant to have a singular attention," explained Thompson. Local, organic ingredients take center stage at The Arundina, where every ingredient, from the shrimp paste and fish sauce to the rice, is sourced within Krabi, and fruit and vegetables are grown in the resort's own garden.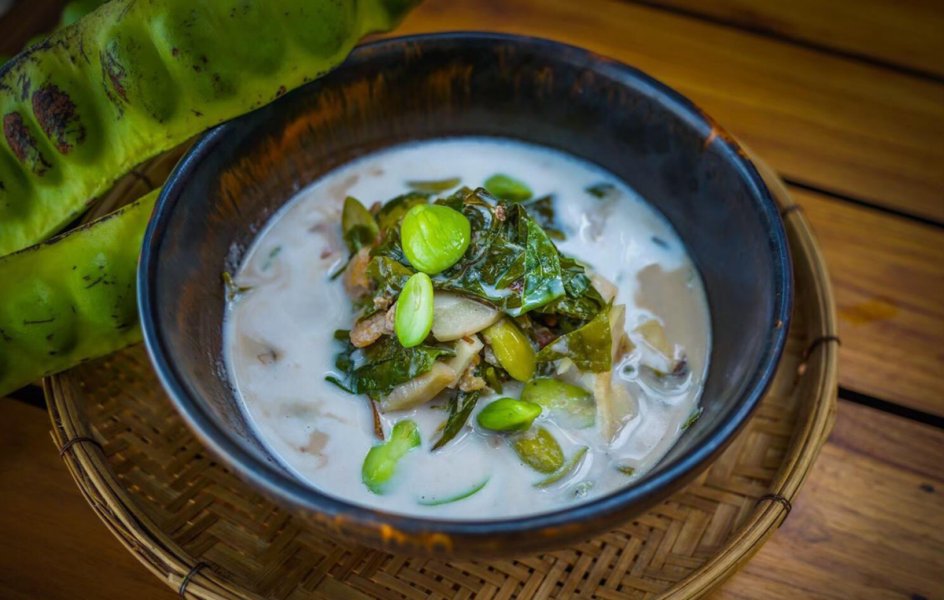 Image: The Arundina
Moving away from his fine-dining roots, Thompson said he wanted to create something with "meaning and substance, not just so called 'luxury.'" Local recipes fill the menu at The Arundina—"I had the staff upside down shaking them out for recipes from their mothers and grandmothers!"
The result is an ode to Krabi's unique culinary culture: gaeng som puu pak paew (sour southern curry with local mangrove crab, laksa leaves, and southern bird's eye chilis; B650); tom kati with sataw beans, heart of coconut, and bai liang (melinjo leaves) simmered in seasoned coconut cream; and, Thompson's favorite, lon koie, a rich relish of local shrimp paste, coconut cream, chilli paste, and salty steamed duck egg yolks mixed with chopped prawns, shallots, chilis, and served with local herbs, rose pepper leaves, snake beans, and young white turmeric.
For a final sweet note, there's the mamuang bao chaem with grayasart (B150)—small, green mangoes simmered in salt and sugar syrup and served with crunchy rice.
Keep an eye on the resort's
Facebook page
for special chef's table events, which take place when Thompson is in town.
The Arundina, Tubkaak Krabi Boutique Resort, 123 Moo 3, Krabi, 07-562-8456
VISIT
Image: Dragon Crest viewpoint
Dragon Crest Mountain
The start of the trail leading to this Insta-famous viewpoint park is conveniently situated right behind Tubkaek Beach. Located in Khao Ngon Nak National Park, the summit features views over a verdant valley with a rock ledge practically made for photo shoots—but you'll have to brave the four-hour-plus hike to get there.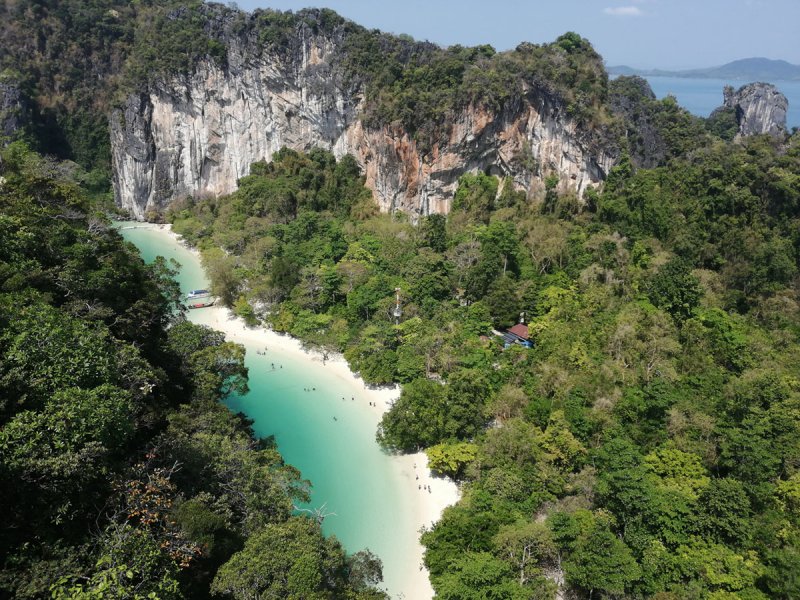 Image: Koh Hong / Angela Symons
Koh Hong
Part of Than Bok Karani National Park, Koh Hong is just 20 minutes' by boat from Tubkaek, versus a lengthy 50 minutes from Ao Nang. The island's white sands and striking emerald bay are typically obscured by crowds, but the current lull in tourism means it is uncharacteristically quiet. As a result, sightings of Koh Hong's elusive giant monitor lizards and birds like white-bellied sea eagles, hornbills and Brahminy kites are on the rise.
It's well worth braving the 1,260 steps up to the viewpoint—arguably southern Thailand's most spectacular, featuring 360-degree vistas of the bay and surrounding limestone karst from 109 meters above sea level. To get to Koh Hong, take a sustainable day trip with
Krabi Spesialisten
(075-656-775), who support plastic-free initiatives and weekly beach cleanups with Trash Hero.
GETTING THERE
Book two weeks in advance and find flights as low as B480 each way, or B700 on average, with
Vietjet Air
, who fly between Suvarnabhumi and Krabi four times per day.