Eastern Seaboard
Sattahip, Chonburi
Located south of Pattaya, Sattahip district is full of natural charms which the built-up Pattaya just can't offer. Uncrowded beaches dot the coast from Jomtien district down to the end tip of "Ao Tua Gor Bay," the u-shaped bay running from Prachuap Khiri Khan down to Chonburi province. Thanks to much of the region being under the care of the Royal Thai Navy, beaches like
Hat Nang Rum
and
Hat Nam Sai
have remained free from development, with the latter only recently opening to the public. True to its name (which means clear water), beachgoers will discover a flat beach stretching about one kilometer towards the sea, while small reefs on the southern end are perfect for snorkeling (B200 per person for a 30-minute diving trip with navy staff). Just off the coast, you'll also discover the uninhabited islands of
Koh Samae Sarn
and
Koh Kham
, which have the kind of perfect white sands and crystal waters usually associated with much further south. The navy only allows day trips to these islands which charge an entrance fee of B200 for Koh Kham (best for snorkeling) and B300 (B600 for foreigners) for Koh Samae Sarn. At the navy's inland
Sea Turtle Conservation Center
(038-431-477,
www.fb.com/SeaTurtleSattahip
) you can feed turtles and, if you're lucky, release young turtles into the sea.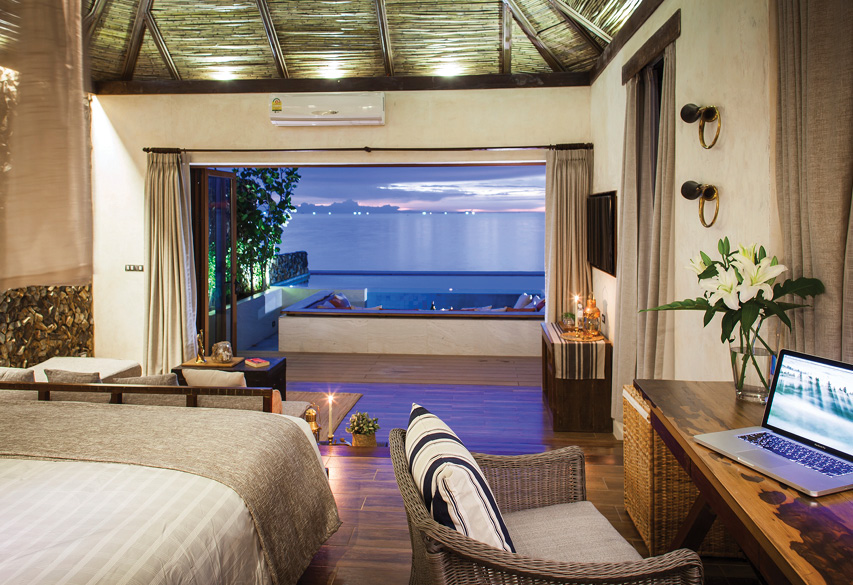 U Pattaya
Where to stay:
The only accommodation at Hat Nam Sai is the new collection of navy-run rainbow-colored bungalows, which cost B1,400 on weekdays and B2,000 on weekends. If you're after a resort, check out
U Pattaya
(033-046-100,
www.uhotelsresorts.com/upattaya
), which sits on Bangsaray Beach, just north of Sattahip's navy beaches. Room rates start from B3,824. The newly opened
Costa Village Bangsaray
(092-019-9555,
www.costavillagebangsaray.com
) is a Santorini-themed hotel around the same location at B2,500 per night.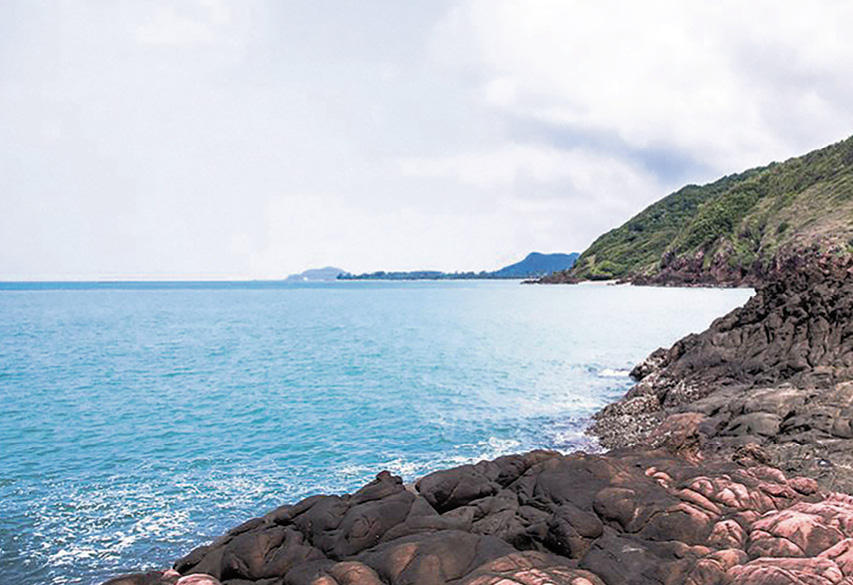 Pink Rock
Khung Wiman, Chanthaburi
This Eastern province might be famous for its charming old town, but the coastal area along which runs the beautiful Chalerm Burapa Chollathit seaside road is just as appealing. The newly discovered slab of arkosic sandstone at Kung Krabane Wildlife Reserve and Khung Kraben Bay Royal Development Study Center is best visited from Feb-Jun, when morning and late-afternoon ebb tides fully expose the vast terrace of pink rock. Getting there is no easy feat: you'll have to trek for one-and-a-half hours along a rocky coast. Nearby, you'll also find Khung Kraben Bay Royal Development Study Center (039-369-216-8), a free aquarium initiated by the late King Bhumibol that exhibits local marine species. In the same location, take the wooden walkway nature trail through a dense mangrove forest which recently gained social media attention from travel bloggers. A few minutes' drive further, the Sea Farming Demonstration Unit is home to larger marine species such as seabass, sharks and turtles. If you want to swim, Khung Wiman Beach is uncrowded and occupied by plenty of seafood restaurants including Lighthouse Bar and Grill, the showpiece eatery of Nova Scotia-themed resort Peggy's Cove (039-460-345, peggyscoveresort.com). Local Chanthaburi dishes include sen chan pad puu (stir-fried noodle with crab meat). The nearby Noen Nang Phaya viewpoint has also become popular with couples who attach padlocks to the fence as a sign of their love.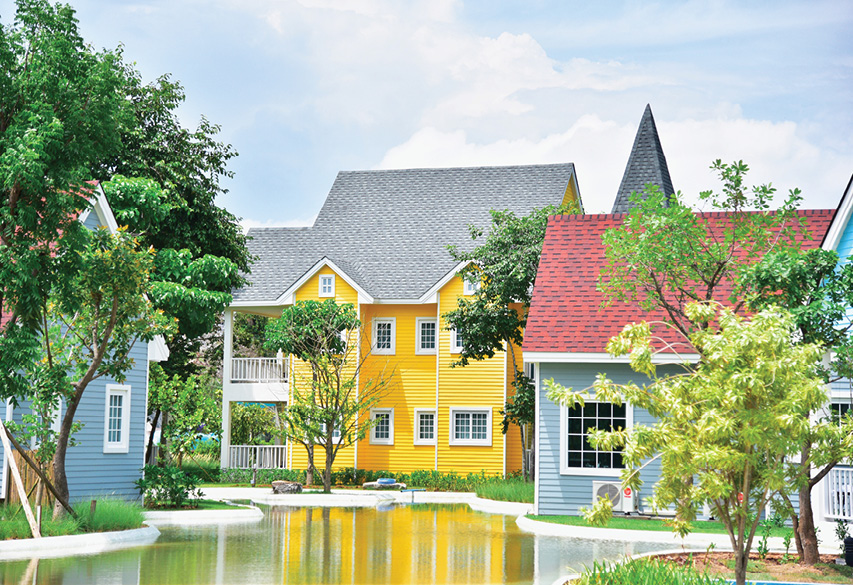 Peggy's Cove
Where to stay:
Peggy's Cove Resort
imitates a Canadian fisherman's village, featuring brightly painted weatherboard cottages, rickety driftwood bridges and a lobby styled after the chapel at the real Peggy's Cove in Nova Scotia. Room rates start from B3,313 for the deluxe category.
---
Adaman Coast
Emerald Cave Credit: Koh Mook Chao Lay Trang
Koh Mook, Trang
Those seeking an isolated, peaceful island should check out the limestone karsts, coral reefs and perfect beaches of Koh Mook. Though easily reached from Trang Province with a B300, 30-minute boat ride, the island remains less well-known than its main attraction,
Tham Morakot
, or Emerald Cave. Situated northwest of
Hat Chao Mai National Park
, Trang's third largest island takes its name from a regional variety of pearl which used to be abundant in the area. We recommend you take a tour with a local operator such as
Koh Mook Chao Lay Trang
(085-454-4979) or
A Koh Mook
(080-647-0905 , 089-468-3602,
www.akohmook.com
), which both offer various walking and cycling routes around Koh Mook village before jumping on a boat to learn about the local fishing industry, collect sea crabs and fish for squid. If you're lucky, you'll get to see sea turtles and dugongs as the area is rich in seagrass—the main food for both species. The highlight, of course, is still swimming through the 80-meter long Emerald Sea Cave. Also head to
Hat Farang
for sunset while sipping a beer from Ko Yao, an elevated restaurant on the cliff on the corner of the beach. At
Hat Hua Laem
, you'll find a spear-head shaped beach that's perfect for sunbathing, as well as the stunning beach bar of Sivalai Resort (see below).
Koh Mook Sivalai Beach Resort Credit: www.facebook.com/pg/komooksivalai
Where to stay: Koh Mook Sivalai Beach Resort
(089-723-3355; 088-765-0999,
www.fb.com/komooksivalai
) offers villas from B5,500, as well as the newly built beachfront family villa at B8,500. Check-in somewhere cheaper at Koh Mook Resort (075-203-303,
www.kohmookresort.com
), which costs B1,800 for a small villa.
---
Phuket
Phuket Marriott Resort & Spa, Merlin Beach
The Other Patong
There's another side to Patong that feels like a different world from the main strip's concrete jungle. The hillside at the beach's southern end has until recently been largely undeveloped and offers access to a beautiful and quiet stretch of beach. Here, the bright sand contrasts perfectly with the stunning blue sea, while you won't hear a single sound from tourist boats—motor watersports are strictly banned.
Avista Hideaway Phuket Patong MGallery by Sofitel
Where to stay:
The new
Avista Hideaway Phuket Patong MGallery by Sofitel
(076-681-681,
www.avista-hideaway-phuket- patong.com
) sits right on the hillside, boasting clean lines with a luxurious tropical edge and three saltwater swimming pools split over different levels (room rates from B5,697). In the same area, the boutique
Mai House Patong Hill
(
maihouse.com/patonghill
) adds an elegant twist to Phuket's Sino-Portuguese culture with turquoise walls, opium den-style daybeds and dangling steel lanterns. Right now, they also run a two-nights-for-the-price-of-one deal on deluxe rooms, starting from B4,750.
Phuket Marriott Resort & Spa, Merlin Beach
(076-335-300,
goo.gl/h5UEyA
) also recently opened in the area, taking over an old property on
Tri Trang Beach
to offer secluded accommodation from B5,194.
Baba Beach Club Hotel and Private Residences
Natai Beach, Phang Nga
Though many high-end hotel brands try to position this area as Phuket, Natai Beach is actually in Phang Nga province—but still just a 20-minute drive from Phuket International Airport, which is actually closer than driving into Phuket Town. It also remains super-sleepy despite new luxury openings. Sri Panwa's new
Baba Beach Club Hotel and Private Residences
won't complete its residential portion (on the market starting from B11 million) until late this year, but the Baba Beach Bar (9am-6pm) is up and running, offering on-the-grass seats by the sea with Thai food like
yam nua yang
(spicy grilled beef salad) and Phuket signature dishes such as
gaeng pu
(Phuket's crab meat in yellow curry, B250). A Baba Daiquiri (rum, passion fruit, lime, ginger syrup) will set you back B220. Head a bit north to Iniala Beach House for dinner at
Esenzi
(
www.esenzirestaurant.com
), the new venture of chef Tim Butler of Bangkok's Eat Me (No.31 in Asia's 50 Best Restaurants). The eight-course tasting menu costs B8,000 or B12,500 with wine pairing.
Akyra Beach Club Phuket
Where to stay:
The ultra-luxe Iniala has just launched
Iniala Shores
(076-451-456,
www.iniala.com/shores
), a 1,000-sq-meter all-white five-bedroom villa located just 400 meters south of their original spot. The nightly rate based on four guests starts at B58,657, while rooms in the original property cost B120,000. At the newly opened
Akyra Beach Club Phuket
(02-539-4373,
www.theakyra.com/phuket
), room rates start from B3,800 for a deluxe suite.