NORTH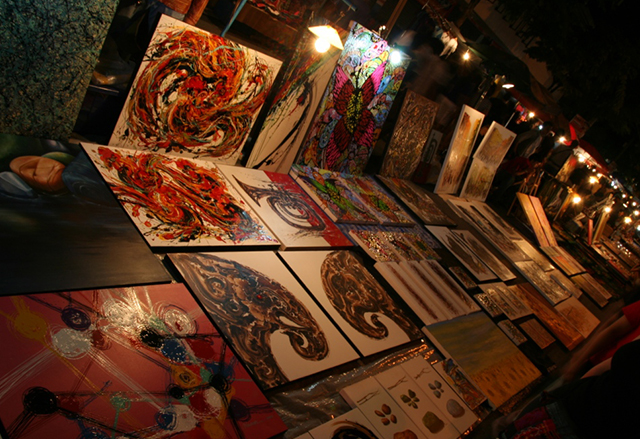 Tha Pae credit Mikel Lizarralde
Tha Pae
When: Sunday 6-10pm
Where
: Tha Pae Gate through Ratchadamnoen Road, Chiang Mai The largest walking street in Chiang Mai has a distinctly Lanna charm. Starting at the ancient brick wall at Tha Pae Gate, shops line Ratchadamnoen Road until you reach Wat Phra Singh. We especially love the area around Klang Vieng junction. One side is filled with homewares while on the other you'll find countless arts vendors whose paintings turn the sidewalk into a gallery each night. Another highlight is artists such as the Mai Mueang Group, who play acoustic Lanna songs. Be sure to check out some of the proper shops, too, like Tan by Karuna (127/7 Prapokklao Rd., Sriphum, 053-327-280, 081-568-2881.
www.tanbagshop.com
), which sells down-to-earth handicrafts and bags. We also like the artistic wares at Things Called Art (111 Prapokklao Rd., 053-327-205, 084-040-8855) and Supachet's Studio (56/2 Rachadamnoen Rd.,089-950-1329) for paintings.
Also check out:
Boost your energy for the night with a cup of coffee. Ratchadamnoen Road has a bunch of great places like Akha Ama Coffee (175/1 Ratchadamnoen Rd., 086-915-8600.
www.akhaama.com
) and Pacamara (Ratchadamnoen Rd., near U Chiang Mai hotel, 053-327-324). If you're hungry and short of cash, Khao Tom One Baht on Klang Vieng Junction sells until midnight.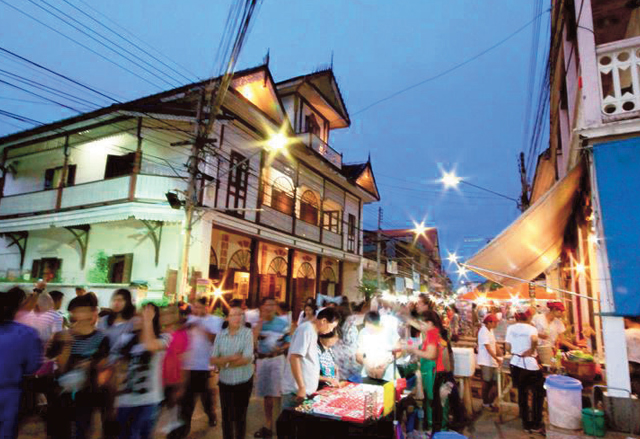 Credit by Peerarak Pichayakul
Kad Kong Ta
When: Sat and Sun 6-10pm
Where: Talad Kao Road, Lampang
Kad Kong Ta (or Talad Jeen, to locals) was an important port during the time of King Rama V and the center of logging commerce for the Northern region. That's why two sides of Taladkao contain beautiful wooden houses dating back over 100 years, which used to belong to rich merchants. Walk, shop and eat while admiring the glorious architecture, and be sure to pick up one of the community maps which tells you information about each of the important residences.
Also check out: Hor Silp Lampang or Lampang Art Center (256 Taladkao Rd., 054-230-651) holds regular exhibitions. Highlights from the walking tour include Fong Lee House and Mong Ngoay Xin House, which has stunning gingerbread-house-like architecture.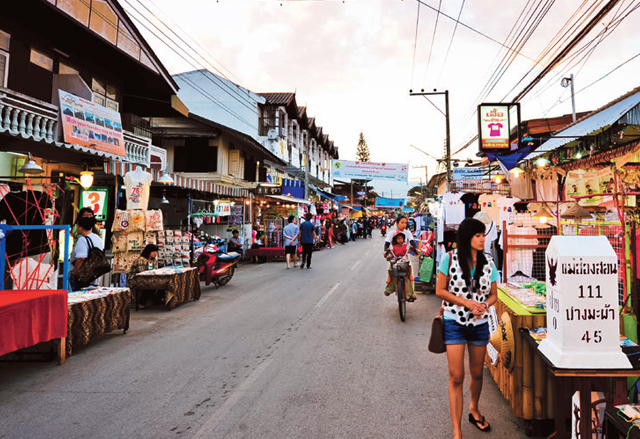 Credit by TAT
Pai
When: Fri-Sat 6-10pm. Daily during winter 4-11pm
Where: Chaisongkram Road, Pai, Mae Hong Son The products on sale at this cute resort town are mostly your typical handicrafts, but there are some unique food vendors to look out for. The shining stars include khao pook (baked black sticky rice, sesame and cane sugar), khai paam (grilled omelet in banana leaf) and the rice vermicelli shop Kanomjeen Nang Yong (28 Moo 3 Chaisongkram Rd., 053-699-385, open daily 9am-9pm), which requires diners to sit on tiny chairs. Another highlight is the live music, including a local policeman who sings and plays guitar in his uniform. Both sides of the walking street have plenty of bars and cafes to choose from, including the Whisky Station Pai drink truck, which offers cheap shots, and the red Volkswagen van of Coffee Mobile.
Also check out: Sit and chill at Jikko Bar (65 Chaisongkram Rd., 4-11pm, 089-112-5473), which is great for people watching. If
you're a music lover, head to Edible Jazz (24/1 Viengtai, Soi Pakam temple, 089-532-6486) which hosts great live music from both local and international bands, while Buffalo Bar Restaurant (Wiang Tai, Pai, 089-797-4241) presents acoustic pop nightly.
Credit by O Kajorn
Mae Hong Son (Nong Chong Kham)
When: Fri-Sat 6-10pm. Daily during winter
Where: Chong Kham Temple, Mae Hong Son
None of Thailand's many walking streets look quite like Mae Hong Son's Nong Chong Kham. Set up on the street near Chong Kham pond in the middle of town, the small route is set to a stunning backdrop of mountains and temple pagodas reflected in the still pond's surface. The big difference here is that most sellers come from the Tai Yai or Hmong hill tribes. Don't leave without trying the traditional Tai Yai desserts suay thamin (baked sticky rice, sugar and coconut milk), peng hmong (Tai Yai cake) and A-lawha (mixed flour, coconut milk and cane sugar)—very rare items elsewhere in the country.
Also check out: Wat Chong Kham and Wat Chong Klang, which are Mae Hong Son's main temples in the heart of town.
SOUTH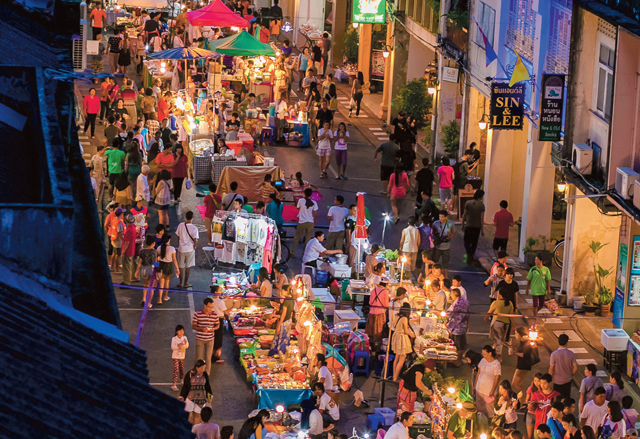 Lard Yai
When: Sunday 4-10pm
Where: Thalang Road, Phuket
New market; old town. Lard Yai is the latest attempt by Phuket's council to bring some life back to Phuket Town's charming colonial architecture. It's separated into four zones: souvenirs, local food, activities and a student area. There are plenty of Southern delicacies to try like mee hokkien (Phuket-style noodles), o-aew (herbal jelly in red syrup) and o-tao (stir-fried oysters with eggs and pork crackling) as well as other tuk-tuk "food trucks" selling Western food like burgers, hot dogs and chili dogs. Both students and the local arts community also perform entertainment, including Southern manohra dance. What's more, the former red light district on Rommanee Road is now home to cool guesthouses like Phuket 346 (9 Soi Rommanee, Thalang Road, 076-256-128) and The Rommanee (15 Soi Rommanee, Thalang Rd., 089-728-9871, 091-825-2435).
Also check out: Mac-chiato House (48, Thalang Rd., 076-215-701) does great homemade cake and coffee. In the mood for drinks? Head to Anna's Phuket Bar & Restaurant (13 Rassada Rd., 076-210-535), which serves cold beers in an environment of Chino-Portuguese architecture. It's just one block away from Thalang Road.
Fisherman's Village
When: Friday from 5-10pm
Where: Bophut Beach, Samui
What was once the center of fisherman life on Samui is now better known for its bars, restaurants and walking street stalls. OK, so the street wares at this market aren't that great—mainly your usual roundup of shell jewelry and tourist tat—but there are some great shops and food stalls around. The cool-red Karma Sutra bar (25 Moo 1 Bophut, Fisherman's Village, 077-425-198) serves cocktails and plays a decent selection of tunes. If you have more time, the neighboring Mae Nam Walking Street is also worth stopping by on a Thursday night, when live bands play in front of the steps of Mae Nam Shrine.
Also check out: Billabong Surf Club (79/2 Moo 1 Bophut, 79/2 Moo 1, Bophut, 077-430-144, 077-430-145, 087-743-0144, ) offers good live music. The Wharf (62 Moo 1, Hotel ibis Samui Bophut, 077-425-500) is a new community mall in the same area, right next to Hansar hotel, which is home to H Bistro (101/28 Moo 1, Bophut, 077-245-511), one of the finest restaurants on the
island.